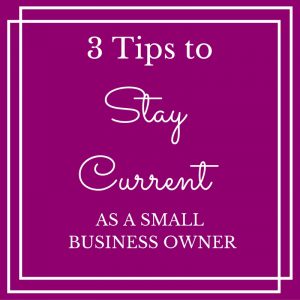 Staying current as a business owner can be overwhelming. There are a number of ways to reduce this feeling while moving forward. Here are three tips to educate yourself and grow as a business owner.

1. Read articles in your field.
Credit card expert and Consumer Advocate, Beverly Harzog is well known as the go-to person on credit cards in her space. While she has a background as a CPA and also holds an MBA, she is constantly quoted in major media outlets and appears on TV because she stays current in her field. She knows that doing this is what keeps her expert status in tact and separates her from the rest. She stays up on the intricacies of the fine print associated with credit cards and can explain what that means for the consumer. Becoming a sought-after, trusted source takes a lot of work and requires you to keep abreast of all topics that pertain to your field. It also allows you to be seen as an authority which can allow you to command more money for your expertise.
Read more at Due.com.