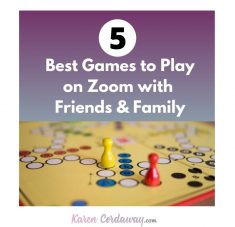 There might be affiliate links in this post. If you click on a link and make a purchase, I receive a small commission. Read my disclosure policy here.
A search for games to play on Zoom is breaking the internet! Playing virtually when you're not able to play together in-person is another way to spending time with your friends and family.
Also, you don't have to be a board games geek to figure out what to play either. I rounded up some of the best board games that are normally played in-person and adapted them as Zoom board games.
These make the perfect board games for holidays, times when you are bored at home or when you just want to connect in a fun way with others.
Whether you're looking for "Family Feud Zoom", classic Mad Libs or board games that take under an hour or that last for longer spans of time, you'll surely find something to keep everyone entertained and happy.
1. Headsup!
This game was originally launched, played and made popular on the Ellen Degeneres Show as an app. And, people have been enjoying it ever since. If you need a break from apps, it is also sold as a physical game with cards.
How do you play the game Headsup?
Like Charades or Picitionary, it's a guessing game where players have a minute to figure out a word based on clues given by the other players. If you've never played before, I found a quick video tutorial to get you up to speed quickly on how to play.
Can you play Headsup over Zoom?
You most certainly can! Headsup is one of the easiest and most fun games to play over Zoom. You need at least two players, but you can also play as teams.
How do you play Headsup on Zoom?
If you haven't already, install Zoom onto your mobile device or desktop. One person hosts the meeting and sends the Zoom link to the other person or group of people so they can join.
You'll have to make sure that the camera on your device works. You can also join a Zoom call on your phone. Just make sure you're able to film yourself.
If you use your phone, place it in a set spot. Maybe it's leaning on something securely so you don't have to hold it the whole time.
If you video chat regularly on your phone, you can even get a small, inexpensive tripod that fits any phone size. Otherwise, you'll just have to hold it up so people can see you. It's similar to a FaceTime call.
Also, it's probably best for each player or team to have their own individual version of the game so each player can have a set of cards and other needed items.
2. Family Feud Strikeout Card Game
Until I stumbled upon this on Amazon, I didn't know this popular TV show was made into a board game. Try it in-person or play Family Feud on Zoom.
How can I play Family Feud at home?
I wondered this very thing. How is it possible to put Family Feud in a box minus the host, theme song, buzzers and those neat sounds you hear when the answers flip over on the board.
The Family Feud Strikeout Card Game is similar to the show. A host is selected to read the questions and give the answers at the appropriate times.
Just like the TV show, the answers are ranked in order based on popularity. Players try to guess the most popular answers in hopes of scoring the most points.
The number one answer represents the most popular response based on a survey given, the number 2 answer is second most popular, etc. Look forward to fun and laughter, but just remember Steve Harvey is not included. 😉
There are a few different versions of this game. I found a Game Show Home Edition and an After Hours Edition for 17 & Up.
I did a little more digging and even found a different version of Family Feud Strikeout with an actual buzzer and a countdown timer. How cool is that?
This can make it more exciting and make it more engaging, especially if kids are involved. It can also be the perfect gift for the holidays and something to look forward to playing on school breaks.
3. Mad Libs Stories (one of the easiest games to play on Zoom)
If you never played Mad Libs before, you might wonder, "What is a Mad Libs Story?" It's a pad of different stories that have some of the words purposely missing.
The object of the game is to get the players to fill in the blanks with random nouns, adjectives, adverbs, etc. One person will hold the pad and fill in the missing blanks with the answers. The people giving the answers don't know the story, they are just saying random words when asked.
Once all of the blanks are filled out, the person holding the book and writing the answers down reads the story out loud to everyone. This game can be played with two people or in a big group.
To play virtually, each player will want to have their own Mad Libs Book before hopping on Zoom. They have some for adults and junior versions so a wide variety of ages can play together.
If the players are younger or you just find that people are saying the same words over and over, think about printing out a list of nouns, adjectives and adverbs off of the internet to have some variety.
4. Bingo for Zoom
Though you'll never meet the farmer that named his dog Bingo, you can surely have fun playing this classic game virtually. If you never played Bingo before, look up "how to play Bingo" on WikiHow. Once you get the gist, you might have to adapt things a bit to play virtually.
Outside of the traditional games that are played with numbers, there are so many different types of Bingo games today. The sky's the limit. For example, you can learn basic Spanish words for beginners of all ages or brush up on your skills using a bilingual bingo game.
If you're interested in playing the quarantine version of this Bingo for a few laughs with a few people, get Quarantine Bingo or Quarantine Bingo II. Print the cards virtually and follow the directions provided. Mark off spaces if you've worked in your pajamas or haven't gotten a haircut in months. It's even one of the best games to play on Zoom with coworkers.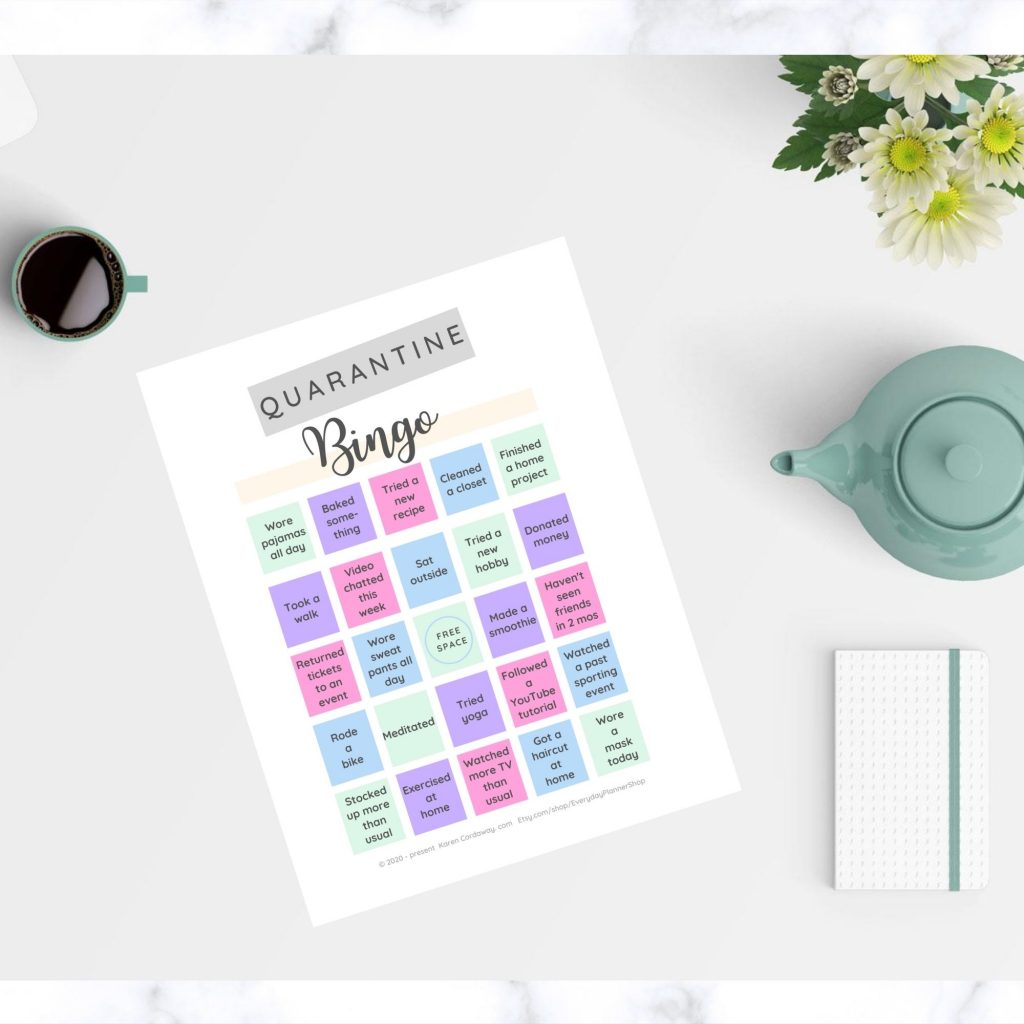 If you can mark off the spaces with a pen or pencil, but if you want to use them repeatedly, save the printed paper. You can play over and over again. Think about using a page sleeve to store them in afterwards.
You'll also need some bingo chips to cover the spaces when playing. Consider storing the chips inside the plastic sleeve as well. You'd just have to store the pages upright so they don't fall out.
5. How Do You See the World?
If you need a break from light-hearted games, this one has more depth to it. Answer questions about aspirations, life's purpose, beliefs and more. Unlike other games that have a minimum number of players or a set limit, this is one of the best virtual games to play alone or with any number of people.
This game contains 100 cards with 500 questions that are great for ice breakers, starting conversations and making connections. What's nice is any number of people can play at once.
Also, the description on Amazon points our that you can do good while sharing your perspective. It explains that a portion of the proceeds goes to "organizations that are advancing education and entrepreneurship."
Conclusion for Games to Play on Zoom
If the question, "What activities can you do on Zoom?" ever pops into your head again, you'll be ready to respond with the game ideas listed above. Playing games on Zoom is the it thing to do.
Whether you play Family Feud on Zoom virtually, try Heads Up or any others mentioned, you might even kick yourself for not trying this sooner. Whether you played these board games before or not, test them out on Zoom and possibly take the fun factor to a whole new level.
Related Articles for Fun Things to Do at Home