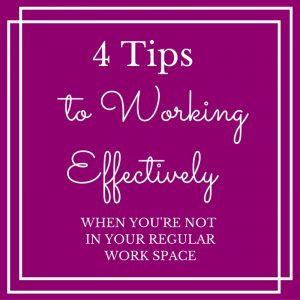 If you have a job where you can do work in different settings with just the internet, mobile devices, and a few other essentials, here are some ideas to get work done while you're away from your regular setting.
1. Choose the right equipment.
Being strategic about the devices you purchase can make all the difference. Credit Card and Travel Expert, Jason Steele of Nav.com, finds that working from his home office is ideal in terms of productivity, but Steele has a few tricks up his sleeve about equipment when he has to go away from home.
Steele explains, "I carry a full size keyboard and wireless mouse when I really need to do an hour or more of work, as laptop keyboards and trackpads are not ideal for extended use. I've also been using Windows tablet from Dell at the office and on the road. At the office, it docks with keyboard, mouse, and monitors, while on the road it mates to a keyboard with an additional battery. This way, I'm always using the same PC."
2. Choose the right bag to carry needed items.
I personally find it silly to carry a purse and a work tote. Depending on where I am, I don't always like to carry a purse. If I separated any of the contents and put them in my tote, it was a pain to transfer them back all of the time. I would often misplace items and not have them when I needed them. For example, sometimes I wouldn't have all of my credit cards or my shopping list would be left in the bag that was left home.
So now, I use a medium-size wristlet no matter where I go. It's versatile and looks appropriate in both casual and more professional settings. While a wallet houses essentials like my license, credit cards and cash, I needed a little more room for my garage door opener and phone. I can also squeeze in some surface cleaner wipes by SavvyTravelers.com to easily remove lint, streaks and dirt from my glasses or gadgets while working away from home.
I can readily throw the wristlet into a purse, tote bag or carry it as is, if need be. It helps keep me organized and I can ensure that I will have everything with me when I need it. Also, using a stylish tote gives me more room to carry other items.
If I'm shopping, I can bring along coupons when I need them and use them before they expire. I can also have room for my rewards cards and gift cards. I can even use my physical discounted gift cards to guarantee savings while shopping.
3. Choose the right environment.
Stefanie O'Connell of StefanieOconnell.com believes in scouting out places where you can be most productive. She explains, if your local coffee shop is your unofficial work space, look for other coffee shops with a similar environment.  Try to find out in advance how noisy it gets. Call in advance to see if a certain time of day seems to be quieter if that's what you're looking for in a coffee shop outside of a caffeine fix and a scone.
4. Choose the right tasks to do.
O'Connell also emphasizes how less is more when it comes getting things done. She points out, "To do lists can be particularly taxing when they stretch on and on. But if you identify two or three priorities, even one, you're much more likely to accomplish what you need to get done – wherever you are."
The Bottom Line
You can still be productive and get work done when you're not in your regular work setting. Before heading out to work in a different location, carefully consider how you work best and use the tips mentioned above for guidance.