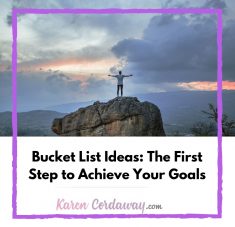 There might be affiliate links in this post. If you click on a link and make a purchase, I receive a small commission. Read my disclosure policy here.
I remember seeing the movie Bucket List years back. Jack Nicholson and Morgan Freeman take off on some adventures after hearing they both had a terminal illness. Bucket lists are all the rage today. It all starts with jotting down your ideas so you can make them happen one day. Unlike the characters in the movie, you don't want to wait until you hear bad news to make some of these ideas happen.
It's easy to become distracted in today's world.We can also just get bogged down with the responsibilities of everyday life and put off planning some exciting adventures. A recent report by Nielsen found that the average American watches five hours of television on a daily basis. Not only are we actively handing over our free time, but we are also multitasking, as we are on our phones at the same time.
So when we say we don't have time to do what's on our list, think about getting away from the television. It's just one of many  activities that can sidetrack us from carrying out a bucket list item. 
So what can we do about it?
How to Take Action on Your Bucket List Ideas
Get clear on what you want to do and create a plan to make it happen. Whether you generate a list for yourself, create a best friend bucket list or even a relationship bucket list, filling up your calendar with these types of activities will make it easier to say no to things that don't align with these goals.  You can also tailor your schedule, to-do list and spending habits to get you closer to having these ideas come to life.
Storing ideas in your head or on  your screen saver isn't enough. Though we may think we'll remember, it's easy for time to pass without accomplishing any of the ideas. Draft up a list. It can serve as a brain dump and assist you in gathering up your ideas in an effort to make them happen. Let's take the first step and make a bucket list.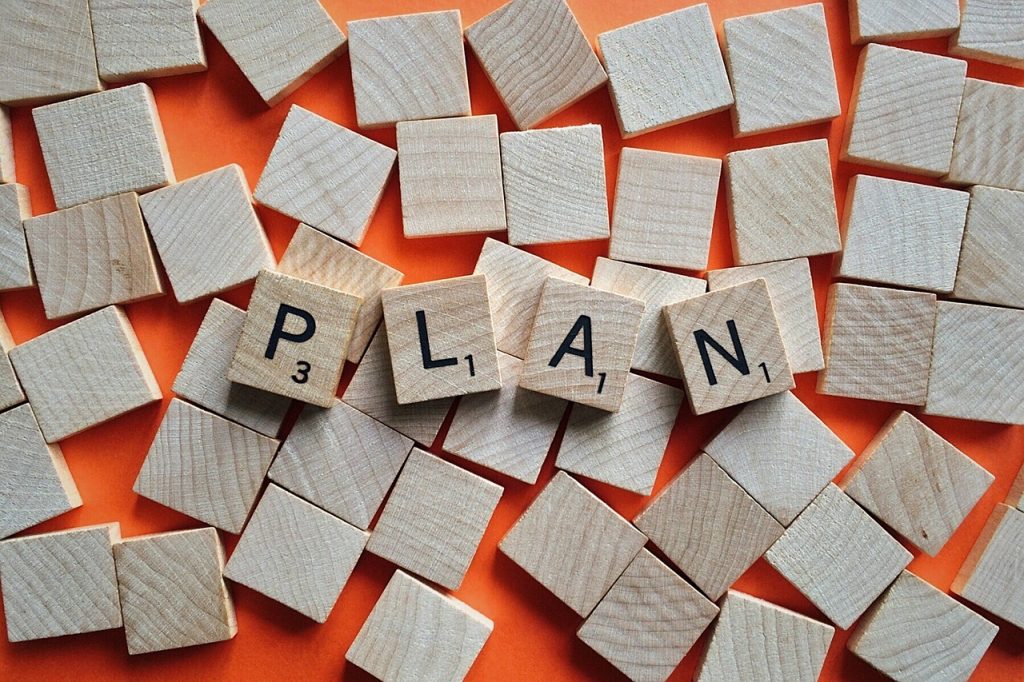 How to Make a Bucket List
This sounds like a no brainer. Get a a pen and piece of paper or type up your list in a digital document and capture away. Okay. You can do that, but I want you to take time to truly brainstorm some ideas. Have you always wanted to hike in a certain area, visit the Northern Lights or paraglide?
This step permits you to brainstorm and figure out what you want to do, both big and small on your bucket list. Don't edit any of the ideas right now. No matter how intricate the planning might be or how expensive it might sound, it helps you compile all of the ideas in one place. It will also help you pick and choose what you can do now and in the future. 
Get every idea you ever considered off your mind and recorded for safekeeping. Begin by making a list using the worksheet provided. Jot down any idea that comes to mind no matter how silly. Maybe you want to learn to play the ukelele one day. Write it down. Perhaps you want to take ballroom dancing lesson. Write that down too. it doesn't matter if it's location specific or bucket list ideas you can do from anywhere.
Though you might not think of everything in one sitting, add new ideas as they come to this list.  Your list will evolve and your ideas might change over time. Just start the process and add to the worksheet when an idea strikes. If you're stumped for ideas at the moment, search the term bucket list online. You can also look up travel sites to get ideas.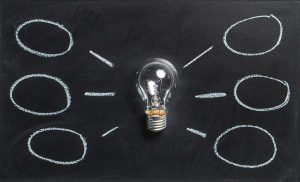 Define Bucket List for Yourself
When I first started to generate a list of ideas for my bucket list, I immediately thought of travel spots that were at the top of my list. I also came up with classes I always wanted to take like martial arts,  and pottery.
As I began to brainstorm, I included nearby location and activities I've always been meaning to do.  There's a popular fair I never attended. I almost always skipped the Big E in Massachusetts and I never took a ride on the Swan Boats in Boston. I also didn't get around to doing activities such as parasailing, climbing the Statue of Liberty or even just making homemade ice cream.
Once I began to cross items off of my list, I realized I didn't just want to travel. Volunteering is something I always wanted to do. I sought out ways to volunteer sporadically. I gave away bikes to new arrivals to the U.S. one summer. I taught kids how to read. I even helped out at a local food pantry.
After creating a different "category" of bucket list items, I realized I could have different themes. I also added physical activities like participating in a walk-a-thon and ziplining. I know it will continue to evolve over time. It's fun to explore the possibilities and spend my time more wisely. It unexpectedly opened the door for new interests and a calendar full of fun things to do.
So now it's your turn. Be sure to get the Free Printable Bucket List here to write out your list and make your bucket listing journey a success. In the meantime, if you're conscious about printer ink, I have a light grey one. I have the same printable in light blue here.
If you're serious about taking your efforts to the next level, sign up to get notified about my soon-to-be-released book entitled, The Everyday Bucket List Book. You can grab a copy when it's available.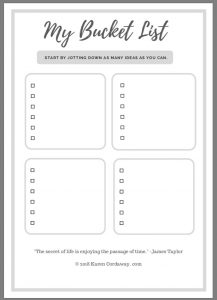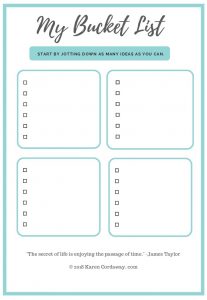 While it's fresh on your mind, please share this post on social media. It's a nice way to reciprocate for the freebie.