 There might be affiliate links in this post. If you click on a link and make a purchase, I receive a small commission. Read my disclosure policy here.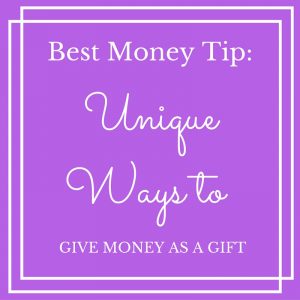 A cash gift is always appreciated. Right?
I stumbled upon a post regarding a money notepad.
At first, I thought this might be a post about budgeting, capturing what you spend in a spiral bound notebook or something along those lines.
Was it a sign that I should scrap all of the money apps from my phone and go old school with a notebook?
Was I making things more complicated than they needed to be?
My curiosity got the best of me and so I took a peek.
So what exactly is a Money Notepad?
It's literally a notepad made of money. It's a unique and creative way to give cash as a gift.
You can read the whole post on WhatMommyDoes.com. It provides a step-by-step tutorial to assemble a pad made from a stack of dollar bills. The recipient can gladly just rip them out when needed. If someone gave this to me as a gift, they would immediately receive favorite person status in my book.
So if you're feeling a little crafty, this is a perfect gift for anyone who appreciates a cash gift. It gets my vote as the best money tip this week.
This reminded me of another unique way to give cash as a gift. I've personally done this in the past. Give cash inside  of a picture frame. Basically, you just replace the paper insert with some scrapbook paper and then put a crisp 20 dollar bill or several 5 dollar bills (or whatever increment you choose) inside. Sandwich them between the glass and the back of the frame. You might need small pieces of tape to make sure the money stays in place. Then you can either wrap the frame or put it inside of a gift bag.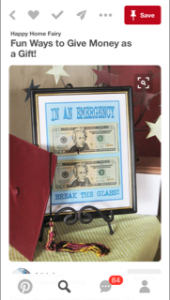 Here's a tutorial in the post Fun Ways to Use Cash as a Gift that explains this idea for a graduation gift, but if you change the wording and color scheme, it can be used for other occasions as well.
You can also roll up dollar bills and put them inside of a clear mini paint container sold at many craft stores. Here's a pic from the blog Eighteen 25. You can cut a piece of red paper to put on top of the can for Christmas. You can use blue for Hannukah. Choose a festive, appropriate color for the occasion.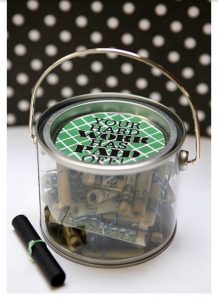 The Bottom Line
If you're out of ideas for giving a gift or you know the recipient would prefer cash, why not give it as a gift? Whether you're attending a birthday party, wedding or exchanging with family for Christmas, cash gifts can come in handy when you're not quite sure what to give. Use the ideas mentioned to spiff up a way to gift money.