Hawaii Bucket List: Fun Things to Do in Oahu w/ Doug Nordman
Prefer to listen elsewhere? Here's the same episode on: Apple or Spotify!
Some of the resources below have affiliate links. If you purchase something through a link, I would make a small commission at no additional cost to you.
Today's Podcast Guest
I'm happy to welcome Doug Nordman to the Everyday Bucket List Podcast!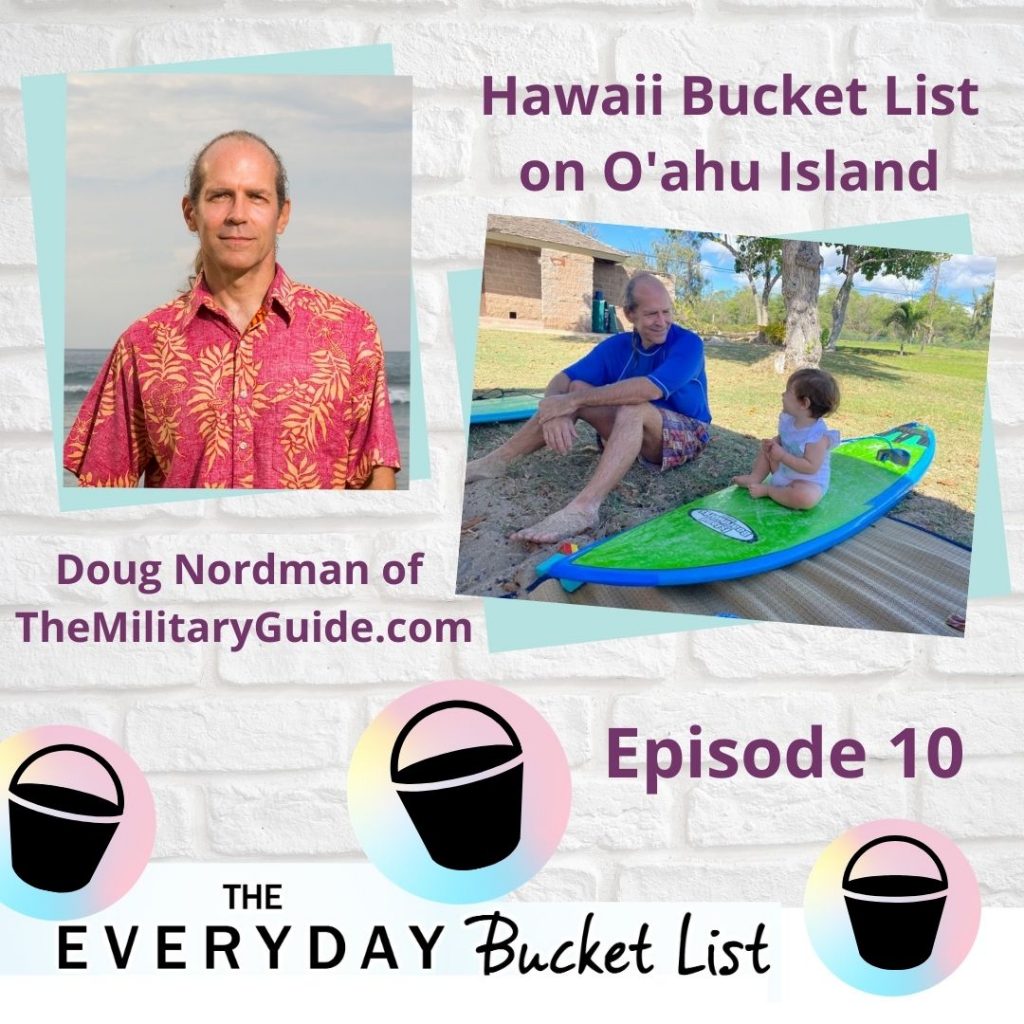 Doug Nordman of The Military Guide
Doug Nordman served for 20 years of active duty in the U.S. Navy's submarine force and retired in 2002 at the age of 41. He and his spouse, a retired Navy Reservist, reached financial independence in 1999 on a high savings rate. They've lived in Hawaii for over 30 years, and their daughter Carol was born & raised on Oahu. These days Doug enjoys surfing, slow travel, writing, public speaking, reading, home improvement, personal-finance conferences, and more surfing.
He's the author of "The Military Guide To Financial Independence And Retirement" and founder of The-Military-Guide.com. Carol and Doug are the authors of "Raising Your Money-Savvy Family For Next Generation Financial Independence", published with ChooseFI Media. He donates all of his writing and speaking revenue to military-friendly charities.
Doug and his family have checked off a lot of bucket list items over the decades… and now he's leveling up to grandparenting."
Website: Check out this post with lessons from over a decade of slow travel at The Military Guide.
What You'll Learn
Find fun things to do in O'ahu and Honolulu and what you should not miss on the island based on your interests, including the best outdoor activities
Depending on how long you can get away, find out how many days he recommends staying, if possible since there are so many fun things to do in Oahu and neighboring areas and islands.
Discover what there is to do today on O'ahu
Some "secret" things to do in O'ahu that most people might not know about
Hear about other countries Doug has visited such as Spain, including a town that's great for slow travel and a good location to take day trips from
His unique approach to travel
Resources for Fun Things to Do in Oahu
Doug mentioned the All Trails app. Whether you're hoping to hike, camp or explore nature, there's also a website to look for trails in Hawaii at AllTrails.com
Oahu Island Hotels, Honolulu County, Hawaii Find places to stay, including Waikiki here.
Take a peek at Hawaii Hotels in Honolulu here.
Some of Doug's Everyday Favorites
Hobbies – Try out a new outdoor hobby such as surfing or find hobbies to do at home like home improvement.
Connect with Karen Cordaway
Carve out time for personal goals such as bucket list ideas like fun things to do in Oahu or anywhere! also, find fun things to do at home or locally on my Pinterest profile.
Twitter @KarenCordaway