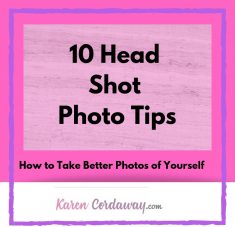 There might be affiliate links in this post. If you click on a link and make a purchase, I receive a small commission. Read my disclosure policy here.
Do you wish you had a nice photo of yourself?
Before you are able to get a good head shot, you must first learn how.
You can't FAKE a good photo.
Whether you need it for professional reasons or you would just like to take a decent holiday shot, you have to learn some INSIDE secrets.
How. . you may ask?
A few simple but POWERFUL  tips can make your  photos look like a REAL photographer took them.
Professional photographer, Peter Hurley who is well known for his head shot photography was self-taught. If you're looking to get a decent shot of yourself without paying a professional, consider watching this video to teach yourself. I took photography classes in high school. I worked at a photo store and took photographs for my college's campus newspaper. I put together some tips I learned along the way.
Here's how to shoot like a pro in a matter of days(minutes).
The 10 "Red Flags" of Head Shot Photography
1. Not focusing on the jaw line.
(See video.)

2.  Not showing your pupils
3.  Wearing busy patterns
( This goes for both men and women.)
4.  Ignoring the background
(It can be just as important as the subject.)
5.  Back lighting is not for head shots

6.  Shooting at the wrong time of day outside
( Learn how to use the sun. . it costs less.)
7.  Taking the photo of yourself with your hand
8.  Shooting from unflattering angles
9.  Not looking like yourself
10.  Not looking professional
Now I'm asking you.
Do you know of any "red flags" of photography?
You should write your ideas below.:)