Scottsdale, Arizona: Things to Do for Fun with George Grombacher
Find things to do for fun in Scottsdale, Arizona such as hiking & visiting breweries. We also chat about the dos and don'ts of the Phoenix Open, learn about bike week and more. Also, find out what hotels are near the action. Add this to your bucket list of places to visit in the United States today.
Prefer to listen elsewhere? Here's the same episode on: Apple or Spotify!
Some of the resources below have affiliate links. If you purchase something through a link, I would make a small commission at no additional cost to you.
Today's Podcast Guest
I'm happy to welcome George Grombacher to the Everyday Bucket List Podcast!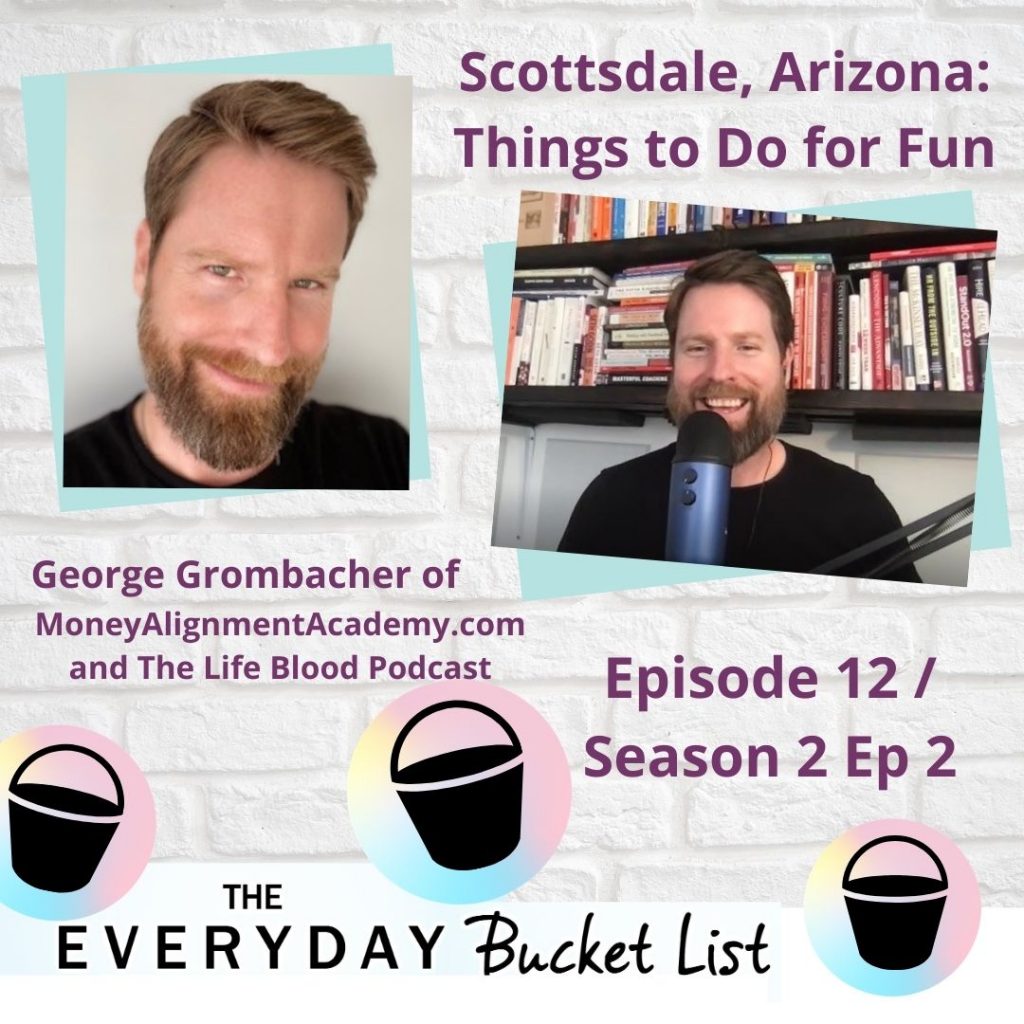 George Grombacher of The Lifeblood Podcast (formerly The Money Savage Podcast)
A 20 year finance industry veteran, podcaster, writer and speaker, George Grombacher is working to help people get better at money and life how they want. He spent 10 years with a Fortune 100 company as an advisor as well as in leadership positions where he impacted thousands of people and developed training curriculums.
He's the President of Financial Consulting Professionals, the Founder and Chief Community Officer of Money Alignment Academy and the host of the Life Blood podcast. George is honored to have been named to Investopedia's list of the Top 100 Most Influential Financial Advisors two years in a row. He is husband to Emilie and dad to James and Jack.
What You'll Learn
Is Scottsdale Arizona worth visiting? (I think it absolutely is! Decide for yourself after listening to this show.)
Find out what Scottsdale, Arizona is known for
Discover some unique things to do in Scottsdale, AZ
Hear about what the best time of year is to visit Scottsdale, AZ
Thinking of visiting the Phoenix Open at some point? Get the best tips for Phoenix Open tickets from a local.
Find out how hard it is to hike Camelback Mountain and learn about other areas to hike
Resources for Fun Things to Do Scottsdale, Arizona
Breweries such as Ohso, Gold Water and Desert Wilderness
Hotels in and near Scottsdale, Arizona such as The Scottsdale Princess, Hermosa Inn (Western Theme) and The Saguaro Scottsdale
Though you can type in "hiking spots near me" in Scottsdale, AZ, we discuss hiking Sinora Desert, Echo Canyon and Camelback Mountain
George a few Scottsdale breweries
George gives us the lowdown on hotels in and near
Take a peek at other hotels in Scottsdale, AZ here.
Some of George's Everyday Favorites
Podcasts
The Tim Ferriss Show
The Joe Rogan Experience
Scott Galloway's podcasts
Connect with Karen Cordaway
Twitter @KarenCordaway