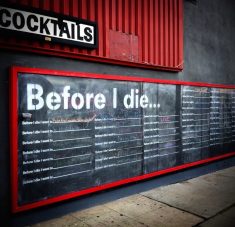 There might be affiliate links in this post. If you click on a link and make a purchase, I receive a small commission. Read my disclosure policy here.
This is a podcast interview I did with the host over at The Maple Money Show out of Canada.
I talk with the host Tom Drake and spill the beans about my broader definition of bucket listing.
I also discuss:
What a bucket list is and how I give it a re-brand to bring more joy to everyday life
How I turned my grocery list into a bucket list
How bucket listing isn't just about when you die, it's about when other people die
Some of my rules for making decisions for concerts and how to impose a sense of urgency on your bucket list ideas
The bucket list example I want to try, but the host thinks is exhausting
The B.U.C.K.E.T. acronym from my bucket list book and explain each letter in detail
My bucket list examples and the importance of storing them, how I psycho analyze the host and many laughs along the way.
If you're looking for a good laugh, listen to us ramble and make up words while I share insights, take a listen to Fulfilling Your Everyday Bucket List with Karen Cordaway here now.