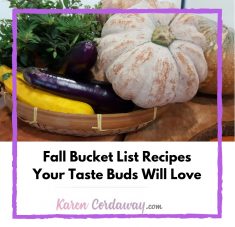 There might be affiliate links in this post. If you click on a link and make a purchase, I receive a small commission. Read my disclosure policy here.
At the mere mention of autumn and I think of all the fall recipes I'd like to try. Images of pumpkins, sweet potatoes, apples and other favorites come to mind. With the season in full swing, food lovers are still plotting out seasonal dishes to try. Their following their taste buds to local orchards, farmers markets and even their area grocery store.
Whether you're hoping to finally make a classic apple pie from scratch, heat up some sweet potato ravioli for the first time or just purchase a pumpkin pancake mix, put these practical ideas on a more  realistic bucket list this time of year and let them take center stage on your menu.
1. Put Fall-flavored Breakfast on Your Autumn Bucket List
Muffins are a coffee shop staple for a reason. They go nicely with a warm beverage and can serve as a quick breakfast. If you're an avid baker or just a lover of baked goods, it can't hurt to try something you never had before. Visit your favorite spot to try one you've never had before or something you want to eat this time of year. Whether you go to your standby java joint, a local bakery or the bakery section of your grocery store, explore your options before the season is over.
If you'd like to make something yourself, why not try fall recipes such as  Chocolate Chip Pumpkin Bread, Pumpkin Pie Egg Rolls or have two fall staples uniting in Apple Pumpkin Muffin Recipe.
2. Make Trying Pumpkin Recipes for Breakfast a Goal
Trying a new pumpkin recipe doesn't have to be complicated.  If you're not in the mood to bake, add this favorite fall flavor into something you already make using easy fall recipes.  Try a quick and easy Pumpkin Oatmeal, Pumpkin Pancakes or Pumpkin Waffles with Maple Syrup. You can get out of the house quickly on a weekend morning and still have time to take part in other fall bucket list activities that the season has to offer.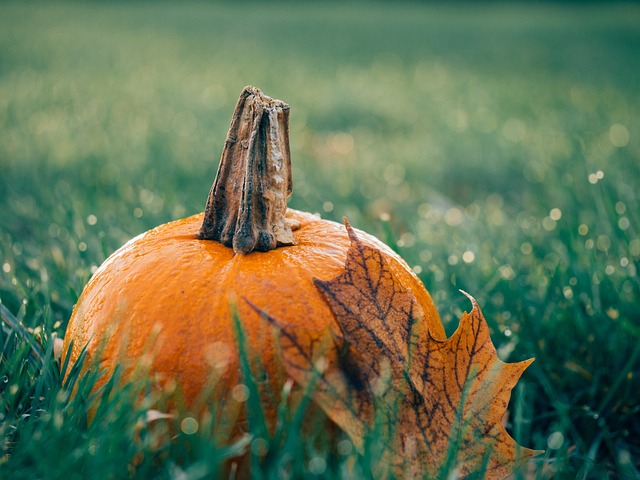 3. Put unique apple recipes on your fall bucket list
Sometimes lines gets blurred when breakfast masquerades as dessert. Though eating something like this every day might not be wise, we all deserve to splurge once in awhile. Check out an Apple Pie French Toast recipe or  Apple Cinnamon Crepes to make a belly pleasing meal that will have your friends begging you for the recipe.
Avoid having autumn go by without taking  advantage of the tastiness this red (or green), edible fruit has to offer. Unlock the sweetness of one of autumn's favorite foods by trying an Apple Pie Cupcake, Apple Pie Cookies or Apple Pie Ice Cream.
4. Make Room for Fall Soup Recipes
As the weather gets cooler, autumn is the ultimate season to whip up a hot bowl of soup. Try a tasty bowl of pumpkin goodness or a sweet potato soup that packs a flavorful punch. Grab some butter, cinnamon, pumpkin puree, ginger and a few other ingredients for this easy pumpkin soup recipe and you're taste buds will be on the road to happiness.
You can also try a Roasted Butternut Squash Soup or  Butternut Squash-apricot Chicken Noodle Curry or Sweet Potato Tahini Soup to get your fall food fix.  After making it yourself, you may never go back to eating soup out of a can again.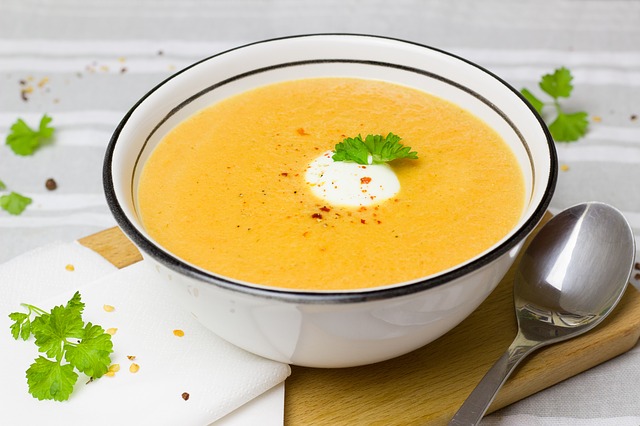 5. Try a Pumpkin Chili Recipe
Take a whiff of this classic meal with a twist and your dinner guests might be in a trance. What starts out as a bucket list item to try once, might become a recipe that gets thrown into your meal plan rotation every year. This pumpkin chili might not be like mom's, but it's sure to be a mother of a dish and a potential crowd pleaser. Check out this autumn pumpkin chili dish and other fall recipes.
6. Fall Recipes can go Beyond Food
Don't limit yourself to just food, mix up an easy fall party punch. Maybe even try an apple pie flavored one. Put together non-alcoholic beverages and leave the option of adding the booze or not. Whether it's a big batch of punch, a sparkler, spritzer or a sangria, you can put the alcohol needed on the side to let the guest (21 or older) decide if they'd like to add it. You'll keep everyone happy and hydrated. The added bonus is you won't have to make or purchase multiple beverages.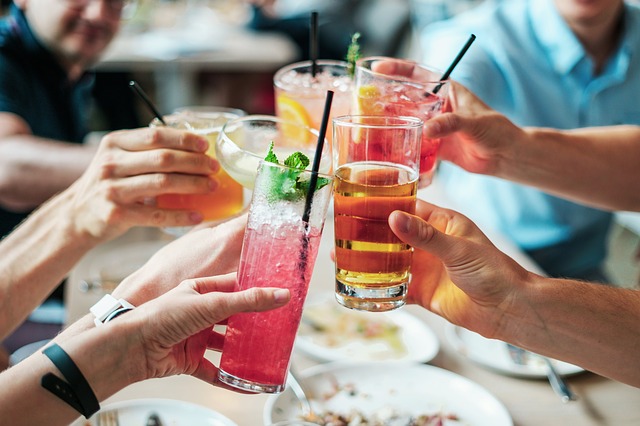 7. Look up Fall Recipes for Side Dishes
Are you tired of eating side dishes the same exact way? I know how it feels. A baked potato with butter. Boring! You might not look forward to dinner if it's the same meals over and over. At the same time, it can be hard to make something new and exciting all of the time. I figured out how to find middle ground.
Whether you add a little pumpkin puree to something you ordinarily eat or completely bust out of the side dish comfort zone, here are some ideas to mix things up. While it's fresh on your mind, opt for a twice baked potato with pumpkin or a sweet potato bake, you can't go wrong.
8. Sweet Potato Recipes to Make this Year
Sweet potatoes can serve as the ultimate side dish. This root vegetable will have your stomach rooting for more. Roast this starchy autumn staple with parmesan and herbs. Or, swap out the twice baked potato recipe for a sweet potato one and add some buffalo chicken. You can also make sweet potato fries by themselves or with Chipotle Lime Aioli for dipping. If you want to get fancy and turn this vegetable into a noodle, try them with Brown Butter Sage Sauce.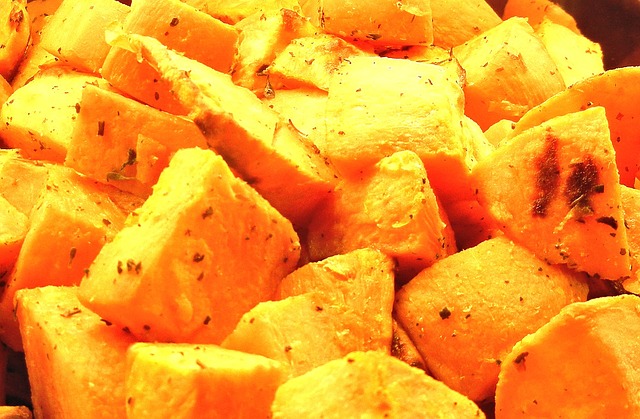 Conclusion
If you blink, autumn might pass you by. Don't miss out on the flavors of the season using some of the fall recipes above. Apples, pumpkins, sweet potatoes and more are under the same seasonal food umbrella. Why not let them hang out together on your plate? It can't hurt to try some of these ideas to mix things up and enjoy the flavors of the season while you can.
What do you think of these fall recipes? Do you have any others to add to the list?