Joe Saul-Sehy on Texarkana & Travel Bucket List Adventures
Prefer to listen elsewhere? Here's the same episode on: Apple or Spotify!
Today's Podcast Guest on Texarkana
I'm super excited to welcome Joe Saul-Sehy to the Everyday Bucket List Podcast. He's an all around nice dude that talks about Texarkana and his far away bucket list adventures!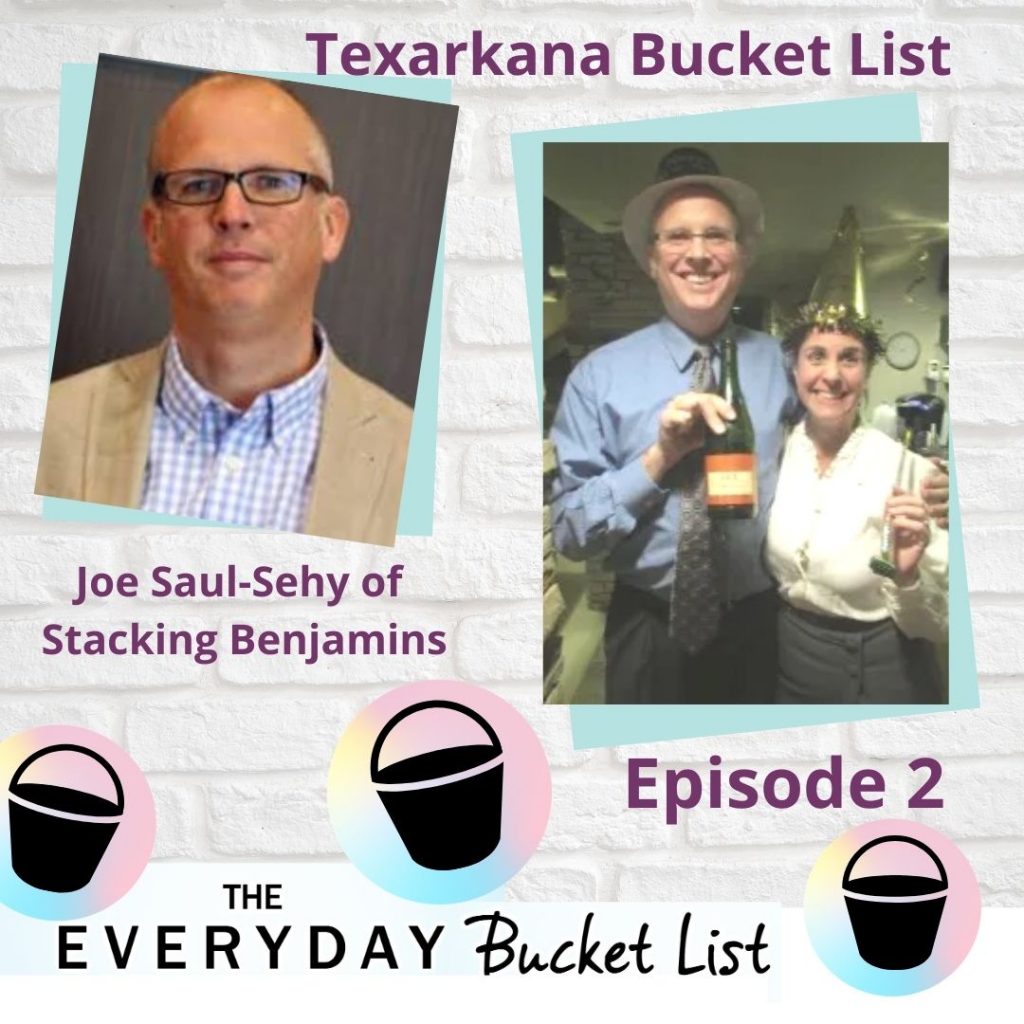 Stacking Benjamins Co-host Joe Saul Sehy
Joe Saul-Sehy is the creator and cohost of the award winning Stacking Benjamins Podcast as well as The Money with Friends Podcast. Joe worked as a financial advisor for 16 years and represented American Express and Ameriprise in the media. He was the "Money Man" on Detroit Television WXYZ-TV and has been seen in many publications such as Forbes, The Wall Street Journal, CNBC, The Los Angeles Times, The Chicago Sun Times and many others.
What You'll Learn
What Texarkana is known for including great restaurants and places to visit
The blueprint for where to find the best burgers
A little background as to why it is called Texarkana
A few bucket list destinations he visited including Bavaria, Germany as well as Banff, Lake Louise and Jasper in Canada
He tells us what he really thinks about the Grand Canyon with his wise guy humor and discusses his hiking adventures there and elsewhere
He'll also spill the beans on his everyday bucket list favorites and his upcoming book that will be released next fall 2021
Resources
Some of the resources below have affiliate links. If you get something through a link, I would make a small commission at no additional cost to you.
Texarkana Restaurants
Attractions in or near Texarkana
Hotels in Texarkana
Other Bucket List Destinations
Some of Joe's Everyday Favorites
Hiking -This can be an inexpensive hobby. If you're a beginner, here are some ideas for hiking gear to get yourself.
Connect with Karen Cordaway
Find unique bucket list ideas on Pinterest
Twitter @KarenCordaway