Portsmouth, New Hampshire: Restaurants, Hotels & Things to Do
Looking for a great getaway spot in New England?
You want to find a place that's close to the attractions you want to see, but also in a safe and walkable neighborhood.
Portsmouth, New Hampshire is the perfect destination for your next New England vacation. This town offers historic inns, charming bed and breakfasts, and modern hotels- all within walking distance of downtown shops and excellent restaurants.
Plus, catch part 10 of our money saving tip series! Be sure to follow/subscribe so you don't miss upcoming tips.
Prefer to listen elsewhere? Here's the same episode on: Apple or Spotify!
It takes a great deal of time and energy to create episodes. In order for me to make great content for you, some of the resources below have affiliate links. If you purchase something through a link, I would make a small commission at no additional cost to you. Also, consider working with me.
Today's Everyday Bucket List Guest
I'm happy to share my recent trip to Portsmouth, New Hampshire on the Everyday Bucket List Podcast!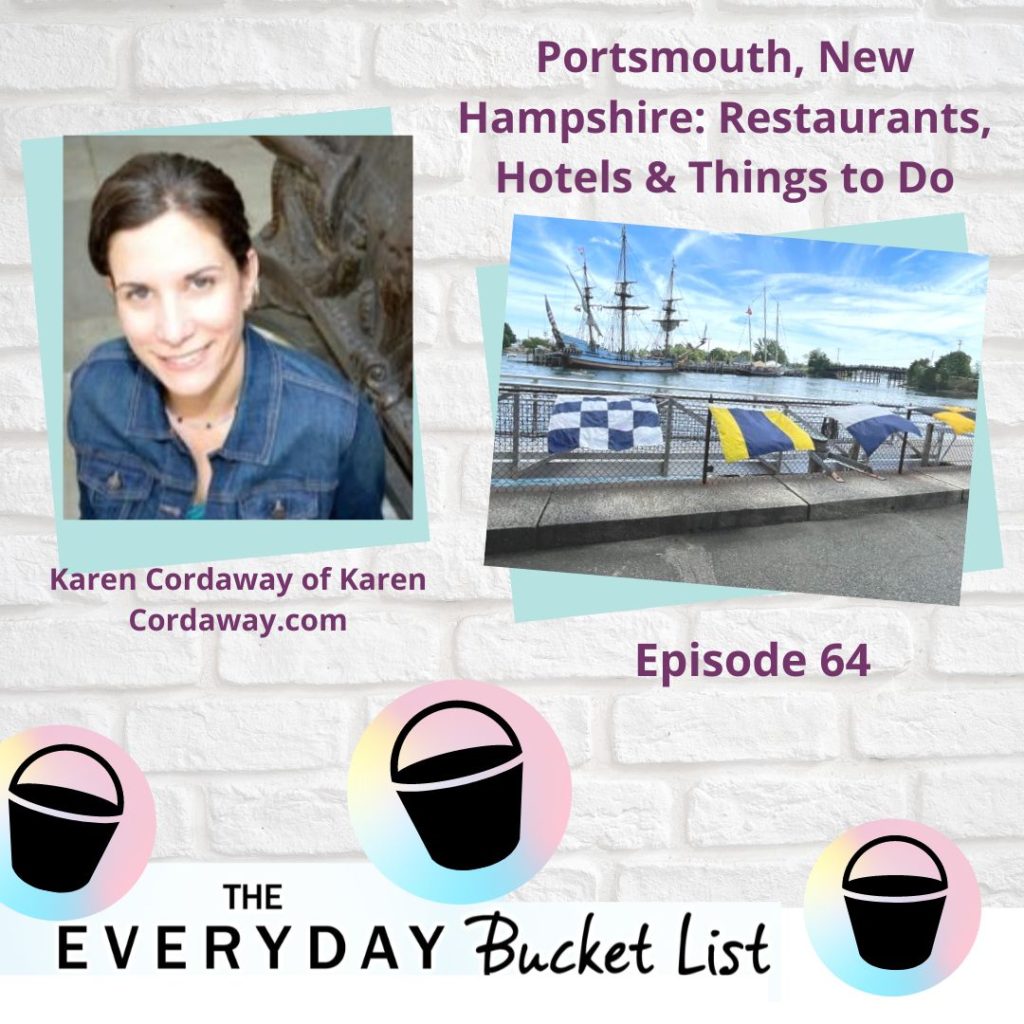 Psst! It's me, the host blabbing on my show. Karen Cordaway of KarenCordaway.com
As a busy working parent, Karen Cordaway spent years struggling to find free time for herself. That is until she figured out how to reclaim her schedule and infuse more exciting hobbies and bucket list experiences into everyday life.
With a little planning, a bit of strategy, and a dash of creativity, she turned her bucket list dreams into reality! The Everyday Bucket List Book: 10 Steps to Bringing More Exciting Experiences to Everyday Life is her signature, step-by-step process to help others, just like you, do the same.
Karen has written about shopping tips, cost-cutting, smart spending and other money-related topics for Clark Howard, Huffington Post and nationally syndicated articles for U.S. News. She now combines her money know-how with bucket list topics.
Her insights have been shared all over the internet in Money Magazine, Yahoo Finance, Market Watch, The Consumerist, Rockstar Finance, and even O Magazine. She now inspires everyday people to fulfill their bucket list dreams both big and small.
What You'll Learn About Portsmouth, New Hampshire
Is Portsmouth in Maine or New Hampshire?
What is Portsmouth New Hampshire known for?
Is it worth visiting Portsmouth?
Can you walk around Portsmouth, NH?
What makes Portsmouth unique?
Is Portsmouth in Maine or New Hampshire?
Is Portsmouth in Maine or New Hampshire? The answer may surprise you! Although Portsmouth is located in New Hampshire, it actually shares a history with the state of Maine. Originally part of the Massachusetts Bay Colony, Portsmouth was first settled in 1623. In 1629, it was officially incorporated as a town, and in 1653, it became a city.
In 1741, the border between Massachusetts and New Hampshire was officially established, and Portsmouth found itself on the New Hampshire side. However, the city remained an important part of Maine's history and culture, and even today, many Mainers consider Portsmouth to be a part of their state. So whether you're from Maine or New Hampshire (or anywhere else), if you find yourself in Portsmouth, be sure to enjoy all that this historic city has to offer!
What is Portsmouth, New Hampshire known for?
Portsmouth, New Hampshire is famous for all of the amazing history around every corner. It's also known for being a nice, quaint seaside town located in southern New Hampshire. It has a charming downtown area, which is filled with boutique shops, art galleries, and Portsmouth New Hampshire restaurants. The Portsmouth New Hampshire hotels are also a popular destination for tourists who want to experience the unique atmosphere of this historic town.
Portsmouth was founded in 1623 and has a long history as a thriving seaport. In recent years, Portsmouth has become a popular tourist destination due to its picturesque setting and its proximity to Boston.
Portsmouth is an ideal destination for a weekend getaway or a longer vacation. There are plenty of things to do in Portsmouth, from exploring the historic downtown area to relaxation on the beach. No matter what your interest, you're sure to find something to love about Portsmouth.
Is it worth visiting Portsmouth?
Whether you're a history buff, nature lover, or foodie, Portsmouth is definitely worth a visit. This charming seaside town is rich in both historical and natural beauty. And with its abundance of great restaurants, cafes, and shops, there's definitely something for everyone.
One of the best things about Portsmouth is that it's relatively small, so you can easily walk or bike around town and really take in all the sights. From the historic downtown to the beautiful parks and beaches, Portsmouth has plenty to offer visitors. So if you're looking for a place to relax and enjoy some New England charm, Portsmouth is definitely worth a check out.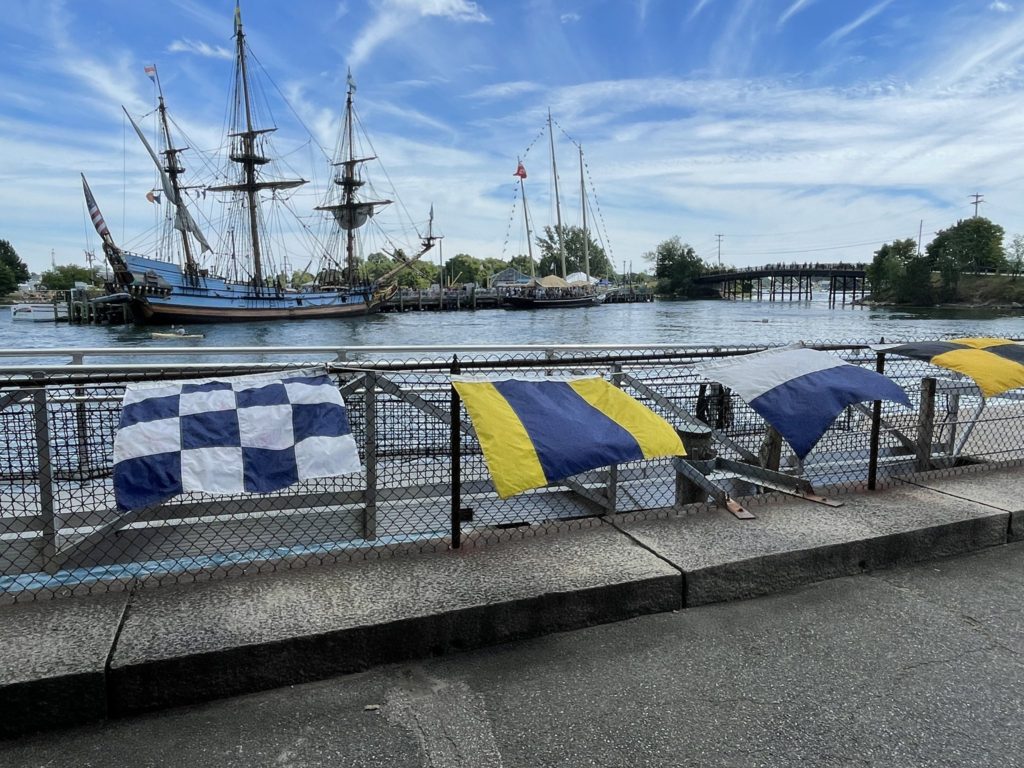 Can you walk around Portsmouth, NH?
If you're looking for a unique and free way to explore Portsmouth, New Hampshire, then walking around the city is a great option. There are a number of unusual and unique sights to see, and you can really get a feel for the city by taking a stroll. Of course, you'll want to be aware of your surroundings, as some areas can be quite busy. But overall, walking around Portsmouth is a great way to experience all that this interesting city has to offer.
What makes Portsmouth unique?
Portsmouth is a special place for a number of reasons. First, it's a historic city with a rich maritime heritage. Portsmouth is home to the world's oldest dry dock and has been a major shipbuilding center for centuries. Second, the city has a unique blend of architecture, with medieval buildings alongside Georgian and Victorian homes. Third, Portsmouth has a vibrant cultural scene, with museums, theaters, and music venues. And finally, Portsmouth is surrounded by beautiful countryside, making it the perfect place to enjoy nature. Whether you're interested in history, architecture, culture, or just spending time outdoors, Portsmouth has something to offer.
Casual Portsmouth, New Hampshire Restaurants
If you're looking for restaurants in Portsmouth, NH, there are plenty of great options to choose from. If you're hoping for restaurants with a view, there are several options right on the water. Or, if you prefer, there are also plenty of restaurants downtown with both indoor and outdoor seating. No matter what your preference, you're sure to find a great restaurant in Portsmouth, NH.
Casual Restaurants Portsmouth, NH Mentioned on the Show
The Friendly Toast
The Street
The Goods
Hotels
Portsmouth is a beautiful, historic city located in New Hampshire. Visitors can explore the city's many museums and galleries, stroll through its quaint streets, and enjoy its vibrant nightlife. Portsmouth is also home to a number of hotels, ranging from budget accommodations to luxury resorts. Whether you're looking for a place to stay for a night or a week, you're sure to find a hotel that meets your needs in Portsmouth. Here are ones I saw while there.
Hampton Inn in Suites (Downtown)
Hilton Garden Inn (Downtown)
Sheraton (which has a really pretty view of the water)
Best Western Hotel
Things to Do in Portsmouth, NH
There's more to Portsmouth than just the history. Sure, the Strawbery Banke Museum and the USS Albacore Museum are both great places to learn about the area's past, but there are also plenty of unique things to do that are totally free. For example, you can take a stroll through Prescott Park, which is home to beautiful gardens, a riverfront walking path, and a performance stage. Or you can explore the grounds of the Wentworth-Gardner House, which is one of the oldest houses in the state. If you're looking for something truly unusual, you can even visit the psychic Medium Rebecca Anne LoDolce at her shop, Beyond This Moment. Portsmouth may be small, but it definitely has a lot to offer!
I put some of the ideas in list form here if you just want to scan through. You can always go to the Portsmouth Welcome Center.
Conclusion for Portsmouth, New Hampshire
If you're looking for a relaxing and fun-filled beach vacation, look no further than Rehoboth Beach. With its wide variety of restaurants, bars, and shops, there's something for everyone in this seaside town. And don't forget the beaches – with miles of coastline to explore, you'll be able to find the perfect spot to relax and unwind. So what are you waiting for? Book your trip to Rehoboth Beach today! If you still find it hard to connect the dots, get a copy of The Everyday Bucket List Book!
Subscribe on Apple Podcasts , Spotify or Stitcher today!
Related Episodes