Rehoboth Beach, Delaware Boardwalk Vacation
We're just returning from a memorable trip to Rehoboth Beach in Delaware. Remember, summer is a time for fun and relaxation, but it's also easy to let the day slip away without doing anything special. Most people only have a few weeks of summer vacation, so it's important to make the most of it.
But where do you start? I say, visit Rehoboth beach this summer and enjoy all that this charming town offers. In 2019, Thrillist selected it as one of the 25 greatest beach towns in America, from its beautiful beaches and boardwalk to the delicious restaurants and fun nightlife.
I'm also going to answer, "Which beach is better, Rehoboth or Ocean City, Maryland?" So I'll talk about my experience with both, and I'll cover what they have in common and what are different about both of them.
Also, I'll let you in on our stop in Princeton, New Jersey. I also have many random tips towards the end that I didn't want to forget. Plus, part 6 of the money-saving tip series is here!
Prefer to listen elsewhere? Here's the same episode on: Apple or Spotify!
It takes a great deal of time and energy to create episodes. In order for me to make great content for you, some of the resources below have affiliate links. If you purchase something through a link, I would make a small commission at no additional cost to you. Also, consider working with me.
Today's Everyday Bucket List Guest
I'm happy to share my recent journey to Rehoboth, Delaware on the Everyday Bucket List Podcast!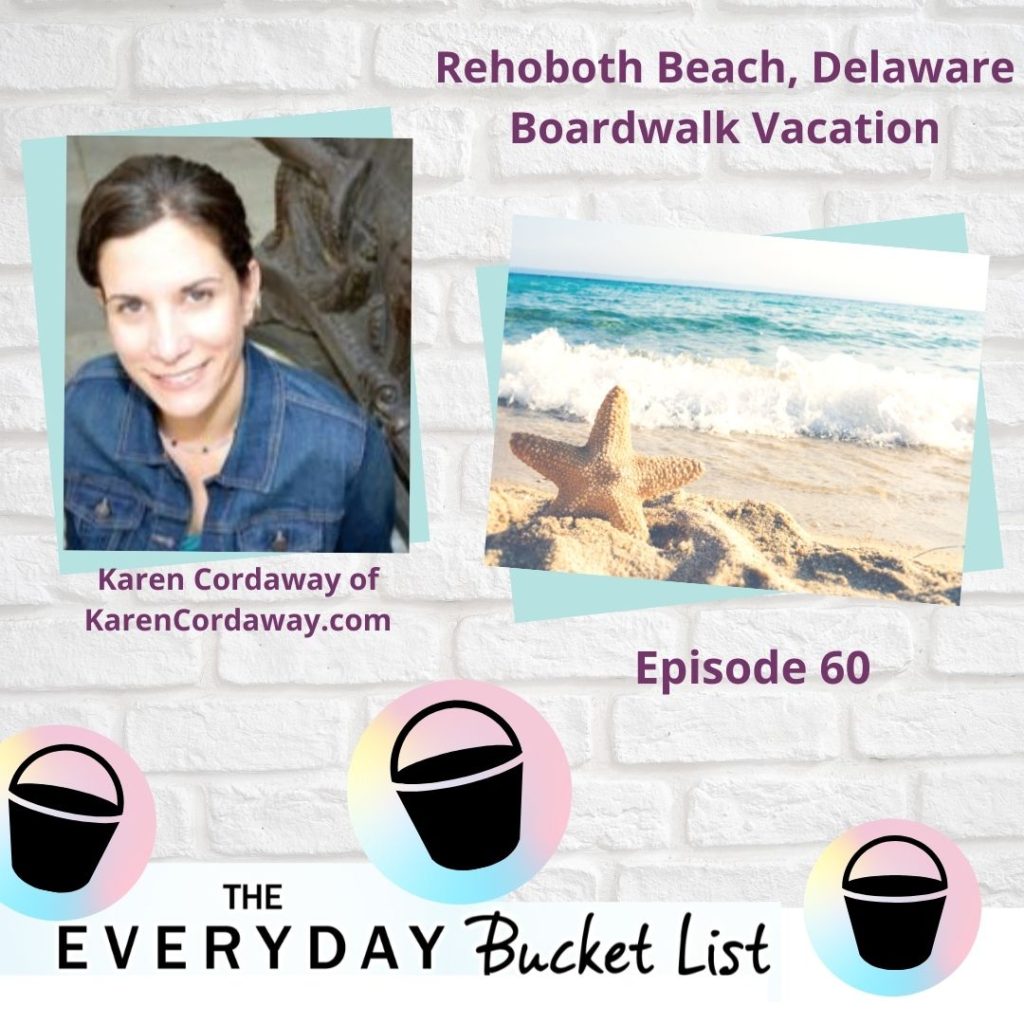 Psst! It's me, the host blabbing on my show. Karen Cordaway of KarenCordaway.com
As a busy working parent, Karen Cordaway spent years struggling to find free time for herself. That is until she figured out how to reclaim her schedule and infuse more exciting hobbies and bucket list experiences into everyday life.
With a little planning, a bit of strategy, and a dash of creativity, she turned her bucket list dreams into reality! The Everyday Bucket List Book: 10 Steps to Bringing More Exciting Experiences to Everyday Life is her signature, step-by-step process to help others, just like you, do the same.
Karen has written about shopping tips, cost-cutting, smart spending and other money-related topics for Clark Howard, Huffington Post and nationally syndicated articles for U.S. News. She now combines her money know-how with bucket list topics.
Her insights have been shared all over the internet in Money Magazine, Yahoo Finance, Market Watch, The Consumerist, Rockstar Finance, and even O Magazine. She now inspires everyday people to fulfill their bucket list dreams both big and small.
What You'll Learn About Rehoboth Beach
What is Rehoboth Beach known for?
Is Rehoboth Beach worth visiting?
Which beach is better Rehoboth or Ocean City?
Get general info on hotels and restaurants
Get the gist of what Rehoboth Beach boardwalk is like
What is Rehoboth Beach known for?
If you're looking for a place to soak up the sun and enjoy some waves, Rehoboth Beach is definitely worth checking out. This Delaware beach town is well known for its beautiful coastline and relaxed atmosphere. Whether you want to go for a swim, take a walk on the pier, or just relax on the sand, this Delaware seaside town has something for everyone. Consider visiting this charming East Coast beach town on your next vacation.
Is Rehoboth Beach worth visiting?
If you're looking for a fun, family-friendly beach town to visit this summer, look no further than Rehoboth Beach. With a mile-long boardwalk, various rides and attractions, and many restaurants, it's easy to see why this spot is a popular vacation destination. Don't miss out on all the excitement. Grab your sunscreen and head on over to the Rehoboth Beach boardwalk!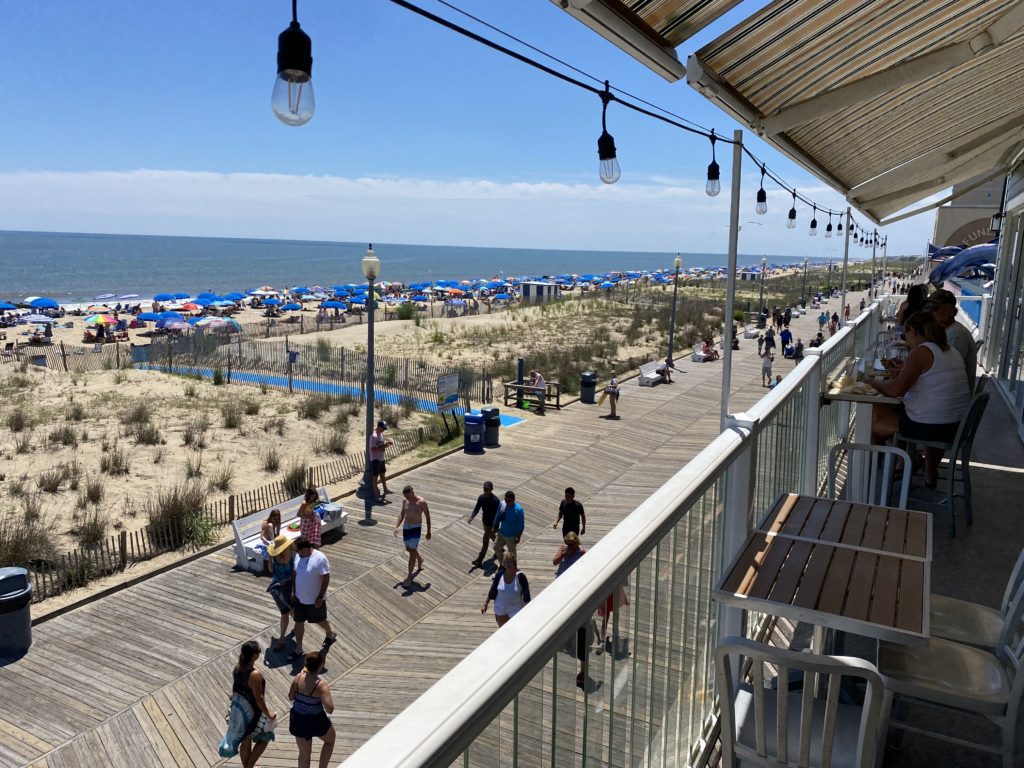 Which beach is better, Rehoboth or Ocean City?
So, which is the better beach town? It depends on what you're looking for. Ocean City, Maryland is your best bet if you want a bustling boardwalk with plenty of nightlife options. But if you're looking for a more relaxed atmosphere with smaller crowds and beautiful beaches, Rehoboth is worth considering. No matter where you end up going, we hope you have a great time! I give my take on both of them on the show. Here are the places we visited or mentioned at both.
Rehoboth
Ocean City Maryland
Rehoboth Beach Hotels & Airbnb
If you're looking for a place to stay in Rehoboth Beach, Delaware, there are plenty of hotels to choose from. You can find hotels on the boardwalk or closer to the action. There are also other places to stay close by if you don't want to be right in the middle of things. No matter your preference, there's a hotel for you in Rehoboth Beach.
The Airbnb rentals are a great option if you're looking for other places to stay in Rehoboth. There are plenty of other places to stay close by if you want something different. No matter where you stay, have fun and enjoy your time in Delaware's most popular town!
Rehoboth Beach Boardwalk
The Rehoboth Beach boardwalk is popular for Delaware residents and tourists. The area offers stunning ocean views, unique shops, delicious restaurants, and plenty of rides for kids of all ages. Whether you're looking to spend an afternoon people-watching or want to find the perfect souvenir to take home with you, be sure to check out the Rehoboth Beach boardwalk. You won't regret it!
Conclusion for Rehoboth Beach Delaware Vacation
If you're looking for a relaxing and fun-filled beach vacation, look no further than Rehoboth Beach. With its wide variety of restaurants, bars, and shops, there's something for everyone in this seaside town. And don't forget the beaches – with miles of coastline to explore, you'll be able to find the perfect spot to relax and unwind. So what are you waiting for? Book your trip to Rehoboth Beach today! If you still find it hard to connect the dots, get a copy of The Everyday Bucket List Book!
Subscribe on Apple Podcasts , Spotify or Stitcher today!
Have you visited the Rehoboth Beach boardwalk?
Related Episodes