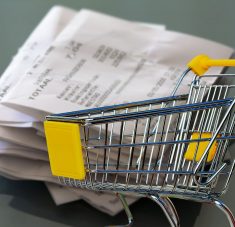 There might be affiliate links in this post. If you click on a link and make a purchase, I receive a small commission. Read my disclosure policy here.
You're already getting some savings at the grocery store,
but you are not getting as much as you want.
You may think you just don't have enough time to plan or cut
coupons, but don't get bummed out yet. . .
Your memory may be working AGAINST you.
There are five ways to use your
grocery receipt to save on food when it's in
your fridge.  If you deny it, you'll lose out on the savings you deserve.
I'll confess. I'm inappropriately happy about getting a deal at the grocery store.
However, the reality is, most Americans waste about 25% of the food they
purchase every year according to the book, American Wasteland.
This can total up to $2200 a year. Think of all the time writing list after list and
perhaps cutting coupons only to have that savings thrown in the garbage can.
Why lose money when we work so hard for it? I came up with a technique to
help you waste less. You'll be amazed at how simple it is to implement.
More specifically, here's the simple approach I follow:
1. After purchasing my groceries, I'm conscious of what I put in the fridge and what I put in the freezer. My husband and I sometimes forget and put meat in the refrigerator.
The week slips by and we don't cook it right away. It goes bad. We have to throw it out.  We were making this mistake frequently. We'd end up throwing out a major source of protein for the week. Our rule is, if you don't cook it today, freeze it for later.
2. Once everything is put away, we put our grocery receipt on the fridge. I refer to it as the Receipt Reference Technique™ . It serves as an informal inventory of what is inside.
It lets everyone in the house know what was purchased at the store.  So if anyone asks, what is there to eat, they can check the receipt. It takes the work out of searching for items to eat. This helps to not waste food.
3. The receipt serves another purpose, it reminds you of the expiration date and serves as a constant reminder to finish the food before it spoils. No more sniff testing, wondering whether or not food is still good.
4. Once you are completely out of an item, put a check next to it on the receipt. This will indicate that it's no longer there. This will let everyone know something isn't available before they even open the fridge.
5. Once several checks start to appear on the receipt, you know you need to go shopping again. The receipt serves yet another purpose. It now becomes your grocery list.
Any additional items you need can be written on the back. You don't have to waste extra time writing a list.
If you found this free information useful, you should share it with your friends. That's reasonable, right?