Yellowstone National Park: Things to Do with Miranda Marquit
Prefer to listen elsewhere? Here's the same episode on: Apple or Spotify!
Today's Podcast Guest
I'm excited to welcome Miranda Marquit to the Everyday Bucket List Podcast!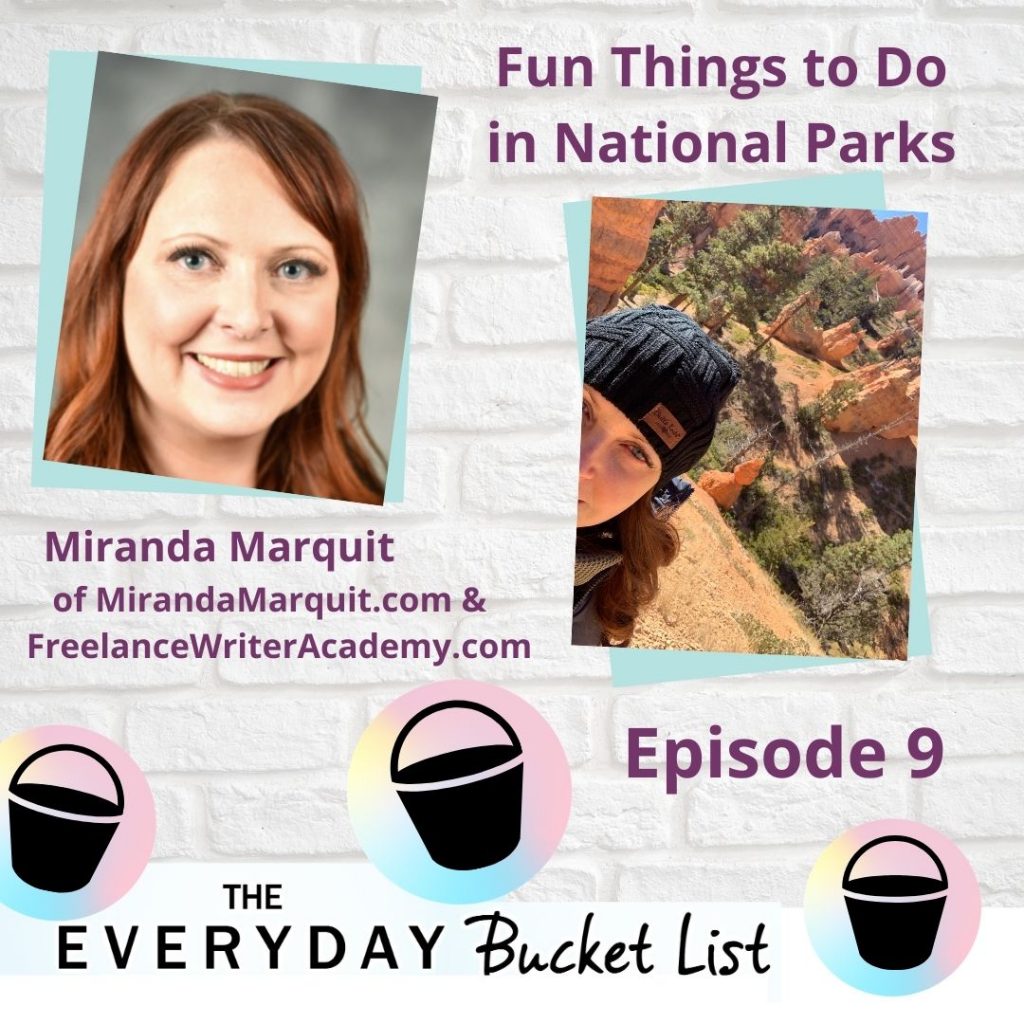 Miranda Marquit of Freelance Writer Academy
Miranda Marquit is a freelance financial writer and nationally-recognized money expert. She has appeared in numerous media, including NPR, MarketWatch, CNBC, HuffPost, Yahoo! Finance, MSN Money, and more. In addition to writing, Miranda is an avid podcaster and participates in the Money! podcast from Money Talks News. She is also the co-founder of the Freelance Writer Academy, which offers courses, coaching, and other resources for writers at various stages of their freelance career. Miranda lives in Idaho and enjoys spending time with her son, travel, reading, and being outdoors.
What You'll Learn
How many days do you need in Yellowstone? Listen to ideas for things to do at Yellowstone National Park to figure out what interests you and decide how long you should stay
If you're driving there, find scenic routes to take (depending on which way you go)
What you should not miss at Yellowstone National Park – Things to do during your stay, plus what to do nearby
Discover how to spend a day or two (or seven) while there
Find out if it is dangerous to go to Yellowstone. You be the judge!
Also, hear about other unique things to do in Grand Teton National Park, The Grand Canyon, Bryce Canyon and other travel bucket list destinations!
Hear about Miranda's town in Idaho Falls, Idaho and what it is known for
How she adopted travel as a lifestyle along with her career bucket list ideas, "hobbies" & more
Resources for Yellow Stone Park: Things To Do & Other National Parks
Some of the resources below have affiliate links. If you purchase something through a link, I would make a small commission at no additional cost to you.
Check out a Yellowstone National Park map here.
Take a look at a Yellowstone National Park attractions map for fun things to do and where they're located here.
Some of Miranda's Everyday Favorites
Hiking – This can be an affordable hobby to do year round. If you're just starting out, find some gear for yourself or ask for it as a gift.
Neverwhere by New York Times Best Selling Author Neil Gaiman
Making Money by Terry Pratchett- A satirical book. I've heard it described as entertaining, smart and funny.
Connect with Karen Cordaway
Get ideas for your bucket list along with fun things to do at home or locally on my Pinterest profile.
Twitter @KarenCordaway