Burlington, Vermont: Fun Ideas & Bucket List Things to Do
You're planning a trip to Burlington, Vermont, but you're not sure what to do.
Burlington is a great city with plenty of things to do, but it can be hard to know where to start.
We've got you covered! Our list of things to do in Burlington will help make your trip planning easy and fun.
Prefer to listen elsewhere? Here's the same episode on: Apple or Spotify!
It takes a great deal of time and energy to create episodes. In order for me to make great content for you, some of the resources below have affiliate links. If you purchase something through a link, I would make a small commission at no additional cost to you.
Today's Everyday Bucket List Guest
I'm happy to share my recent trip to Burlington, Vermont on the Everyday Bucket List Podcast!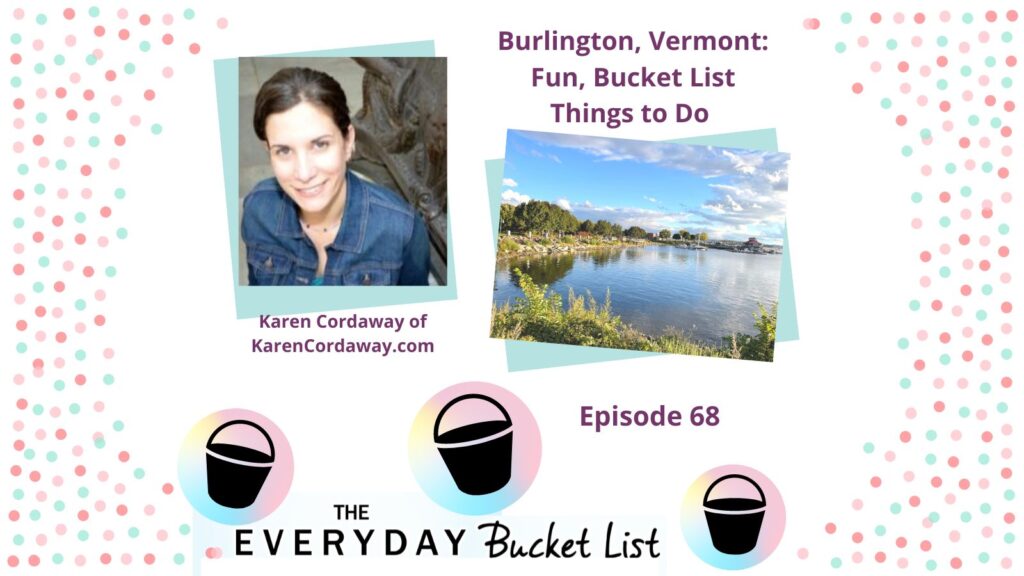 Psst! It's me, the host blabbing on my show. Karen Cordaway of KarenCordaway.com
As a busy working parent, Karen Cordaway spent years struggling to find free time for herself. That is until she figured out how to reclaim her schedule and infuse more exciting hobbies and bucket list experiences into everyday life.
With a little planning, a bit of strategy, and a dash of creativity, she turned her bucket list dreams into reality! The Everyday Bucket List Book: 10 Steps to Bringing More Exciting Experiences to Everyday Life is her signature, step-by-step process to help others, just like you, do the same.
Karen has written about shopping tips, cost-cutting, smart spending and other money-related topics for Clark Howard, Huffington Post and nationally syndicated articles for U.S. News. She now combines her money know-how with bucket list topics.
Her insights have been shared all over the internet in Money Magazine, Yahoo Finance, Market Watch, The Consumerist, Rockstar Finance, and even O Magazine. She now inspires everyday people to fulfill their bucket list dreams both big and small.
What You'll Learn About Burlington, Vermont: Fun Things to Do
What is Burlington, Vermont known for?
Is Burlington Vermont worth visiting?
Fun Things to Do in Burlington, Vermont
How far is Burlington, Vermont from Montreal?
What is Burlington, Vermont known for?
Vermont is a beautiful state that is known for its stunning fall foliage, delicious maple syrup, and challenging ski slopes. Nestled in the heart of Vermont is the charming city of Burlington. This vibrant city is home to a variety of Vermont restaurants, breweries and shops.
Visitors to Burlington can enjoy exploring the city's lively downtown area, which is filled with unique shops and cafes. The city also offers a variety of outdoor activities, including biking, hiking, and kayaking. Whether you're looking for a relaxing vacation or an action-packed adventure, Burlington has something to offer everyone.
Is Burlington Vermont worth visiting?
Burlington is the largest city in Vermont and the site of many important historical events. It is also a beautiful city, with a picturesque waterfront and a variety of shops and restaurants. While Burlington may not be as busy as some other cities, it has a lot to offer visitors. There are several museums, including the ECHO Lake Aquarium and Science Center, as well as the Shelburne Museum.
The city is also home to the University of Vermont, which offers a variety of cultural events and activities. In addition, Burlington has a lively music scene, with several live venues and a thriving nightlife. Overall, Burlington is a great city to visit, whether you are interested in history or just looking for a nice place to relax. I believe it's definitely a place worth visiting. I give it a hard yes.
Discover Fun Things to Do in Burlington, Vermont
From snowboarding and skiing to dining in world-renowned restaurants, Stowe and Burlington really do have it all. If you're looking for a fun-filled vacation this winter or any time of year, be sure to add this Vermont town to your list. Here's a list of things to do in and near Burlington. They categorized it by kid/family-friendly and things that were more adult-friendly.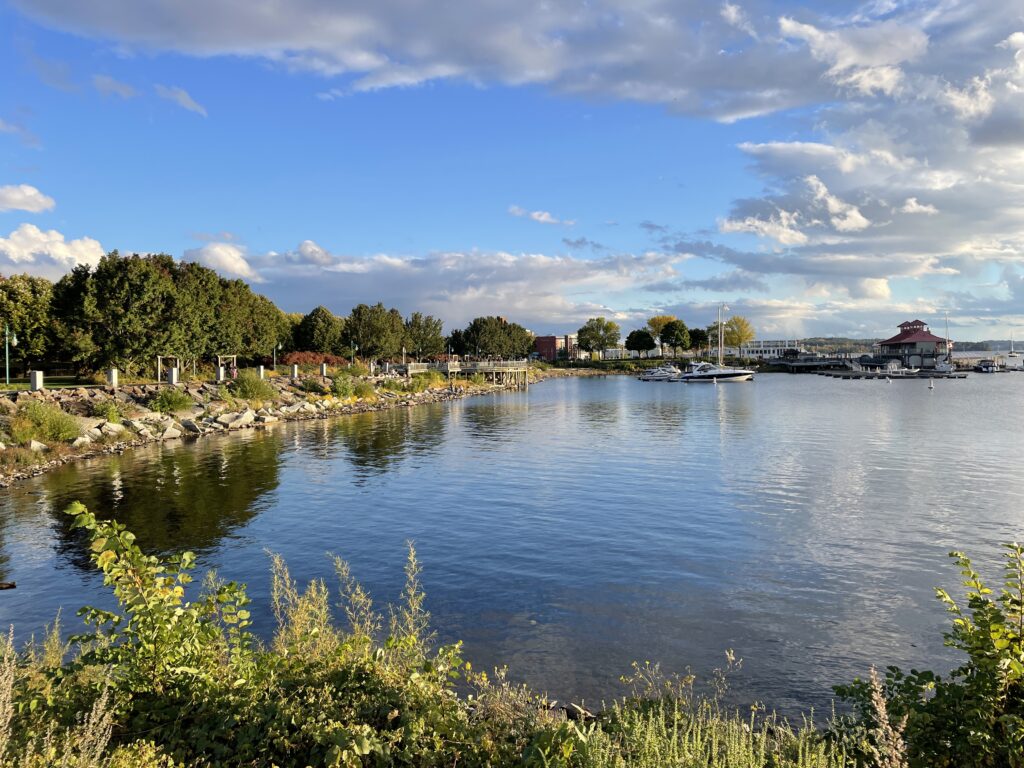 Here's the list:
Battery Park
Burlington Bike Path
Causeway Park
The Centennial Woods Trail
Church Street Marketplace
The Earth Clock
Ethan Allen Homestead Museum
The Fleming Museum of Art
The Flynn Center for the Performing Arts.
Green Mountain Audubon Center
Leddy Beach & Park
There's even a trampoline park
Murals Roxy Cinema
Oak Ledge Park
Red Rocks Park
Shelburne Farms
There's even a place to go bowling if you're in the mood for that. There's also a drive-in and there's an area that has the world's tallest filing cabinet.
Adult-friendly Places
The Archives (arcade and bar)
Citizen Cider
Foam Brewers
Magic Hat Brewing Company
Queen City Brewery
Switch Back Brewery Company
Zero Gravity Brewery
Burlington Vermont Restaurants
There are many great restaurants in Burlington, Vermont. If you are looking for a good meal, you should definitely check out one of these establishments. Each restaurant has its own unique atmosphere and cuisine, so you are sure to find something to your taste. Whether you are in the mood for a burger or a gourmet meal, Burlington has a restaurant for you.
Leunig's Bistro and Cafe
It's a French bistro and bar that serves lunch and dinner. You could find it on the Church Street Marketplace on the corner of church and college, they describe themselves as the panache of Paris in the center of downtown Burlington.
Leunig's Bistro and Cafe offers French-inspired cuisine in a warm and inviting atmosphere. The perfect spot for a romantic dinner or special occasion, Leunig's is sure to impress. For an unforgettable dining experience, be sure to check out Leunig's Bistro and Cafe.
Like I mentioned, it's one of the oldest restaurants in Burlington that continues to offer great food, people watching and live music.
There's also a kiosk called Leunig's Petite Bijou offering croissants and coffee. There's poutine, creemees, which is what they call ice cream and more. If you like a more casual grab and go option that could be your little taste of that.
Thorn and Roots
There's also a place called Thorn and Roots, and you always find these types of places in college, areas where there's smoothies and smoothie bowls and power bowls and avocado toast.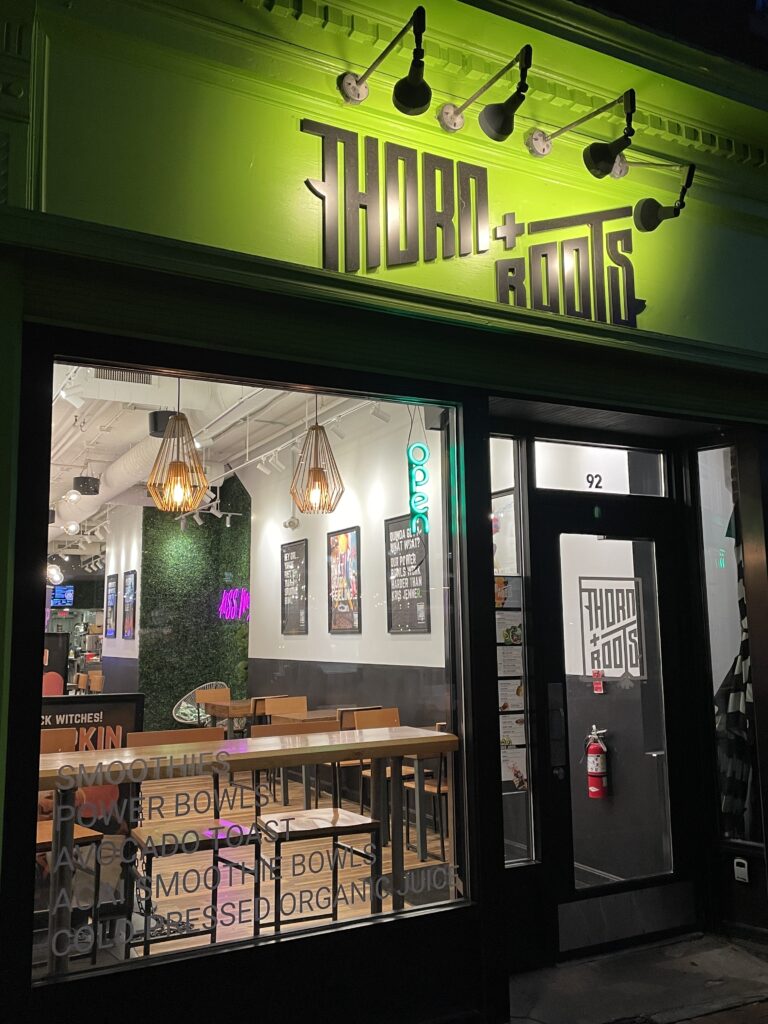 Black Cap Coffee and Beer
The best time to visit Black Cap Coffee and Beer is during the week when they have live music. The coffee is great, but the beer is even better. And if you're looking for a place to relax and enjoy some good company, look no further than Black Cap!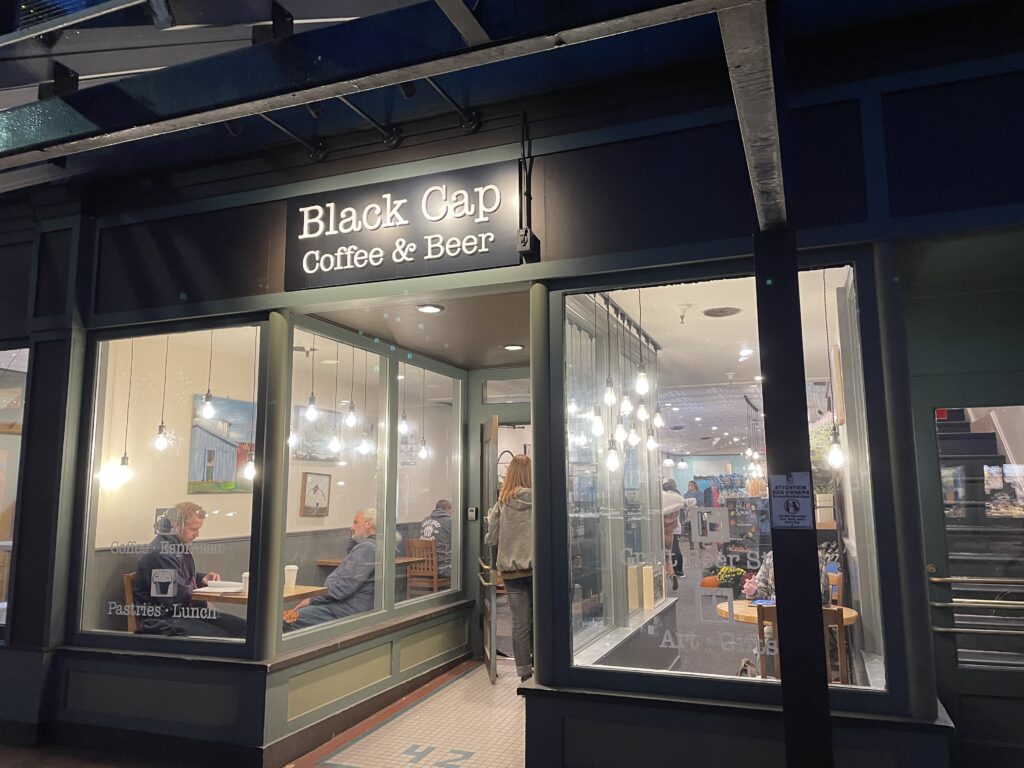 Obviously if it's lunchtime or breakfast, maybe you go a little early because these places are very busy and have limited seating. So if you're with someone, try to get their order, go in the line and make somebody wait at the table.
If you want breakfast, it's good to go early. It's reasonably priced. We had breakfast there and they had a great egg sandwich and chaider (which is chai and cider).
Here are some other restaurants I noticed in the Church Street Market Place area:
Asiana Noodle Soup
Burlington Bagel Bakery
Church Street Cheese Steaks
Church Street Tavern
Ken's Pizza and Pub
Kru Coffee
Pacolo Ristorante
Pokeworks
Ri Ra The Irish Pub
Whiskey Room
Burlington Vermont Hotels
There are many wonderful hotels in Burlington, Vermont. The town is located on Lake Champlain and offers stunning scenery and plenty of outdoor activities. If you're looking for a place to stay while visiting Burlington, be sure to check out one of the many lovely hotels the town has to offer.
Here's a few hotels near downtown:
Hilton Garden Inn
Hotel Vermont
Hilton Burlington Lake Champlain
Double Tree by Hilton
Burlington VT Airport
Burlington VT Airport is a great place to fly into if you are visiting Vermont. The airport is small and easy to navigate, and the staff is friendly and helpful. The airport is situated in a perfect location for travelers who want to get away from it all and enjoy some peace and quiet. If you're looking for an escape from the hustle and bustle of daily life, Burlington VT airport should be at the top of your list.
How far is Burlington, Vermont from Montreal?
Though Burlington, Vermont is 45 miles South from the Canadian border, Burlington is about 95 miles from Montreal, which isn't too far if you're driving. It's about a 1.5- 2 hour drive on the interstate depending on traffic. If you're taking public transportation, it's a bit more complicated because there's no direct route. Check to find the most accurate and up-to-date information to plot it out that way.
Either way, if you're planning a trip to Burlington from Montreal or vice versa, it's best to plan on spending the day travelling there and back. But it's worth it because Montreal is a great city (and so is Burlington)! There are lots of things to see and do, and the scenery is beautiful.
Conclusion for What to Do in Burlington, Vermont
Burlington, Vermont is a great place to visit for its many restaurants and fun things to do. The city has something for everyone, whether you're looking for a romantic getaway or a family vacation. If you're planning a trip to Burlington, be sure to use the information above for things to do in the area! If you still find it hard to connect the dots with your bucket list dreams, get a copy of The Everyday Bucket List Book!
Subscribe on Apple Podcasts , Spotify or Stitcher today!
Related Episodes