My 5 Solid Bucket List Ideas to Try in Everyday Life (or While Traveling)
My bucket list is full of ideas, but sometimes trying to come up with new and exciting things to do can be tough, especially if you feel like you're stuck in a rut.
Most people only have a few things on theirs, and those items can sometimes be way out of reach.
We wanted to give you five solid bucket list ideas that can be easy to incorporate into everyday life. If you feel like you're in a little rut or you're trying to come up with something different to do, Rich and I are here to help along with two special guests.
Plus, catch part 9 of our money saving tip series! Be sure to follow/subscribe so you don't miss one.
Prefer to listen elsewhere? Here's the exact episode on: Apple or Spotify!
It takes a great deal of time and energy to create episodes. In order for me to make great content for you, some of the resources below have affiliate links. If you purchase something through a link, I would make a small commission at no additional cost to you. Also, consider working with me.
Today's Everyday Bucket List Guest
I'm happy to welcome my husband back to the Everyday Bucket List Podcast as well as two special guests!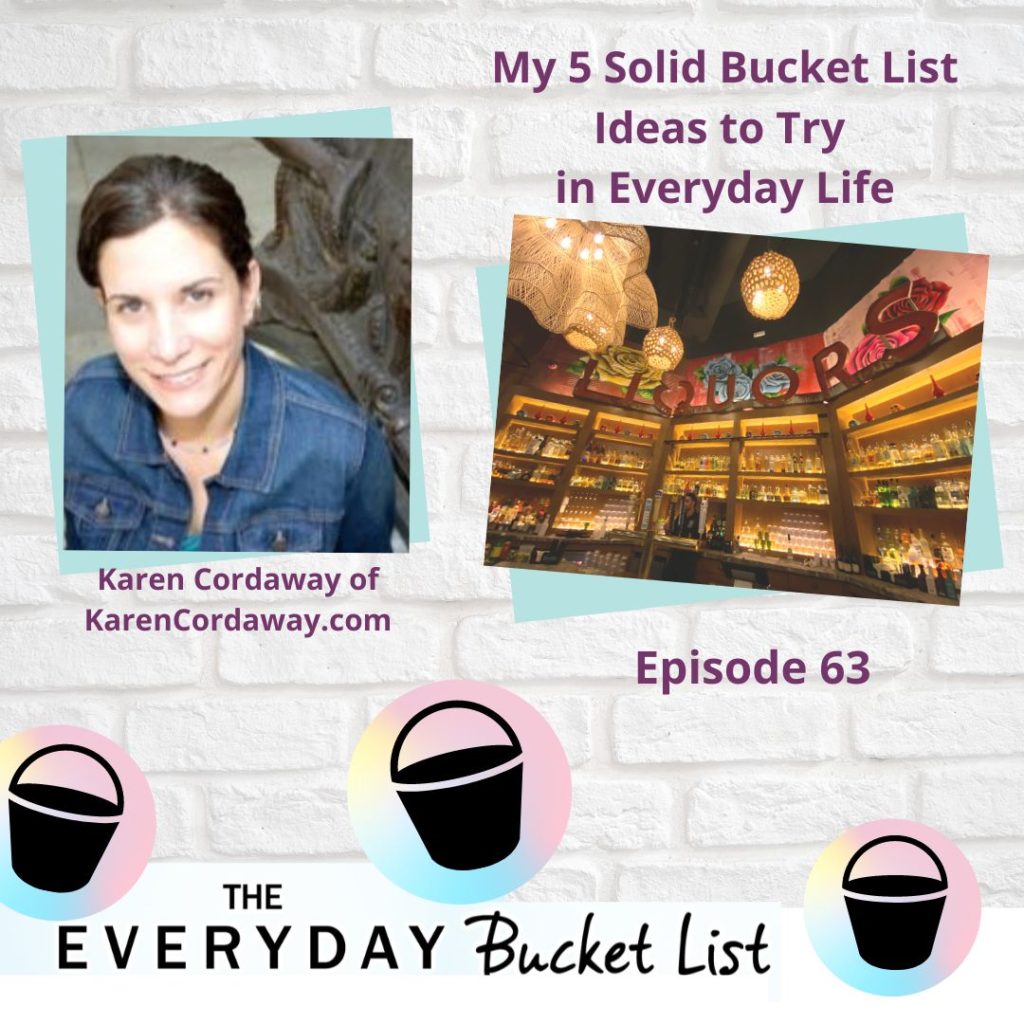 It's me, the host blabbing on my show. Karen Cordaway of KarenCordaway.com
As a busy working parent, Karen Cordaway spent years struggling to find free time for herself. That is until she figured out how to reclaim her schedule and infuse more exciting hobbies and bucket list experiences into everyday life.
With a little planning, a bit of strategy, and a dash of creativity, she turned her bucket list dreams into reality! The Everyday Bucket List Book: 10 Steps to Bringing More Exciting Experiences to Everyday Life is her signature, step-by-step process to help others, just like you, do the same.
Karen has written about shopping tips, cost-cutting, smart spending and other money-related topics for Clark Howard, Huffington Post and nationally syndicated articles for U.S. News. She now combines her money know-how with bucket list topics.
Her insights have been shared all over the internet in Money Magazine, Yahoo Finance, Market Watch, The Consumerist, Rockstar Finance, and even O Magazine. She now inspires everyday people to fulfill their bucket list dreams both big and small.
What You'll Learn About 5 Solid Bucket List Ideas to Try in Everyday Life
Find ideas you can sneak into your schedule or squeeze in while traveling
Make photography a focus and get tips for how to take better photos with one of our guests
Get motivated by a master athlete if you want to get into fitness
We share some of our own personal bucket list examples to inspire your journey
Examples From My Bucket List
1. Create a restaurant or food-related bucket list
Everyone has a list of things they want to do in their lifetime, and for many foodies, that list includes some restaurant goals. Whether it's finally trying that one dish you've been dying to eat or visiting a Michelin-starred restaurant, there are plenty of experiences out there worth bucket-listing.
2. Make a list of hotels to visit
A hotel is more than just a place to lay your head at night. It can be an experience in and of itself. With that in mind, here are a few ideas for hotels to add to your list.
Are you looking for something different for your next vacation? Tired of the same old hotel room? Why not try something new and make a bucket list of it? There are a variety of unique places to stay, from bed and breakfasts to campgrounds to timeshares. You can find a hotel to suit any budget, from luxury resorts to more affordable options. And you'll be sure to create lasting memories by staying in a unique hotel. So what are you waiting for? Start planning your next vacation and check one (or more!) of these unique hotels off your list.
3. Take thematic photos
Thematic photography is a great focus to have. Whether you love photographing flowers, landscapes, people, or animals, finding a subject you're passionate about will help you take better photos. Plus, you'll be more likely to visit places and take pictures that you'll actually enjoy looking at later. To get started, brainstorm a list of potential subjects, then research the best places to photograph them. You can also look for local workshops and classes to learn new techniques. With a bit of planning and effort, you can brainstorm ideas for amazing photos waiting to be taken.
4. Make an "every" list
Everyone's got a bucket list, right? A list of things we want to do before we die. Something that we can realistically achieve if we set our minds to it. For me, one of those things is visiting every state in the US.

I've always loved road trips, and there's no better way to see the USA than by driving from coast to coast. There are so many different landscapes and cultures to experience, and I'm determined to see them all. So far, I've crossed many off of my list, and I'm not slowing down anytime soon. Who knows, maybe one day I'll even be able to say that I've visited every state in the country.
5. Give your bucket list meaning and tap into what you liked as a child
Everyone has a list of ideas they want to accomplish. And while there's nothing wrong with wanting to skydive or travel to every country in the world, sometimes we can get so caught up in making our lists that we forget to ask ourselves why we want to do these things. What is it that we're looking for?
A lot of times, the answer can be found by looking back at our childhoods. What did we like to do when we were younger? What sort of things made us happy? When we tap into those memories, we can often find the root of our desires. And by doing so, we can give our lists more meaning and purpose. So if you're ever feeling lost on making your list, try thinking back to childhood. It just might give you the clarity you need.
My Bucket List Book
If you want to make a bucket list but don't know where to start, or if you have a bucket list full of great ideas but never seem to follow through, I can help. I share some tips on brainstorming meaningful ideas and connecting the dots to make things happen. Start planning your dream life today! Learn more about The Everyday Bucket List Book.
Conclusion for My 5 Solid Bucket List Ideas to Try in Everyday Life
Bucket lists are a great way to push yourself to do new things and explore new places. We hope that these bucket list ideas have given you some inspiration for your own list, whether it's for everyday life or travel. What will you add? Planning out some of these ideas is a great way to motivate yourself to check items off your bucket list – so get started!
Subscribe on Apple Podcasts , Spotify or Stitcher today!
Related Episodes