Our Recent Bucket List Journey & 6 More Bucket List Ideas for Everyday Life
We all know that we should be living life to the fullest, but sometimes it's hard to know where to start.
You want to do more and see more, but you don't necessarily have time for a full-blown vacation. You're too busy working or taking care of your family
This episode of the Everyday Bucket List podcast can be the answer. I brainstormed some ideas that might be easier to incorporate into everyday life and one of these ideas and maybe it will spark ideas for what this could look like for you.
Plus, a bonus tip to give your dream idea a major boost. I just heard this from the comedian Tony Rock (Chris Rock's brother) so stay tuned.
Prefer to listen elsewhere? Here's the same episode on: Apple or Spotify!
It takes a great deal of time and energy to create episodes. In order for me to make great content for you, some of the resources below have affiliate links. If you purchase something through a link, I would make a small commission at no additional cost to you. Also, consider working with me.
Today's Everyday Bucket List Guest
I'm happy to welcome my husband back to the Everyday Bucket List Podcast!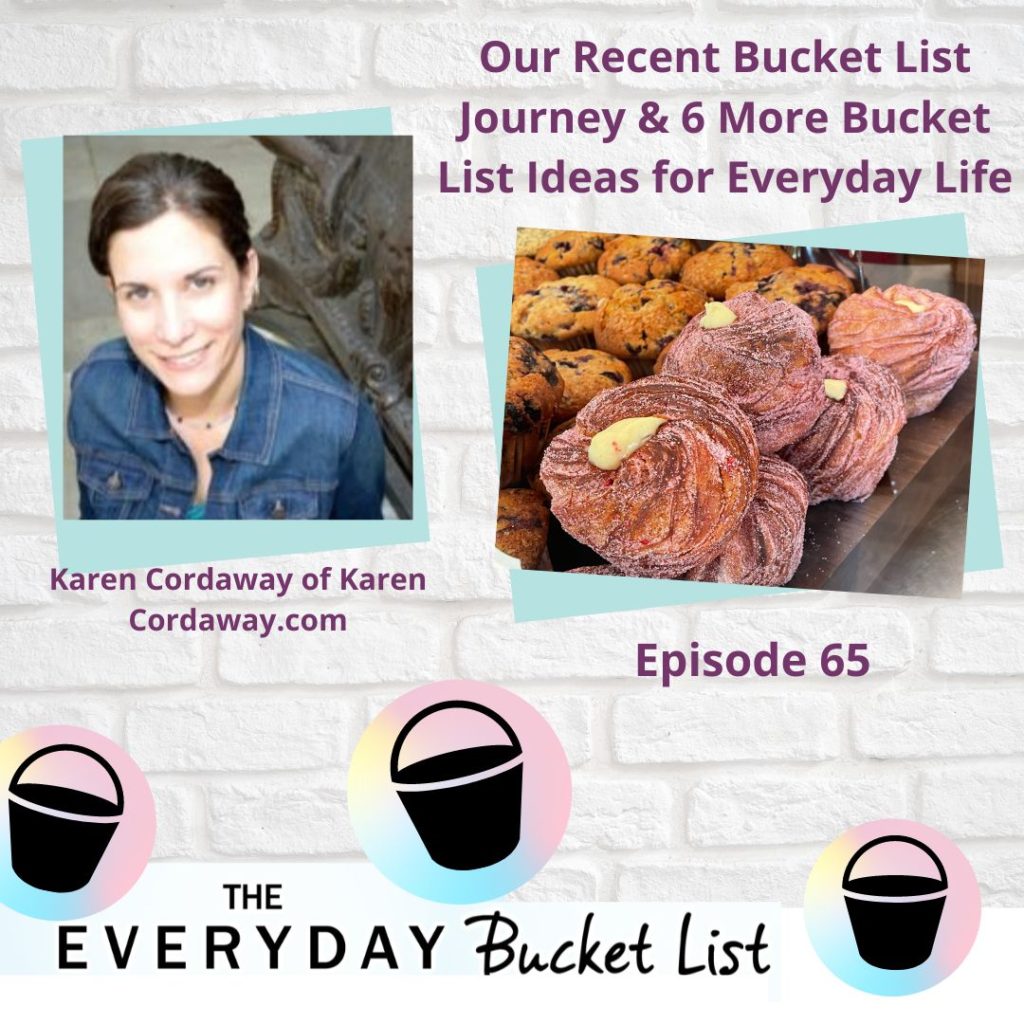 It's me, the host blabbing on my show. Karen Cordaway of KarenCordaway.com
As a busy working parent, Karen Cordaway spent years struggling to find free time for herself. That is until she figured out how to reclaim her schedule and infuse more exciting hobbies and bucket list experiences into everyday life.
With a little planning, a bit of strategy, and a dash of creativity, she turned her bucket list dreams into reality! The Everyday Bucket List Book: 10 Steps to Bringing More Exciting Experiences to Everyday Life is her signature, step-by-step process to help others, just like you, do the same.
Karen has written about shopping tips, cost-cutting, smart spending and other money-related topics for Clark Howard, Huffington Post and nationally syndicated articles for U.S. News. She now combines her money know-how with bucket list topics.
Her insights have been shared all over the internet in Money Magazine, Yahoo Finance, Market Watch, The Consumerist, Rockstar Finance, and even O Magazine. She now inspires everyday people to fulfill their bucket list dreams both big and small.
What You'll Learn About 6 More Bucket List Ideas for Everyday Life
Find ideas you can sneak into your schedule or squeeze in while traveling
If you're wondering, "How do I make a simple bucket list?", here are some ideas to get you started.
Get motivated by a master athlete if you want to get into fitness
We share some of our own personal bucket list examples to inspire your journey
My Personal Bucket List Ideas That You Might Enjoy
What are some fun bucket list ideas? While everyone has a different idea of what makes for a fun bucket list item. For some, it's all about crossing off the big, once-in-a-lifetime items. Others prefer to focus on more everyday goals that can be easily accomplished. No matter what your approach, there are plenty of fun ideas to add to your bucket list.
If you prefer a more relaxed pace, try adding items like reading 100 books, visiting 10 new countries, or cooking a dish from every country in the world.
The important thing is to make sure your bucket list reflects your own personal interests and goals. With a little creativity, you can come up with a list that is both fun and achievable. I include some of my own ideas that you may like or it can at least spark some inspiration. So what are you waiting for? Whether you need simple bucket list ideas for students, moms, super busy people, etc., get started crossing items off your list today!
1. Start a vegetable garden
If you're looking for a fun and rewarding way to get involved in gardening, why not start a vegetable garden? Growing your own vegetables is a great way to get outside and enjoy the fresh air, while also providing yourself with healthy and delicious food. Plus, it's a great way to save money on your grocery bill!
To get started, you'll need to choose a spot in your yard that gets plenty of sunlight. Then, you'll need to prepare the soil by tilling or digging it up. Once the soil is ready, you can start planting your vegetables. Be sure to space them out according to their needs, and water them regularly. With a little care and attention, you'll soon be harvesting your own fresh vegetables!
2. Visit country stores for fun
There's something about old-fashioned country stores that just makes them fun to visit. Maybe it's the nostalgic feel of bygone days, or the fact that they always seem to sell interesting things. Whatever the reason, spending an afternoon browsing through a country store can be a great way to pass the time.
You never know what you might find, from antiques and handcrafted items to local food and souvenirs. And if you get hungry, most country stores also have a cafe where you can enjoy a cup of coffee or a homemade meal. So next time you're looking for something to do, why not pay a visit to your nearest country store? You might just have a blast.
3. Search for vintage items
There's something special about vintage items. They have a history and a story to tell. They're also often very well made, with a quality that you just don't find in mass-produced items today. If you're on the hunt for vintage treasures, there are a few things you can do to increase your chances of finding that perfect piece.
First, get to know your local antique dealers and thrift stores. They'll often have first dibs on new arrivals, so it's worth getting to know them and letting them know what you're looking for. Second, learn as much as you can about the era or style you're interested in. This will help you to spot potential treasures that others might overlook. Finally, be patient. The best finds often come to those who are willing to wait for that perfect piece to come along. With a little knowledge and a lot of patience, you're sure to find some amazing vintage treasures.
4. Scout out art work
There's more to art than meets the eye. Sometimes, it's not just about what you see on the surface. It can be about the story behind the piece, the artist's process, or the history of the subject matter. That's why it pays to do a little scouting before you buy art.
If you're interested in a piece, take some time to learn more about it. Read up on the artist and their work. See if you can find out anything about the story behind the piece. The more you know, the more you'll appreciate the art. And who knows? You might just find your next favorite artist in the process.
5. Purchase unique desserts
Dessert is the best part of any meal, and there's nothing wrong with splurging on a unique or gourmet treat every now and then. After all, life is too short to eat the same old thing all the time. That's why it's worth seeking out specialty stores or online retailers that offer a range of unique desserts. From unusual ice cream flavors to handcrafted chocolates, these businesses offer an array of tantalizing options for those with a sweet tooth.
And while their products may be slightly more expensive than what you'd find at the supermarket, they're definitely worth the splurge. So next time you're looking to satisfy your sweet tooth, remember that there's no need to settle for the ordinary. With so many delicious options out there, it's easy to find a unique dessert that will tantalize your taste buds and leave you wanting more.
6. Be a guest on a podcast
Being a guest on a podcast is a great way to reach a new audience and promote your work. But before you hit record, there are a few things you should keep in mind. First, be sure to do your research. Listen to a few episodes of the show to get a feel for the format and the host's style.
Then, prepare for the interview by coming up with a list of topics you're comfortable discussing. And finally, relax and be yourself. The best guests are natural and sincere, so just let your personality shine through. With these tips in mind, you're sure to make a great impression on your next podcast appearance. If you need help getting booked, here is a service I recommend and use myself.
Conclusion for My 6 More Bucket List Ideas for Everyday Life
If you're looking for some fun bucket list ideas, we've got you covered. From traveling to trying new things, there are plenty of great options to choose from. And if you want even more inspiration, be sure to check out our Everyday Bucket List Book. This handy guide will help get you started with creating your own simple bucket list and checking off items as you go. What are you waiting for? Get started today!
Subscribe on Apple Podcasts , Spotify or Stitcher today!
Would you attempt 10,000 bucket list ideas?
Related Episodes