My Bucket List Things to Do & What Backfired
In this session of The Everyday Bucket List Podcast, I speak with my husband about bucket list things we did recently and what is currently on our bucket lists. My younger daughter also chimes in about a recent trip we took. Plus, we discuss one of our travel bucket list ideas as well as a big non-travel one. Also, learn about one of my bucket list ideas that failed and what to do to try to avoid mishaps.
Prefer to listen elsewhere? Here's the same episode on: Apple or Spotify!
It takes a great deal of time and energy to create episodes. In order for me to make great content for you, some of the resources below have affiliate links. If you purchase something through a link, I would make a small commission at no additional cost to you. Also, consider working with me.
Today's Everyday Bucket List Guest
I'm happy to welcome my husband & daughter to the Everyday Bucket List Podcast!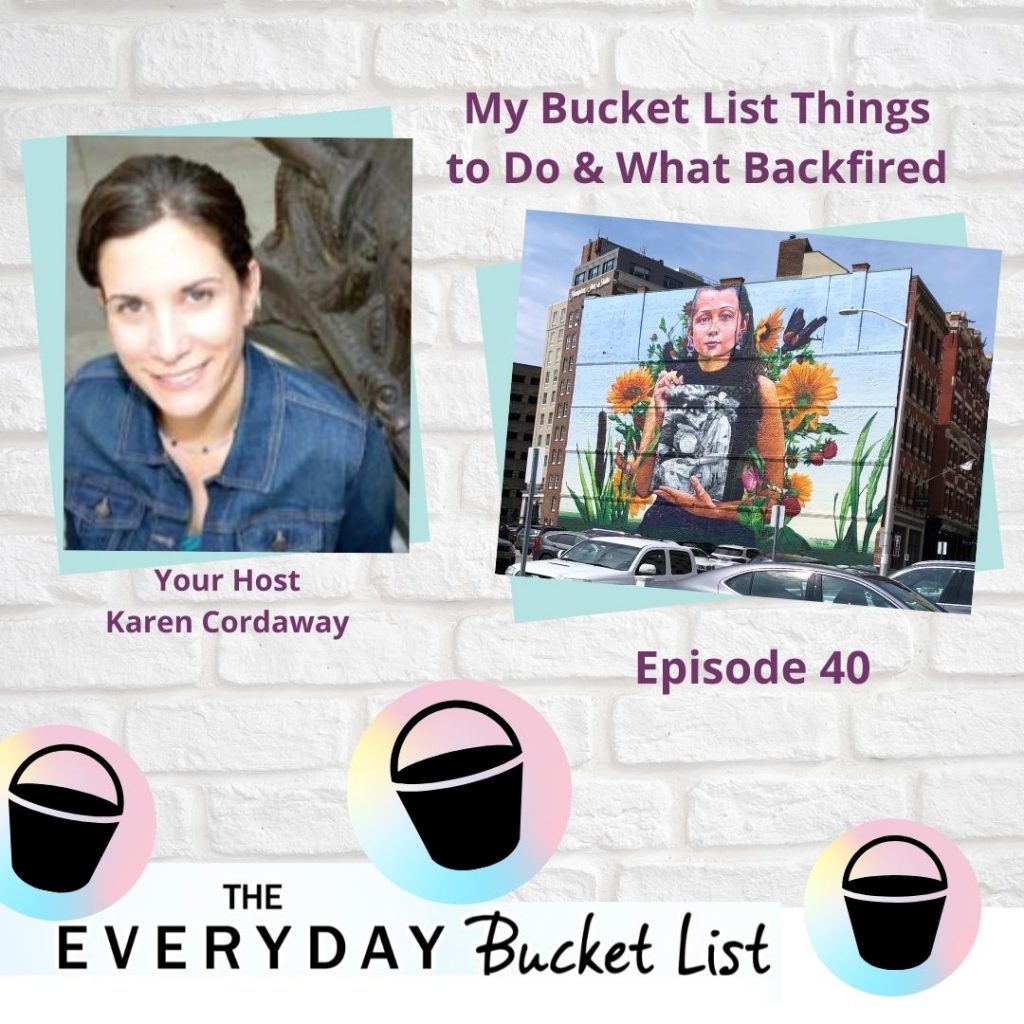 It's me, the host playing guest again. Karen Cordaway of KarenCordaway.com
As a busy working parent, Karen Cordaway spent years struggling to find free time for herself. That is until she figured out how to reclaim her schedule and infuse more exciting hobbies and bucket list experiences into everyday life.
With a little planning, a bit of strategy, and a dash of creativity, she turned her bucket list dreams into reality! The Everyday Bucket List Book: 10 Steps to Bringing More Exciting Experiences to Everyday Life is her signature, step-by-step process to help others, just like you, do the same.
Karen has written about shopping tips, cost-cutting, smart spending and other money-related topics for Clark Howard, Huffington Post and nationally syndicated articles for U.S. News. She now combines her money know-how with bucket list topics.
Her insights have been shared all over the internet in Money Magazine, Yahoo Finance, Market Watch, The Consumerist, Rockstar Finance, and even O Magazine. She now inspires everyday people to fulfill their bucket list dreams both big and small.
What You'll Learn About My Bucket List Things to Do & What to Do When Things Backfire
What we think should be on a bucket list
A range of bucket list things to do from travel ideas to simple ones
What backfired and how to possibly prevent things from going wrong
What my daughter thinks about our recent trip
Unique Bucket List Ideas
What's the best way to spend your time? It can be tough trying find an answer, but there are some activities that might just top this list for you. I have a variety of unique ideas that will make your day exciting and fun. Here are just three:
Change up where you stay
If traveling far isn't an option right now, think about staying a town or two over or consider a mini road trip. There's no need to settle for what you think is average when there are other options out there. To make it more interesting and memorable, consider a night in a yurt, bed and breakfast, RV or even a treehouse. Check what's available and you might be pleasantly surprised. I recently learned you can even spend a night on a boat through AirBnB.
Go on a local cruise or boat ride
One of best ways to experience the beauty of your area is by taking a boat ride, a cruise or even a ferry. If you're in Los Angeles County, check out Catalina Island. If you're close to Galveston Island, is out of Texas and you can hop a ferry to Port Jeff, NY out of Bridgeport, CT.
You can go on one that takes you around different places in your own area, explore interesting neighborhoods and learn interesting facts from the tour guide- all while cruising along the water. You'll get to see all different types of landscapes and enjoy pretty views as well!
I visited WaterFire in Providence, RI. Sometimes people think RI is so small. They may often wonder if they should even make the trek. Find out this state, especially Providence, RI is worth visiting! If you can't make it this year, think about putting it on your calendar for next year. Whether you stay for awhile or include it as a apart of a Rhode Island weekend getaway, you'll surely have a good time.
Visit a rooftop restaurant
Have you been thinking of trying a new restaurant? A rooftop restaurant is the perfect place for people who love to eat outside. It's always a fun experience. Whether you're looking to hang out with friends or just enjoy some time alone, there's no better way than eating and drinking while simultaneously taking in all that the area has offer!
Simple Bucket List Ideas
Have you ever thought about what your life would be like if not for the things on this list? Here are some examples of simple bucket lists to get started.
1. See a spectacular sunset on an ocean, lake or beach.
2. Find one of the best hobbies to weave into everyday life such as journaling, crafting or weight lifting.
3. Go on a beer or wine crawl.
4. Do something festive that you wouldn't normally do such as painting pumpkins, making an apple pie or visiting a corn maze.
5. Make reasonable fitness goals or go all out like Mrs. Space Cadet on TikTok who is proving that regular people can run marathons.
6. Challenge yourself to try super simple bucket list ideas such as listening to every episode of your favorite podcast or watching every video of some top-notch YouTubers.
7. Have a five course meal. Check Groupon for deals.
8 Make a list of games to play over Zoom with friends and family.
9. Try to get X amount of followers on social media.
10. Take an online course. Whether it's learning yoga, figuring out how to be better at chess or tying the perfect knot, there's a class out there for your interests.
Travel Bucket List Ideas
Hey there, traveler! I compiled some must-dos for any adventuresome soul who is always looking to explore new places and cultures in their downtime.

Visit Ventura, CA
If you're looking for trip ideas, there are some great reasons why Ventura is worth considering. For starters it's close-by and has all the conveniences that one might desire in their vacation destination! Not only can guests enjoy beautiful beaches as well as world class attractions like Disneyland Park but this city also offers plenty more than just fun at resorts or theme parks; visitors will find themselves captivated by high quality cuisine while appreciating architecture from different eras–including modern day buildings which showcase state of art technology right outside our front doors! Get more details on the podcast and find unique things to do in Ventura, California.

Check out Atlanta, GA
There is so much to do in Atlanta, Georgia. The city's charm and beauty are on full display at various museums like High Museum of Art or Zoo Atlanta where you can enjoy all kinds! Other activities include shopping along Peachtree Street with one-of-a kind stores such as Vestiges Bookstore & Coffeehouse for unique gifts and souvenirs. Check out this podcast episode below if you need some fun things to do in Atlanta, Georgia for adults (and kids) or want help creating your own unique Atlanta bucket list!
Take a trip to Boston, MA
If you're heading to New England, definitely make a trip to Boston, MA. Boston is a great place to visit. There's so much history and culture, as well as good food options everywhere! Luckily, I've been to some of the coolest restaurants in Boston and hopefully, you can go too.
One of my favorite things about the city are all of its coffee shops-they have tea too if you're not big on caffeine or just want something different than your typical drink like me 🙂 If you're stay for a week, a long week or day, here are some ideas for how to spend a day in Boston, MA.
Conclusion for My Bucket List Things to Do
No one wants to spend their precious time on this earth with regrets. So why not create a bucket list and challenge yourself to cross every item off the list? From daring adventures like skydiving or bungee jumping, to more traditional items such as visiting all 50 states in America, there are endless possibilities for making your life count. Check out these podcast episodes below if you need some ideas or want help creating your own unique bucket list! Also, ask yourself: What should be on a bucket list?
Subscribe on Apple Podcasts , Spotify or Stitcher today!
Related Episodes