The 5 Budget-Friendly Bucket List Ideas to Plan Now
What should I put on my bucket list? That's the million-dollar question. If you're looking for an unforgettable vacation experience that doesn't involve Mickey Mouse, my husband and I share some alternative amusement parks to visit. In this session of The Everyday Bucket List Podcast, we base the ideas on an article I read and some of our own personal bucket list ideas that you may want to test out. Whether it's visiting an alternative park you didn't think of, staying in a unique location, or keeping it close to home, putting these bucket list experiences on your to-do list will make for a fantastic time. So what are you waiting for? Listen to the podcast and start test driving these ideas.
Prefer to listen elsewhere? Here's the same episode on: Apple or Spotify!
It takes a great deal of time and energy to create episodes. In order for me to make great content for you, some of the resources below have affiliate links. If you purchase something through a link, I would make a small commission at no additional cost to you. Also, consider working with me.
Today's Everyday Bucket List Guest
I'm happy to welcome my husband back to the Everyday Bucket List Podcast!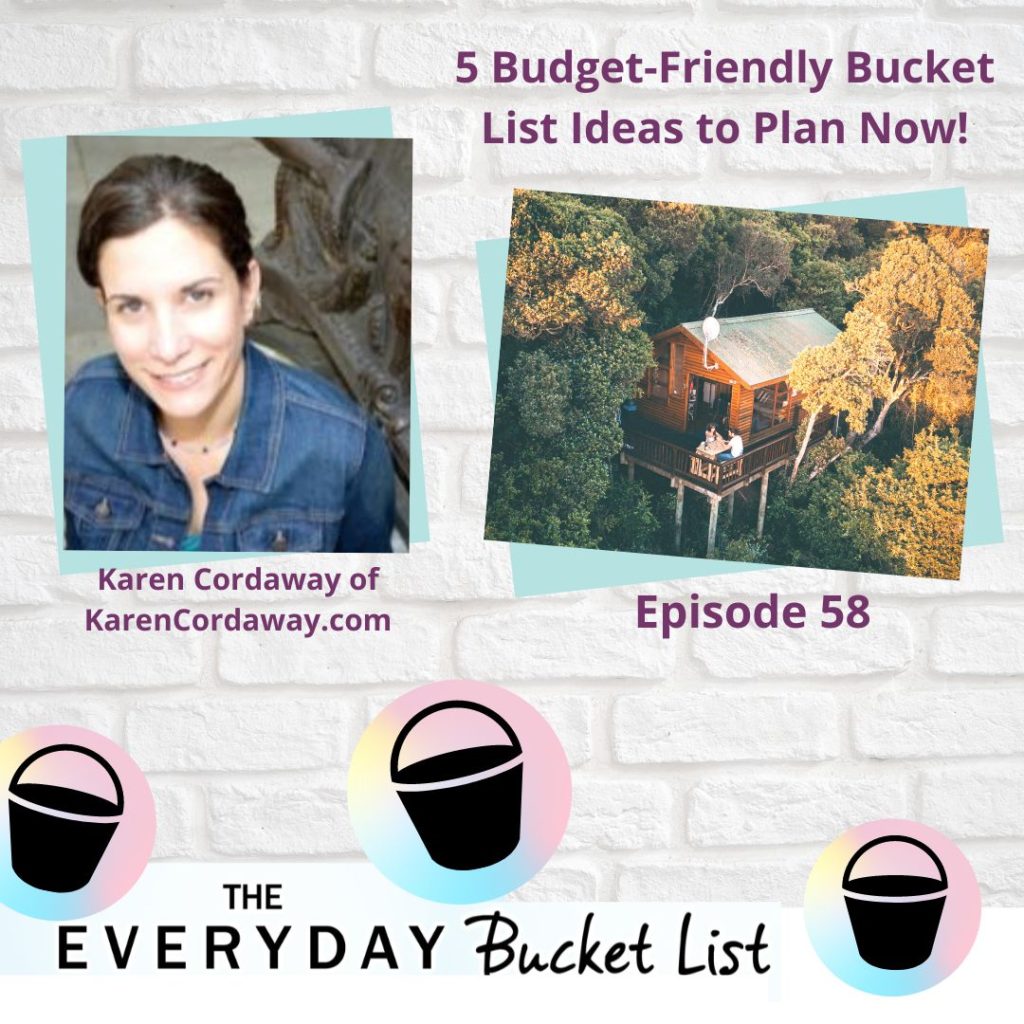 It's me, the host blabbing on my show. Karen Cordaway of KarenCordaway.com
As a busy working parent, Karen Cordaway spent years struggling to find free time for herself. That is until she figured out how to reclaim her schedule and infuse more exciting hobbies and bucket list experiences into everyday life.
With a little planning, a bit of strategy, and a dash of creativity, she turned her bucket list dreams into reality! The Everyday Bucket List Book: 10 Steps to Bringing More Exciting Experiences to Everyday Life is her signature, step-by-step process to help others, just like you, do the same.
Karen has written about shopping tips, cost-cutting, smart spending and other money-related topics for Clark Howard, Huffington Post and nationally syndicated articles for U.S. News. She now combines her money know-how with bucket list topics.
Her insights have been shared all over the internet in Money Magazine, Yahoo Finance, Market Watch, The Consumerist, Rockstar Finance, and even O Magazine. She now inspires everyday people to fulfill their bucket list dreams both big and small.
What You'll Learn About 5 Budget-Friendly Bucket List Ideas Including Vacation Alternatives
Find alternatives to a Disney vacation and what you should put on your bucket list instead
Discover how to include other unique bucket list ideas into everyday life
Get bucket list ideas for couples, families or if you're hanging out with friends that you may be able to do in your own area or close by
We share some of our own personal bucket list ideas to inspire you
Plus, how to make a bucket list (bonus info in show notes only)
What should I put on my bucket list?
First off, just to clarify, your bucket list is a wish list of all the things you want to do before it's too late. It's your way of saying, "I'm not going out like this."
If you've been wondering what you should put on your bucket list for 2022 or any time, really, here are some evergreen ideas. My latest podcast episode explores 5 ideas and gives multiple examples. Here's the gist.
1. Visit Affordable Amusement Parks
The US is a land of opportunity, and it's no different when you're looking for your next great adventure. With 35 amusement parks across our country, from New York City to California, there's one waiting just around the corner!
2. Stay in a Treehouse
If you're looking for an escape or simply want to do something different and new, consider staying in a treehouse through Airbnb. It's surely a unique experience you won't forget anytime soon. And if you need some time for yourself, there's no better place to relax and rejuvenate than among the trees. Pack up the car, stock up on the best products for travelers and test it out!
3. Test Out Unique Vacation Rentals in General
Well, for starters, think about vacation rentals that are a little different or unique Airbnb experiences you won't find anywhere else! We all know yurts are popular in Pennsylvania, but how about the other options? Louisa Virginia has heated tugboats or visit one in Providence, RI; you could stay on a dome-like structure near some dunes.
Also, check out this video for 10 of the most unique Airbnbs in the world!
4. Visit a Casino
You can spend an evening at the casino. The lights, music, and gaming are all designed to make you feel like your in another world! Take a break from your hectic schedule and do something fun! You'll be glad you took some time for yourself. And who doesn't need that?
Try a fancy restaurant or get tickets to a concert or comedy show. Find your favorite comedian or watch them perform on stage in an intimate club atmosphere with great food to boot! I recently saw Chris Rock, and that was an epic scratch off the bucket list. I need a gold star for that one!
5. Join a Book Club
Joining a book club is more than just reading and discussing the same books. It can lead to better relationships and increased self-confidence by building your strengths in other areas of life through learning how others see you!
So how do I make a bucket list?
If you want to make a bucket list but don't know where to start, or if you have a bucket list full of great ideas but never seem to follow through, I can help. I share some tips on brainstorming meaningful ideas and connecting the dots to make things happen. Learn more here. Start planning your dream life today!
Conclusion for The 5 Budget-Friendly Bucket List Ideas Including Vacation Alternatives
Bucket list ideas don't have to be so costly, and you don't have to go too far away to enjoy yourself. Think about the ideas mentioned and take that first step towards making things happen. Plan today so all these amazing goals don't just stay ideas. I hope this inspires you to accomplish your own personal bucket list ideas! If you want help connecting the dots, learn how I help people plan their bucket list goals!
Subscribe on Apple Podcasts , Spotify or Stitcher today!
What is the craziest thing on your bucket list?
Related Episodes