Fun, Bucket List Things to Do in New Jersey
Need fun, bucket list things to do in New Jersey? It is the place to be. If you're looking for a little bit of everything. Whether you're into breathtaking landscapes or thrilling city vibes, this state has got it all.
What sets New Jersey apart from other destinations is its ability to cater to everyone's interests and preferences. Whether you're looking for family-friendly adventures, quality time with friends, or a romantic getaway, you'll find something to suit your taste in the Garden State. So pack your bags and get ready for an unforgettable experience in New Jersey!
Prefer to listen elsewhere? Here's the exact episode on: Apple or Spotify!
It takes a great deal of time and energy to create episodes. In order for me to make great content for you, some of the resources below have affiliate links. If you purchase something through a link, I would make a small commission at no additional cost to you. Also, consider getting The Everyday Bucket List Book to live a happier, more fulfilling life and create your list today using my signature process.
Today's Everyday Bucket List Guest
I'm excited to welcome Jenn Talis to the Everyday Bucket List Podcast!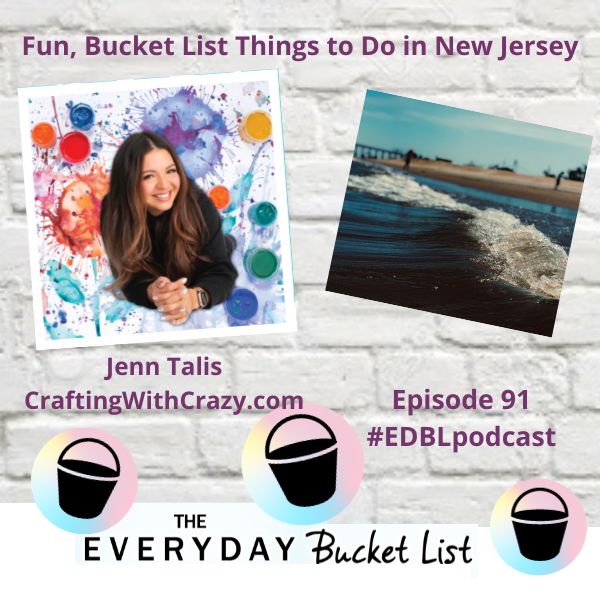 Jenn Talis
I'm a passionate, craft enthusiast & content creator helping parents and children unleash their creative genius. She's dedicated to spreading the joy of crafting and inspiring others to embrace their creative potential. Jenn believes that creativity is a superpower that resides in all of us. And, just like any muscle, the more you use it, the stronger it becomes. So, if you think you're not crafty, I'm here to show you how to flex that creative muscle and turn everyday materials into masterpieces.
What You'll Learn About Fun, Things to Do in New Jersey (Bucket List-Worthy Ones)
If you're looking for some fun things to do in New Jersey, you've come to the right place! Our guest, Jenn Talis, a former New Yorker turned Jersey resident, is here to spill the beans on all her favorite spots.
Whether you're a family, a couple, or just hanging out with friends, there's something for everyone in the Garden State. From beautiful beaches and charming boardwalks to thrilling amusement parks and scenic spots, you'll never run out of fun things to do in New Jersey.

And when it comes to food, New Jersey has got you covered. It offers a wide array of delicious restaurants. You can find everything from seafood to Japanese Peruvian cuisine to mouthwatering pizza. So grab your loved ones and get ready for an unforgettable time!

In addition to the podcast episode, here's more information below to get a little more background about the state in general!
What is New Jersey most famous for?
What is unique to New Jersey?
What is New Jersey most famous for?
When it comes to fun and unique experiences, New Jersey has a lot to offer. The state is known for beautiful landscapes, vibrant cities and a variety of attractions that cater to all.
One of the most famous aspects of New Jersey is its stunning coastline. With miles of beautiful beaches and picturesque shore towns, visitors can enjoy sunbathing, swimming, and various water sports activities. The iconic boardwalks along the coast are also a must-visit. There are amusement parks, arcades, and delicious treats like saltwater taffy.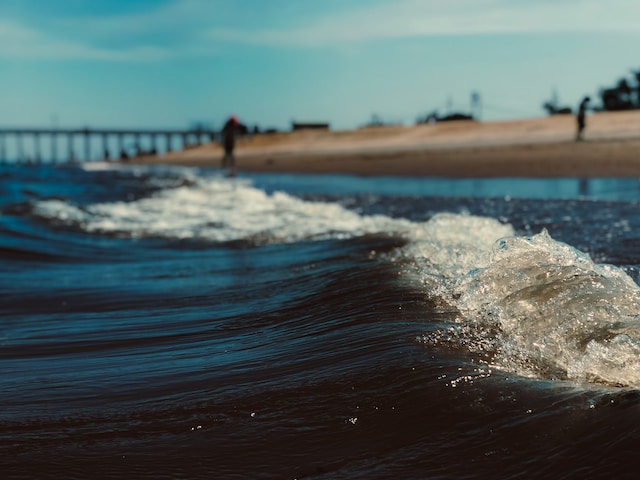 In addition to its coastal charm, New Jersey boasts breathtaking natural landscapes. The state is home to the stunning Delaware Water Gap National Recreation Area. This is where visitors can hike through lush forests and enjoy scenic views of waterfalls and rivers. The Pine Barrens is another unique natural attraction in New Jersey. It is known for its distinctive ecosystem and serene beauty.
For those seeking cultural experiences, New Jersey's cities offer a vibrant arts scene with world-class museums, theaters, and music venues. Places like Princeton University's campus showcase architectural beauty while hosting intellectual events throughout the year.
What is unique to New Jersey?
New Jersey, often referred to as the Garden State, offers a unique blend of attractions and experiences for people of all ages and interests. Whether you are visiting with your family, friends, or significant other, there is something for everyone to enjoy.
For families with kids, New Jersey boasts a wide range of fun activities. From amusement parks like Six Flags Great Adventure and the Land of Make Believe to interactive museums like Liberty Science Center and Adventure Aquarium, children will be entertained and educated at the same time.
Also, if you're looking for a fun day out with friends, New Jersey has plenty to offer. Explore the vibrant boardwalks of Atlantic City or Wildwood, where you can enjoy thrilling rides, arcade games, and delicious treats. For those seeking adventure in nature, hiking trails in places like High Point State Park or Delaware Water Gap National Recreation Area provide breathtaking views and opportunities for outdoor exploration.
Couples looking for a romantic getaway can find solace in New Jersey's charming coastal towns such as Cape May or Asbury Park. Take a stroll along the beach hand-in-hand or indulge in fine dining at one of the many waterfront restaurants. For a memorable evening out, catch a show at one of the state's renowned theaters like Paper Mill Playhouse or Count Basie Theatre.
When night falls in New Jersey, the state comes alive with an array of nightlife options. From trendy bars and clubs in Hoboken and Jersey City to live music venues scattered throughout Asbury Park and Princeton, there is no shortage of entertainment choices for those seeking an exciting night on the town.
Is New Jersey scenic?
Embarking on a scenic drive is one of the best ways to truly appreciate the natural beauty and charm of a destination. When it comes to picturesque drives, New Jersey may not be the first place that comes to mind. However, this diverse state has much to offer in terms of stunning landscapes, charming towns, and hidden gems waiting to be discovered.
From rolling hills and lush forests to breathtaking coastal views, New Jersey boasts a variety of scenic routes that cater to all types of travelers. Whether you're a nature enthusiast seeking tranquility or an adventure seeker craving exhilarating vistas, there's a scenic drive in New Jersey that will captivate your senses.
One such route is the Palisades Scenic Byway, which winds along the Hudson River and offers panoramic views of towering cliffs and sparkling waters. This picturesque drive takes you through Palisades Interstate Park, where you can stop at various overlooks for awe-inspiring photo opportunities.
If you prefer a coastal experience, consider driving along Ocean Drive in Cape May County. This scenic route takes you past charming seaside towns, sandy beaches, and picturesque lighthouses. As you cruise along this stretch of road, feel the refreshing ocean breeze on your face while taking in the sights and sounds of this coastal region.
Additionally, for those who appreciate history and quaint small towns, a drive through Hunterdon County is highly recommended. The county's rural landscapes are dotted with historic villages like Lambertville and Clinton, offering glimpses into New Jersey's rich heritage. As you meander through these charming towns with their well-preserved architecture and quaint shops, immerse yourself in their unique atmosphere.
No discussion about scenic drives in New Jersey would be complete without mentioning Skyline Drive in Ringwood State Park. This winding road takes you through dense forests with vibrant foliage during autumn months and offers breathtaking vistas from various lookout points. It's a perfect escape from the hustle and bustle of everyday life, allowing you to reconnect with nature and find serenity.
Conclusion for Fun, Bucket List Things to Do in New Jersey
Overall, whether you're looking for scenic beauty or exciting urban adventures, New Jersey has something for everyone. Its diverse range of attractions makes it a destination that stands out among others.
What makes New Jersey truly unique is its ability to cater to diverse interests and preferences. Whether you're seeking family-friendly adventures, quality time with friends or loved ones, or an unforgettable night out on the town – New Jersey has it all. So pack your bags and get ready for an unforgettable trip to the Garden State!
Be sure to listen to our guest's suggestions on the show!
Subscribe on Apple Podcasts , Spotify or Stitcher today!
Related Episodes