Super Fun Things to Do in Atlanta, Georgia with Jim Beach
Searching for fun things to do in Atlanta, Georgia? This episode is packed with ideas including historical places to visit. Whether you're looking for what to do this weekend or you're planning a trip, there are a wide array of options for everyone (adults, couples, kids, etc.). Get tips for hotels in downtown Atlanta, Georgia as well restaurant ideas, top attractions and best outdoor activities and even beaches.
Prefer to listen elsewhere? Here's the same episode on: Apple or Spotify!
Some of the resources below have affiliate links. If you purchase something through a link, I would make a small commission at no additional cost to you.
Today's Podcast Guest
I'm excited to welcome Jim Beach to the Everyday Bucket List Podcast!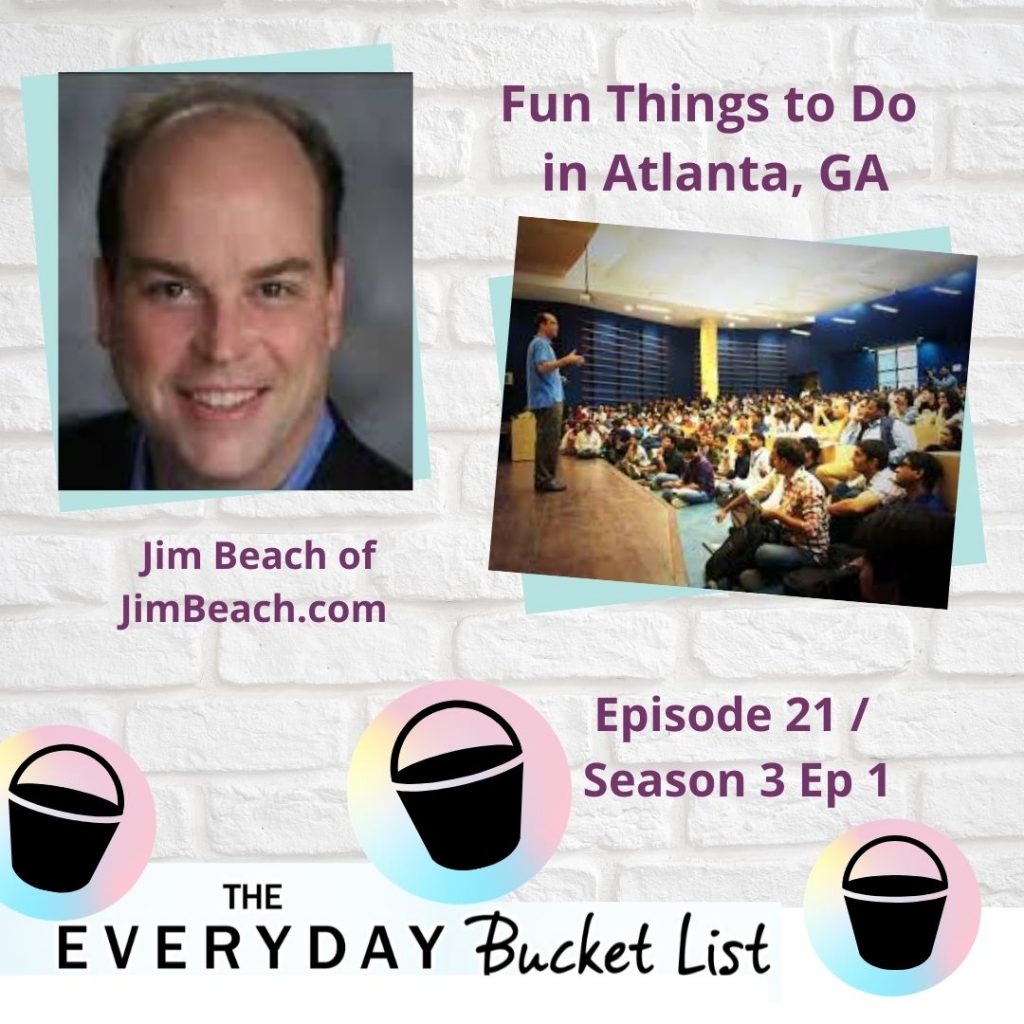 Jim Beach of The School for Startups Podcast
Jim Beach has started businesses and has taught entrepreneurship around the world. His first book, School for Startups, was published by McGraw-Hill in June 2011.At the age of 25, Jim founded American Computer Experience and grew the company with no capital infusion to $12 million in annual revenue and to over 700 employees, operating in 39 states and in three countries. Jim taught entrepreneurship at Georgia State University for nine years and ranked number one in the business school for 12 straight semesters. In 2010, he founded School for Startups, which has taught over 7000 people to be low risk entrepreneurs. He has been featured in a UPS commercial, CNN called him the Simon Cowell of small business, and corporations like Wells Fargo, Toshiba, UPS, and SunTrust have hired him as a speaker and consultant. His radio show is nationally syndicated.
What You'll Learn About Fun Things to Do in Atlanta, Georgia
What is Atlanta, Georgia known for?
Find out what there is to do in Atlanta for 3 or more days just in the downtown area and create an awesome itinerary
Get ideas for what couples (or adults in general) can do in Atlanta
Discover fun things to do in Atlanta for kids and families including downtown Atlanta as well as by the river
Resources for Fun Things to Do in Atlanta, Georgia
Atlanta Georgia Hotels and One AirBNB Recommendation
Ritz Buckhead (based in Atlanta)
IHG (InterContinental, Holiday Inn, Crowne Plaza, Hotel Indigo) is based here, so their hotels are better than expected
Crown Plaza Buckhead is great budget option.
Take a peek here to a book a place to stay.
There is also an AirBnB famous treehouse in town!
Some of Jim's Everyday Favorites
Podcast(s)
Book(s)
Jim enjoys some of the escapism of the Tom Clancy books. He explains how he enjoys that kind of silliness.
Other Books:
Take a peek at Jim's School for Startups book if you're looking to go into business.
Also, check out The Everyday Bucket List Book if you're hoping to get serious about a travel bucket list or other types of unique bucket list ideas that you can do in everyday life. There are worksheets to help you prioritize and connect the dots financially.
Connect with Karen on Twitter
Related Episodes