Exciting Things to Do in New York City This Weekend or Down the Road
Googling fun things to do in New York City? In this session of the Everyday Bucket List Podcast, I go solo again today & discuss things to do this week, this weekend or in the near future. I talk about my own journey and highlight popular places I visited. If you're headed this way I give some info about Bryant Park, Central Park, Time Square, The Met, The Museum of Natural History & more. Also, I have a never ending New York City Bucket list and I hope my insights can help you plan a trip.
Prefer to listen elsewhere? Here's the same episode on: Apple or Spotify!
Some of the resources below have affiliate links. If you purchase something through a link, I would make a small commission at no additional cost to you.
Today's Everyday Bucket List Guest
Once again, I play guest and host today on the Everyday Bucket List Podcast!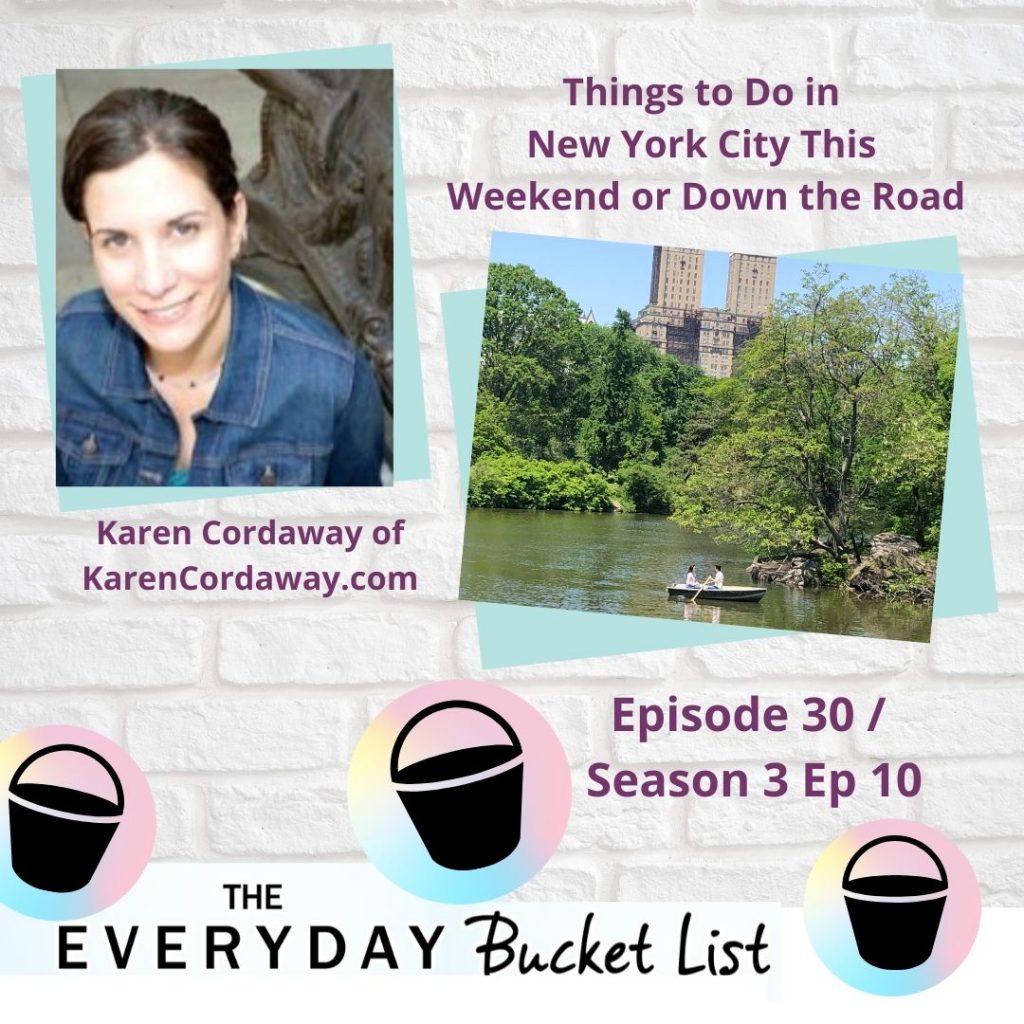 It's me, the host playing guest again. Karen Cordaway of KarenCordaway.com
As a busy working parent, Karen Cordaway spent years struggling to find free time for herself. That is until she figured out how to reclaim her schedule and infuse more exciting hobbies and bucket list experiences into everyday life.
With a little planning, a bit of strategy, and a dash of creativity, she turned her bucket list dreams into reality! The Everyday Bucket List Book: 10 Steps to Bringing More Exciting Experiences to Everyday Life is her signature, step-by-step process to help others, just like you, do the same.
Karen has written about shopping tips, cost-cutting, smart spending and other money-related topics for Clark Howard, Huffington Post and nationally syndicated articles for U.S. News. She now combines her money know-how with bucket list topics.
Her insights have been shared all over the internet in Money Magazine, Yahoo Finance, Market Watch, The Consumerist, Rockstar Finance, and even O Magazine. She now inspires everyday people to fulfill their bucket list dreams both big and small.
What You'll Learn About Fun Things to Do in New York City This Weekend or Down the Road
Discover things to do in New York City this week or in the near future and what to expect some of the best parks such as Bryant Park and Central Park
If you need fun things to do in New York City this weekend, many of these ideas given aren't date specific and are accessible at any time, including great restaurants, museums and more.
Listen in on what to do in and near Central Park. Maybe you can even catch some events in NYC this weekend while there or whenever you decide to go.
Get the scoop on seeing a TV show (one of the best free things to do in New York City) along with big bucket list items that everyone likes to see. Just be sure to check websites for the most updated information.
Resources for Things to Do in New York City This Weekend or Down the Road
There are so many things to do at Central Park. It can take days to do many of them. Pick what you'd like to do while there.
Check out Times Square, possibly catch a musical when it's back in full swing or see a live concert.
If you're asking yourself, "Where should I go for a 3 day vacation?" and you're considering the Central Park area, in the middle of this post I share pictures of time spent in there and go more into detail about what you can do while there. I also reveal one of the best things to do that is completely free and smells great.
Check out my blog post where I made a TV appearance for bucket list inspiration and a good laugh. It's number 3 of the post. 😉
Places to Stay in New York City
New York is a big place and there are tons of places to stay. Choose from a wide variety if hotels here.
Some of Karen's Everyday Favorites
See last episode about unique things to do in CT.
Connect with Karen on Twitter
Related Episodes