Fun, Bucket List Things to Do in Washington D.C. on the National Mall
Washington DC is a fun place to visit for a variety of reasons. You can find free attractions, as well as museums and other exciting places to explore. There's something for everyone in this vibrant city. If you haven't had a chance to check it out, listen to the podcast and discover fun things to do in D.C. on the National Mall you should not miss.
Prefer to listen elsewhere? Here's the same episode on: Apple or Spotify!
Resources from the show
Are 2 or 3 days enough in Washington DC?
Okay, so starting, if you're wondering what enough time is, if you're saying are two days enough?
Are three days enough? How many days are enough? I would throw a question back at you and say, what do you think of as enough?
You can't see it all in one day! There is so much to see in this city, you'll need a few days just for the museums and memorials.
If you want to museum hop and see other attractions back to back, plot out what is next to each other so you can maximize your time and squeeze things in.
The next time you are planning a museum visit, use the nearest museums' proximity to each other as your guide.
If they're all within close walking distance from one another then consider seeing them in order – starting with those closest first before moving outwards around town until satisfied that all necessary exhibits have been seen!
How to Attempt to See Everything in Two or Three Days on The National Mall

The wonderful thing about this city is that there are so many museums and art sites to visit. You'll need at least two full days if not three or four just for the basic stuff like visiting the Capitol, The Washington Monument, The Lincoln Memorial and many of the museums.
If you're trying to figure out how do I see everything in two or three days?
This can be tricky to answer. It depends on how you travel and how fast you like to see things.
Questions to Guide How to Try See Everything in Two or Three Days on The National Mall
Are you someone who likes to walk a lot?
Do you want to cram in a lot of sightseeing?
How do you like to pace your trip?
Do you like to spend a lot of time absorbing the details in one spot?
Or are you good with looking at a few exhibits and moving on?
My tip: Unless you want to look over every nook and cranny of one or two museums with many exhibits, think about visiting a variety of exhibits in different places.
More Tips to Try and See Everything in Two or Three on The National Mall
When you're planning your day trip make sure that the next few attractions will be accessible by foot and consider plotting them out so you can hit up as many museums or other activities before heading back home for lunch or dinner!
You want to think about these questions because there's a lot of sightseeing, and you could go full throttle every day and still not see every single thing on your list. You might even figure some of this out as you go. I try to build in an extra day or two just to give myself the option to go at a slower pace.
So the two most important things to keep in mind are:
What are the must-see things that you want to do?
How do you like to pace your trip?
But what we're going to do is explain, some things you could do in two or three days, we stayed for five days, but we're purposely going to give you ideas on the National Mall in somewhat of a sequential way.
Fun Things to Do in DC on the National Mall Starting at the Capitol
The Capitol building is one of the most iconic structures in Washington DC, so it's no surprise that there are plenty nearby spots for you to take photos. Start with capturing images near this famous landmark and work your way down from here!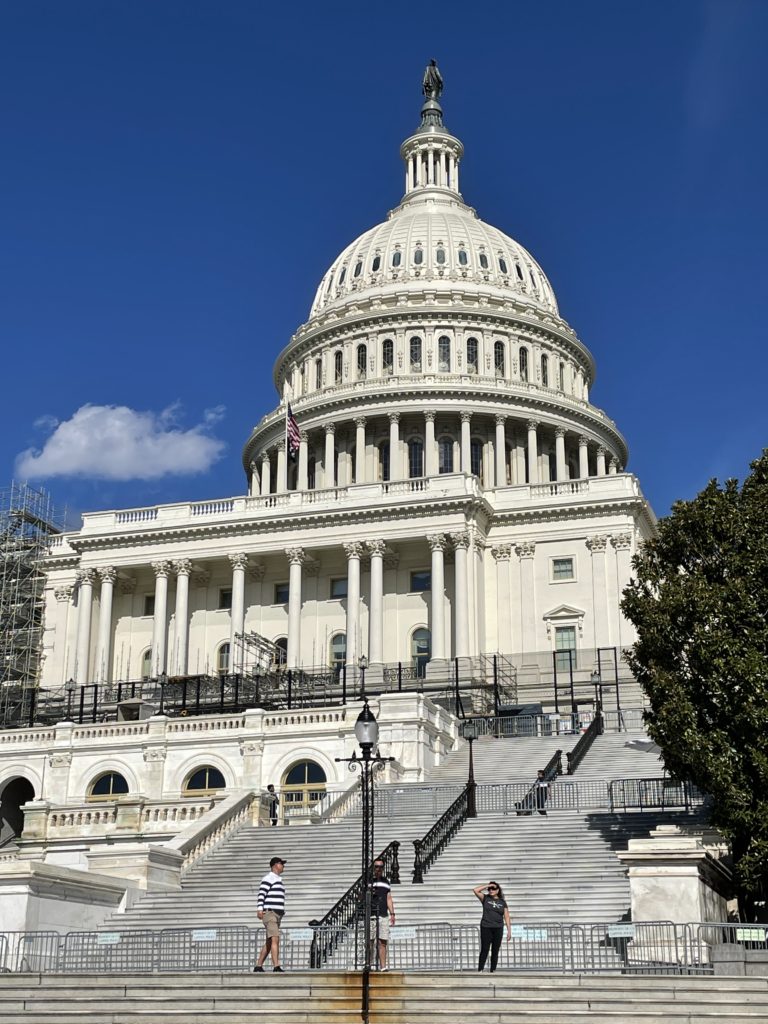 I think it is a must-see if you're there, even if you just visit and take photos. The public is able to go inside the visitor center. It is free. They screen visitors first and ask that all applicants meet their standards before being allowed into the branch – which is why it's important for those who want access go ahead with a plan in advance or risk being turned away at reception!
U.S. Botanical Garden
The Botanic Garden in DC is a beautiful oasis perfect for any and all who visit. You'll find hundreds of plants from around the world, great places to sit back relax under shady trees or inside visitor centers while admiring their gorgeous greenery up close – it's truly one garden you won't want missed!
The Ulysses S. Grant Statue
The Ulysses S. Grant Memorial, located on the National Mall in Washington DC is a beautiful bronze statue of our 16th President pays homage to one of America's most historic presidents. It also symbolizes his military career and leadership skills. It's worth a stop and a quick pic!
The American Indian Museum
The American Indian Museum in DC is home to a collection of sacred artifacts, historical records and photo exhibits that explore the rich culture of Native Americans. The museum's permanent galleries tell stories about how America was first settled by indigenous people; while also highlighting their contributions which include settlement before European colonization began on this land nearly 500 years ago!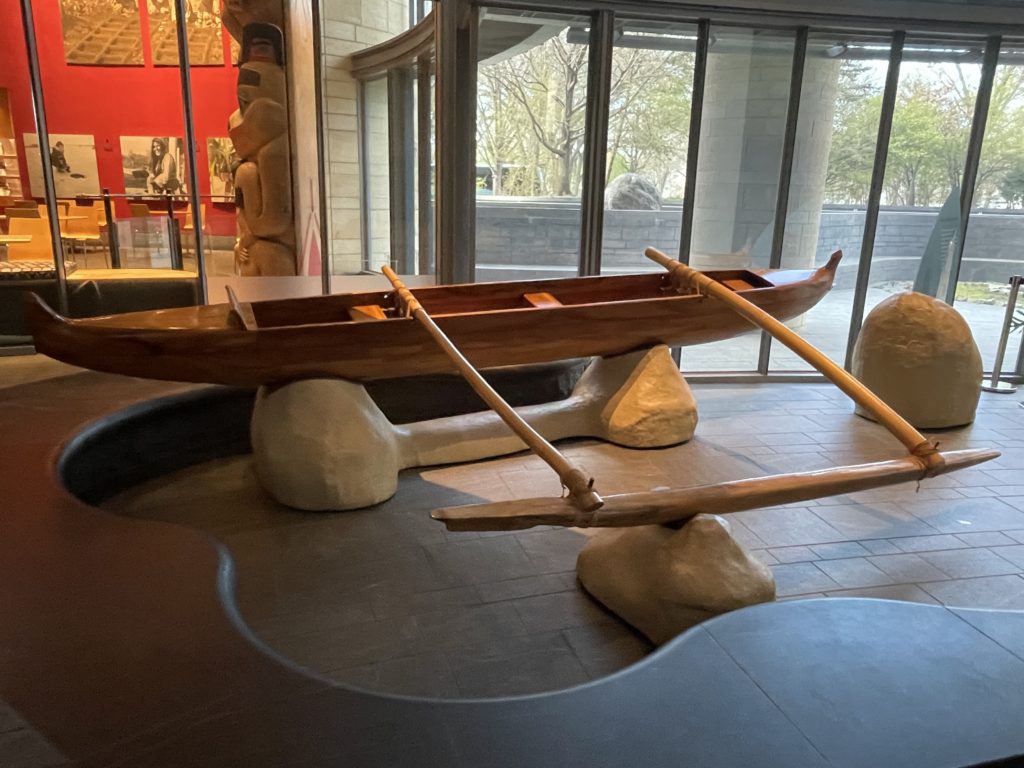 The Eisenhower Memorial
The Eisenhower Memorial is a beautiful tribute to one of America's most overlooked presidents. The United States' involvement in World War II had been previously unknown until he took office, but this landmark pays homage with its central tower that symbolizes Ike's interventionism during wartime – "a peace-keeper" as some like call him who 'kept us safe.'
The Air and Space Museum
The Air and Space Museum is a great place for people who love science. It has an extensive collection of historic aircraft, space memorabilia from around our planet as well other objects such airplanes!
Hirshhorn Museum and Sculpture Garden
One of the most popular museums in Washington, DC is without a doubt The Hirshhorn Museum and Sculpture Garden. This institution houses an extensively curated selection that covers modern art from around world as well as works created by Indigenous Americans or those living under colonial rule – all on one site!
The Futures Exhibit
Few things are more exciting than catching a glimpse of what the future may hold. Whether it's through futuristic robots or self-driving cars, there is no telling where technology could take us next!
Visitors can see displays that show how our world might change as technology continues to evolve, and learn about different careers available with this ever changing field of work!
If you are there before the exhibits goes away, definitely check this out on The National Mall.
Fun Things to Do in DC Leading Up to The Washington Monument
The Washington Monument is one of the most recognizable structures in our skyline. This 555 foot tall white granite obelisk was designed by American architect Robert Mills and completed in 1848 as part its centennial celebration for America's birthday – what better way to celebrate this wonderful nation than with an exceptional piece that would last forever?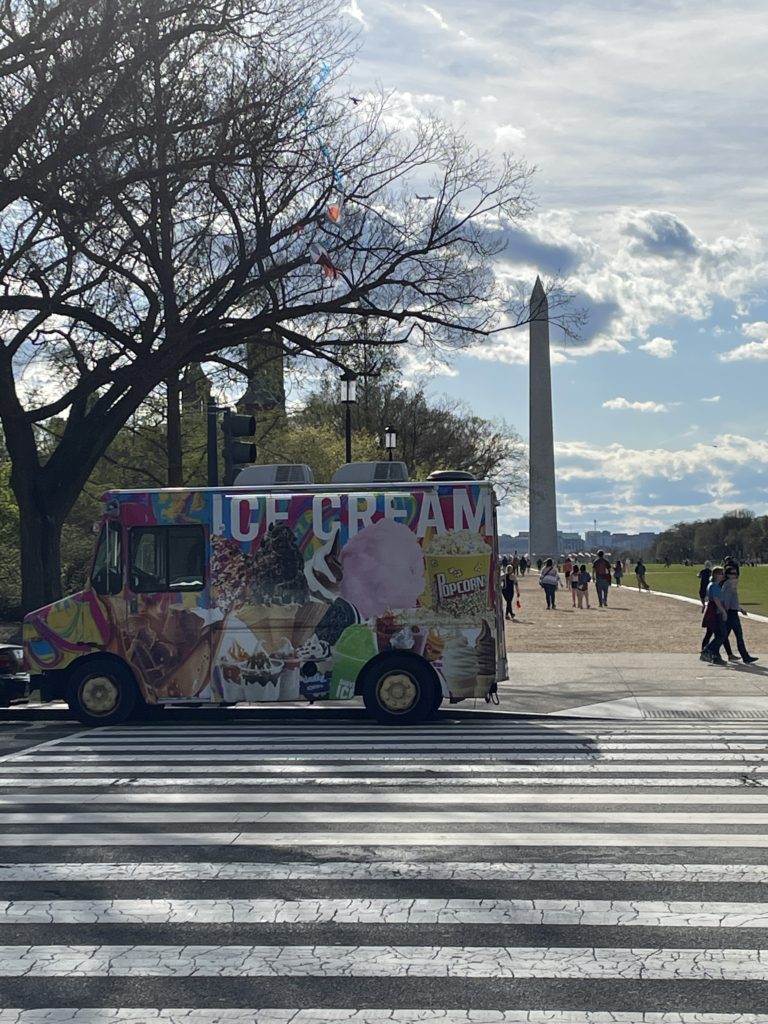 The Museum of Natural History
The Museum of Natural History is a go-to spot for specimens on display from all over Earth. They provide an excellent record as our planet's biodiversity has evolved throughout time, with some species dating back hundreds or even thousands of years!
And, if you have kids or you're a paleontology nerd like Ross from Friends, then you might have a more narrow focus when selecting a museum to visit. If you shout in your head, "SHOW ME THE MUMMIES!" Or, you have a burning desire to only see prehistoric beasts, then this is for you.
If you've asked yourself any of these questions:
Where are the mummies?
Where's that museum with the mummies?
What museum in DC has the dinosaur exhibit?
This will be your go-to spot for that. You don't need a ticket and it is also free.
The Museum of American History
Come visit the Museum of American History, a great place for any history buff! The museum houses over 20 exhibition galleries with plenty to see and do.
From exploring interactive exhibits that let you feel like an actual character in one of our historical moments or just taking some time out from work while learning more about what it was actually like back then.
When I went in the nineties, I just wanted to see Dorothy's Ruby red slippers from the Wizard of Oz, and there's also a great big picture of Glenda, the Good Witch. Plus, you don't need a ticket to visit.
The National Museum of African-American History and Culture
The National Museum of African American History and Culture is a must-see for any true aficionado. From interactive exhibits that teach you how the enslaved population lived to cutting edge audio/visual recordings in contextual sound bites, this museum will leave your understanding expand exponentially! Plus, it highlights the lives of actors, sports legends, entertainers, difference makers and more!
We got super lucky because they had Jackie Robinson's Jersey there for a short time to commemorate the 75th anniversary of Jackie Robinson being able to play major league baseball.
The Martin Luther King, Jr. Memorial
If we're still passing the monument, heading towards the Lincoln Memorial, the Martin Luther King, Jr. Memorial is right next to the water, and it's across from the Jefferson Memorial. It's just something that takes your breath away a little bit.
How can anyone not be moved by this memorial in honor of Dr. Martin Luther King, Jr.? The majestic architecture pays homage to him while also reminding visitors that civil rights are still an issue today with its elegant though simple design and powerful message about peacekeeper responsibility.
More Fun Things to Do in Washington DC Towards The Lincoln Memorial
The Lincoln Memorial is a must-see for anyone who visits Washington DC. sculpted by French architect Frederick MacMonnies in honor and memory of America's 16th president, it stands as one our country's greatest architectural landmarks with its iconic soaring tower that reaches up into the sky like an old man reaching out towards heaven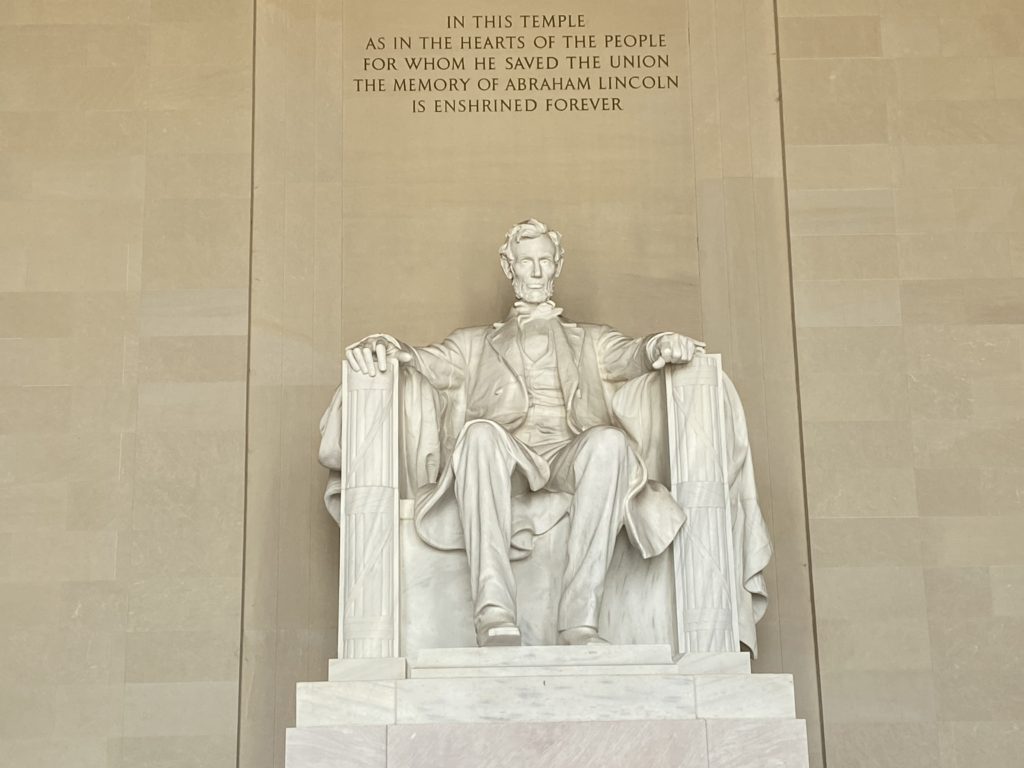 Listen in about our recent trip and make sure you subscribe to the podcast on Apple Podcasts, Spotify or Stitcher today to hear our money saving tip series! There are going to be a total of 10 tips. Hopefully, you can stay on budget while traveling or free up some cash to have more bucket list adventures.
Related Episodes