Create a Bucket List of Fun Things to Do in Alexandria, VA with Crystal Hammond
Find fun things to do in Alexandria, VA. Whether you're wondering what there is to do in Alexandria, VA today or you're hoping to plot out a vacation soon, listen to a wide array of activities to check out such as biking around to see monuments, visiting restaurants or hearing live music. Also, learn about a few Alexandria, Virginia restaurants and hotel recommendations from a local.
Prefer to listen elsewhere? Here's the same episode on: Apple or Spotify!
Some of the resources below have affiliate links. If you purchase something through a link, I would make a small commission at no additional cost to you.
Today's Podcast Guest
I'm excited to welcome Crystal Hammond to the Everyday Bucket List Podcast!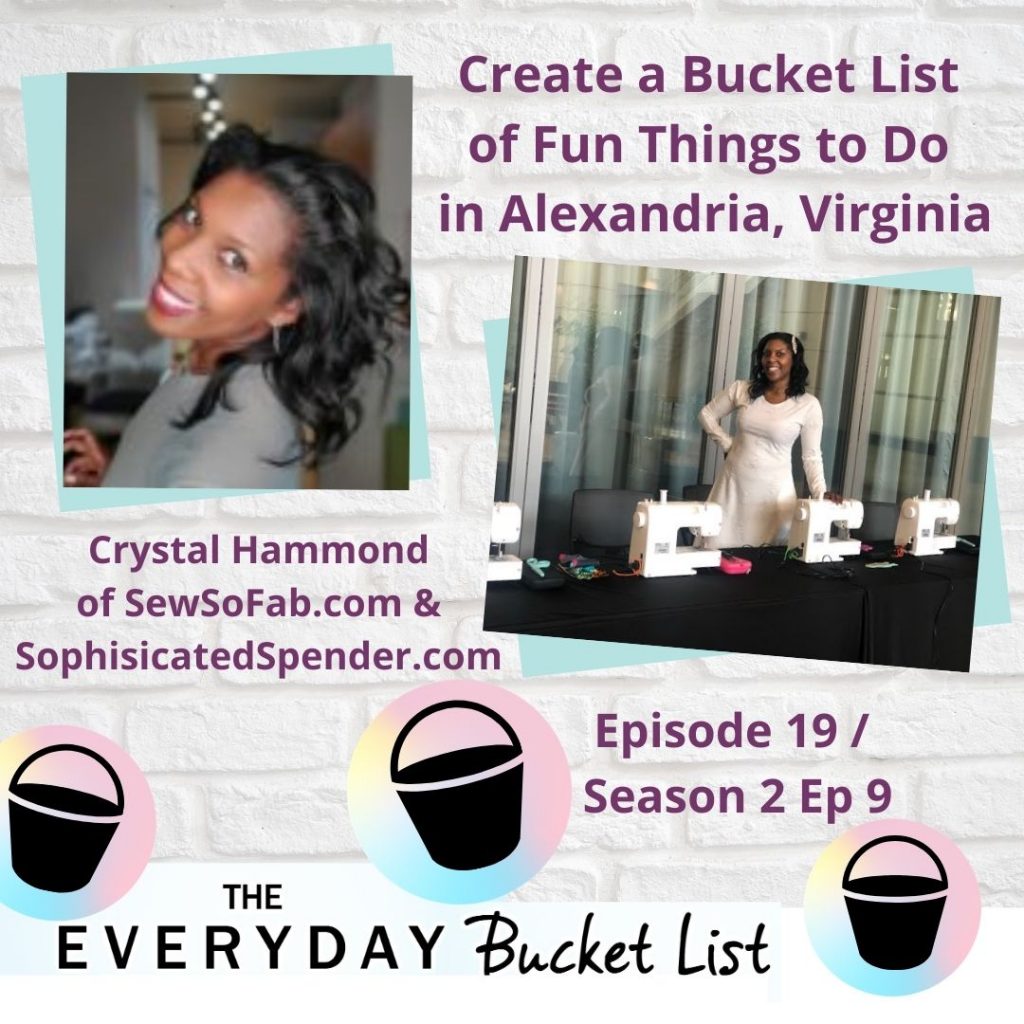 Crystal Hammond of SewSoFab.com and SophisciatedSpender.com
Crystal Hammond hasn't bought clothes in years and it's her goal to teach as many people as possible her sewing tips, tricks and shortcuts. Born and raised on the south side of Chicago, Crystal was inspired by the clothes her mother made growing up. After struggling to find clothes that fit her properly, she decided to reignite her own interest in sewing and wants to help others turn piles of fabric into something cool.
What You'll Learn
Is Alexandria, VA worth visiting?
What Alexandria, VA is known for
How do I spend a day in Alexandria? Or, multiple days?! Get a variety of ideas from a local that's out and about regularly.
Find many things to do outside in Alexandria, VA such as biking, walking, site seeing, cookies crawls, eating at restaurants, visiting farmer's markets and much more.
Resources for Creating a Bucket List of Fun Things to Do in Alexandria, VA
Looking for hotels in Alexandria, VA? Whether you'd like a certain hotel chain such as The Westin (she mentioned the one near the Federal Court House), "fancy pants" ones like The Alexandrian and Hotel Indigo or a Holiday Inn, take a look here.
Some of Crystal's Everyday Favorites
Podcasts
Book(s)
She also discusses creative things to do at home like sewing. If you're gearing up for your summer bucket list with friends or family, Alexandria, VA can be the perfect place to visit. Also, if you're inspired by Crystal and just want a new hobby, ask yourself:
Connect with Karen on Twitter
Related Episodes