Bucket List of Baseball Stadiums: Nationals Park in Washington, DC
If you're a fan of baseball, or even if you're just looking for an interesting summer road trip, I encourage you to check out some of the best baseball stadiums in the U.S. Visit some old baseball stadiums that are still standing. They are iconic and steeped in history, while others are new or have been recently renovated to include modern amenities. I just visited The Nationals Stadium in Washington DC and had a blast.
Prefer to listen elsewhere? Here's the same episode on: Apple or Spotify!
My husband and I have always wanted to visit different stadiums. Many of the places we've gone to, we actually saw the games. This time around we were in DC and there weren't games at the time when we were able to go so we took a tour of the Nationals Park. We just like taking a peek at the different baseball stadiums.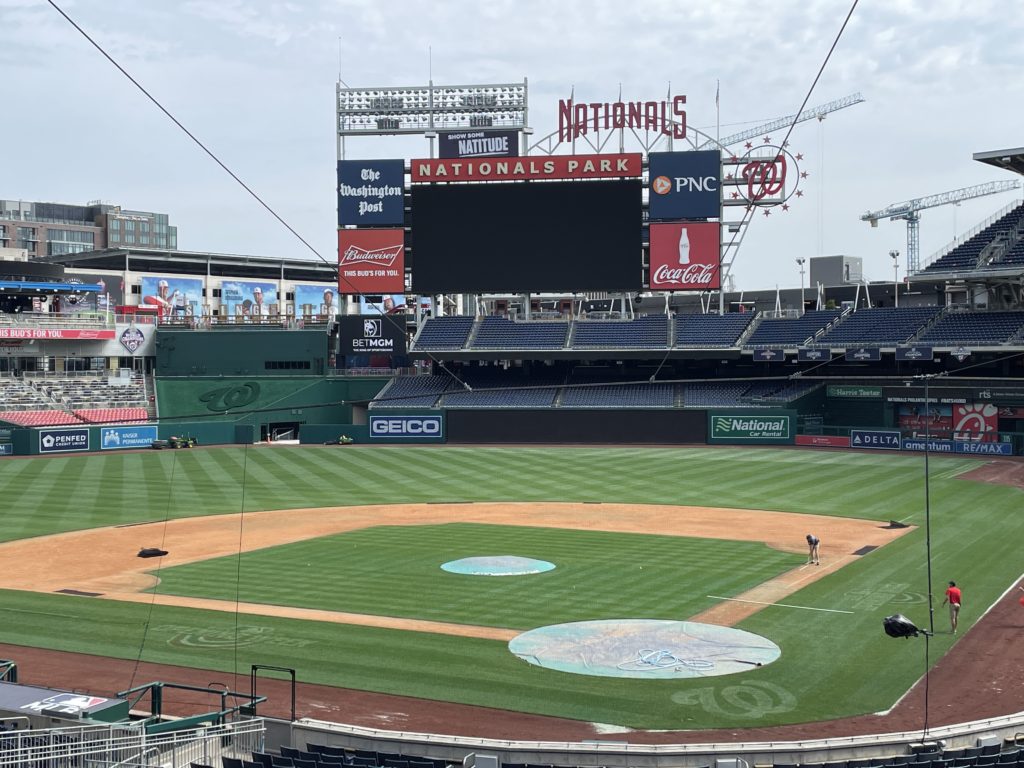 Baseball fans might have different criteria when they choose a baseball stadium to visit. Many people might look for baseball stadiums ranked on a list, or perhaps they search for baseball stadiums by capacity or want details on the stadiums' age or whether or not they have a roof! I choose ones I can manage to see when we have vacation time.
Nationals Park Stadium Tour in Washington, DC
So, you're a baseball fan. You love the game, you love watching it on TV or at the stadium. But have you ever wondered what goes on behind the scenes? What it's like to be in the dugout or see the bullpen?
If you want to get a closer look at your favorite sport, consider touring a baseball stadium. Baseball stadiums offer a variety of tours that give fans a behind-the-scenes look at where the magic happens.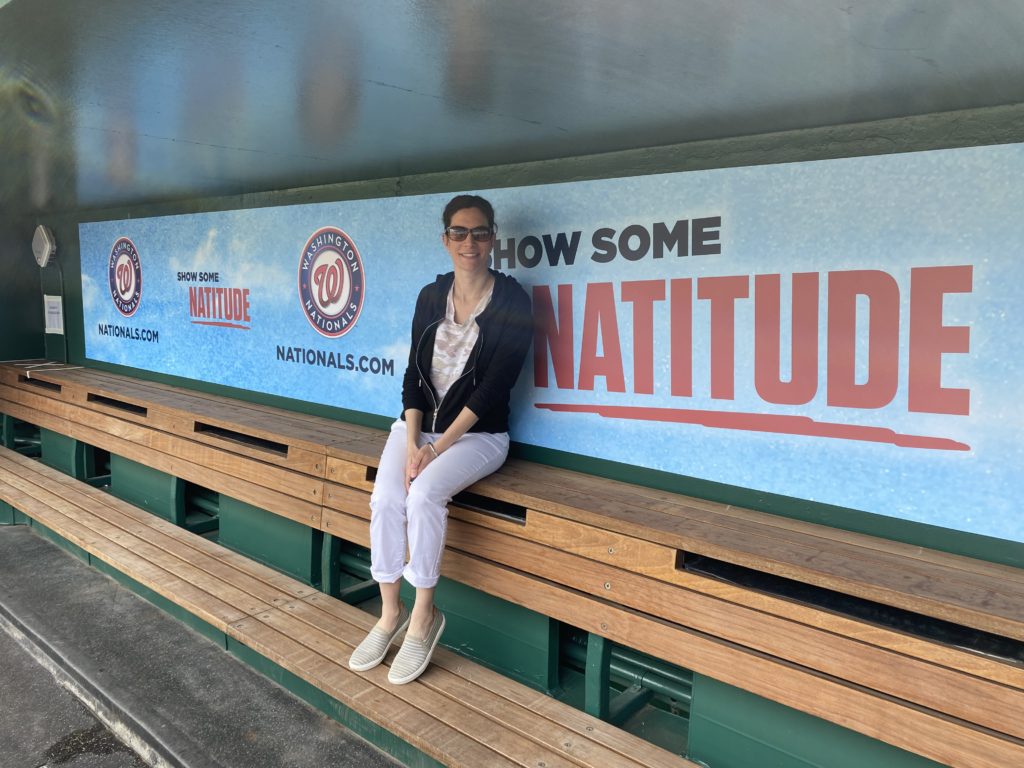 You can sit in the dugout, walk through the locker rooms, and even take a photo on the bullpen phone. Discover what's unique about each stadium you visit.
The Nationals Baseball Stadium is a beautiful stadium that's worth a visit. The tickets aren't too expensive, and you get to see some great players in baseball. If you're ever in Washington D.C., I highly recommend taking a tour of the stadium.
Nationals Park Schedule
You can check the baseball schedule for the Nationals on the MLB website. Each baseball team has their own section. Click the schedule tab to get more details here.
There's also an area to see a schedule of events that happen at the stadium. There baseball-related events, concerts, etc. There's another website that also shares information about events in the stadium called EventsDC.com.
Nationals Park Schedule for Taking a Tour in Washington, DC
Like many baseball stadiums, this stadium offers tours. They are scheduled on non-game days. If you click the "buy tour tickets" button, it will list the dates and times when you can visit. They currently offer time slots at 10:30am, 12:00 pm, 1:00pm, 2:30 pm. Since I bought my tickets a day before, there was only one time slot available.
A Little Background About The Nationals Stadium
The Nationals Park is located on 1500 south Capitol Street SE in the Navy yard area it's just a great area to visit.
It's safe. There's a lot of different things to do. and just to kick it off, you know, we started the tour cost like $25 a person for adults, if you bring a child it's, it's cheaper. My husband and I both went. We got a great day, and a knowledgeable tour guide.
Restaurants Nearby Nationals Park
If you're looking for a great place to eat near The Navy Yard in Washington DC, check out one of the many amazing restaurants in the area. Whether you're in the mood for something fancy or casual, there's sure to be a restaurant that fits your needs. And if you need a quick bite to eat, don't worry – there are plenty of options for that too!
Here are some that are right near the stadium.
Gatsby
The Bull Pen
Compass Coffee
Mission
Tap 99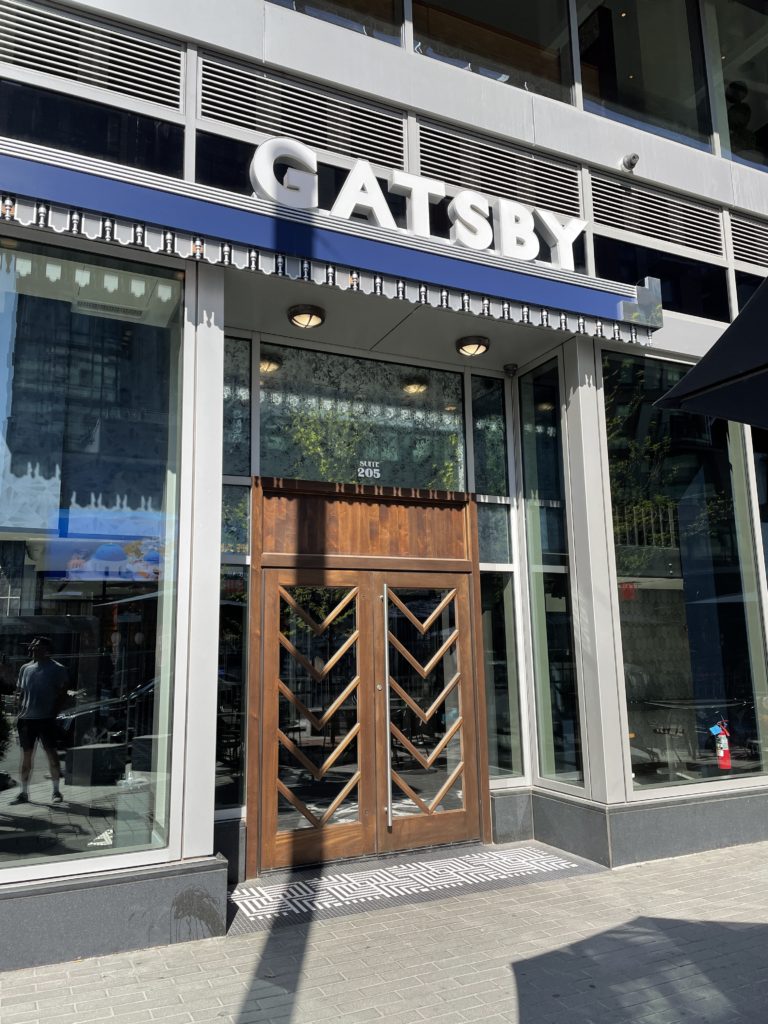 These are other restaurants in Navy Yard Area that are also close to The Residence Inn by Marriot.
Wiseguy Pizza (a block or so down from the Marriot Hotel)
Rasa (on the same street as the Residence Inn by Marriot)
El Bebe (right outside of the Marriot hotel)
Chipotle
Cava – fast casual Mediterranean food (salads, bowls and more)
Here's an article with more information about other Navy Yard Restaurants such as The Sale Line, Rasa, Tap 99, Mission and more. Also, if you need to head to a grocery store for any reason, there is one called Harris Teeter. It's a few blocks away from the Residence Inn by Marriot.
Hotels Nearby Nationals Park
If you're looking for a hotel in The Navy Yard, Washington D.C., there are a variety of great options in the Navy Yard area. If you want to be close to Nationals Park, you'll be able to find the perfect place to stay. Here's a list of hotels that are closeby.
The Marriot Residence Inn
Thompson Washington DC
Sonder Calisto
Hampton Inn and Suites
Courtyard by Marriot
Residence Inn
Homewood Suites
Sonder Europa
The Great Hotel I Stayed in Near The Nationals Stadium
I stayed at The Residence Inn by Marriot. It is a great place to stay if you're visiting the city. This new, modern hotel is surrounded by some of Washington D.C.'s most interesting attractions such as visiting the Capitol, Washington Monument and Lincoln Memorial. Plus, everything other thing the National Mall has to offer.
The hotel has a complimentary breakfast, fitness center and business lounge – plus, it's a 5 minute walk from the stadium! And once you get your fill of that – there are plenty of other things to do in D.C. Check out some of the best Smithsonian Museums on the National Mall.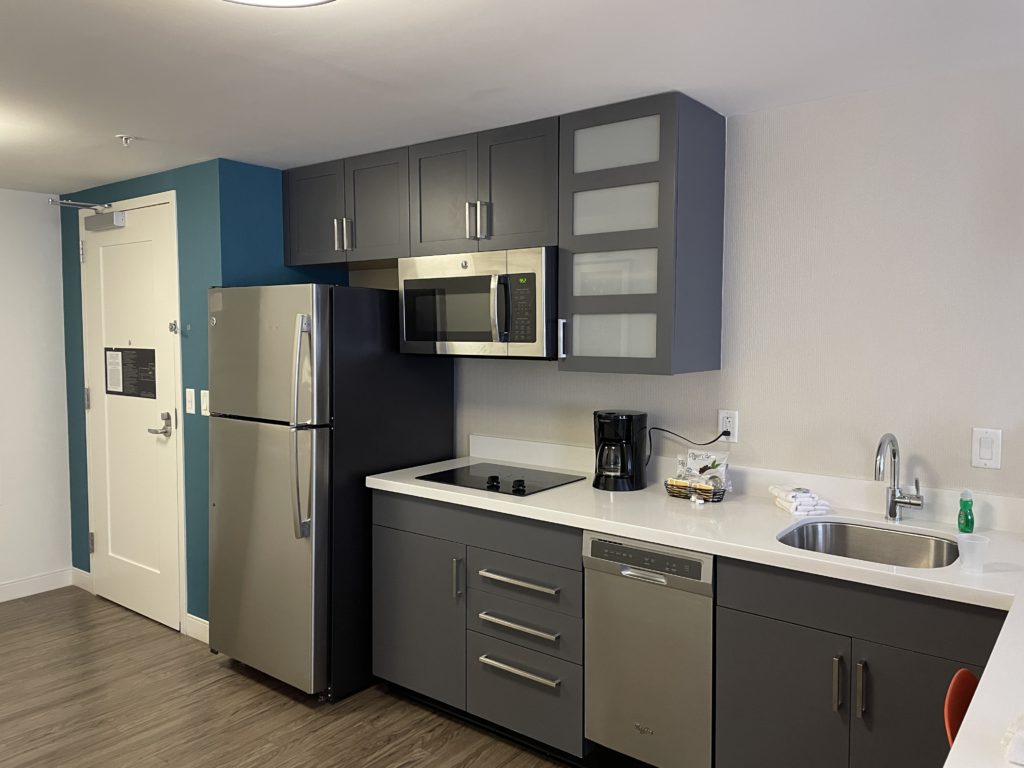 The location could not be better either. It's 2.5 miles from the Ronald Reagan airport and just steps away from the National Mall, where you'll find all sorts of museums, monuments and memorials.
Also, I thought it had a very pretty design and the staff was super helpful. \ So this was one of our better hotel experiences and I believe you will have a pleasant stay there as well.
Nationals Tickets
The most exciting sporting event in DC is coming to town! Tickets are on sale now for the Nationals baseball games. You'll have plenty of time to watch all your favorite teams compete. Get yours before they're gone.
Conclusion for Bucket List of Baseball Stadiums: Nationals in DC
No matter if baseball season is in full swing or not, there are so many great ballparks to see! Take a peek at the MLB stadiums list to decide where you'd like to go. Think about creating a bucket list of stadiums to visit. If you're serious about it, get a handy map to keep track of your quest or a baseball stadium scratch off poster of all major league baseball stadiums. So what are you waiting for? Start planning a visit today!
Listen in about our recent adventure and make sure you subscribe to the podcast on Apple Podcasts, Spotify or Stitcher today to hear our money saving tip series! There are going to be a total of 10 tips. Hopefully, you can stay on budget while traveling or free up money in everyday life to carry out some adventures.
Related Episodes