My Big Bucket List Thing to Do in Boston, MA: NBA Tickets, Restaurants & More
Searching for fun things to do in Boston, MA? In this session of the Everyday Bucket List Podcast, my husband and I talk about our most recent journey there and tell what MAJOR bucket list idea we cross off our list this time around.
Whether you're looking for fun activities in Boston for adults, things to do with kids, friends or as a couple, you'll surely find something fabulous to do.
Prefer to listen elsewhere? Here's the same episode on: Apple or Spotify!
It takes a great deal of time and energy to create episodes. In order for me to make great content for you, some of the resources below have affiliate links. If you purchase something through a link, I would make a small commission at no additional cost to you.
Today's Everyday Bucket List Guest
I'm happy to share my recent journey to Boston, MA on the Everyday Bucket List Podcast!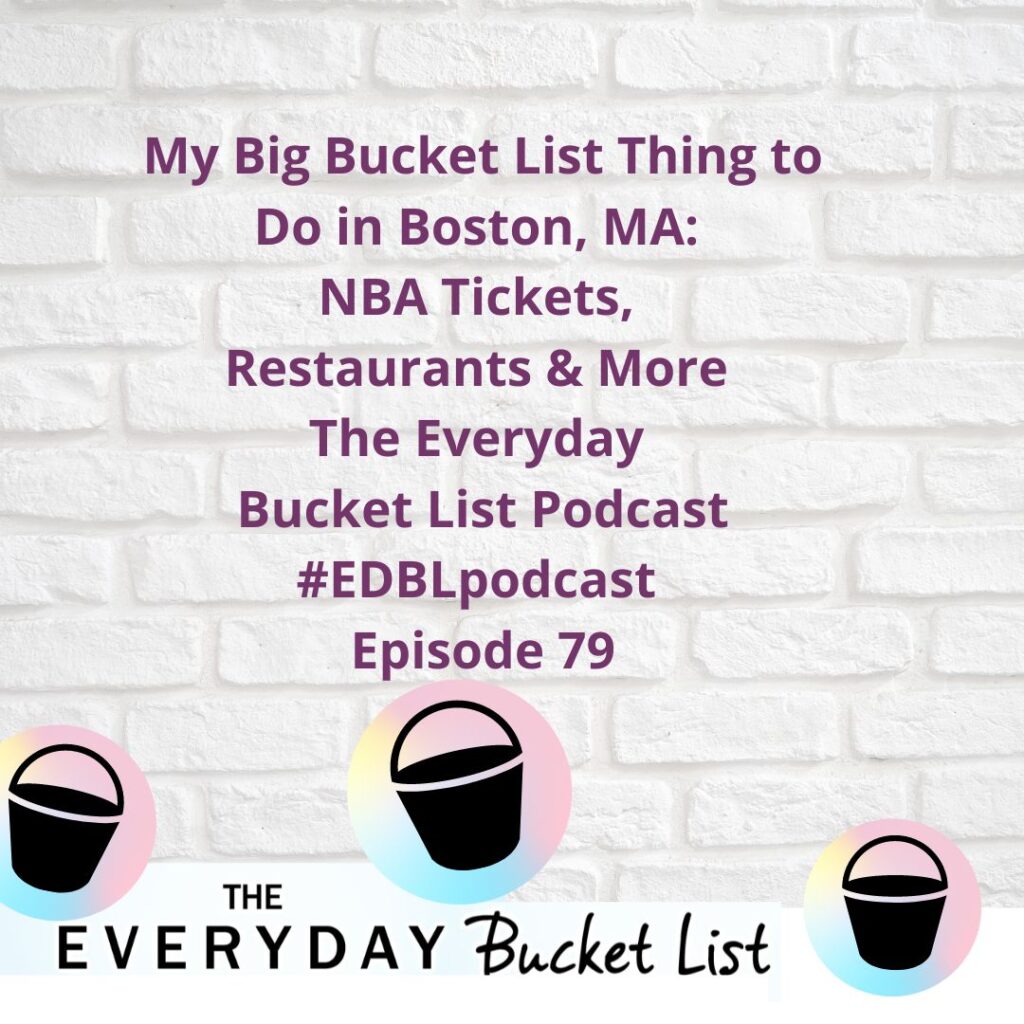 Here's What You'll Learn About Boston, MA: NBA Tickets, North End Restaurants & More
Have any of these questions ever crossed your mind? I answer these on the podcast and give you a summary here.
How much is a ticket is to the NBA?
How do I get tickets to the NBA?
Where can I buy NBA tickets online?
Also find out:
What restaurant we visited in The North End of Boston
Plus, other restaurant recommendations & more
How much is a ticket to the NBA?
The price of a ticket to an NBA game varies depending on various factors such as the team, the location, and the time of the year. Some factors that may affect the price include the team's popularity, their current ranking or performance, and the demand for tickets. On average, NBA tickets can cost anywhere from $20 to several hundred dollars, with premium seating and VIP packages costing even more. The cost of tickets may vary significantly depending on the city, the team, and the opponent.
How to Get Tickets to The NBA
If you're an avid fan of the National Basketball Association (NBA) and are looking to get tickets to watch your favorite team (or any team) play live, there are several avenues you can explore. From buying tickets through the NBA's official website to purchasing them from licensed resellers or other trusted online marketplaces, there are a range of options available to help you secure the options that work best for you.
We'll explore some common ways of getting tickets to NBA games and provide tips to point you in the right direction. I mention a variety of options to get NBA tickets on the podcast. If you like to do things in person, you can get tickets from a physical box office of a team you want to see.
Though I wouldn't try this, you can also try buying tickets from scalpers outside the arena. This is not recommended as it can be risky. Also, you may end up with counterfeit tickets.
Where can I buy NBA tickets online?
There are several ways to get tickets online to NBA games: 1. You can buy tickets directly from the NBA website, which offers tickets for all teams and all games. 2. You can buy tickets from third-party resellers such as StubHub, Ticketmaster, or SeatGeek, which offer a wide selection of tickets. 3. You can purchase tickets from the official website or box office of the team you want to see.
ScoreBig.com offers several reasons why someone should try their site for NBA tickets:
Savings: ScoreBig.com offers tickets at discounted rates, so customers can save money on tickets compared to buying from other sources.
Transparency: The site offers upfront pricing, so the customer knows exactly what they will pay without any hidden fees.
Convenience: The site allows customers to search for tickets by team, date, or venue, making it easy to find the right tickets for the game they want to attend.
Guarantee: The site offers a 100% satisfaction guarantee, ensuring that customers are happy with their purchase or can receive a refund or replacement tickets.
Overall, using ScoreBig.com for NBA tickets is a great option for customers who are looking to save money, find convenient and transparent pricing, and receive a satisfaction guarantee for their purchase.
It's always a good idea to compare prices and options before making a purchase, and to buy your tickets well in advance to secure the best seats.
Restaurants in the North End, Boston
The North End of Boston is a hub for delicious Italian cuisine and is often referred to as Boston's Little Italy. The neighborhood is home to a variety of restaurants and cafes, offering a range of Italian dishes, from pasta and pizza to seafood and pastries.
Many of the restaurants in the North End have been around for generations and are family-owned and operated. The atmosphere is bustling, with narrow streets lined with outdoor seating and charming storefronts.
The North End is a must-visit destination for foodies and those looking to experience the delicious flavors of iconic Italian dishes.
Conclusion for Boston, MA: NBA Tickets, North End Restaurants & More
Whether you want NBA tickets to see The Celtics, The New York Knicks, Brooklyn Nets, Orlando, The Lakers, etc., skip the hassle of waiting in long lines and purchase your tickets online with ease!
Experience the thrill of watching your favorite players competing on the court from the comfort of your own home or while you're out and about.
With just a few clicks, you can secure your spot to witness the excitement and energy of the NBA. Whether it's a game-winning shot or a highlight slam dunk, you won't want to miss a minute of the action.
So why wait? Head to our website now to grab your NBA tickets so you won't miss out on any of the excitement this season!
If you're planning a visit to Boston, be sure to use the information above for things to do in the area! If you still find it hard to connect the dots with your bucket list dreams in general, get a copy of The Everyday Bucket List Book!
Subscribe on Apple Podcasts , Spotify or Stitcher today!
Related Episodes