Things to Do in Boston with Friends & Other Examples of Bucket List Ideas
If you're heading to Bean Town and need things to do in Boston, Massachusetts with friends and loved ones, listen in on today's episode. If you're wondering what fun places are open, what is there to do in Boston right now or what do people do for fun in general, this episode can give you some great ideas. Whether you're looking for classic Boston attractions like Fenway Park, a guided tour of the city on a Duck Boat or you're a history buff hoping to catch the Freedom Trail, there's a wide array of fun activities to explore. Today's guest also includes an insider tip of a great restaurant to visit as well as a taste of her own neighborhood in Jamaica Plains.
Prefer to listen elsewhere? Here's the same episode on: Apple or Spotify!
Some of the resources below have affiliate links. If you purchase something through a link, I would make a small commission at no additional cost to you.
Today's Podcast Guest
I'm excited to welcome Jessica of The Fioneers to the Everyday Bucket List Podcast!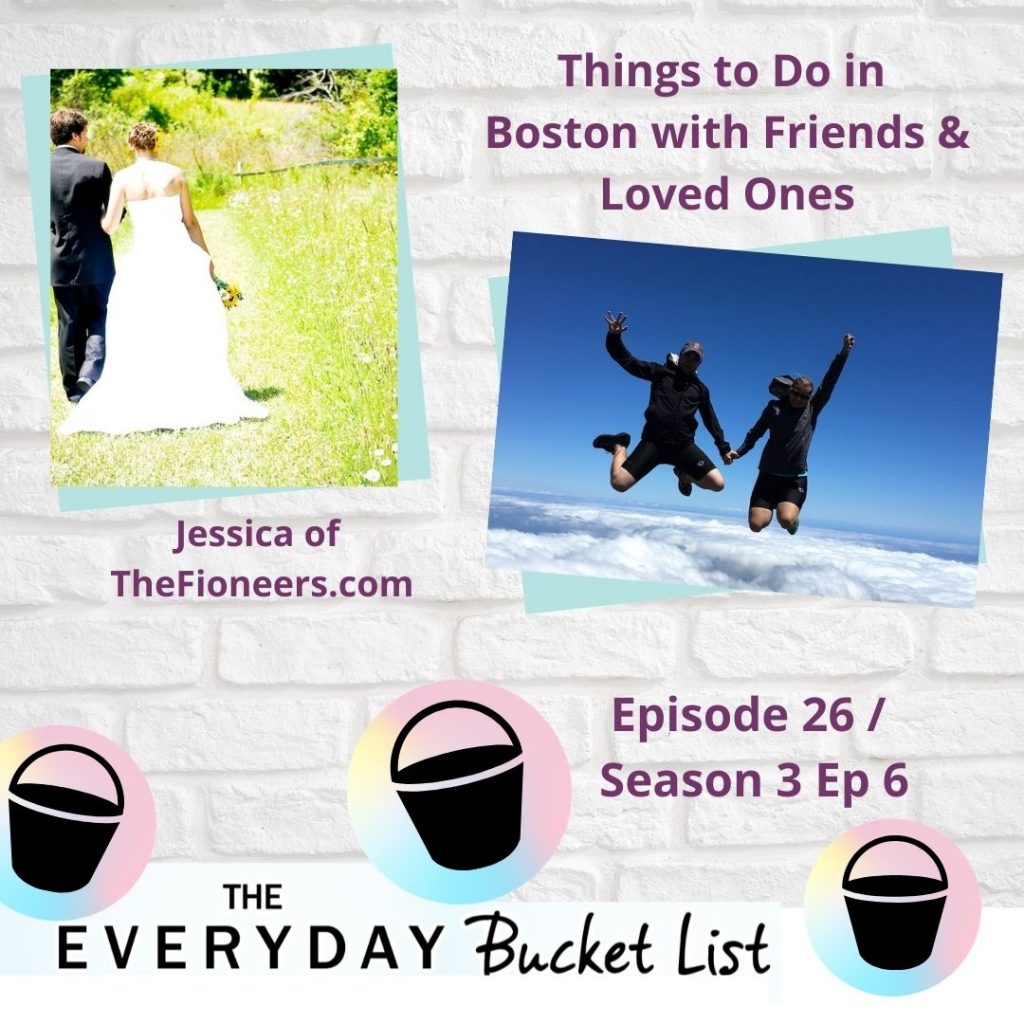 Jessica of The Fioneers.com
Jessica is a Co-Founder of The Fioneers, a financial independence blog focused on the intersection between financial independence and lifestyle design. Through her writing, workshops, and coaching, she helps people discover work they are passionate about and design lives they love.
What You'll Learn About Things to Do in Boston with Friends & Loved Ones
Discover what people do in Boston for fun. Listen to a local's perspective for both indoor and outdoor suggestions.
Get an insider tip for a super cool restaurant that adults should put at the top of their bucket list
Also, find out about other restaurants in the Jamaica Plain area.
Get the details on what to eat in China Town
Hear a variety of bucket list ideas from a local that includes green space. Whether you're looking for things to do in July or other warm weather months, listen in.
Resources for Things to Do in Boston, Massachussetts
Discover like 80 things to do in Boston this weekend or even today. To find out what there is to do in Boston right now, check out a site like TheBostonCalendar.com.
Walk the Freedom Trail – starting at the Boston Common (our main downtown city park)
Duck Tour – Tour of Boston in an amphibious vehicle – goes on land and in the water
Arnold Arboretum – Go hiking and overlook the Boston downtown area and see beautiful nature in Harvard's Arboretum
The Top of The Hub Restaurant mentioned unfortunately, it closed after Covid. 🙁
Additional resources not mentioned, but given by Jessica.
Walden Pond – Jessica explains, "go north of the city to see where Thoreau built his cabin and wrote Walden, plus it's a beautiful park."
Sam Adams Brewery Beer Garden
Explore local neighborhood restaurants
Some of Jessica's Everyday Favorites
Podcast(s)
Book(s)
Jessica's favorite book is called Designing Your Life. And it's all about lifestyle design and it's one that was really transformational for me.
Other Bucket List Ideas Mentioned
Jessica discussed learning how to do long exposure photography. She explains what it is, " if you've ever seen shots of like waterfalls, where it looks like the water is flowing, that's a particular type of long exposure photography where you can catch that movement."
She also likes learning about astrophotography. It's like long exposure photography, but you're focusing on the stars and hoping to catch the movement of the stars.
Instead of picking just one language. Jessica mentioned learning the basics of every language in order to communicate wherever she travels including basic greetings, directions, and ordering food.
Connect with Karen on Twitter
Related Episodes