How to Plan a Weekend Bucket List Trip to Boston
I go to Boston frequently and people often ask me: How many days should I spend in Boston? How do I spend a long weekend in Boston? Is 2 days enough in Boston?
In this session of The Everyday Bucket List Podcast, my husband & I discuss a recent Boston weekend trip. We also talk about what Boston is known for and we include what a 1-2 day itinerary or more could look like based on what we did. Get ideas for restaurants, historical things to do such as a visiting the Boston Tea Party Ships, Fenway and more.
Prefer to listen elsewhere? Here's the same episode on: Apple or Spotify!
It takes a great deal of time and energy to create episodes. In order for me to make great content for you, some of the resources below have affiliate links. If you purchase something through a link, I would make a small commission at no additional cost to you. You're also welcome to "buy me a coffee" by purchasing one of the printables in my shop or consider work with me.
Today's Everyday Bucket List Guest
I'm happy to welcome yours truly and my husband back to the Everyday Bucket List Podcast!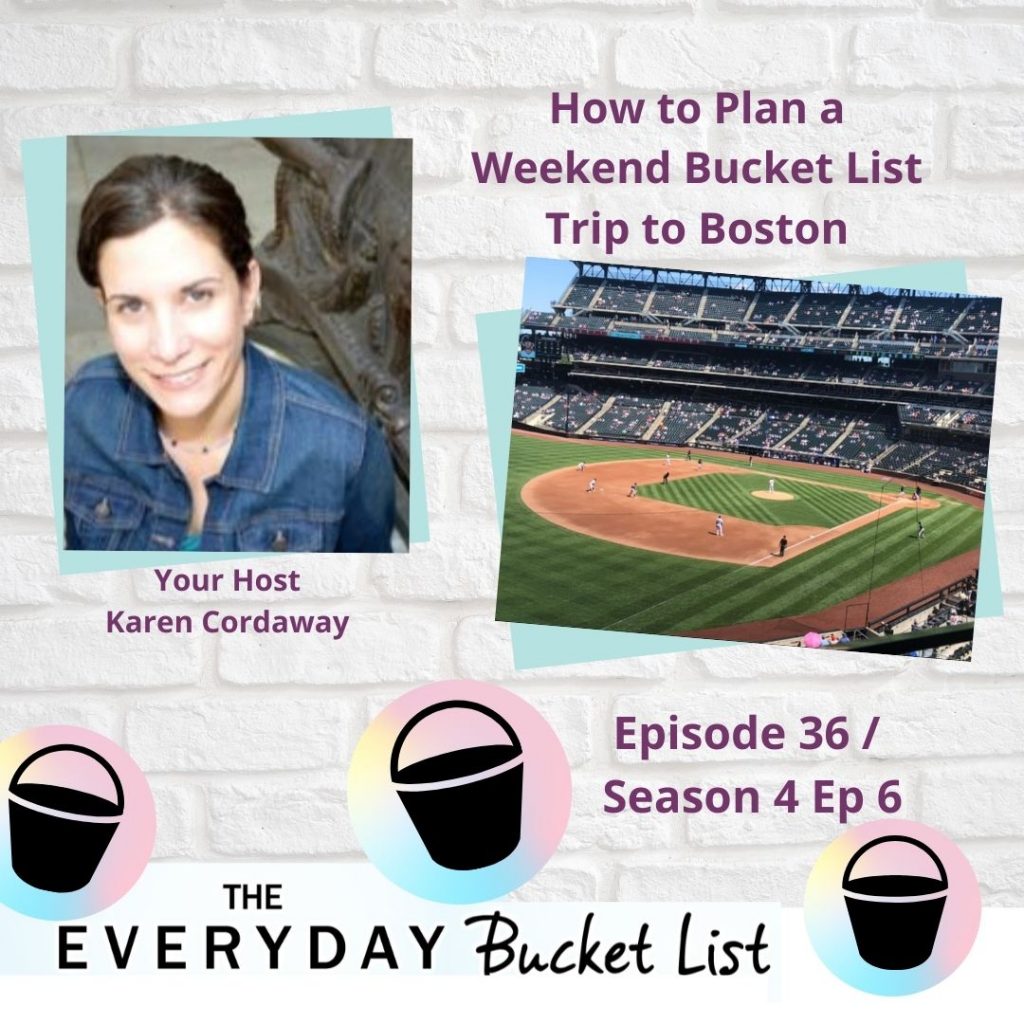 Karen Cordaway of KarenCordaway.com
What You'll Learn From Our Weekend Boston Trip
Discover what Boston, MA is known for
Hear about my 1-2 day Boston itinerary to potentially figure out how to spend a long weekend
Get a variety of suggestions for Providence, Rhode Island restaurants
Find out where to stay in Boston for a weekend
RESOURCES FOR A WEEKEND BOSTON TRIP
Is 2 days enough in Boston?
Though it depends on how much you want to take in, I personally think the longer you can stay, the better. If you only have a weekend, you can still pack a lot in. I personally like to go back and see something different every time I visit. I also like visiting places where I have to do a lot of walking in shorter spurts.
Where to Stay in Boston for a Weekend
We stayed overnight at the Hyatt in the Seaport District. We absolutely loved it. It has a great view from the room. In addition to that, you could eat and drink outdoors on their terrace or rooftop deck. Depending on where you want to stay, there are a wide variety of great places to stay in Boston.
Boston Itinerary Day 1
The Barking Crab – Situated right next to the Fort Point Channel, not far from the Boston Tea Party ships, grab a bite to eat and catch a view of the water. Choose from a wide array of seafood and enjoy the casual vibe and nautical decor. Get more details and find out about other casual restaurant in Boston.
The Boston Tea Party Ships – Whether you view it from the sidewalk or you purchase a ticket to have a get up close and personal with "the famous event that changed the course of American history," it's something you shouldn't miss. Tickets are $30 per person. Actors are all dressed up in that time period and someone is physically throwing the tea off of the ship.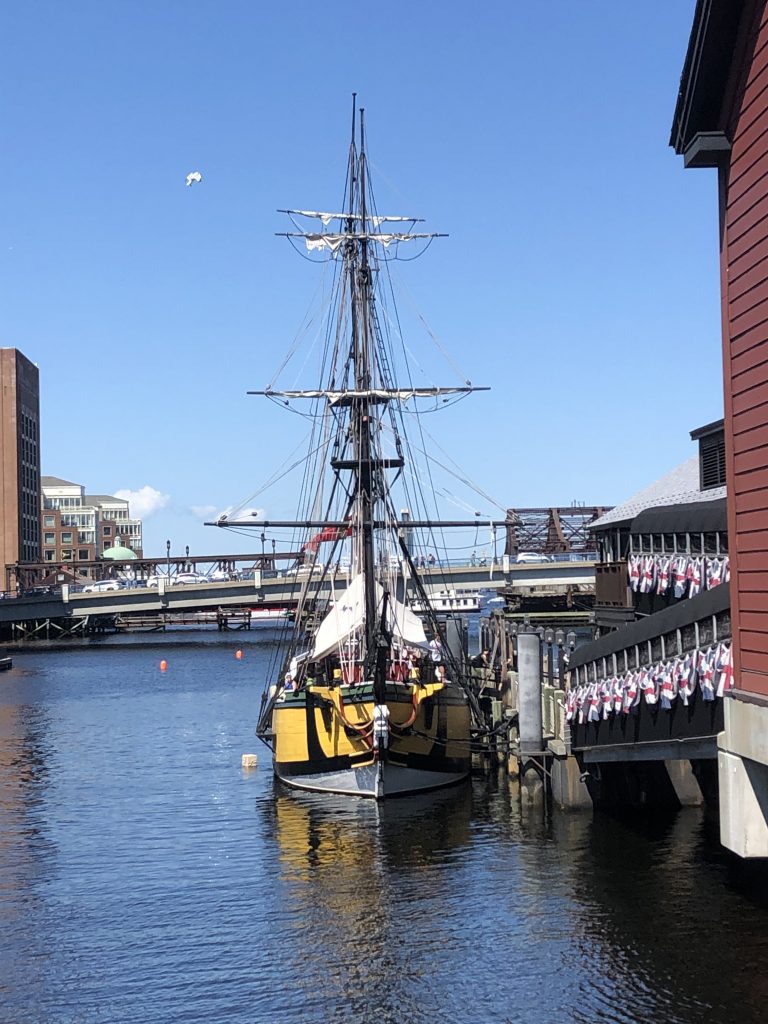 Jaho – After walking through Chinatown, this is the place where we had Japanese style ice cream. There are multiple locations in Boston, but I wanted to highlight the one we visited. Their site explains, "this location features a Loring Kestrel Roaster, a state of the art slow coffee bar, the full array of our food offerings and baked goods and a wide selection of craft beers, wines and spirits."
Eataly – Located on the first level of the Prudential Center, there's a cannoli stand is right at the entrance to this high quality food market that also contains restaurants inside. No matter if you opt to eat a meal, grab some groceries or both, you won't be disappointed with the wide array of food to choose from.
Boston Itinerary Day 2
Fenway Park – If you choose to go to a game, block out a big chunk of your day, unless you leave a little early. If you have a vehicle with you, you'll have to find a place to park. Prices vary depending on how close you are to the stadium. You can also just tour the stadium as a bucket list thing to do.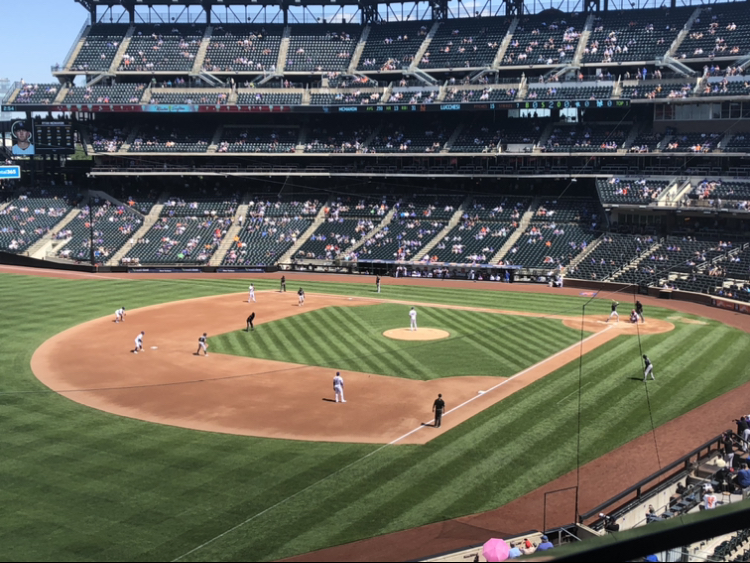 Copley Square – On our way to Fenway, we stopped at Copley Square. Outside of being a beautiful place to sit and relax, the HistoryList.com explains that "Copley Square is one of Boston's most architecturally significant and instantly recognizable public locations. This urban square is home to Trinity Church, the Boston Public Library, Old South Church and the Hancock Tower, among other important landmarks." I highly recommend a visit to that area.
What 3 Days in Boston Could Look Like
If you have a long weekend or you're opting to stay for 3 days in Boston, here are some other things you can do.
Trolley Rides – Get a ticket and take a guided tour around Boston. The drivers will tell you stories, interesting facts and more. From the seaport to Boston Common as well as other historical areas and well known streets, stay comfortable while exploring the city from the trolley. the one we caught allows you to hop on and off to see the sites up close.
Swan Boats– Open from May to Labor Day, take a ride on the Swan Boats in Boston Common. It's a short, affordable ride that great for all ages. Here's the blog post I mentioned on the show. It includes information about the Botanical Center including the moon gate and some of the other ideas I mentioned on the show.
Duck Boat Tour – If you have a little over an hour and want to check the iconic duck boat tour off of your list, I think this qualifies as a must-do item. Listen to a knowledgeable guide rattle off the historical significance of different landmarks and neighborhoods all while cruising along in a boat on wheels. I don't know if this was just my guide, but this was a very interesting tour.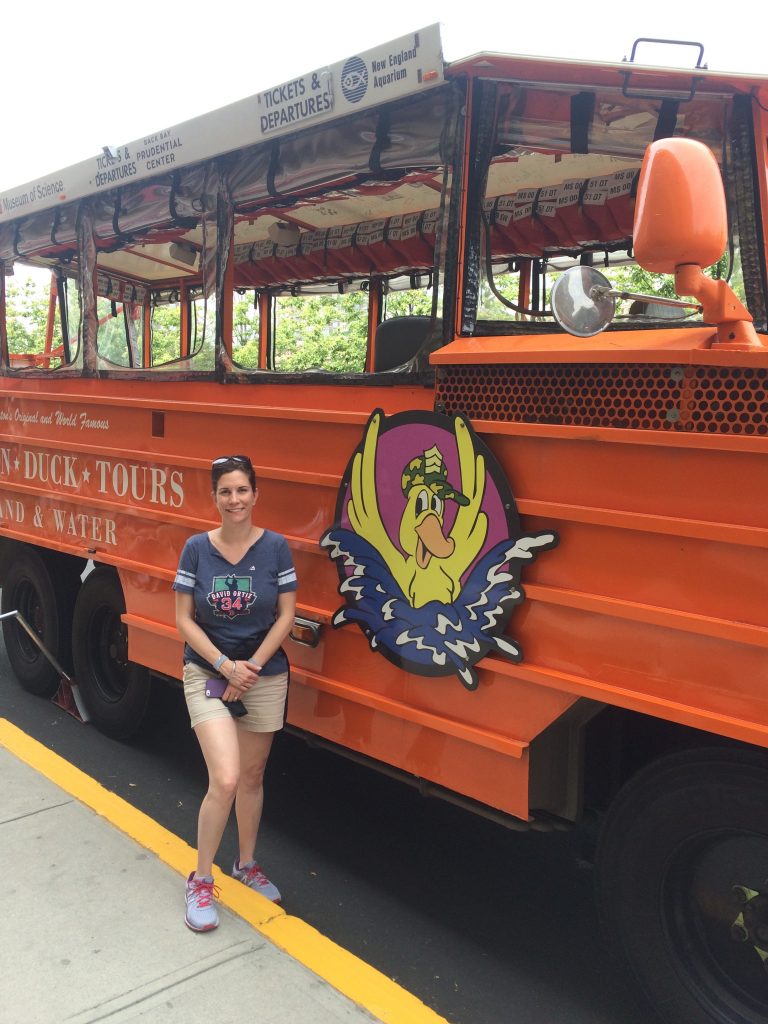 After you finish on land, then you you head to the water for the last part of the tour. This was one of my favorite bucket list adventures.
Free Things to Do During a Weekend Trip to Boston
Freedom Trail -Walk along the line marked on the pavement to follow the Freedom Trail. It takes you through "a unique collection of museums, churches, meeting houses, burying grounds, parks, a ship, and historic markers that tell the story of the American Revolution and beyond." Opt for a formal tour or informally walk around to take in the history on your own. Get more details about the Freedom Trail and Little Italy here.
USS Constitution – This is one of the special spots on the Freedom Trail. Visit the museum where two ships are located. also take in interactive exhibits and more.
Black Heritage Trail – Walk along the trail in person or take a peek virtually online. Self-guided tour take 60 -90 minutes. Plan your visit, learn about the park or even get involved.
Also check out:
Subscribe on Apple Podcasts , Spotify or Stitcher today!
Related Episodes