Fun Things to Do in Atlanta Georgia This Weekend or Down the Road w/ Chancellor K. Jackson
If you're looking for fun things to do in Atlanta, Georgia this weekend or down the road, this city is definitely worth visiting. It's best known for its rich history and culture, and for being the home of major corporations like Coca-Cola and Delta Airlines.
There are many things to do in Atlanta for couples, families, or solo travelers. Atlanta has it all, whether you're looking for family fun, a romantic getaway, or something exciting to explore. You can spend a Saturday exploring places like the Martin Luther King Jr. National Historic Site or the World of Coke Museum.
With so much to see and do, we recommend spending at least three days in the city to really experience everything it has to offer. And if you have a little more time, there are plenty of other attractions to explore in this vibrant city.
Prefer to listen elsewhere? Here's the exact episode on: Apple or Spotify!
It takes a great deal of time and energy to create episodes. In order for me to make great content for you, some of the resources below have affiliate links. If you purchase something through a link, I would make a small commission at no additional cost to you. Also, consider getting The Everyday Bucket List Book to live a happier, more fulfilling life and create your list today using my signature process.
Today's Everyday Bucket List Guest
I'm excited to welcome Chancellor K. Jackson to the Everyday Bucket List Podcast!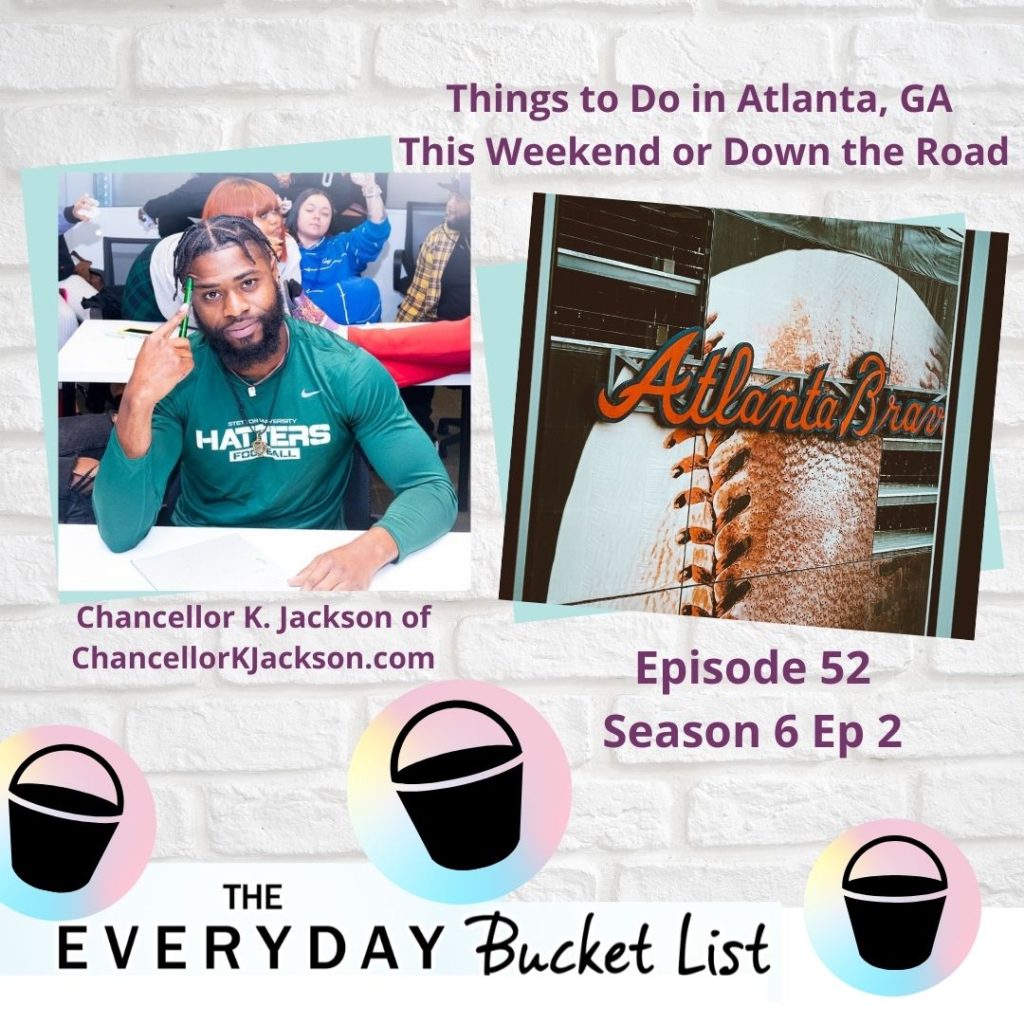 Chancellor K. Jackson
Chancellor K Jackson (1995) was born in Fulton County, Georgia, to Native American parents, grew up in Smyrna, Georgia, and attended Stetson University. For nine years he played football at the high school and collegiate level. After graduating with a Bachelors Degree in Communication and Media Studies, Chancellor lived abroad in China from 2018-2019. Chancellor fell into writing after his traumatic experience of being arrested, and detained in Beijing for 14 days. His first book, "14 Days in Beijing" has ranked #1 over fifteen times on Amazon in multiple genres.
What You'll Learn About Fun Things to Do in Atlanta Georgia This Weekend or Down the Road
Is Atlanta worth visiting?
What is Atlanta, Georgia best known for?
What food is Atlanta best known for?
How can I spend a day or 2 or 3 in Atlanta?
Is Atlanta worth visiting?
Atlanta has a lot to offer and is one of the most visited cities in America. From historic sites like Grant Park, which was established way back when as an industrial site for manufacturing hats; Centennial Olympic park where athletes from around world gathered during games held here decades ago- there's no shortage or things worth seeing while visiting this bustling metropolis!
What is Atlanta, Georgia best known for?
So you think Atlanta is just a big old Southern town? Well, the truth of it may surprise some people – but yes they do have fun there. The city has tons to offer visitors from all over! Visitors can enjoy hiking trails in Piedmont Park or take tours around historic Places like Atlantic Station (a luxury mall).
What food is Atlanta, Georgia best known for?
Atlanta's diverse population and abundance of unique cuisines make it a perfect destination for foodies. From Southern cooking to international cuisine, there are so many options that you'll never get bored!
How can I spend a day or 2 (or 3) in Atlanta?
Spend a few days in Atlanta and you'll be able to experience the city like never before. Families with children will love visiting Stone Mountain, Piedmont Park or Zoo World for their child's first memories of life outside home! If history is your thing there are plenty historic sites worth seeing including The Carter Center which houses both Ebony Magazine offices as well as Freedom Hall where Martin Luther King Jr made many speeches during civil rights movement . Then explore menus from different restaurants around town – everything tastes better when it comes straight outta GA.
Things to Do in Atlanta
Atlanta is one of the most popular destinations for tourists in America. Whether you're looking to take it easy or find a great adventure, there are plenty things that can keep everyone entertained! The following list includes fantastic ideas worth checking out when visiting this picturesque city.
Botanical Gardens
The Botanical Gardens in Atlanta are a wonderful escape from the hustle and bustles of everyday life. With over 2,000 plants from around world you can find inspiration for your next garden or just enjoy being surrounded by nature's beauty. The perfect spot to get lost among lush greenery with amazing views all around it's peacefulness will leave even more refreshed than before!
Six Flags
The Six Flags in Atlanta, Georgia are a must-see for any visitor to the city. The various rides and roller coasters will have you laughing until it hurts!
Clubs and Lounges
There's a club for every personality and taste in the Atlanta area. From sports-lovers, to party animals there is an option that fits your lifestyle!
Jackson Street Bridge
Jackson Street Bridge has been a staple of Atlanta since it was built in the 1800s. It appears on Google's skyline upland and many people go there for pictures because you can take so many different shots from just this one spot! You might think that all those photos are taken by someone with an amazing camera lens, but I'm guessing most would be lucky to get even close ups showing off their subject matter- which usually includes both buildings reflected against each other as well as some gorgeous night time lights shining down below
The Bamboo Forest
Atlanta is a city known for its nature, and it's no surprise that there are plenty of parks. One such place has become home to an interesting installation: The Bamboo Forest! This immersive experience lets you walk through slot-like openings between bamboo plants while listening closely so as not break their delicate stems or otherwise damage this environmentally friendly growth medium (which isn't actually ours). If your mood calls out " Zen ," take some deep breaths from those giant leaves; they might even help calm down any anxious feelings.
Things to Do in Atlanta for $10 and Under
With an amazing list of affordable things to do in Atlanta, it's no wonder that this city is one people love visiting.
Atlanta Contemporary Art Center
The Atlanta Contemporary Art Center is home to some of the most cutting-edge artwork in this country. The pieces range from local, regional national and even international artists – which makes for a truly diverse collection!
Michael C. Carlos Museum
Ancient art is something that will never go out of fashion, and if you want to see some ancient pieces while visiting, then check out this museum!
The Atlanta Cyclorama
The Atlanta Cyclorama is a historical site for history buffs. The gallery has an 18-meter diameter painting that rotates to display the scene from one side of America's Civil War.
Jimmy Carter Presidential Library and Museum
Founded in 1998, the Jimmy Carter Presidential Library and Museum is a comprehensive research facility that preserves American history by collecting documents from every presidency.
Glass Elevator Sundial Restaurant and Bar
Sundial, a restaurant with an amazing glass elevator in Atlanta!
It will make you feel like you're on top of the world. It's known for being one of the most unique places to eat, and you can enjoy your meal while looking down on all of downtown from here!
Top of Westin Peachtree Plaza
The top of The Westin Peachtree Plaza is a breathtaking view. I can see why they say "The sky's the limit" when you're up here! When you're done working or playing, head up here for peaceful relaxation with amazing views!
Free Things to Do
We all know that the best things in life are free, but have you ever tried to find them? I'll put my hand up and say yes! If you want to add some free events to your itinerary and maybe avoid some serious tourist trap tours (insert smiley face here), why not check out some of the ideas listed below?!
Castleberry Hill
The thriving metropolis of Atlanta is home to one such historic landmark, the picturesque Castleberry Hill neighborhood. This area has long been known as an attractive destination for those who value quaintness and charm with their architecture; it features winding streets lined by stately homes that date back centuries into time immemorial – like some kind if alternate dimension where life moves slow but feels safe!
Festivals
What's the deal with all these free festivals? There are so many different types of events that you can go to in Atlanta, it's really hard decide which one will be your favorite! Here is our list for this year:
A Gathering Of Hope Music Festival – May 13-15 The Outside Experience Film Festival – November 4th through 7th Dragon Con Arts And Science Fiction Content Exhibition ( sculpture , games etc) conventions usually span two days but sometimes last three or four
The World of Coca Cola
Coca-Cola has been around since 1891. The company was first started in Atlanta and it's no surprise that they have one of the most popular flavors, which is why you can't go wrong with a trip to see their museum!
Federal Reserve Bank Money Museum
The Money Museum is a great place to visit if you want an insight into how money has been used over time. You can learn all sorts of fascinating facts about coins, banknotes and more!
Atlanta Braves Game
If you are looking for an unforgettable experience that will leave your heart racing and palms sweating, I have just the thing. For baseball season, Atlanta Braves games provide a unique chance to catch some incredible baseball in one of America's most famous sports stadiums!
Atlanta GA Hotels
There are plenty of hotels in Atlanta, GA. You can find the perfect one for you! Hotels in Atlanta provide a great place to stay when visiting the area. The Hotel Indigo report is always full of well-cared for guests who enjoy themselves with all that's available, while also providing excellent service!
What's not to love about staying at a hotel? The staff are usually so friendly, and you can enjoy your stay without having any worries.
Stay at one of the best hotels in Midtown, Downtown and North Atlanta. You'll find many great Midtown hotels that offer beautiful views of the city or downtown Atlanta. Take a peek here to a book a place to stay.
Conclusion for Things to Do in Atlanta, GA This Weekend or Down The Road
Atlanta, GA is known for a lot of things. Some people know it as the birthplace of Martin Luther King Jr., while others know it for being the home of Coca-Cola and CNN. No matter what brings you to Atlanta, there's plenty to do – at a variety of price points.
Subscribe on Apple Podcasts , Spotify or Stitcher today!
Related Episodes