Atlanta, Georgia Attractions for Adults & Mapping Out Items for The Family Bucket List
If you're searching for Atlanta, Georgia attractions, you're in the right place. Whether you're looking to make plans this weekend or hoping to take a vacation at some point, get a few suggestions to make your trip worthwhile. Find out the best time to visit, where to stay and find fun things to do in Atlanta, Georgia with insider tips from today's guest.
Prefer to listen elsewhere? Here's the same episode on: Apple or Spotify!
Some of the resources below have affiliate links. If you purchase something through a link, I would make a small commission at no additional cost to you.
Today's Podcast Guest
I'm excited to welcome Joel Larsgarrd to the Everyday Bucket List Podcast!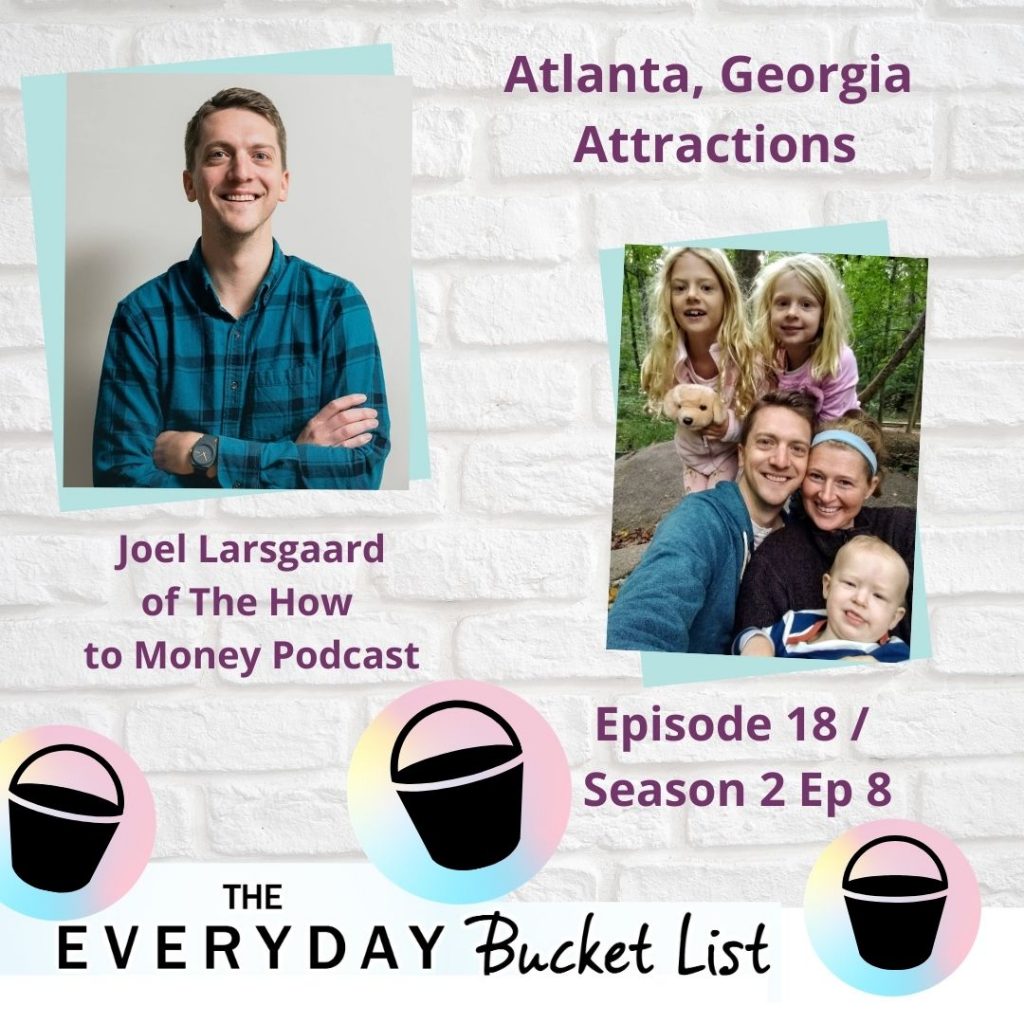 Joel Larsgaard of The How to Money Podcast
Joel Larsgaard has been in the money media space for over 15 years. But exploring the world of personal finance has always been more than just a job for him. That's why he launched the How To Money podcast with his best buddy Matt. They attempt to take the stigma and jargon out of personal finance conversations in order to help people make positive moves in their financial lives. The How To Money podcast has been downloaded over 20 million times and Matt and Joel are still as energetic as ever about reaching people with practical money-saving advice.
What You'll Learn
What is Atlanta, Georgia famous for?
Is Atlanta worth visiting?
What is there to do in Atlanta for 3 days?
How do I spend a day in Atlanta?
Get a few suggestions for Atlanta, Georgia attractions and restaurants
Resources for Atlanta Georgia Attractions
Whether you're looking for an Airbnb experience in a neighborhood, specific hotel in downtown Atlanta or right outside, take a look at places to stay for your next trip.
Some of Joel's Everyday Favorites
Podcast(s)
Book(s)
No matter where you go or how you get there, take a peek at some suggestions for travel essentials before you head out. Joel gives over one of his best tips.
Connect with Karen on Twitter
Related Episodes