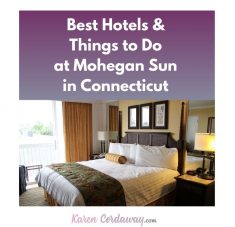 There might be affiliate links in this post. If you click on a link and make a purchase, I receive a small commission. Read my disclosure policy here.
When you're looking for unique things to do in Connecticut during Covid, it can get a little tricky.
Some restaurants require reservations days in advance while other can serve walk-ins today.
Certain businesses are open while others are closed.
If you've already overly Googled any of the following: "Things to do in CT today", "Things to do in CT in the fall or winter" or "things to do in CT with kids" or any other variation and you haven't had any luck with your search, this might be your lucky day.
If you're looking to stay overnight or take a day trip, take a peek at the best hotels for every budget near the Mohegan Sun in CT as well as great places to eat and other fun things to do when the time is right.
Best Overall Hotels
If you're planning a trip to the Mohegan Sun Casino, there are many places to stay. Whether you opt to be on-site or stay elsewhere, you'll surely find a place that fits your preferences and budget.
– Mohegan Sun Hotel Rooms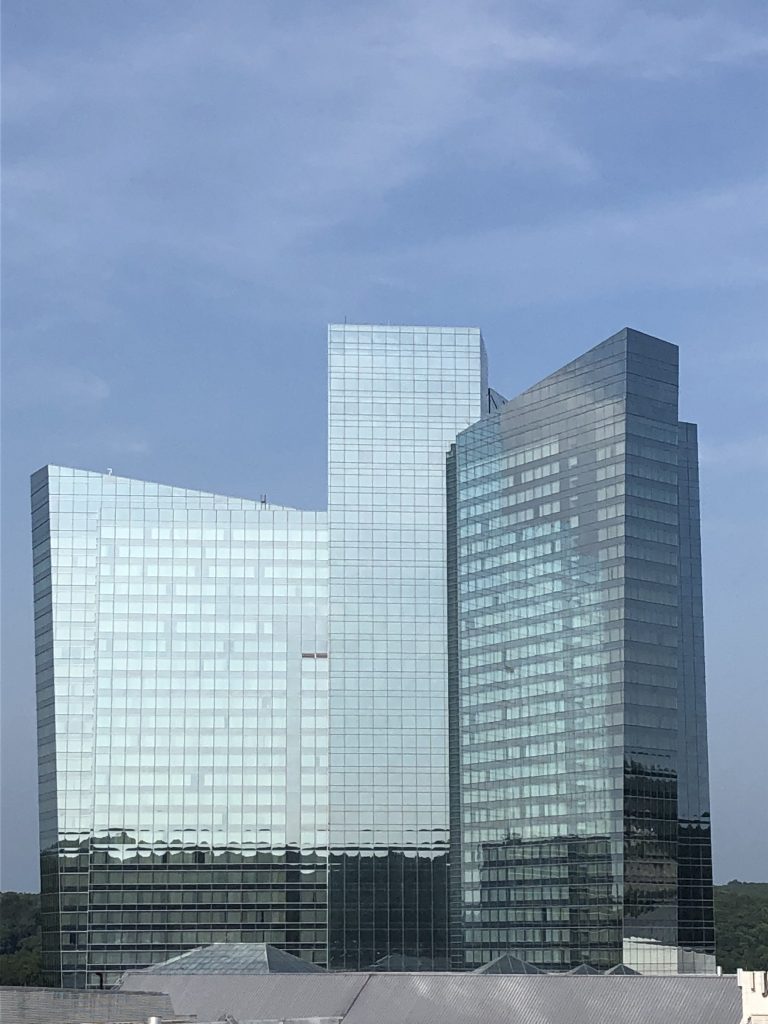 If the focus of your trip is being at the casino, consider staying at their upscale hotel. The Mohegan Sun hotel rooms are clean, very pretty and connected to casino, making it convenient to visit the Mohegan Sun Arena, shops, restaurants, etc.
There are many benefits to staying on-site such as:
Maximizing your time
Providing convenience
Being able to make stops back at your room, if needed
Having many on-site things to do while there
Cutting back on driving to multiple places
Having a variety of things to do in one location
Not having to brave the cold in the winter or inclement weather
I've stayed at both the Earth and Sky Towers. For the reasons listed above, this is my favorite hotel to stay in when visiting the casino.
How many hotels does the Mohegan Sun have?
Technically there is one hotel with two separate towers. According to the casino's website they have their "two tower hotel features 1,563 luxurious guest rooms, with over 175 suites and five hospitality suites."
What is the new hotel at the Mohegan Sun?
Aspire is the "new hotel" at the Mohegan Sun. The casino renovated the top five floors of the Sky Tower to provide a luxury hotel experience. If you're someone who loves top notch service, pretty views, and beautifully decorated rooms, then this is for you.
Aspire Luxury Hotel
Aspire has been called "a hotel within a hotel." Located on the top 5 floors of Sky Tower, it's a must-visit for those who enjoy a luxury experience.
According to their site, "Aspire at Mohegan Sun offers personalized service from the moment you arrive with a private valet entrance and check-in area that leads directly to your reserved Aspire elevator. Aspire guest rooms feature a unique arrival gift, sweeping views of the New England countryside and lavish five-star amenities."
Rooms prices can range from $600 up into the thousands, depending on the room you choose. Get booking information for Aspire here.
Does Mohegan Sun have a pool?
There are two different pools at the Mohegan Sun. Both are indoor pools.
The Mohegan Sun site explains, "Our hotel guests can enjoy two pools located conveniently in both Sky and Earth Tower, including the Sun Terrace Pool, located in Sky Tower, featuring a 10,000 square-foot solarium, an indoor pool and whirlpool. "
I've been to their Sun Terrace Pool area before prior to Covid. It's pretty and spacious. If the pool is currently open, I recommend going early to beat the crowd. The other pool is smaller near the Earth Tower.
Is the Mohegan Sun a pet-friendly hotel?
The Mohegan Sun hotel is not a pet-friendly hotel, but there are other nearby hotels.
Learn more about booking Mohegan Sun Hotel rooms for any part of the hotel here.
– Hyatt Place Mohegan Sun in Uncasville
The Hyatt Place Mohegan Sun is another upscale hotel right in Uncasville. If you're wondering how far Hyatt Place is from Mohegan Sun. It's about a half mile away from by car.
It is a pet-friendly hotel that allows cats and dogs up to 50 lbs for a fee. See their website for more details.
This hotel offers free breakfast, internet and parking as well as other amenities such as an on-site restaurant & fitness facility.
They even have a market that's open all day and night for grab and go sandwiches, greens, pastries and other treats.
Other Great Hotels Hotels Near Mohegan Sun Casino (and the Arena) in Uncasville, CT to check out:
Other Great Hotels Near Mohegan Sun Casino (and the Arena) in CT to check out:
Best Budget Hotels Near Mohegan Sun CT
The Fairfield Inn and Suites is another nice hotel option. It's consider upper-midscale hotel. I've stayed there myself and thought it was great. It's conveniently located right off the highway in the Groton area. It is less than a mile from the casino by car. It has an on-site restaurant and a Starbuck's housed inside of this hotel.
There's also a casual dining spot across the street called The Shack with affordable options for breakfast, lunch and dinner. Check out their website for the most updated details on hours of operation.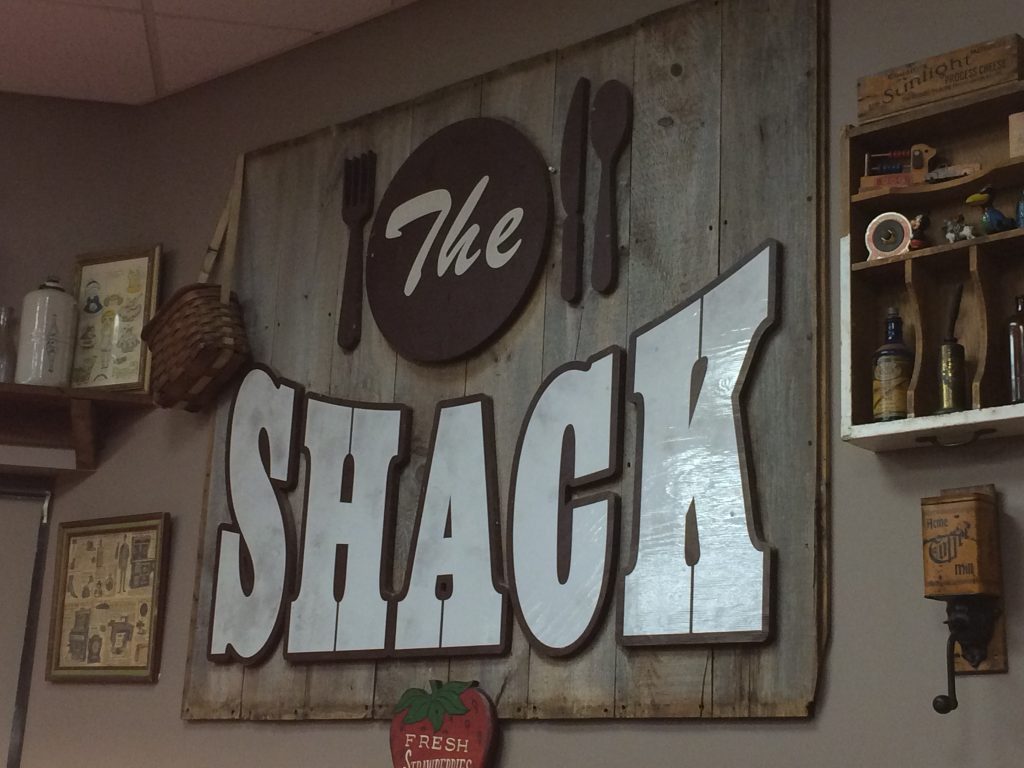 If you rather have the price point dictate where you go, there are a variety of hotels offering different deals in the area.
If you're looking for pet-friendly hotels near Mohegan Sun in Uncasville, CT, here are some in the area:
Where should I eat at Mohegan Sun?
Though this is a casino, there are many things to do at the Mohegan Sun besides gamble. Choose from a wide array of restaurants from casual to fancy and everything in between.
If you looked at the list of 48 restaurants on the casino's site, it can be a little overwhelming to figure out where to go.
One way to narrow your options is by looking at the dining section of their website. When searching, use the filter labeled "open" if you're searching for a place to eat in the moment.
Some places open later so if you're looking to eat shortly after your search, this will save you time and shortcut your search. If you're hoping to catch a special, you can narrow your search even further by searching "with specials only."
Just note that some restaurants cost more than others so even though they are having a special, you could spend more than another place without a special.
There's a list of bars, breakfast, casual, coffee and desserts, fine dining, quick service and more. It all depends on what you're in for and what is currently open. I listed the ones that are open here to my knowledge. Things can change so check the website or try to call to get the latest details.
Breakfast
Bean and Vine Cafe & Wine Bar
Dunkin
Daybreak – (I elaborate below about this restaurant.)
Hash House a Go Go (I elaborate below about this restaurant too.)
Johnny Rockets
Krispy Kreme Doughnuts
Starbucks
Tom Urban's
Lunch and Dinner
Ballo Italian Restaurant
Bobby's Burger Palace
Bow and Arrow Sports Bar
Chick-fil-a
Comix Roadhouse
Frank Pepe Pizzeria Napoletana
Game On (Dine, Drink, Play, Bowl)
Hash House a Go Go
Harvest Moon Bar
Johnny Rocket's
MJ23 Sports Bar and Grill (Michael Jordan)
Michael Jordan's Steak House
Novelle (small plates)
Summer Shack
Summer Shack Express
Pasta Vita
Phantasia
Skyrise Food Court
Sol Toro
Sushi Koya
Taughannick Falls Bar
The Landsdowne Irish Pub
The Original Soupman
Tom Urban's
Fine Dining
Ballo Italian Restaurant and Social Club
Michael Jordan's Steak House
Todd English's Tuscany
Desserts
Ben and Jerry's
Carlo's Bake Shop
Dunkin'
Krispy Kreme Doughnuts
Starbucks
Tom's Urban
Some of My Favorite Mohegan Sun Restaurants
I've been to many of the restaurants at the Mohegan Sun. I chose a few of my favorites to highlight here. They are family-friendly that make delicious food.
The Hash House a Go Go
The Hash House a Go Go is a sit down restaurant famous for their modern take on classic comfort food. Their heaping portions of tasty "twisted farm food" will fill you up for sure.
Whether you get chicken and waffles or a 1 pound hamburger, bring your appetite. Prepare to eat a lot or take a doggie bag.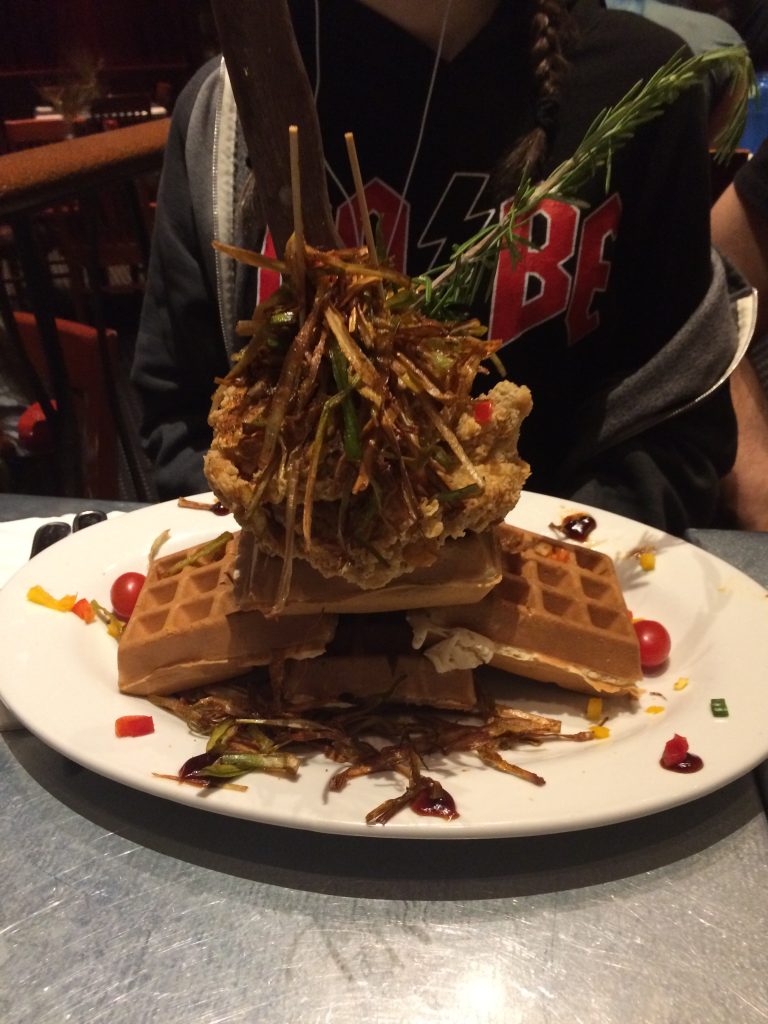 It's also very pretty restaurant too if you're looking to have a sit down meal. Check the website to see what their current hours of operation are.
Quick Service Spots to Eat
If you don't want to do a formal sit down breakfast, there are casual spots for quick bites to eat such as:
Dunkin Donuts
Krispy Kreme
Day Break
Daybreak
The Day Break restaurant is located across from Pepe's Pizza. It gets crowded quickly. Many people go their for tasty breakfast sandwiches.
There's normally a line on the weekend, so you'll want to plan accordingly. There's ample seating in a beautifully decorated area with mosaic designs on the walls and floors.
Parent Tip:
If you have young kids, you might want to have one person wait in line and have another person take them for a walk.
Or, if you're getting breakfast after staying there overnight, consider having one person get in line early while the other person stays back in the hotel room with the kids.
As a parent, I understand that it can take a little longer to get everyone up and ready. To then wait in a line that tends to be long can be a pain.
Maximize your time by having one person get the food if you're opting to eat casually. Also, the line might be shorter if someone goes down early.
You won't be able to see the menu until you get closer to the front. Consider looking at it quickly first when you get down there and maybe snap a quick pic. You can decide what you want in advance to save time. Also share the pic so your family can see the menu.
If you're a super planner, I took a pic of the Daybreak menu. Take a peek at their pastries and breakfast sandwiches.
People in line raved about their egg sandwiches. They're made fresh. I thought they were tasty and the rolls were nice and soft.
They do have a sign explaining how they do "handle and prepare egg, milk, wheat, shellfish, fish, soy, peanut, and tree nut products, and other potential allergens in the food production areas."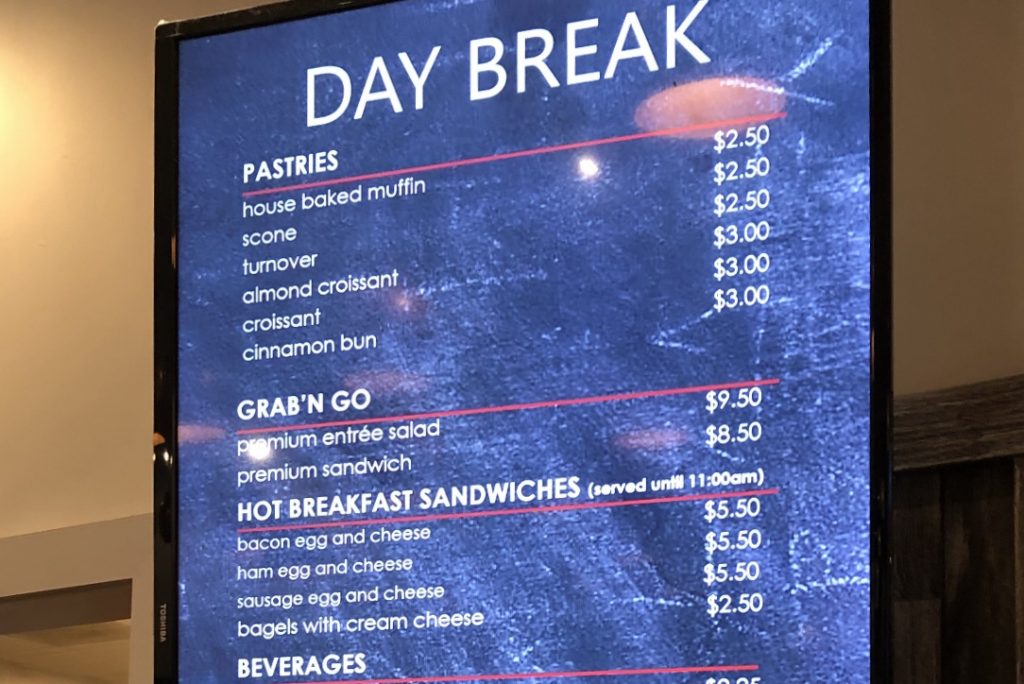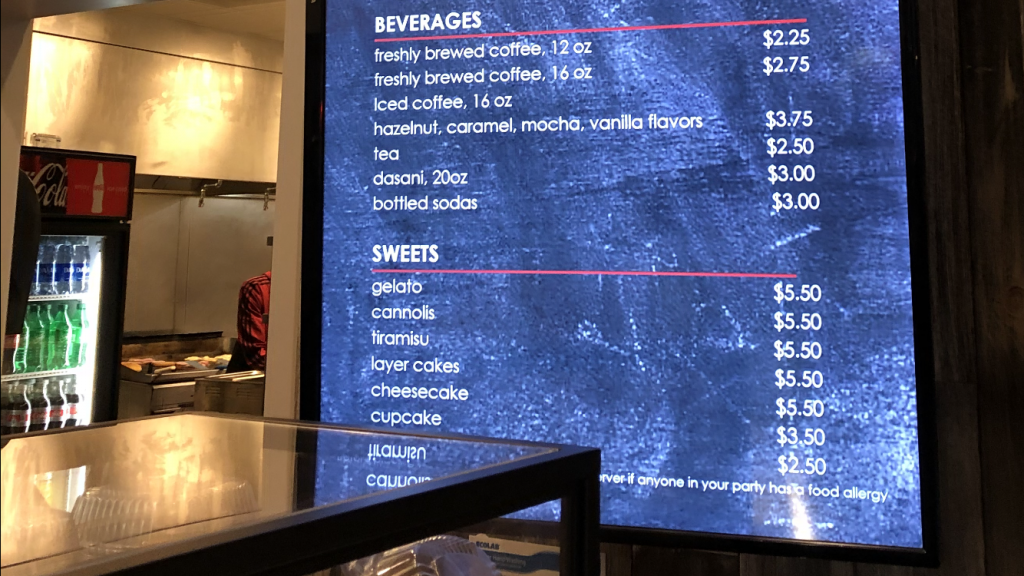 I recently went to the casino just to pick up a birthday cake for my daughter. Yes, I drove an hour for a cake! Why? It's been a long time bucket list item to get a cake from Carlo's Bakery. He's the Cake Boss after all.
Since we drove up early in the morning, we decided to get a bite to eat. Once I realized there was a long line at the Daybreak restaurant, I decided to order the cake online while we waited. It's a very smooth process and they have a separate spot for pick up so you don't have to wait in the regular line.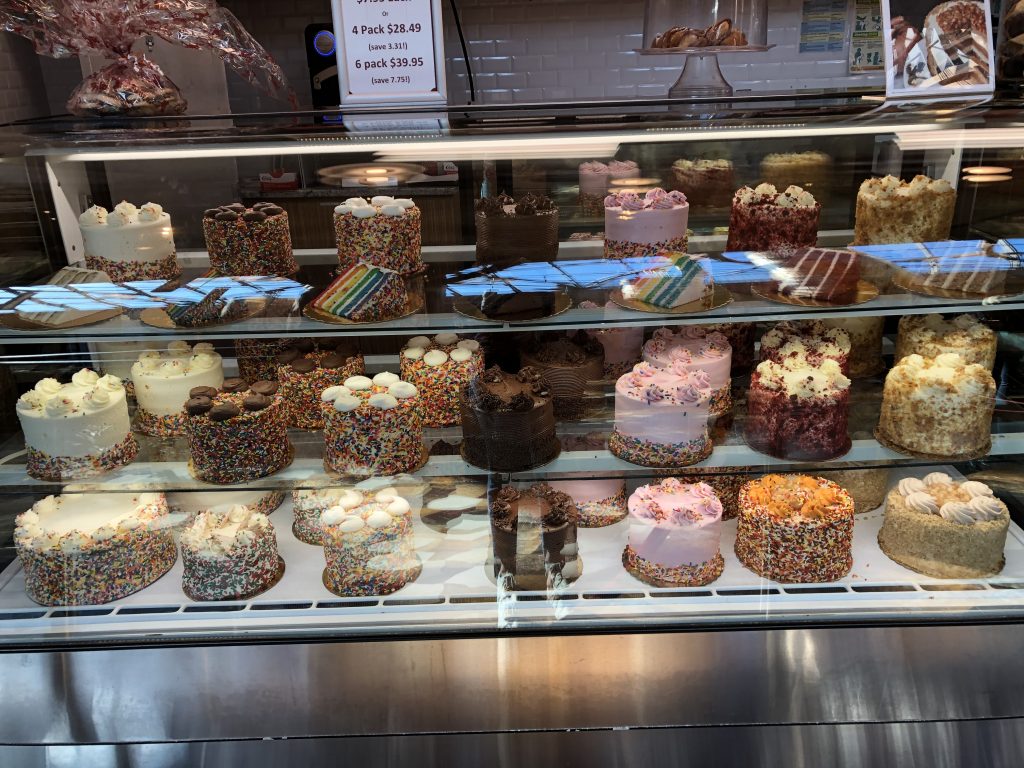 It worked out nicely because my husband and I noticed that they had what's called a PieCaken dessert. Like the name suggests, it's part pie, part cake.
Take all the best flavors of fall and put them together and you get this rich dessert. Though one person could eat this, we split it.
If you just want to sample it, I'd go as far to say that you can cut it into thirds. If you have a sweet tooth, definitely stop here. It's one of the most unique things to do in Connecticut in the fall.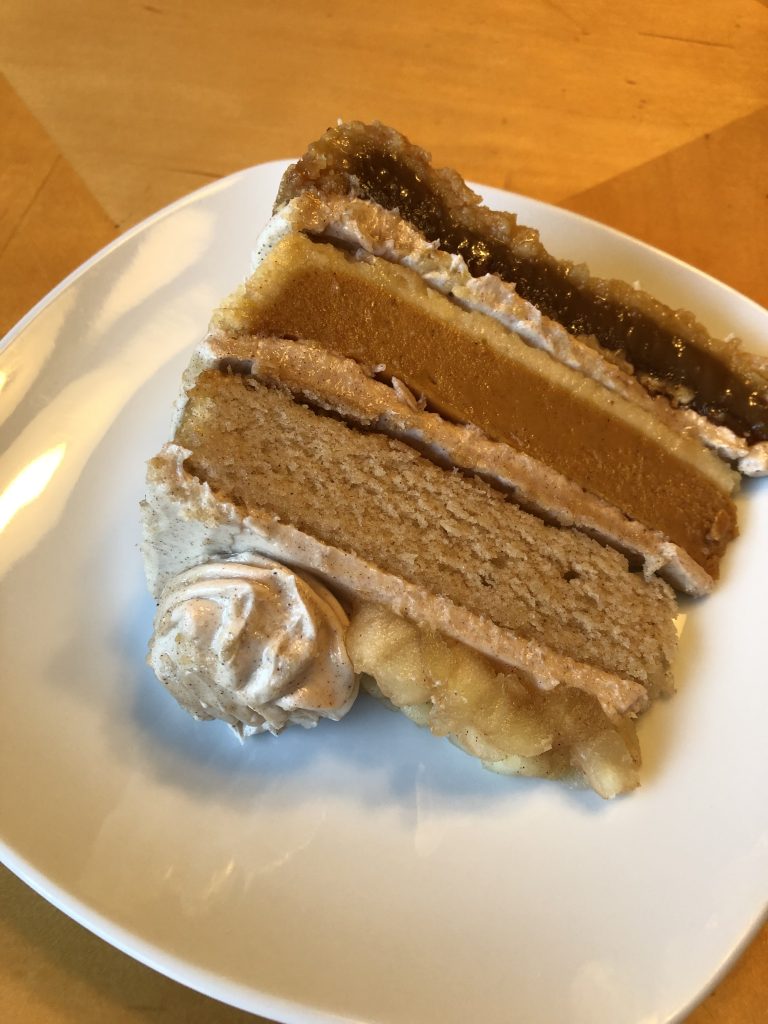 Bobby's Burger Palace at the Mohegan Sun
Celebrity Chef Bobby Flay owns Bobby's Burger Palace. This is one my all time favorite restaurants for burgers.
Outside of being run by a famous chef, what makes it unique is there's a burger that represents different regions across the United States. You're bound to find one you like.
If you're deciding where to eat and you don't want to go somewhere fancy or too casual, this is the perfect in between. The food is delicious and affordable.
The restaurant is also hip and modern. Though you're eating burgers, it's so nicely designed and the food is so great that it feels special. This is my go-to spot to eat before going to a concert or another special event.
For those who don't eat meat, they do have a vegetarian burger. However, if gluten is an issue, they don't have a gluten-free bun. If you're okay with not having a bun, you can order the burger without one.
Their fries are excellent. I recommend splitting them. One order is more than enough for two people.
If you have enough time and want to visit both of the casinos in CT on your trip.
How far is Foxwoods from the Mohegan Sun?
Foxwoods is roughly 11 miles from the Mohegan Sun casino by car. It's equally as enjoyable and has a variety of restaurants and fun things to do. Foxwoods is bigger and has outlet stores.
Conclusion for Best Hotels and Things to Do in CT
If you're wondering what there is to do in CT today, consider booking an overnight trip to the Mohegan Sun in Uncasville, CT. Outside of Yale, New Haven Pizza, historical areas and New England charm, CT is famous for it's awesome casinos. There are many exciting places to visit and things to do in CT in the fall, winter, spring and summer at the Mohegan Sun. Don't miss out, book a hotel today.
Related Articles for Fun Things to Do in CT Near Mohegan Sun