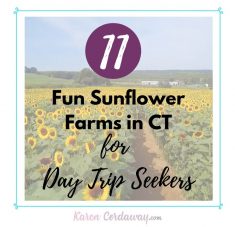 There might be affiliate links in this post. If you click on a link and make a purchase, I receive a small commission. Read my disclosure policy here.
Nothing says summer like beaches, barbecues and boats. Summer never fails to delight. As the days get longer and the sun shines brighter, there's even another way to embrace what the season has to offer. Visit sunflower farms in CT!  Add these day trips to your travel bucket list and you won't be disappointed.
Sunflower Farms in CT Plus Other Things to Do While There
Whether you're coming up with a summer fun list, bucket list activities or just looking for something different to do, Connecticut is home to some amazing sunflower farms. Here are some farms with sunflower fields to visit in CT.
One of the Best Sunflower Farms in CT: Buttonwood Farm
To begin with, I was born in CT and I have lived here for most of my life. I'm embarrassed to admit that I've never been to this place. Truthfully, I didn't even know it existed.
After typing in  "sunflower field ct", "sunflower farm ct" and "sunflower farm Connecticut" or some other variation of the word, I stumbled upon some great results. When Buttonwood Farm popped up on my Google search as one of the biggest sunflower farms in CT near me, I was like, "What? Why haven't I heard of this place?"
Little did I know that I pursued other bucket list adventures right near there, but I just missed this somehow. I asked all the basic questions regarding it's whereabouts, hours of operation, etc. so I thought I'd share them here with you.
Where is Buttonwood Farm?
Buttonwood Farm is located in New London County on 475 Shetucket Turnpike in the town of Griswold, CT.
When is Buttonwood Farm open?
The farm is open Monday to Friday from 1 P.M. to 8 P.M. and Saturday and Sunday from 12 P.M. to 8 P.M.
This farm hosts an event to benefit the Make-a-Wish Foundation. All of the money raised goes directly to this foundation that carries out wishes for kids with critical illnesses. Make a $10 donation for a good cause and leave with a bouquet of sunflowers.
There's no charge for checking out the walking field, though you will have to pay $2 per person and an additional $2 per flower to cut your own flowers. (When I went there wasn't an entry fee.) The farm provides you with cutting shears so leave any garden tools at home. Besides, they aren't allowed.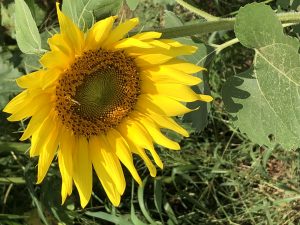 Buttonwood Farm Ice Cream
Come and cut the sunflowers, but stay for the homemade ice cream and picturesque country views. They make their own along with ice cream cakes. They offer cups, cones including waffle cones and sundaes such as brownie, waffle and banana split. The Buttonwood Farm Ice Cream hours are from 12 P.M. – 9 P.M.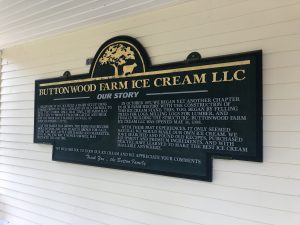 Order your ice cream by the scoop with over 50 flavors to choose from. Milkshakes, sorbet, sorbet coolers, soda floats, frozen yogurt and ice cream by the pint or quart are also sold here.
Some non-dairy options are available as well. If you get a chance to visit, choose from an extensive list of flavors. Here's what was listed on their website.
Buttonwood Farm Ice Cream Flavors
Almond Coconut

Black Raspberry

Blueberry

Bubble Gum

Butter Pecan Caramel Turtle Swirl

Cherry Vanilla

All kinds of Chocolate (

Chocolate Almond Fudge,

Chocolate Brownie Batter and

Chocolate Chip)

Coconut

Coffee flavors: (Coffee, Coffee Mocha Crunch, Coffee Oreo, Coffee Reese's)

Cookies N Creme

Cookie Dough

Cotton Candy

Forbidden Silk Chocolate

Graham Cracker

Jungle George

Maple Walnut

Mint Chocolate Chip

Mint Oreo

M & M

Monkey Business

Orange Pineapple

Peach

Peanut Butter

Peanut Butter Oreo

Peppermint Stick

Pistachio

Pumpkin

Purple Cow

Reese's 

Rum Raisin

Strawberry

Strawberry Cheesecake

Vanilla

White Chocolate

Cake Batter

Coffee Dough

Lavender Honey

Lemon Blueberry

Moose Munch
There's also limited edition flavors. Sunflower seed is one of them.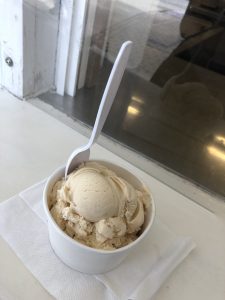 I ordered that along with orange pineapple and enjoyed both of them. Orange pineapple packs more of a flavor punch while sunflower has a more mild flavor. Get them while the getting is good.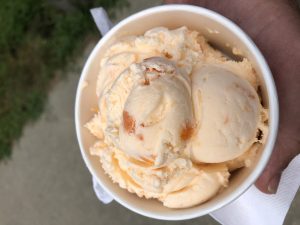 If you wanted to spend the whole day out that way or stay overnight, there's a popular casino called Foxwoods that is close by. Stay the night or spend a long weekend with other things to do in the area.
One thing I noticed about Buttonwood Sunflower Farm is that as busy as it gets with people of all ages, it's quiet. I hear it's nice at night too.
What hotels are near Buttonwood Farm?
Though you'll have to stay up-to-date on Covid-19 guidelines, here is some information to keep in mind if you are hoping to make a longer trip out of your visit and make a hotel stay.
The following hotels are near Buttonwood Farm:
Hilton Mystic
Great Cedar Hotel at Foxwoods
Grand Pequot Tower at Foxwoods
Bellisimo Grande Hotel
Hilton Garden Inn Preston Casino Area
Two Trees Inn
Hilltop Inn and Suites
I've stayed at the Mystic Marriott Hotel and Spa and I readily recommend it to anyone. It's a pretty place with a nice swimming pool. The Spa is wonderful too. Just check their website or call to check their most up-to-date information for 2020.
On a separate Connecticut day trip, I went to both hotels at Foxwoods a long time ago. I thought they were fine. Read reviews and of course, use your judgement to decide what's best.
What restaurants are near Buttonwood Farm?
Big Dawggs Specialty Hot Dogs & More in Griswold, CT
Deans Corner in Jewitt City, CT
Charlene's Diner in Jewitt City, CT
Gus's pub in Pizzarama in Plainfield, Connecticut
Village Pizza Restaurant in  Preston, Connecticut
Press On Restaurant in North Stonington, CT
Matches Tavern in North, Stonington, CT
Jake's Restaurant in North Stonington, CT
Town Grill & Pizzeria in Voluntown, CT
Back in Thyme Herb Farm & Kitchen, Hopkinton, Rhode Island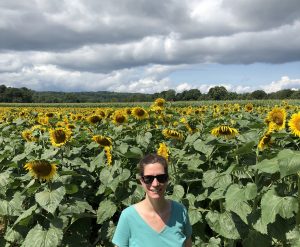 Other Sunflower Farms Near Me
Lyman Orchards
Lyman Orchards is another super fun place to visit. I recently went there to pick raspberries, but you can also pick other fruit such as strawberries, blueberries, jostaberries, pears and more.
Check out their Apple Barrel Store too. They have all kinds of fresh produce, baked goods, condiments, preserves, maple syrup kettle corn and so much more.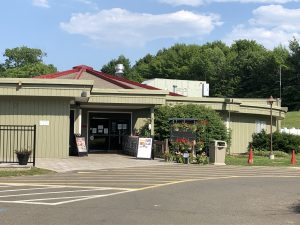 You can even get breakfast or lunch from the deli and sit outside. There are tables for two along the exit of the Apple Barrel Store in both shady and sunny spots that wrap around the building. There are also picnic tables near the pond.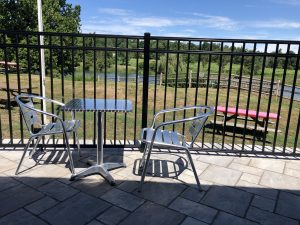 You can also sit at a table under an umbrella in a sunnier area on the patio near the ice cream window.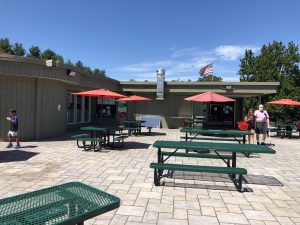 What town is Lyman Orchards in?
Lyman Orchards is located in Middlefield, CT. Drive down to 35 Reeds Gap Rd to find the Apple Barrel Store.
Come August, check out the sunflower maze at Lyman Orchards. Take a virtual tour of one of the best sunflower fields CT has to offer on their Facebook page or map out directions on your GPS and head on over. It's open daily throughout August. Follow their Facebook page to keep tabs on it.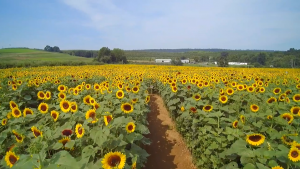 I recently went and was blown away by how perfect the flowers look.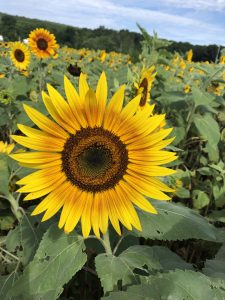 I believe it's one of the best sunflower farms in CT. Each year the maze has a different theme. This year was space.
You make your way through by finding the numbered posts. You can follow a multiple choice trivia quiz at each post to keep it interesting. How you answer dictates where you'll go.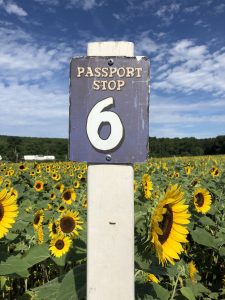 At this sunflower field in CT, you can get a higher view of the maze.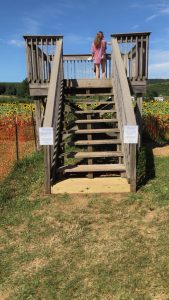 There's a wooden structure with stairs where you can take a look. I include a little more about it along with other places to visit in CT here.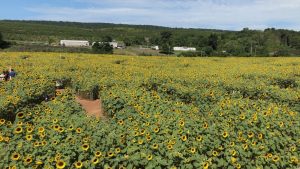 Sunflower Farm in CT: Orange, CT
I heard about this place on another website. It was listed as a sunflower farm.
This farm has sunflower in the title, however it isn't a sunflower farm. Located on 767 Derby Milford Rd in Orange, CT, this place is open Monday through Friday from to 12 P.M. to 6 P.M., Sat from 10 A.M. to 6 P.M. and Sunday from 10 A.M.- 5 P.M.
After a quick look at their Facebook page, this store's recent status update boasts how it's "fully stocked with lots of yummies: bbq sauces, salad dressings, pickles, delicious salsas, relishes, mustards and lots more. And for those who have been waiting, lemon marmalade!"
In addition to these tasty offerings, you can pick up mums and pumpkins in the fall. Also, make room for Christmas trees and wreaths in the winter. They also carry their own soaps, lotions and more. In short, it's a great place to pick up some unique treats and gifts.
Also, check out other sunflower farms and fields in CT:
Conclusion for Sunflower Farms & Fields in CT
In brief, with everything going on, you may wonder,"How can I make summer fun?" Scout out things you can add to your summer dream list by visiting sunflower fields in CT. Whether you choose to visit a sunflower farm in Griswold, or Middlefield, CT or any other area some time soon, add these ideas to your long term dream list.
Challenge yourself to visit as many sunflower farms in CT as you can and your bucket list achievement score will go through the roof.
Finally, if you like this post, please share it. It takes hours to blog and minutes to just share it. Then we're fair and square. Okay?
Related Articles for Things to Do in CT