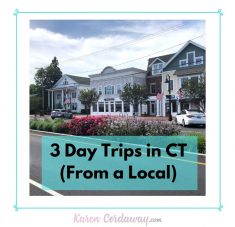 There might be affiliate links in this post. If you click on a link and make a purchase, I receive a small commission. Read my disclosure policy here.
Spend some time getting a bite to eat, going for ice cream or taking a stroll down historical streets. These ideas for day trips in CT are fun stops and must-visit locations as you travel through the state. Whether you're going on a date, hanging out with friends or looking for simple things to do with kids, these suggestions will keep everyone happy.
Awesome Day Trips in CT
Connecticut is not a big state. It's a small state in New England that is 110 miles long. It's one of the 5 smallest states in terms of land area.
Is Connecticut worth visiting?
If you're on a road trip down the East Coast of the U.S., hoping to visit as many states as possibly or you're just passing through, Connecticut is absolutely worth a visit.
Though I can write a super long post about many towns and all of the interesting things to do in CT, I'd rather go into depth about a few of my favorite places to visit in CT. I gathered up a bunch of details and walked down memory lane to point you in the right direction.
Where can I go a day in Connecticut?
I've listed some of my favorite areas that I think people should visit. No matter if you're just passing through or you live in another part of the state and want something interesting to do, I believe these suggestions will satisfy you.
Idea #1 – Things to Do in New Haven, CT
Whenever I go somewhere, whether it's another country, state, town, etc., I always want to try what the area is known for. For example, when I went to Puerto Rico, I wanted to eat authentic cuisine such as mofongo, tostones and pasteles. I could have easily gone to a touristy spot and missed out on that completely.
If I'm in the Southern part of the U.S., I like to have shrimp and grits, barbeque or other traditional southern dishes. I know that 1) That's what they're known for and 2) I can't readily get it the way they make it where I live.
What is CT famous for?
If you're thinking with your belly, CT is famous for its pizza. We have what is called New Haven-style pizza. It's a thin crust pizza made famous by Pepe's Pizza.
Where is the original Frank Pepe's?
The original location is in the historic Little Italy section of New Haven on 157 Wooster St (not far from the Yale area).
Other Frank Pepe's Locations in CT
Manchester

Danbury

Waterbury

West Hartford

Uncasville, CT (at the Mohegan Sun Casino)

Fairfield
Fairfield Pepe's Pizza
The Frank Pepe's Pizzeria Napoletano in Fairfield, CT on 238 Commerce Drive is another popular location. If you're coming from New York City, Fairfield is closer than the New Haven location.
What should I get at Frank Pepe's?
According to Pepe's website, the following are popular:
Meatball and Cherry Pepper Pizza

White Clam Pizza with Bacon

Roasted Red Peppers and Sausage Pizza

Chicken Broccoli Pizza
Check out the Pepe's  Pizza Menu. Most locals and Italian Americans like me rave about their clam pizza a.k.a. clam pie because it's so different. It can easily go down as one of the most unique bucket list ideas for your taste buds.
Is Frank Pepe's cash only?
No, they are not cash only. They take credit cards.
However, there's a popular bakery close by called Libby's Pastry Shop where most people want to go while on Wooster St. Many people eat at one of the restaurants on Wooster St. and then go to Libby's for dessert.
Libby's does not take credit cards and there isn't an ATM within walking distance to my knowledge so you'll want to have some cash on you. I recently bought a small gelato for $3.75.
Going to Pepe's and Libby's was a tradition growing up. You didn't just go to one or the other. You did both. They have all types of Italian cookies, gelato and Italian ice. More about Libby's below.
Sally's Apizza
Sally's Pizza is another wonderful pizza place also located on Wooster Street. I saw an interview where they explained how Frank Sinatra would order pizza from Sally's and have it driven to NY.
All of these spots are kid-friendly. However, during non-pandemic times, it just might be a little challenging to wait in line at Pepe's if you have young children. Maybe one person can stand in line while another adult takes a walk with the kids up and down the street until your party is close to being seated.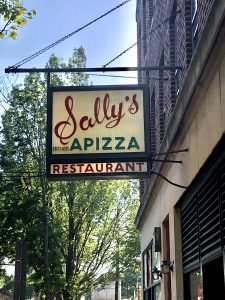 The pizza in New Haven, CT is unmatched. Many of the restaurants on Wooster St. have been featured on the news as well as the Food Network.
I truly believe that scheduling a visit should be on everyone's bucket list of goals. If you're making an itinerary of day trips in New England, leave room for this. It has a reoccurring role on mine and I plan on trying every pizza on the menu. Not all at once, of course.
Does Sally's Pizza take credit cards?
They do take credit cards. The only draw back to these two restaurants is Sally's and Pepe's don't have gluten free options.
However, here are some pizza places in the area that do offer gluten-free pizza. Abate's is one of them and it's located on Wooster Street. The owner once worked for Pepe's so he knows how to make New Haven-style pizza too.
Libby's Pastry Shop
Libby's Pastry Shop is located right between Pepe's and Abate's. It's a fan favorite for dessert. People love their cannolis. It's truly known as one of the best Italian bakeries in CT.
Their website shows the different cookies you can order online. However, there are certain items like pastries that you can only get in-store. Check the website LibbysCookies.com for details.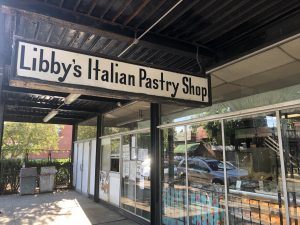 Many people also go there for their Italian ice and gelato.  Cool down on a hot summer day with one of their tasty and refreshing flavors.
I grew up going there regularly as a kid and now I bring my own children. Whether you make it one of your bucket list day trips in CT or establish a tradition, you won't be disappointed. In my opinion, it's one of the best things to do in New Haven, CT.
Libby's Italian Ice Flavors
Though you might have to check and see what's available the day you visit, Libby's usually has the following flavors:
Lemon
Chocolate
Vanilla
Raspberry
Orange
Pina Colada
Watermelon
Blue Raspberry
Libby's Gelato Flavors
Cappuccino
Peanut Butter
Chocolate
Black Raspberry
Hazelnut
Vaniglia
Pistacchio
Idea #2 – Things to Do in Mystic, CT
Is Mystic, CT worth visiting?
Mystic, CT is worth visiting if you like to get a quick dose of historic New England charm in one fell swoop. I am a local and I like going there at least once a year. This is the town where the movie Mystic Pizza was filmed with Julia Roberts. 
Is Mystic Pizza a real restaurant?
Many people often wonder, is there really a Mystic Pizza? Yes, Mystic Pizza is most certainly a real restaurant. 
Where is the original Mystic Pizza?
The original Mystic Pizza is located on 56 West Main St in Mystic, CT.  It's in the Historical Downtown District. There's another restaurant in Stonington, CT called Mystic Pizza II. If you're potentially interested in visiting, take a peek at the Mystic Pizza Menu and Mystic Pizza reviews online.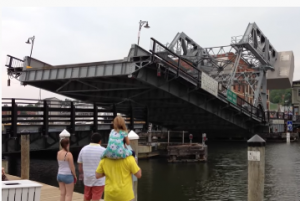 Mystic Drawbridge
One of their biggest draws in this area is their drawbridge. Though you'll have to wait a bit to cross when a boat comes through, it's enjoyable to watch the bridge open and close. It makes for a pleasant break and a great time lapse video to share on social with your friends and family. 
What time does the drawbridge go up?
Though you may not know exactly when the bridge will open, you can take a look at this moveable bridge's schedule to see if it's likely to happen. Every time I've gone and stayed for a few hours in the summer, the bridge has opened a few times. If you want to make sure you see it while visiting, there's an area with benches along the water where you can sit and watch. 
Mystic Drawbridge Ice Cream
There's an ice cream shop that's been around since the 1800's that sits near the bridge overlooking the water. Getting to visit this place makes for a meaningful bucket list memory you'll remember for years to come.
If you're looking to get ice cream, take a look at the Mystic Drawbridge Ice Cream Menu. They are located at 2 West Main Street. Choose from a wide variety of homemade ice cream flavors.
They offer classic options as well as non-dairy alternatives like vegan chocolate almond joy and sorbets. There's also Drawbridge Originals like Mystic Mud, Seaport Salty Swirl and more.
Their menu also includes specialty shakes, sundaes, soda fountain favorites, smoothies as well as coffee and espresso.
More Mystic CT Things to Do
What restaurants are near Historic Downtown Mystic?
What attractions are near Historic Downtown Mystic?
There are many attractions in Mystic, CT. I listed a few below with information about how far away they are and approximately how long it would take to get there by car. You just have to check and see if they are currently open and what their hours of operation are.
Idea #3 – Things to Do in Madison, CT
There are pretty towns up the shoreline like Branford, Guilford and more, but if you drive a little further, you'll reach Madison, CT and it's historic town center. If you live a town or two over or if you're passing through, make a stop and find things to do in Madison, CT.
Get a bite to eat at any of their restaurants. Bradley and Wall is located on Wall St. It's right off the main road. They offer daily specials, salads, sandwiches such as wraps, subs and paninis, and more.
I've had a wrap there. You can easily split them with another person. I liked the Apple Delight which is a wrap made up of  turkey, Swiss cheese, apples, Craisins and baby spinach. There's a wide variety of options. Check out their website for the Bradley and Wall Menu.
Around the corner from this restaurant is the main strip of stores and restaurants where you can find some of the best restaurants for lunch in Madison, CT as well as smoothies, coffee and ice cream.
Here's a few places to check out:
Madison Cheese Shop and Cafe

Cafe Allegre

Life Bowls

Ashley's Ice Cream
Right now it's currently best to order well in advance via email or by phone. Take note that they're open Wednesday to Sunday.
This is a more formal Italian restaurant. They do offer takeout. If you're looking for fried calamari, seafood risotto or penne a la vodka, then you're in the right place. Check their website for details.
If you're in the mood for lighter lunch that includes an acai bowl or avocado toast, check out Life Bowls. They have gluten-free options and are vegan-friendly. They also serve smoothies and coffee.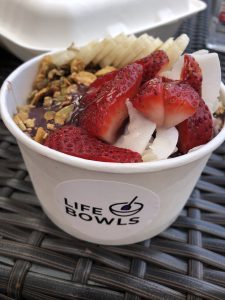 Who doesn't love ice cream in the summer? If you're looking for dessert after lunch or an any time of day, stop at Ashley's Ice Cream. There are many flavors to choose from and they have great outdoor seating.
You can scope out the ice cream on the website, but call in advance to see if they have certain options. Though I never met an ice cream flavor I didn't like, I highly recommend their chocolate mousse.
Other Things to Do in Madison, CT
If you have time to stop by the beach, check out Hammonassett Beach State Park. It's a pretty beach with snack bars, Meigs Point Nature Center, campgrounds and great place to ride bikes. Take a look at their website for the most up-to-date details about hours of operation.
Also, take a peek at:
RJ Julia's Book Store

Creations Gift Shop

Madison Art Cinema

(Just be sure to check in to see what's open and what you need to know regarding Covid-19 when visiting.)
Conclusion
I love Connecticut and I think you will too. Whether you're passing through during the week or you're looking for something to do in CT this weekend, I hope you use the ideas mentioned for day trips in CT.
No matter where you decide to go, each place will provide an enjoyable experience while you're in the Nutmeg State.  Add them to your dream list of things to do or  challenge yourself to see how much you can do.