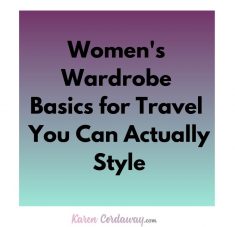 There might be affiliate links in this post. If you click on a link and make a purchase, I receive a small commission. Read my disclosure policy here.
If you keep asking Google, "How do I plan a travel wardrobe?" and you still can't find any answers, then you're in luck because I have your best interests at heart. And I don't know about you, but I don't have much time to shop in stores. Yet, I like picking up new pieces to make the most of my wardrobe while traveling and even after. If you feel the same way, this post contains some useful wardrobe staples. You'll be armed with more versatile options to suit the occasion, and it can also help you look stylish while traveling.
White Wardrobe for Travel
1. White Button-Down Shirt
If you're headed somewhere warm, there are many reasons to wear a white button-down shirt. For one, it's the ideal staple that goes with everything! But also, it can serve as another layer if you're in the air conditioning or you want something to put over a tank top, camisole, or swimsuit.
A white button-down shirt is also a classic and universally flattering choice for women. It can hide a tummy or act as a "jacket" over a pretty tank top. Add some color, like blue or green accessories, to take your look from the usual blandness of plain shirts into something memorable!
2. White Sweatshirt
Wearing a white sweatshirt is a popular fashion trend right now because you can pair it with anything from jeans to dresses. It's also considered an all-time favorite among women because they're comfortable and casual.
The many looks you can rock with a white sweatshirt are endless. Whether you are sightseeing, hiking, or lounging at the hotel – this one will be sure to keep up! Plus, it comes in handy if you need an extra layer of clothing.
3. White T-shirt
Basic white t-shirts for women are great because they're simple and easy to wear. It can be used as a casual piece or it goes nicely under a blazer if you want to elevate your look.
It can be tough to find the perfect t-shirt. Women have different preferences, needs, and desires regarding fashion, which can sometimes lead them down rabbit holes of online shopping, looking through countless options until they find the right one! You can shortcut some of the searching by checking out this popular find. Include this as a part of your wardrobe for travel.
5. White Denim
White denim is a classic that never goes out of style. The cool and casual look will be perfect for your next vacation. It also provides an elegant look with minimal effort!
Some Fancy Wardrobe Pieces for Travel
5. Camisole
It's often hard to find a comfortable, stylish camisole. If you're looking for something that will show off your figure and still feel great against your skin, then this article is perfect!
A cami is the ultimate layering piece. It's not just for work or running around town but it can be worn underneath your favorite blazer as well! Whether it takes center stage alone or you wear it underneath a blazer – this versatile little number will keep you feeling cool in hot weather and warm under a cardigan during cooler months.
6. Palazzo Pants
It's nice when you can look at something and immediately know how it will make your day better – like those afternoon shopping trips where everything just feels right in an instant (perhaps because of these palazzo pants).
Palazzo pants are a fun, feminine way to spice up any outfit. These high-waisted pants are perfect for all your outfit needs! They also have a feminine flair and look great in an work environment or out on the town.
I love how these palazzo pants have a wide leg and a long, loose fit. They're perfect to pair with one of my floral blouses!
7. Blazer
This blazer for the ladies is sleek and has an open front. Designed with lightweight fabric that moves just right when you walk, this stylish piece is the perfect color and will be your go-to for any occasion.
This casual blazer also has soft, stretchy fabric and is perfect for the woman who's always on the go. This versatile piece can be dressed up or down depending on how you style it – but either way, this jacket will never go out of fashion!
Other Important Pieces to Include in Your Wardrobe for Travel
8. Cardigan
A long cardigan is a must for women during winter. The warmth and protection it provides can't be matched by any other article of clothing, making this an essential part of your wardrobe whether you head to colder climates or not!
One of the best things about wearing a long cardigan is how versatile it can be. If you're trying to stay warm but don't want your clothes caked in layers, then this may just work for you!
9. Denim Jacket
Ever since the invention of blue jeans, denim has been a popular material to create fashionable clothes. It's no surprise that the denim jacket has been a popular fashion staple for years. They're the kind of thing that never goes out of style either! Wearing one will keep you warmer and still stylish with its rough texture and structured shape!
Plus, wearing a denim jacket is an easy way to take your casual outfit from good into killer with just one item – all while being casual about it too (ya know?!)
10. Straight Leg Jeans
Straight leg jeans are a must-have for any woman. The perfect style is the 90s low rise, straight-leg jean. Whether you get lighter denim pictured below or a pair in black, you can wear them with just about anything because of their versatility! This season, try a pair of straight-leg jeans for women.
11. Versatile Footwear
Flats
Let's face it, you can wear flats with anything! Flats are an excellent option for travel, the work place and more. They're also less formal than some other types of footwear, which makes them perfect when you need something comfort but still want something stylish too.
And one of the best ways to get around when traveling is on two feet. If you don't want to wear sneakers, these dressier kicks can be an absolute dream in any situation–from brunch to bar hopping at night, walking down trendy downtown streets…you name it!
Reebok
This Reebok sneaker is a must-buy for any woman on the go.
It comes with an innovative Torsion System that provides support and flexibility, while its breathable mesh upper keeps your feet cool. They're perfect for your travel wardrobe.
Beige Sandals
It's time to put your best foot forward and make a good first impression. These eye-catching beige open-toe sandals will have you feeling confident and ready for anything. They're also perfect for any occasion.
Conclusion for Wardrobe for Travel
If you're ready to pack your suitcase and take off on an adventure, consider these wardrobe ideas for travel mentioned above. Unless you like to overpack, think about what you plan to do and create a 5-piece travel wardrobe that will give you versatility. These pieces can make a difference and help you focus more on exploring than worrying about what clothes you need for traveling. Check out this other post if you also need to stock up on travel accessories.