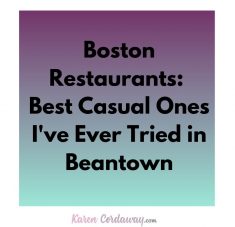 There might be affiliate links in this post. If you click on a link and make a purchase, I receive a small commission. Read my disclosure policy here.
Creating a post entitled "Boston Restaurants: Best Casual Ones I've Ever Tried in Beantown" is the perfect excuse to write about my recent bucket list adventures. I hope I inspire you to do the same. If you're in Boston and eventually get hungry, here's a unique mix of casual restaurants to check out.
The Barking Crab: One of The Best Restaurants Near Boston Seaport

If they were giving out trophies for Boston Seaport's most Instagrammable locations, The Barking Crab would be in the running hands down. Located right next to the Fort Point Channel, it's one of the great Boston Seaport Restaurants with a view. People come from all over to sample lobster, clams, crab, calamari and more. If you post about this popular seafood spot on social, you might send an envy alert to your friends and frenemies.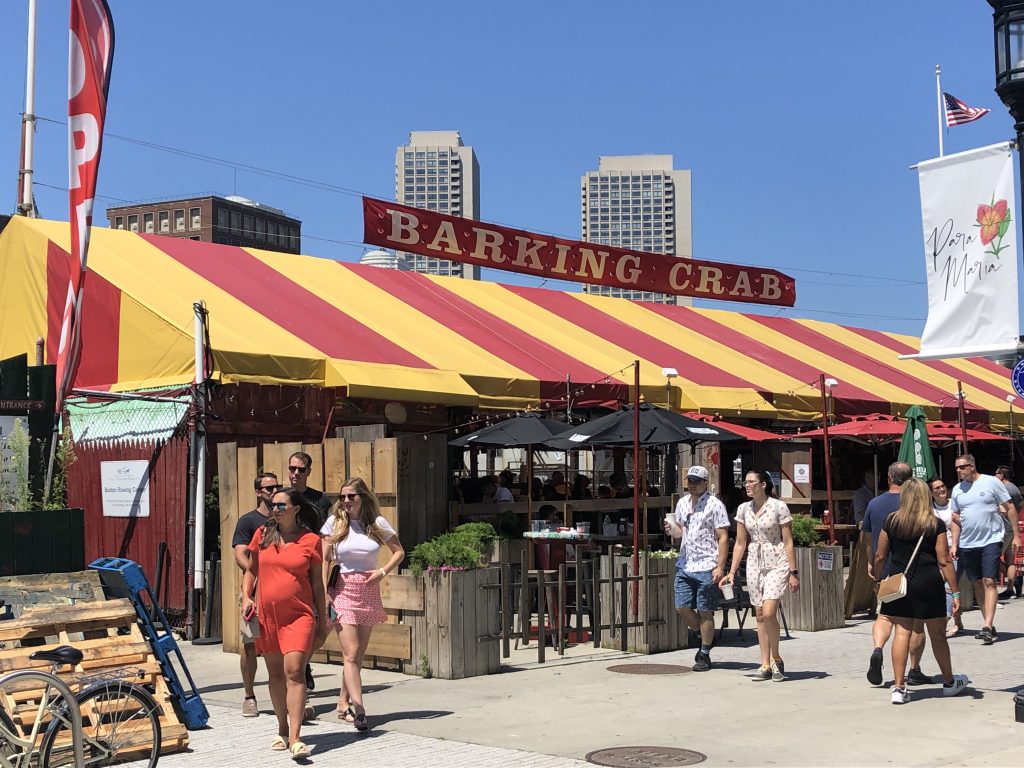 The Barking Crab In Boston
Unless you get there early, expect to wait in line in the sun for this popular restaurant. Watch trolleys go by and listen to upbeat music that plays from underneath the tent while waiting.
A sign in front will let you know that the host will seat you (even for the bar area) so no slipping past the front. There's a 75 minute seating limit and all guests must order food. I got a chuckle out of the rest of the restaurant rules that clearly state that "if you are looking for a place to 'sit and drink', go somewhere else."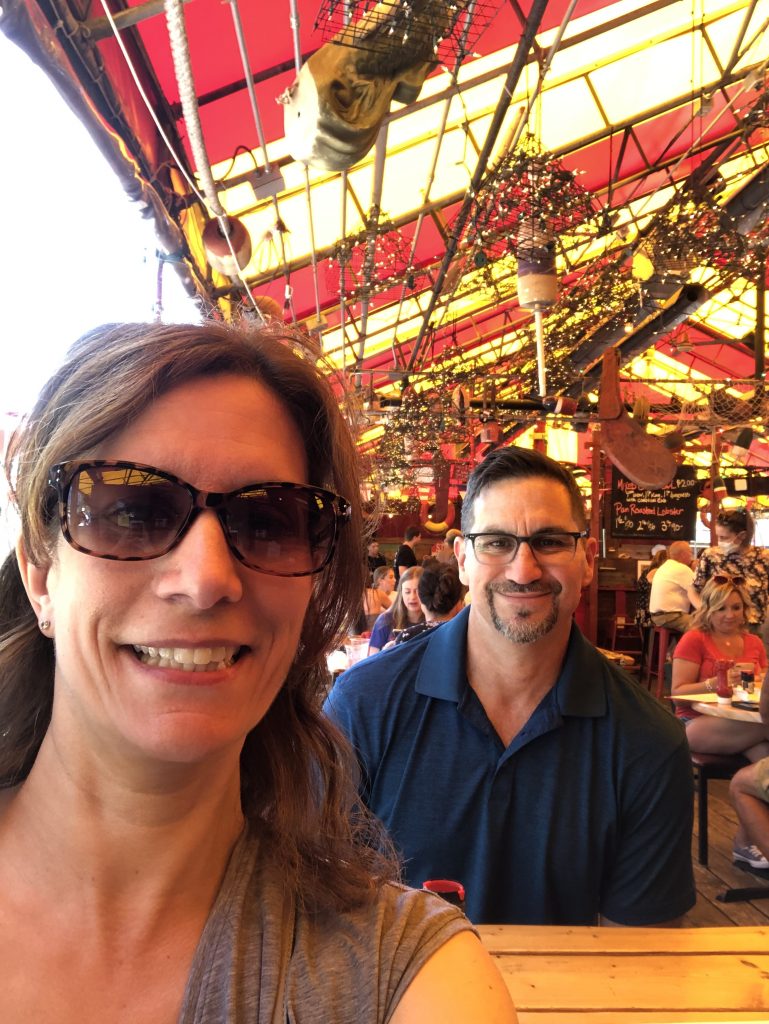 The Barking Crab is all about ambiance as well as good food. Whether you grab a spot under the tent or right outside, I believe it's all considered outdoor seating. Either way you'll catch a breeze off the water. If you're lucky, you can get a table with a view right near the channel and watch boats go by. One thing to note is that some of the outdoor seating is in the sun so plan accordingly or just ask the hostess for a table in the shade.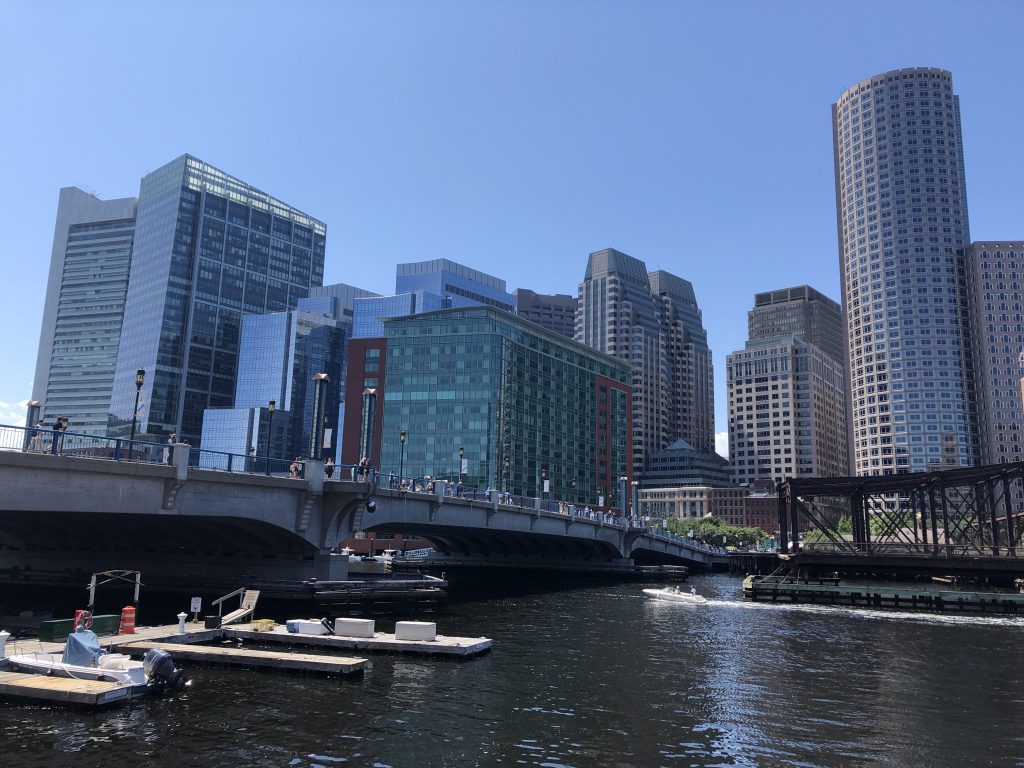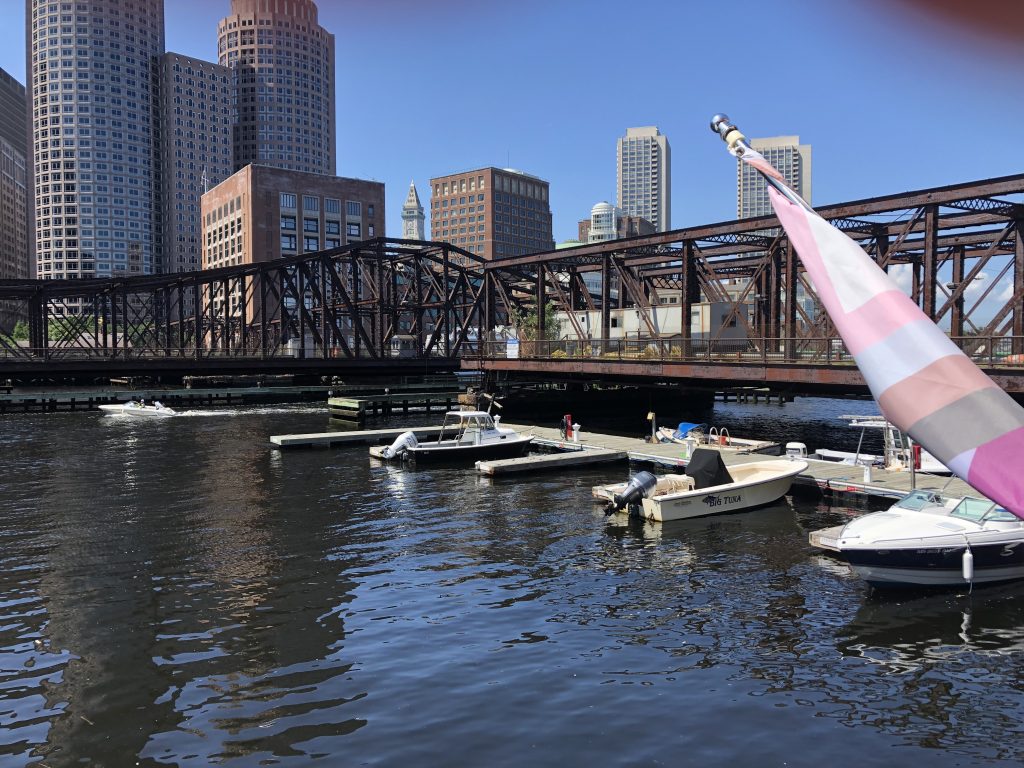 Natural lighting comes through a yellow and red striped tent casting a warm glow inside. It is adorned with buoys, rope and all things nautical and a small boat hangs above the bar area.
Triangular-shaped cages hang above the tables with a string of clear lights inside each one. They artistically resemble lobster traps and put the cherry on top of this cool vibe.
The Barking Crab Menu
After seeing the physical menu, we noticed that the prices were 4-6 dollars higher than the ones on their website. If you're trying to gauge the cost, think of it as an estimate. If you feel crabby about this, maybe you can bark about it to get a lower price. You never know, but market prices are on the higher end right now. The price of seafood can change on a dime anyway.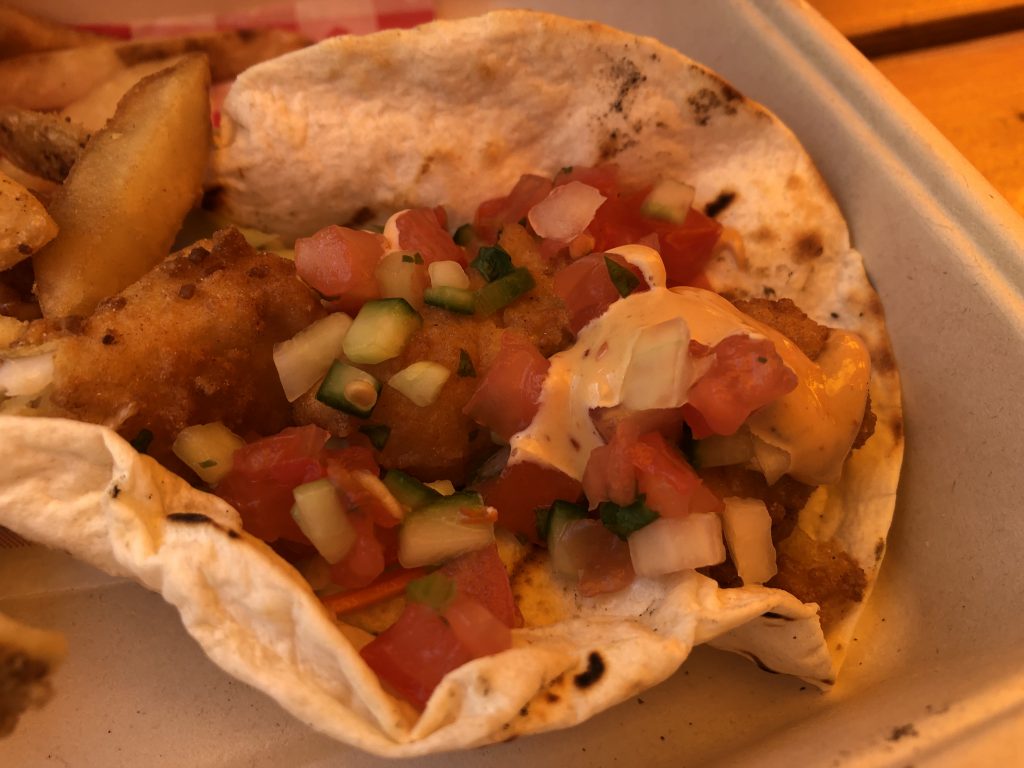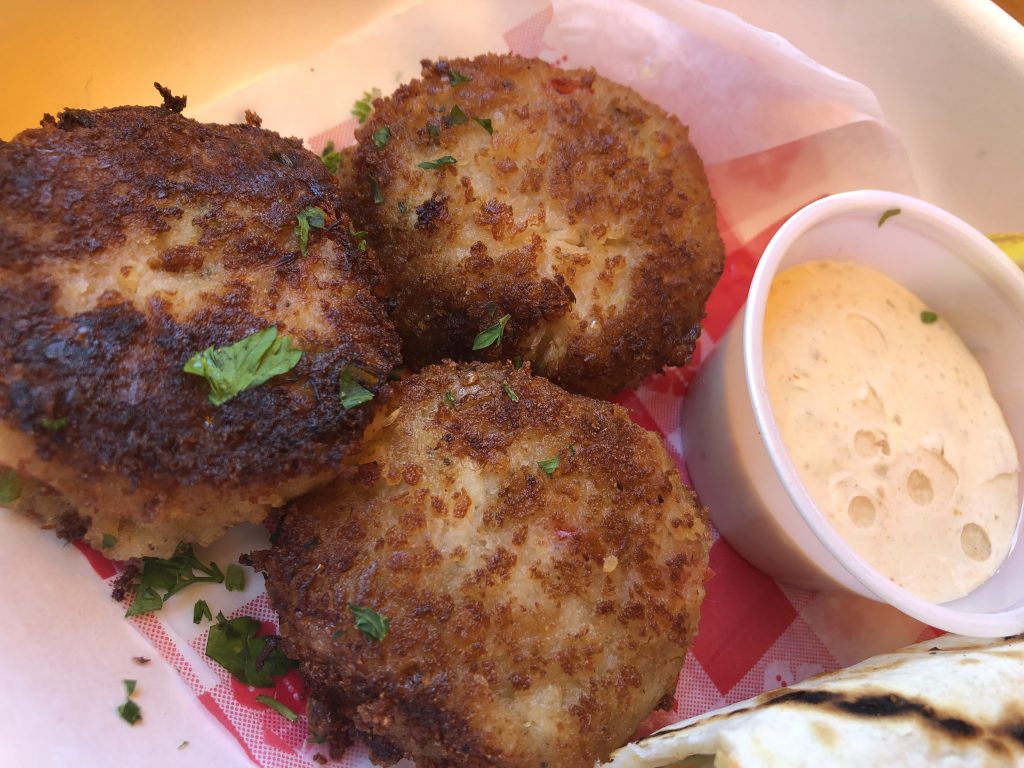 Choose from a wide array of seafood options. Whether you're in the mood for a traditional lobster roll, fish tacos or have the appetite to devour a shellfish tower, there are a variety of tasty options you're sure to like. I snapped a pic of the menu. I just visited on July 25 of 2021. As I mentioned, prices and items can change. If you have your heart (and stomach) set on something in particular, check with the restaurant in advance, especially cost is a factor.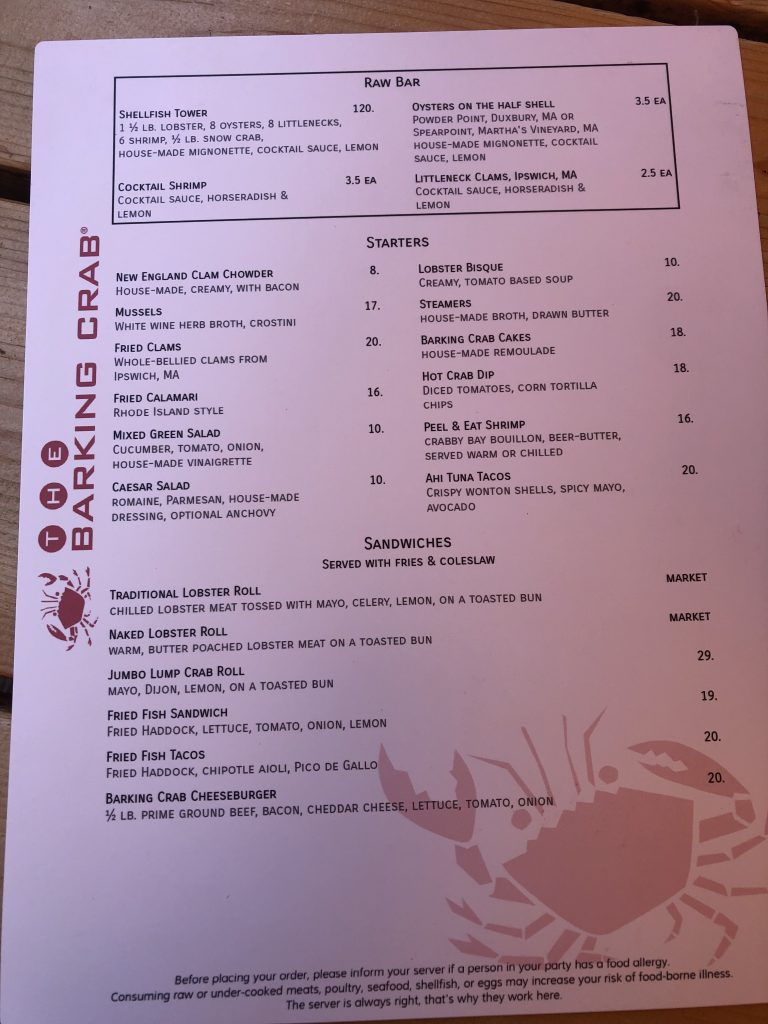 We ate a little while before arriving, so my husband and I split some food. The clam cakes and fish tacos were delicious. The fried haddock with aioli sauce and pico de gallo definitely hit the spot. So, yeah . . . I broke my gluten-free diet for the moment. Luckily, it's only a sensitivity. I think it's a must for your summer bucket list or any time of year since it's open year round.
Boloco Restaurant Boston Restaurants: Best for Casual Mexican
Though I love eating at fancy restaurants, I don't want every meal to feel like an event. We wanted to get a quick bite to eat. My daughter and I each ordered a taco for $3.75 each at Boloco (that stands for Boston Local Company). It's a modern Mexican restaurant.
Their website explains that their mission is "to positively impact the lives and futures of our people through bold and inspired food and practices. We use ridiculously delicious burritos and bowls to do it." My mission was to feel full, but not overly stuffed. I didn't have a burrito or a bowl, but I definitely feel inspired to go back. The food is reasonably priced and this less formal spot, with great counter service will leave you wanting more.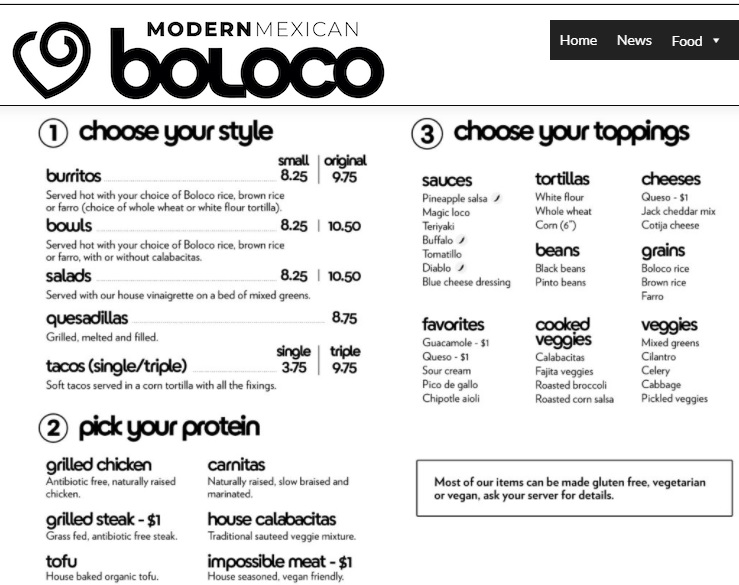 It's sad that you have to travel to a major city to get a wide variety of dietary options at a restaurant. I often feel very limited in my state and usually have to choose from what I call the "cover your bases" menu. I feel like I always have to get a constellation prize on a plate, but not at Boloco. Their website explains how they cater to your dietary needs and includes options for those seeking gluten-free, vegetarian, vegan or meals that have meat, of course.
So maybe I'm being a baby, but their website almost brought a tear to my eye since they explain why they go the extra mile to make sure everyone has options. It states "Because every customer has a right to have his or her order made the way he or she wants it. Every customer has a voice and we listen. And we learn. And we get better at what we do. Catering to your individual needs is a challenge… we accept."
It's the "every customer has a voice" that makes me feel heard, understood and completely included as a customer. I could go on a rant about places that don't do this because if you're trained as a chef or plan on staying in business, you'd think people could be a little creative or innovative to serve people with different dietary needs.
Boloco Menu
If you take a peek at their full menu, it nicely guides you along similarly to Chipotle. You pick your style (burrito, bowl, salad, quesadilla or taco), protein and toppings. They even offer sides, smoothies, smoothie bowls and breakfast. So if you're in the mood for huevos rancheros, scrambled eggs or chorizo sausage, stop there in the morning. There's also pleasant outdoor seating in the shade where you can watch the duck boats and trolleys go by. Sometimes at the same time.
Tatte Cafe and Eatery
Another great spot that happens to serve breakfast, lunch and dinner is Tatte. I first stumbled upon this place on Massachussetts Ave. in Cambridge and found another location when I stayed near the Seaport district in Boston. Though I thought the name of the restaurant was just a cute word that happens to rhyme with latte, tatte means "daddy" in Yiddish.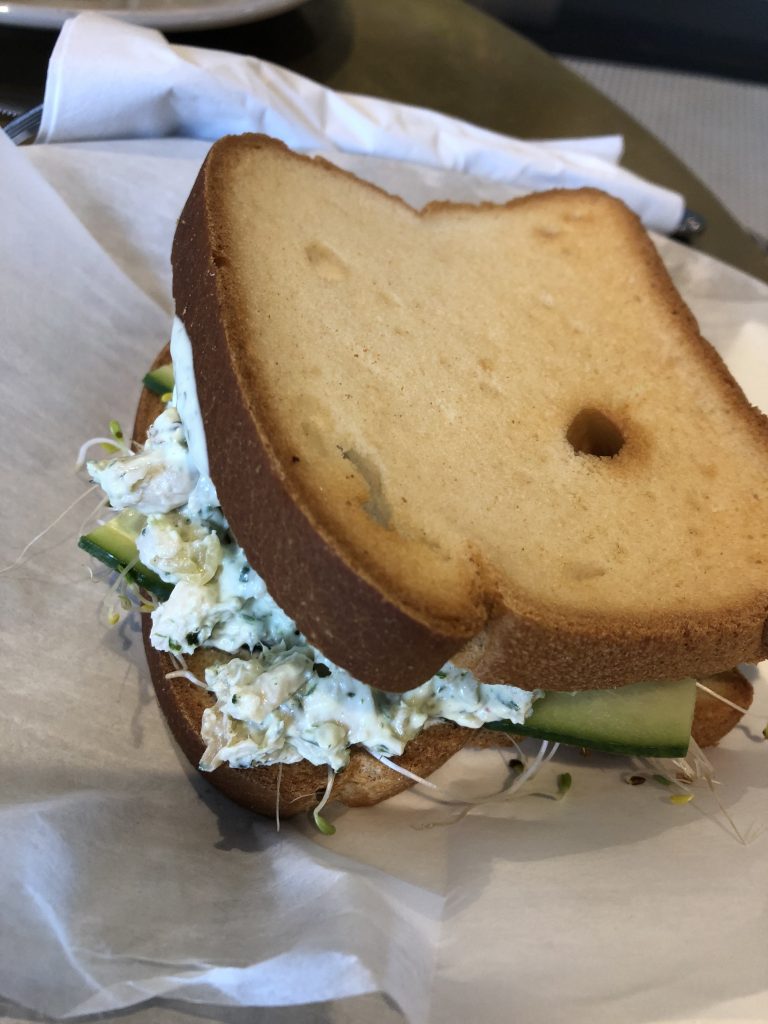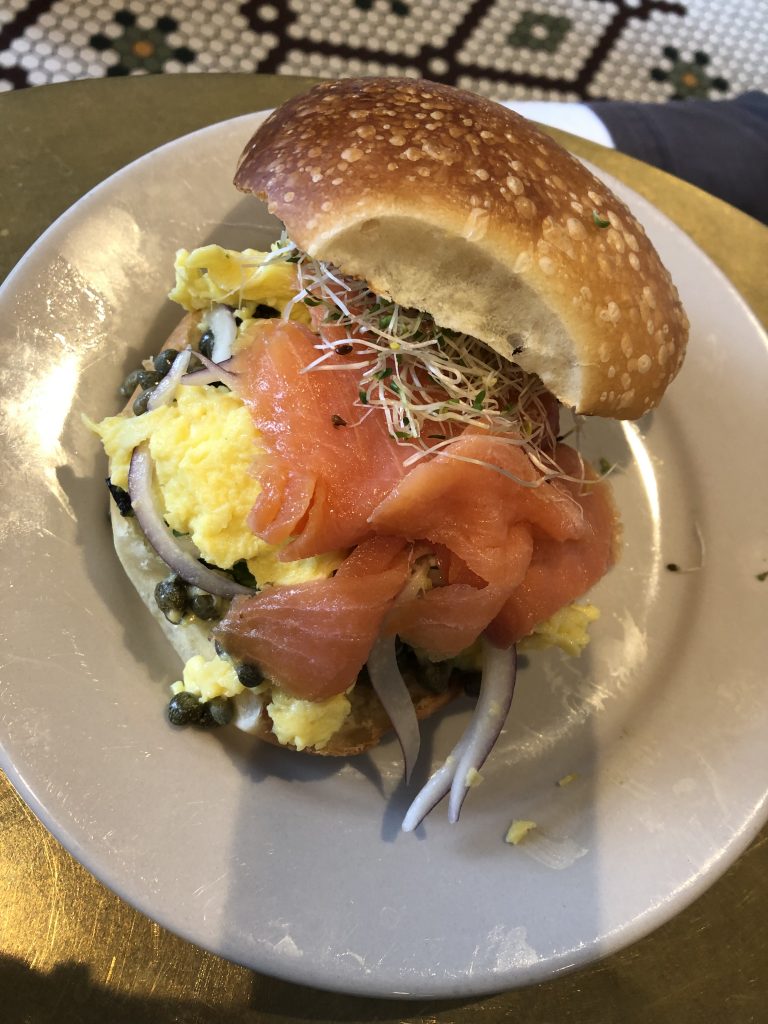 I peeked at their website and discovered that Tzurit Or is the creator and owner. She first started offering her tasty creations at a farmers market in Boston, MA when she moved from Israel. As their website states, Tatte is best described as "elegant comfort food." They are serving up some tasty food, coffee and desserts.
Check out this nicely design space in 18 locations around Boston and Washington, D.C. What I like most about this place is there isn't a commercial, cookie cutter vibe. The website explains how they strive for each restaurant to have "its own individual sense of identity, feel and style, but they are all true to the original spirit." And that's exactly what I thought after visiting a few.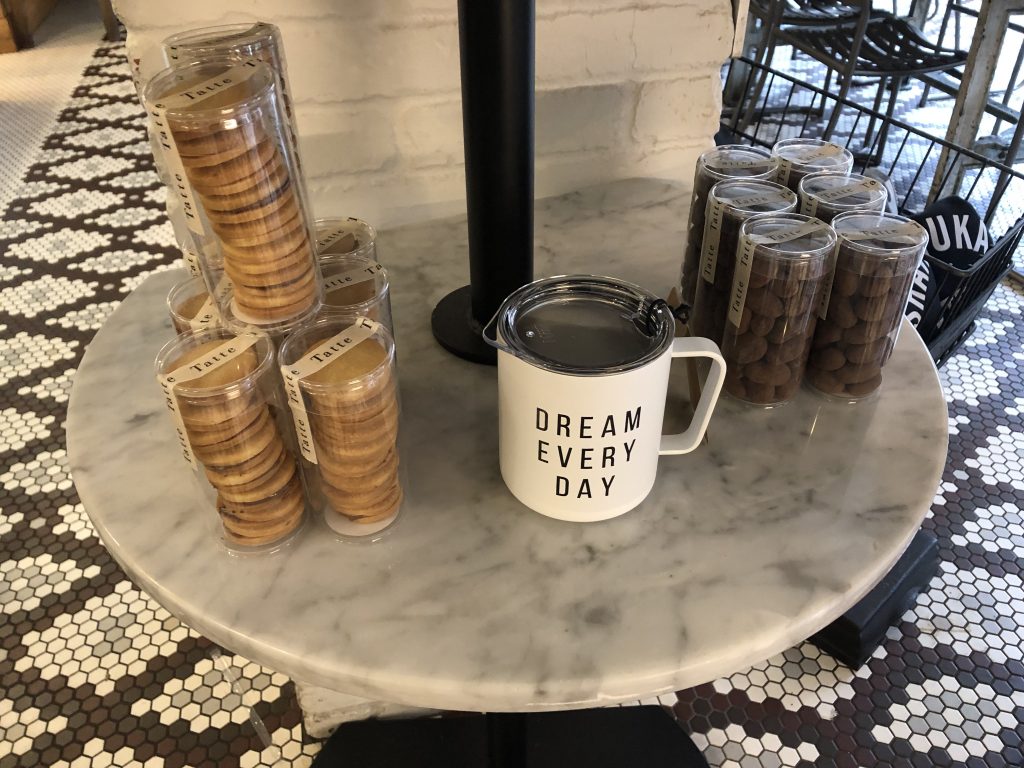 The restaurant serves an all day menu where you can order a breakfast sandwich, their version of hash made with lamb, Croque Madame which is fancy name for an egg and ham sandwich with Gruyere cheese covered in Mornay sauce. There are also tartines, a North African dish called Shakshuka as well as sandwiches salads, bowls and more. There's a brunch menu and dinner menu (after 4 PM) too.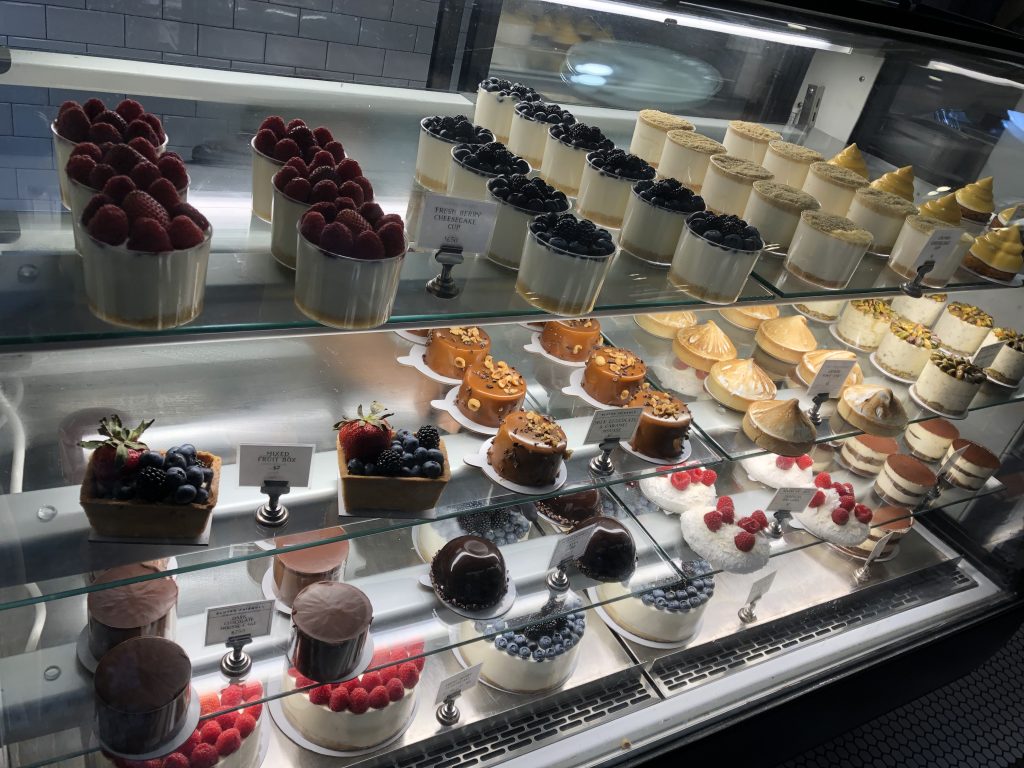 The only minor constructive criticism I have is they have gluten-free items on the menu, but they aren't marked. They'll readily explain how what doesn't have gluten in it, but you might want to peek at their website first (assuming these items are offered everywhere). There is a designated menu for gluten-free goodies if you want to check that out in advance. Luckily, they had great gluten-free bread that didn't fall apart or taste yucky. I opted for a chicken salad sandwich and it didn't disappoint.
Eataly
What restaurants are in Eataly Boston?
Located at 800 Bolyston St., Eataly is inside the Prudential Building. Upon entering, you immediately notice a cannoli stand. When you first enter there are multiple restaurants within Eataly that are interspersed through a grocery store. You can make reservations at their formal restaurant called Terra or grab a bite to eat at Il Patio di Italy, La Pizza and La Pasta or some of the other spots.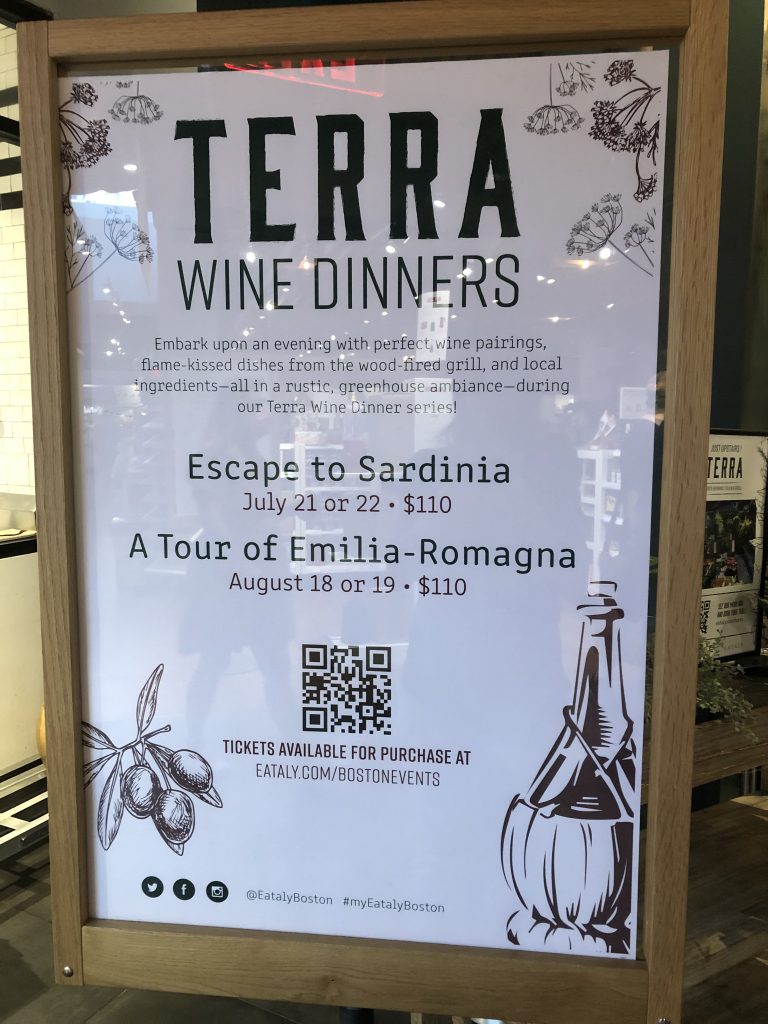 If you're there during warm weather months, check out at Il Patio di Eataly known as "Boston's Summertime Piazza". Their outdoor restaurant serves pizza Neapolitan-style, traditional pasta dishes, tasty salads along with regional Italian wine and more. I was on a mission to grab a quick bite and stock up on a few non-perishable groceries.
What should I buy at Eataly?
This is the million dollar question! If you're looking for grocery items to purchase, there are so many options to choose from. You're head can spin off. If you like bread, try a single piece of focaccia bread with rosemary. It's pretty low stakes at $2.50 a piece and makes the perfect grab-n-go option for carb lovers. If a slice won't suffice, get a whole loaf of olive bread while you're there. Back before I knew I had a gluten sensitivity, I would get olive bread whenever I visited. Now I buy it for my family.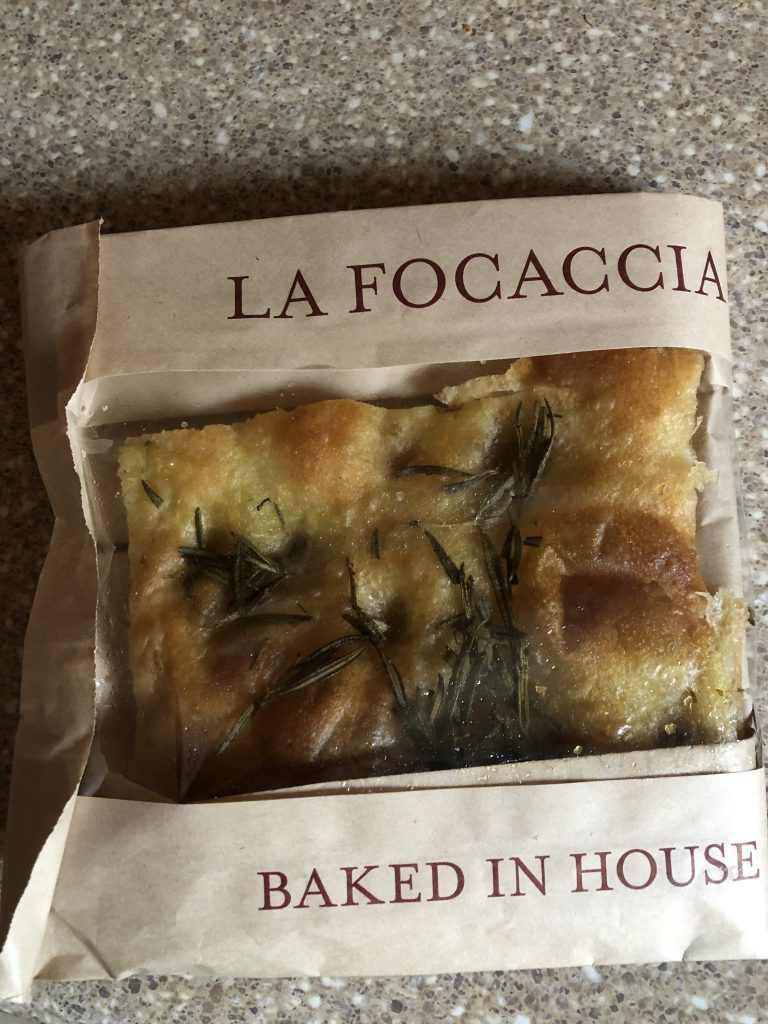 In terms of restaurants, I would peek at the menus prior to see what you might be interested in.
Here are links to the restaurant menus:
Is Eataly pizza good?
If you like Neopolitan pizza, give it a try. What people think of as good pizza is very subjective, but it couldn't hurt to check it out.
Conclusion Best Casual Boston Restaurants
Don't wait until the new year to plan. Map out your goals now and make a plan to travel more and possibly check out these amazing restaurants. No matter if you're coming from far away or you're just planning another weekend getaways from Connecticut or another nearby location, check out some of the best casual restaurants Boston has to offer.
Related Articles
This was originally posted on August 1, 2021.