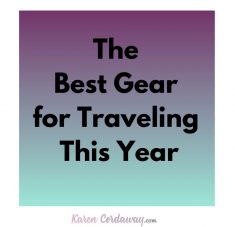 There might be affiliate links in this post. If you click on a link and make a purchase, I receive a small commission. Read my disclosure policy here.
Having the best gear for traveling is important. It can make your trip go so much smoother. Going on vacation regularly throughout my life and attending networking events in other areas has made me a more seasoned traveler over the years.
Whether you're going away for a day trip, weekend getaway or long vacation, packing the right items can make all the difference when you go away. Here's some go-to travel gear and essentials to think about getting before your next trip.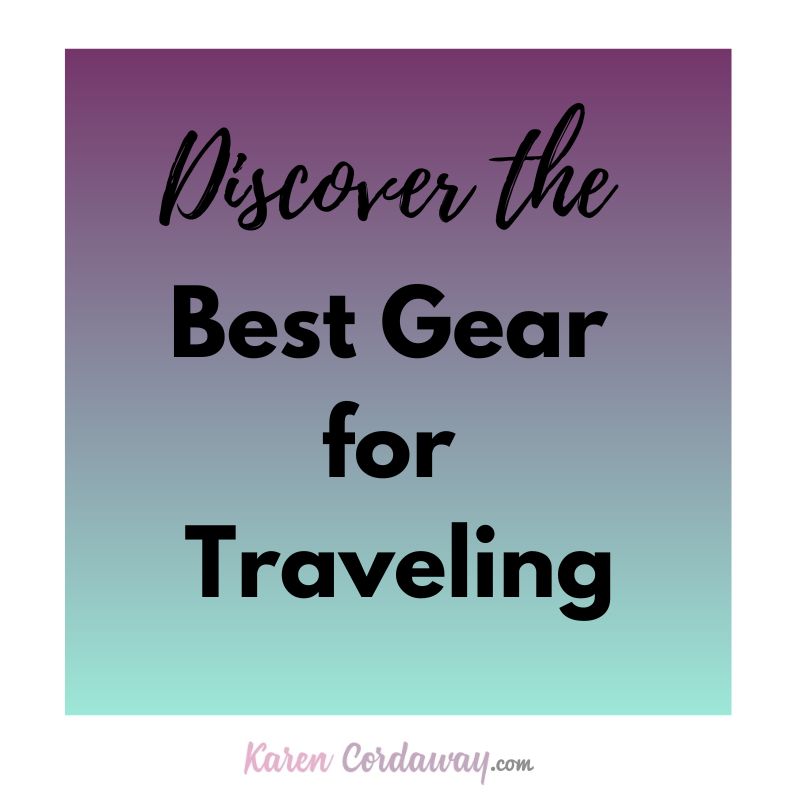 Unique Travel Accessories for Packing
Are you tired of packing the same old boring travel essentials? Spice up your next trip with these unique travel accessories that are both practical and fun!
Universal Travel Hair Dryer
Remember how Pitbull used to refer to himself as Mr. Worldwide. Well think of this hair dryer as Mr. (or Mrs.) Worldwide of hair dryers. If packing a blow dryer is a must, consider getting a universal travel hair dryer.
You can avoid ruining your hairdryer overseas because it works everywhere. It detects different types of voltage and adjust automatically while keeping all of your heat and speed settings. Plus, the handle folds making it easy to pack.
Packing Cubes
There are some items that can make a big difference when traveling. Packing cubes is one of them. They're perfect for arranging your belongings in an organized fashion by sorting like items into the different cubes.
This makes it easier to find what you're looking for when the time comes instead of digging through the whole suitcase or tote. It's also a great way to save space. You'll be amazed at how much you can squeeze in.
Writer Barbara Grassey explains, "They help you get more stuff in your bag AND you can use them in the drawers of hotels so you're not putting your stuff on surfaces you're not sure about."
This is especially useful for keeping germs at bay. It can also help you put your items away quickly when packing up. Though they come in multiple colors such as purple, blue, lime green and other colors, I vote for getting dark ones to avoid stains.
Travel Wallet
While the wallet you use in everyday life might serve you well, finding the right wallet to keep all of your important items for travel secure and in one spot can be a bit of a challenge. All wallets aren't created equal. That's why you need one just for travel.
Choose from a wide array of colors and keep your ID, money, credit cards, passport, etc. safe with this popular Amazon product. With 4 and a half stars and 2746 reviews strong, people on Amazon are raving about RFID Travel Passport Wallet. Keep your information private from scammers and safely tucked away in this wallet. Plus, the dark color matches with everything. That's one more reason it makes it the best gear for traveling hands down.
If you need something smaller, here's a slim wallet with money clip and RFID protection for men.
Hanging Toiletry Bag
Like a packing cube, keep necessary toiletries contained all together and easy to put away. It can go from your baggage to the back of the bathroom door in minutes.
This way you'll have essential items like shampoo, conditioner, lotion, etc. accessible yet out of the way, avoiding counter clutter in the bathroom. This one protects against spillage.

Unisex Toiletry Bag
Another one of the best travel accessories for minimalists or people planning smaller trips is this multipurpose unisex toiletry bag. Store shaving items, makeup or any other small items. The silicone material allows for easy cleanup if something spills inside. Don't forget to check it out here.
Best Air Travel Accessories That Are Great for a Train or Car Ride Too
There's a comedy special called "You Bother Me" where the stand up comic points out all of the annoyances of people's behavior in modern society. He often jokes specifically about travel etiquette on his podcast too.
If noise is something that bothers you when in transit, consider blocking it out as best you can with some of the best gear for traveling. Cohost Joel Laarsgard of The How to Money Podcast recommends a socially acceptable way to cover your ears. "Whether you want to listen to music, your favorite podcast, or just block out the noise around you, over the ear headphones come in clutch on any trip you take."
There's nothing worse than not being able to get comfortable while traveling, especially if you want to doze off a bit. Whether you're flying, taking a train or riding in a car, a travel pillow is essential for comfort.
There's nothing worse than arriving at your destination with a crick in your neck or a pain in your shoulder. To avoid potential strain, don't forget a travel pillow. There's a wide variety on the market to suit your needs. Some have fancy memory foam or microbeads while others are more basic.
I like a cushy one when I'm in the car, but prefer an inflatable one that's washable when I'm on a plane. It's easier to pack if you can take the air out of it and just inflate it as needed to save space.
Little annoyances can build up while traveling and set you off, especially if you're hangry. Money-saving Expert Andrea Woroch believes that packing healthy snacks is a must. "Whether it's a turkey jerky sticks, protein bars or a bag of nuts, packing a few healthy snacks keeps my hunger at bay while traveling. Otherwise, I'd be tempted to grab unhealthy and pricey snacks from rest stops."
Travel Essentials to Stay Connected
Another thing that's bothersome is when you're phone needs charging and there isn't an available outlet in site, especially with kids in tow.
Woroch recommends bringing "a portable battery with multiple chargers for both iPhone and Android devices. This way we always have juice to charge our phones and kid's iPads which is crucial for long road trips or flights to keep them entertained!"
If you want to prevent cords from getting lost or tangled, consider putting them in one spot for safe keeping. A portable cord organizer can come in handy.
Even consider bringing a travel adapter if you need to plug in multiple items or if you have multiple roommates in one hotel room. You won't have to fight over who gets to charge what when.
Best Travel Backpack, Gadgets & Accessories for Minimalists
There's a go to travel checklist I use every time I go away. It helps me pack appropriately depending on where I'm going, how long I'm staying, what the weather will be like, etc.
It also helps me determine what is absolutely necessary. Seeing a list helps me decide how I can pair things down so I don't over pack. For details, check out TravelsChecklist.com.
I included a list of items that I consider essential no matter where I'm are going.
Leggings
If you really want to stick with the bear essentials, try to find items that you can wear for multiple occasions. For example, certain articles of clothing are very versatile. Black, cotton leggings for women are comfortable to travel in. They can be dressed up or down.
This makes it easy to go from daywear to a more dressed up evening look without having to overpack too many clothes. For example, if you're sightseeing during the day, you can change your top and put on a fancier shirt.
Sunglasses
Sunglasses come in handy no matter where you go or what time of year it is. The sun can be just as blinding in the winter reflecting off of the snow as it is at the beach when the sun beats down. Be sure to have sunglasses with UV protection for your trip or any time really.
It can also hide our eyes a bit if you want to take a break from wearing makeup. Teacher and aspiring author Jessica Galan explains that "no make-up vacations allow me to hide behind my shades ala Audrey Hepburn style."
Other versatile items:
denim jacket
cardigan
dark jeans
khaki pants
sneakers
dressier shoes
baseball hat
Day pack like the one below. Can possibly be used as carry on to.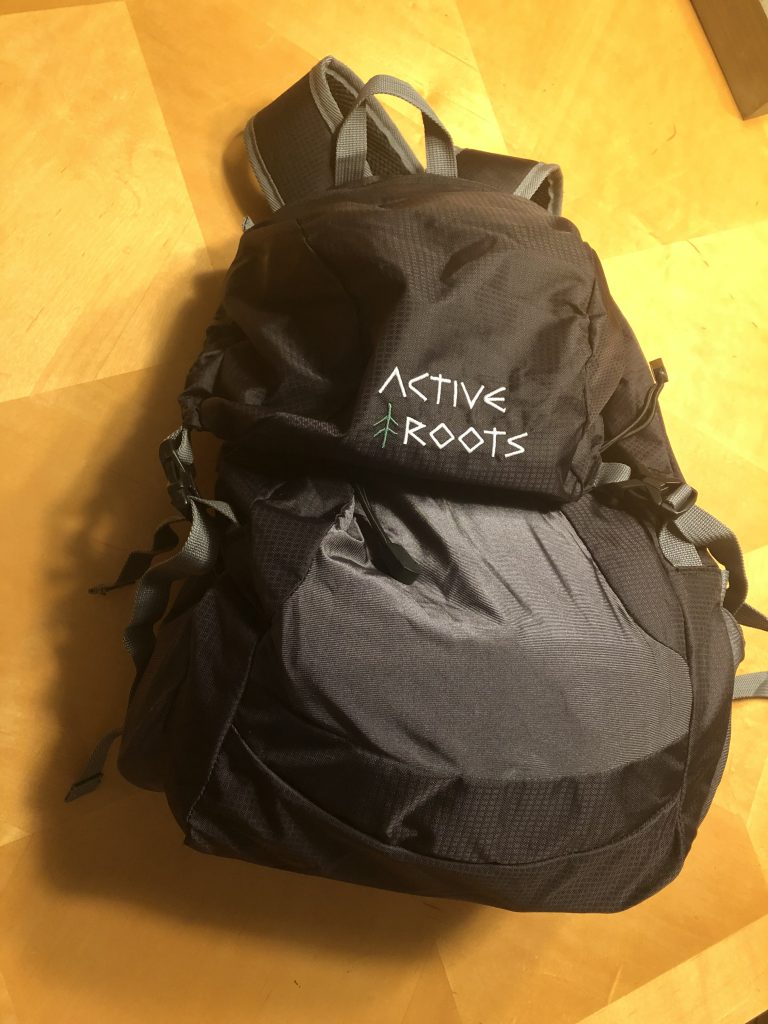 Other Essential Travel Items
Protein Bars
For me, food is essential. Whether it's a snack on the way to the airport or a lunch I pack for a road trip, I always try to purchase some protein bars in advance. Sometimes they serve as a light breakfast or a snack to hold me off until my next meal.
On a recent road trip, I purchased a whole box from Amazon. This way, I don't have to overspend on fast food on the way to my destination and I have it at the ready.
Snacks
Another snack I like to have handy is a bag of nuts. It's another essential travel item that can hold you over if you're experiencing a delay or change of plans of any kind. It can be frustrating enough. Who wants to be hangry on top of that?
Popcorn is another healthy snack that can fill you up for a bit. Think about packing some small bags for your trip. They're tasty and gluten free. I always pack this type of snack for a road trip or the train. Though you can often bring them in a carry on, the TSA officer has the final say on whether or not an item is allowed through a check point.
Travel Essentials for Fun & Games
Though it's great to catch up on emails or stay connected while traveling, Grassey likes to bring physical items as a backup plan to stay busy during downtime. She explains how she brings "a book or puzzle (Sudoku or crossword) in my carry-on for times when I'm stuck in an airport and can't get online or don't have power."
Like Grassey, Laarsgard also likes to bring physical games. "It's the perfect way to pass time in an airport or to have fun with your travel partner. Regular sized board games take up too much room so find a fun travel card game and don't forget to put it in your pack." He adds that favorite go-to travel game is Sushi Go.
Aspiring author Jessica Galán also takes time to express her creative side and document what she does while away. She brings a pencil and lined notebook to write with the 5 senses in mind. "Re-reading what I experienced brings the nostalgia of the trip all back to me."
Conclusion for The Best Gear for Traveling
The best gear for traveling no matter how you get to your destination can make a big difference. Use the suggestions above and arrive to your destination a happy camper.
Related Articles for The Best Gear for Traveling and Destinations to Visit
I originally posted this on December 13, 2021, but it has been updates since then.