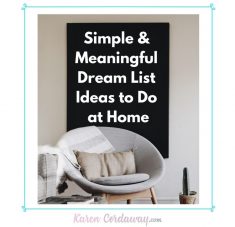 There might be affiliate links in this post. If you click on a link and make a purchase, I receive a small commission. Read my disclosure policy here.
If you have to stay indoors or close to home for any reason, you don't have to completely push pause when it comes to pursuing your dream list ideas. There are still some life goals you can still chase after.
You may just need to pivot temporarily or re-frame your thinking. And luckily, you don't have to spend a lot of money to conquer some meaningful dream list goals.
Here are Simple Dream List Ideas to Try
People have been frantically emailing me. They ask questions about simple, meaningful things to do. I annoy my audience because I answer them with questions. I thought I'd continue to ask questions, start with the basics and answer some of them in this blog post. Here goes.
What are your goals and dreams in life?
Sit down and think up some meaningful life goals. Ask yourself, "What are the things I want to achieve in my lifetime?" "What is my dream in life?"
It can be a simple dream list of things to do now like I'm highlighting in this post or a full blown life plan of ideas to try along with things to conquer over your lifetime. It's all up to you. Start simple and come up with a few of what I call my life's must dos.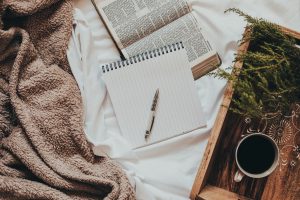 How do you know something is meaningful in life?
If you're trying to figure out how to make your life more meaningful, research shows that meaningfulness is tied to having a sense of importance and purpose. Ask yourself: Does this matter?
Simon Sinek emphasized the importance of having a why in our life in his popular book Start with Why. I believe if you try to connect to the why behind things, you'll head in the right direction and feel more connected and fulfilled.
Ask yourself:
Does this light me up inside?
Does doing XYZ activity make life worthwhile?
What makes something meaningful to you?
This can take a little work if you don't feel that the activities you take part in are meaningful. I think there are too many people that are comparing themselves to others on social media (or just in general). It seems as though they try to mimic what others are doing as an attempt to be happier and wind up disappointed.
While it's great to be inspired by others, following someone else's blueprint is like wearing clothes that were tailored for someone else. It doesn't quite fit so you end up having to start all over again. Create your own path and find what suits you. 
What are some examples of dreams?
I've wracked my brain, did some research and tapped into my creativity to bring you some unique dream list ideas to do at home. Use it as a mini list of goals for now.
Dream List Idea #1 Improve your surroundings and make your living space more meaningful
Famous Interior Designer and former Oprah Show regular, Nate Berkus once said,
"Our homes should tell our stories."
It adds personality to the space and leaves your unique stamp on it.
I've always been a fan girl of this concept. It doesn't matter if you're just trying to spruce up your bedroom, create a better man cave, make your living room look warm and cozy or if you want to work on an inexpensive upgrade. Find simple, inexpensive ways to improve your surroundings. 
It's been one of my long time life list goals to more fully decorate my own space in this way. Since I've been working from home a great deal more, I decided to fix up my office area. I gathered up some magazines where I received media mentions.
I copied the covers of the magazines and the articles inside that highlight my insights. Since I want to preserve the magazines separately, I made copies of the covers to display.
O Magazine is a little bigger than the average magazine so I put it inside of a large shadow box. I had to get creative with how I attached the cover to the back of the shadow box.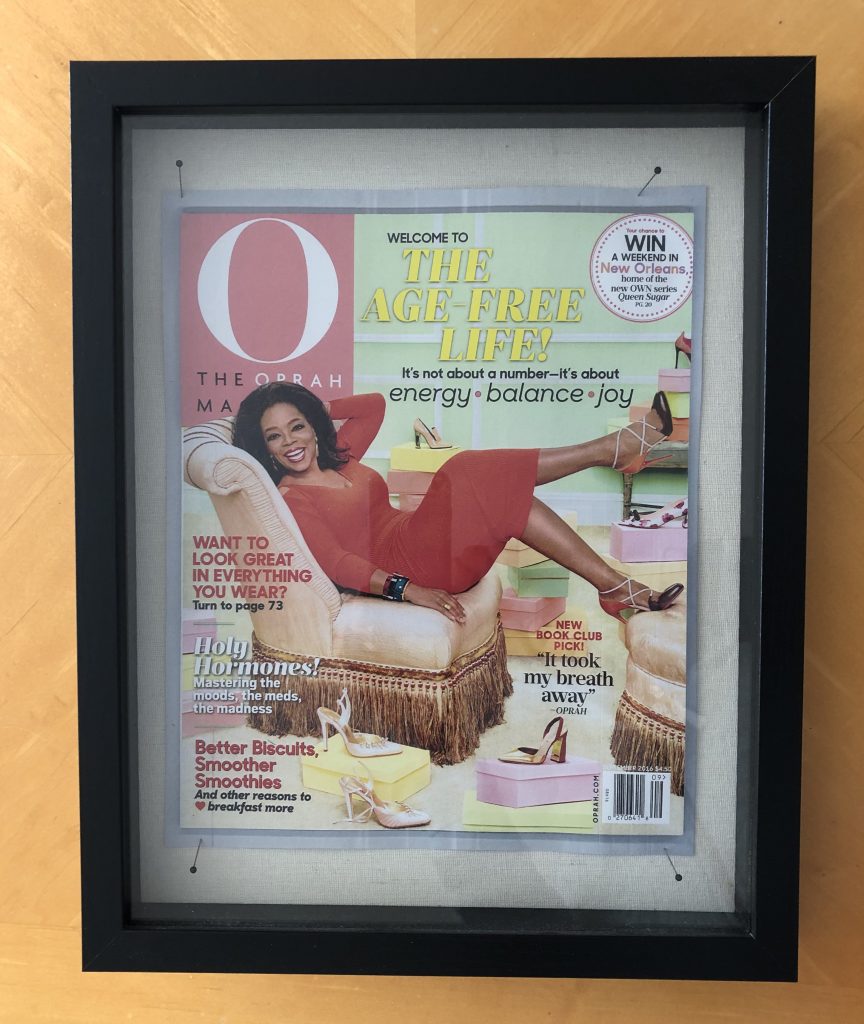 I decided to just get some pins to keep it in place.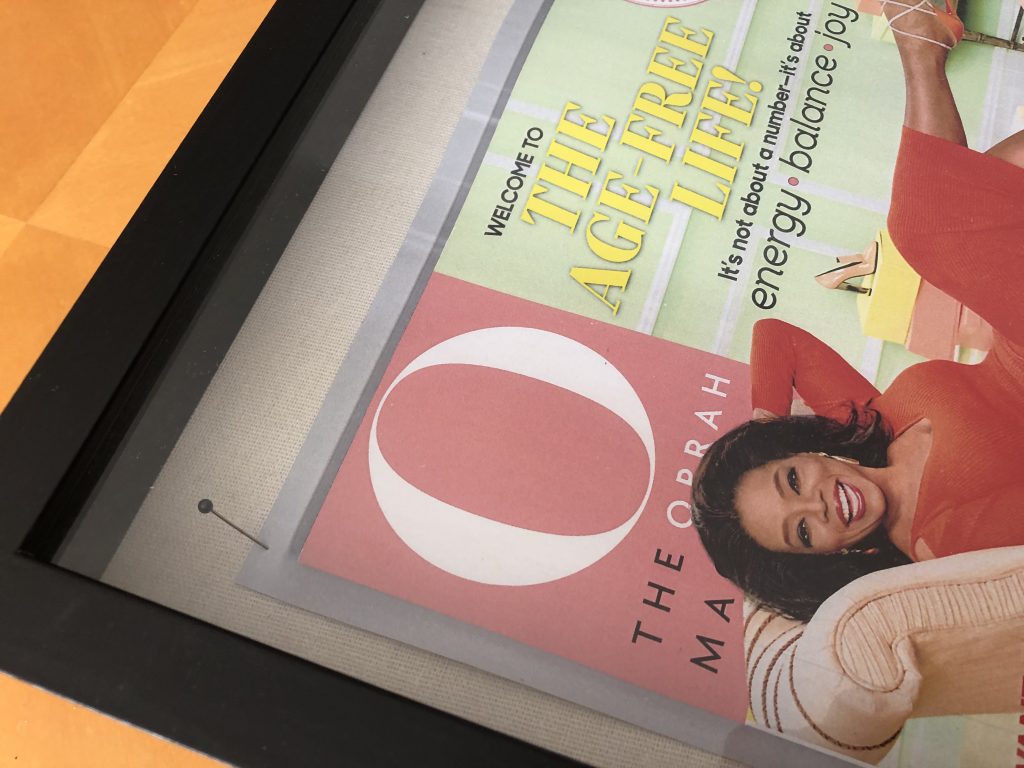 I then purchased a frame that had a pre-cut double matte inside of it for the Money Magazine article I was featured in. I copied the cover of the magazine and then placed it inside. How someone can stuff a whole magazine in a frame is beyond me.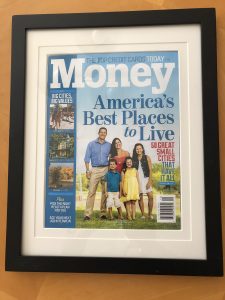 I put the actual article in a smaller frame. I'll most likely get another double matted frame done down the road, but this does the trick for the time being.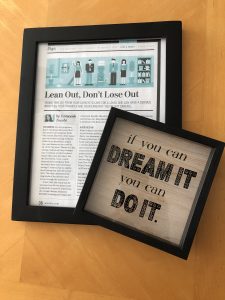 I just used a black frame I had lying around the house. I think you can't go wrong with black frames. You can constantly reuse them and they really don't go out of style. Consider that a bonus tip. 😉
Then I simply put them up on the shelves in my office.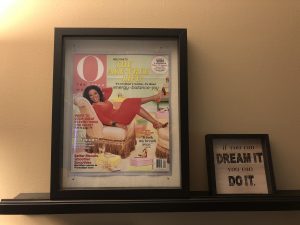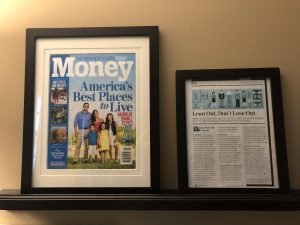 Do you have something special you would like to frame? Nice photos of yourself, an award you received or a photo of a special place you visited? Find inexpensive way to highlight meaningful memories.
Dream List Idea #2 Take photos at home and capture the moment
If you're constantly snapping photos for any little reason that might be a sign that you're photography enthusiast.
Maybe your photo dream list includes capturing special memories on your travel bucket list, learning how to take good photos for Instagram, figuring out how to look good in pictures or appear more photogenic, etc. The photo bucket list can go on and on. 
That can be one of your ongoing long term goals to work on or a short term goal to pass the time. With practice and a few YouTube tutorials, you can start improving your skills and potentially take photos like a pro in no time.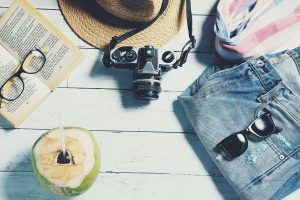 Since many of us are already on location, taking photos at home can be a snap. You don't even need any fancy equipment to take nice shots. Whether it becomes an ongoing hobby or a one-off  bucket list item, give it a try. You have nothing to lose.
I've taken photography classes and worked as a campus photographer in college so I know a lot about the basics. If you want to take photos inside without fancy equipment you can still rely on the sun. Here are some tips for how to get good lighting for indoor photos:
Pick a good day.
Check the weather forecast. It will all depend on how sunny it is on the day you want to take pictures and check out how much natural lighting comes into your space.
Pick a good time of day.
Figure out when the natural lighting floods the room to shoot indoor photos. Ideally, you want to wait for Mr. Golden Sun to shine brightly. That can be late morning or early afternoon. 
Then snap away.
If you're the subject of the photos and you want to learn more basics, absorb some of these tips to learn how to take better photos of yourself. You never know when you need a head shot, it can't hurt to have an updated pic of yourself on hand.
Dream List Idea #3 Carry out meaningful dreams and goals with loved ones
Whether it's a special occasion or not, carve out time to do something meaningful with friends and family. Buy some inexpensive printables to start writing down your ideas. Start planning goals, create a simple bucket list or get printable Father's Day pdfs.
You can even come up with some creative bucket list ideas to do on Father's Day or think of some meaningful everyday ideas to do at home or elsewhere down the road. 
What are some good bucket list ideas?
What I think of as good and what you think of as good can be two completely different things. How do you define good?
You can see what most people like to do to get ideas. If their ideas don't resonate with you or it's something out of your reach at the moment, try to brainstorm what you can realistically do. If you're looking for popular bucket list examples for inspiration, here are a few of the best bucket list websites to check out:
What are on most people's bucket lists?
Going on an African safari, seeing the Northern Lights and going for a ride in a hot air balloon tend to be high on people's dream lists. If you can't do this right now, consider watching them virtually for the time being.
Whether you've always loved animals or you caught wildlife fever from watching the Tiger King documentary series, catch experts broadcasting live. See safaris in real time and ask the guides questions on YouTube and Twitter. Get details here.
Many reserves stream live 24 hours a day. This makes it convenient to see what's going on at any time of day. Check out Africam.com to spy on the animals.
Think about downloading photos of all of your ideas. Put them together to create a digital vision board to pursue.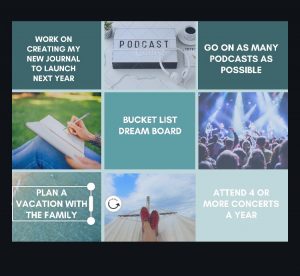 Ask yourself:
What is your concept of a meaningful life?

What are some meaningful activities?

How do you make a day meaningful?
Closing
There are many amazing experiences to be had both big and small. If you have a hard time tapping into this and want to learn more, I go into depth about happiness, gratitude and coming up with your own meaningful dream list ideas. Don't miss out. Click here to discover the real way to create your own  unique bucket list ideas.