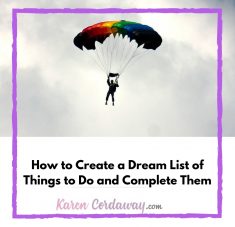 There might be affiliate links in this post. If you click on a link and make a purchase, I receive a small commission. Read my disclosure policy here.
Initially, when I think about planning a dream list of bucket list items and other examples of dreams in life, anything from zip lining to a day trip in Rhode Island, I get a little overwhelmed.
I've thought up a list of dreams for the future, but they're fleeting.
Putting 10 or 20 dream list ideas on my calendar didn't work because something else always seems to take precedence and I cancel them.
Adding some ideas to do to a Pinterest board wasn't the answer either.
I'm amazed when I see people who seem to have a knack for making the most of their leisure time.
For whatever reason, that skill used to escape me, but not anymore and this why I decided to write this blog post.
Why Gossiping About Dream List is Essential to Completing It
Quick question.
Can you write down a list of dream ideas to do and complete them on your own?
Of course, you can.
Then you might wonder why I took the time to tell you why gossiping about yourself is important.
I'll explain.
If you find that time after time you aren't completing the items on the dream list, then that might mean you need someone to keep you accountable.
And that's perfectly fine.
This is where I suggest you tell people what you plan to do. Be verbose and go into detail about your future exploits.
It will help you land the plane of your dream list ideas.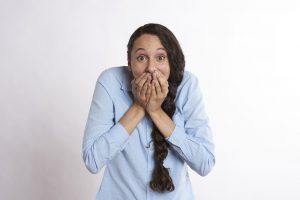 Before we dive in, I first want to explain what a dream list is, how to write a dream list, how to make you dream list a reality and I'll share different dream list apps that are available. Plus, you'll get a free dream list template.
How to Write a Dream List 101
People may often ask, "How do you complete a bucket list?" "Or dream list?" These are great questions, but we have to back up a couple steps and begin by first discussing what a dream list is first.

Dream List Meaning
The words dream list and bucket list are often used interchangeably. They are considered the same thing except people may associate a bucket list more with travel more so.
No matter what you choose to call it, it's a list of experiences or accomplishments that someone wants to have or achieve within their lifetime.
Now that we're clear on what it is, you might be wondering, "How do you make a dream list?" or "How do you start a bucket list?"
1. Create a dream list (bucket list, life dreams list, my dream list, dreams for the future, list of dreams in life or whatever you'd like to call it).
Sometimes we hear about different dream list ideas, but forget to jot them down to reference later. It's easy to forget the name of a place the tour guide suggested or a friend's restaurant recommendation for your summer goals list.
Though you might be tempted to store it digitally, be sure to write it down first. Research points out that physically writing information down aids in remembering it.
Get a pen and paper and have at it. Then I'll touch on dream list apps and other ways to store the information in an upcoming section.
Click here or on the image to get the dream list template!
2. Think of it as a 100 wishes exercise and include goals, dreams and aspirations
While 100 might sound like a big number to start with, you'd be surprised at how quickly you can start generating ideas and filling up the page. It also gets you used to thinking this way.
3. Check out dream list examples, life goal examples or other 100 life goals lists (or a list of 50 dreams or any number) to get ideas
If you are stuck or just curious to read about other people's examples of dreams and goals to get inspired or you just don't know where to begin, look up other dream lists on the web. Google something like "What are the best dreams to have?" or "dreams in life examples" get started.
Here are two examples of dreams in life. The first is a bigger dream list example while the second is a simpler example.
Dream Vacations List
Start brainstorming ideal places to go once you are able. Now is the time to plan. Maybe you include a dream vacation destinations list that has every location you want to visit such as Australia, Italy, France, Hawaii, etc. Perhaps your heart is set on visiting certain cities or some sort of attraction that draws you to an area?
Are you more of a camper that wants to focus on a dream backpacking list full of the best campgrounds? Or, do you prefer sight seeing on tours, finding nice places to dine out and museums to visit? Give it some thought.
Dream Movies List
We often think we only need to include an epic travel bucket list, but some of your dream list ideas may contain simple everyday things to do that are equally enjoyable.
Start jotting down movies you've always wanted to see, but never got around to watching for some reason. Maybe you make a list of classic movies, action films or comedies. For example, I never saw La La Land and may watch it this weekend.
You can even craft more of a family bucket list and watch all of the best Dreamworks animated movies such as How to Train Your Dragon, Shrek, Wallace and Gromit. Also, consider watching any movie from a Dream Works film list like Saving Private Ryan, 1917 or Green Book.
Think of other categories of dream list ideas such as a dream house room list, a dream careers list or even a childhood dream jobs list you can explore on the side or when you one day retire.
4. Even take a peek at some of my dreams and ambitions in life, some of which I accomplished along with a list of hopes and dreams for the future
Travel cross country ✔️
Go on a short cruise in my state
Visit a sunflower maze in Connecticut ✔️
Live in another state ✔️
Visit 10 of the best ice cream shops in my state
Own a successful business ✔️
Visit iconic spots and find things to do for fun in Boston ✔️
Visit Greece and try the best Greek food ever.
5. Consider making some general categories before you get started.
Think about what's most important to you and make different sections for each dream list category. If I sort the dream list examples that I listed, maybe I would categorize them this way.
Maybe you want to start with a travel bucket list or layer in some everyday bucket list ideas such as dining out at special restaurants, going on a food and beverage tour or catching a musical at the theater once they open back up.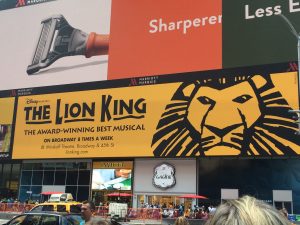 Bucket List/Travel/Leisure
Travel cross country ✔️
Go on a short cruise in my state
Visit a sunflower maze in Connecticut ✔️
Visit iconic spots and find things to do for fun in Boston ✔️
Visit Greece and try the best greek food ever.
Visit 10 of the best ice cream shops in my state
See a musical in NY
Career-related
Own a successful business ✔️
Go on television ✔️
Get featured in major publications ✔️
General Life Goals
Live in another state ✔️
Live in another country ✔️
Move again to another state
Find new hobbies to try
You can just start writing away and then put them into different categories afterwards. I quickly noticed how mine are mostly focused on travel and wanted to fill in other categories to have more balance. It's your list so the categories are up to you.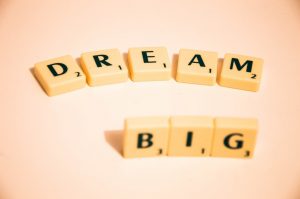 6. Go deeper and think of different dream list or bucket list categories too.
Consider making sub-categories too. I like to have more large scale bucket list items along with more smaller scale, everyday bucket list ideas.
For the Bucket List/Travel/Leisure section, I could branch off into easy bucket list ideas, creative bucket list ideas, a summer bucket list and maybe some crazy things to do (legal ones, of course.) Just let the ideas flow and write down anything that comes to mind.
7. Also, think about creating short term goals of what you'd like to accomplish in the near future
While it's great to have long term goals on your dream list to achieve down the road, also remember to set some short term goals.
For example, visiting ice cream shops in my state is a current target within reach. It's something I can get excited about and see to completion rather easily.
Be sure to generate some short term goals so you have things to look forward to accomplishing now. Otherwise, you'll just be chipping away at long term goals that might be a little too far off into the future and not fully achieving them for years.
As you write down a new item, you can decide if it's a short term, medium or long term goal as you go through your list or decide afterwards. Then you can gauge what to focus on first.

8. Ask yourself about medium and long term goals: What are your dreams for the future?
I visited Boston several times in short spurts. It's such a big city. I didn't always get to check off every last thing on my list.
I knew it wasn't possible in one trip. I made sure to purposely pick a few realistic bucket list ideas from my dream list each time I visited to follow through.
Since our last trip was a last minute plan, I knew there were some places I still wanted to visit, but couldn't remember. I panicked a bit, "What ARE my dreams?"
Luckily, I didn't have to start from a blank slate and could reference my list of bucket list ideas for 2020. The bonus of revisiting a place multiple times is you can pick out other dreams for the future while you're there.
9. Find dreams and aspirations quotes to keep you motivated
Once you finish writing everything down, round up some of your favorite quotes. Quotes can keep us motivated to carry out our dreams. Find a few quotes that resonate with you and put them in a prominent location to view regularly.
Here are some sample dream and aspirations quotes I found from A-Z quotes:
"Without leaps of imagination, or dreaming, we lose the excitement of possibilities. Dreaming, after all, is a form of planning."
– Gloria Steinem
"Don't let the noise of others' opinions drown out your own inner voice."
– Steve Jobs
"Every great dream begins with a dreamer."
– Harriet Tubman
10. Look into Dream List Apps to Capture All of Your Dreams and Ambitions in Life
After you've written down your list of 100 dreams, you're welcome to store the dream list ideas in an app for safe keeping. There are a number of apps to choose from. Test out what works best for you.
Here are a few that I found:
If you're someone that likes to keep everything together or you don't like to use too many apps, use the notes section on your smartphone or look into storing your list on apps like Trello or Asana and create a section just for this.

How to Make Your Dream List a Reality
Though no one can promise that you'll star in a movie or get drafted in the NFL, it can't hurt to write these ideas down and try to accomplish them. Know that you will have more control over certain dream list examples than others and that's okay.
Once you've finished creating a list of dreams and aspirations, be sure to include why you want to do them before you start out on your journey. Knowing why you want to do something gives a real purpose and a more compelling reason to stick with it.
Then choose 1-3 ideas you want to do in the next few months. Put a date on your calendar and make them happen.
Enlist help. In the beginning I mentioned the importance of gossiping about yourself. Outside of telling someone about your progress to stay accountable, invite them along with you. Once you create a long "master list," think about items you'd like to do with others. Even if you're not able to do your list right now, it can't hurt to make a dream list for the future.
Start Planning Your Dream List Today
Once we get past the pandemic, maybe you can go on affordable road trips with your bestie, see musicals with your partner or go on a cross country trip with your cousin.
Plot out where you want to go and what you want to do. Keep in mind that creating a dream list takes some planning, but a writing a list of hope and dream will at least help you identify what you want to do when the times comes.
Use any free time to come up with a few ideas or brainstorm a list of 50 dreams. You can even try a bucket list challenge of everyday things to do in the meantime together.
Jot down who you will go with right next to the item on your main list or you can make separate lists to do with different people in your life.
To quote Stephen R. Covey, "accountability breeds response-ability."
No matter who you choose to accompany you on your journey, if you haven't already, fill out this free dream list pdf.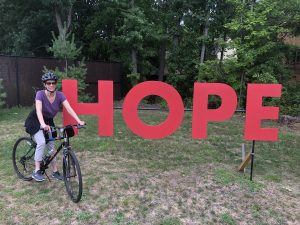 Ask some general questions to help jump-start the best dreams to have on your list:
What is your dream in life?

If you have multiple ideas, what are your goals or dreams in life?

Or maybe ask yourself, "What are some hopes and dreams?"
Conclusion for List of Happy Dreams
Understand that creating a dream list takes some work, but a little planning and accountability can go a long way. Try to make a list of dreams today.
If you're still stuck and would like your hand held a little bit more, you might need more help, get your hands on my book entitled, The Everyday Bucket List Book.
What are your dreams and aspirations? Comment below for a free air high five! 😉
Related Article for Dreams and Goals