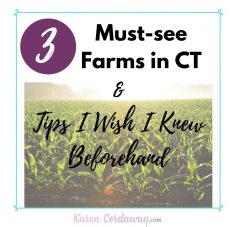 There might be affiliate links in this post. If you click on a link and make a purchase, I receive a small commission. Read my disclosure policy here.
Come late springtime, people flock to local farms in CT. For those hoping to pick your own fruit, buy fresh produce or just get some seasonal treats from CT growers, it can be hard to choose where to go. Here are some suggestions and tips from a local. That's me!
Farms in CT for Perfect Mini Day Trips
If you're not from CT, you might wonder, "Is Connecticut worth visiting?" It certainly is.
Though I might be stating the obvious, Connecticut is not a big state so people might overlook it for a visit. It's a small state in New England that is 110 miles long. It's one of the 5 smallest states in terms of land area, but it's still worth a visit especially if you like farms.
Silverman's Farm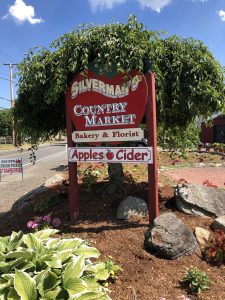 What do they sell at Silverman's Farm?
Silverman's Farm is located in Easton, CT on 451 Sport Hill Rd and offers a variety of produce, jellies, jams, condiments, pies and more.  They also have an animal farm where you can pay to see the animals.
If you're making a trip, find out what they sell at Silverman's Farm today or this weekend by looking at their website, Facebook page or by calling ahead. Sometimes it's hard to give exact times because they have to work around Mother Nature.
The Silverman's Farm Facebook page also has video updates from Farmer Jake. Catch a glimpse of the animal farm, learn about blueberries and when you can pick your own.
Also, find out about their current offers. You'll also catch mini tutorials, tips and other information.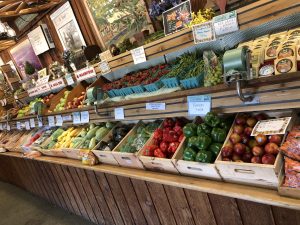 Visit Silverman's Animal Farm
This place is considered one of the best farms in Easton, CT. It's a kid-friendly environment with a great animal farm to visit. It tops my list too.
The animals are across the street from the store. Be careful when crossing the street especially if you have little ones with you. It's on Rte 59 and cars can drive by fast.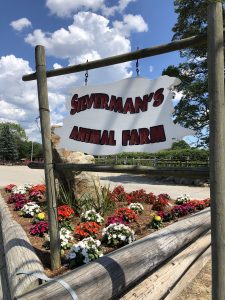 Silverman Farm's Admission Fee
It costs 5 dollars per person to see the animal farm. It's an additional 5 dollars if you want to purchase a bag of food to feed the animals.
These barnyard buddies will quickly be your best friend if you have something to feed them. I swear they make noise to get your attention. 😉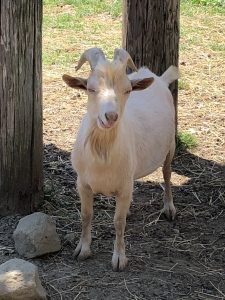 When you enter, you're met by goats and an emu. There are other animals throughout the area such as llamas, bunnies, bison, pigs and a Sicilian donkey.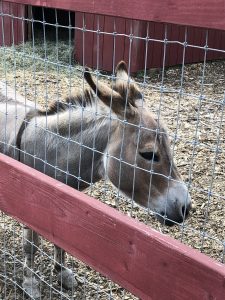 Silverman's Farm Pies
Silverman's Farm offers a wide variety of pies. You can get them in store or order online.
Choose from the following:
Apple
Apple Cranberry
Apple Raspberry
Blueberry
Blueberry Crunch
Caramel Apple Nut
Cherry
Coconut Custard
Dutch Apple
Fruit of the Forest
Lemon Crunch
Peach
Peach Berry
Pecan
Pumpkin
Strawberry Rhubarb
What fruit is in season to pick your own?
Many farms in CT have websites that show the fruit that they grow and when it is in season for picking. Some farms have tables and charts that show what's in season so you can get a visual while others will give a range of dates.
Though you can Google "What fruit is in season now in CT?", it doesn't necessarily mean it's something you can pick.
Most websites or Facebook pages will let you know what each farm offers if you want to pick your own fruit and what they may pick themselves and sell. My tip: Check before you go. You don't know how often someone updates their website or when they put out an update on social. Call in advance to double check. 
If you're wondering in general:
What fruit is in season now in CT?
What is in season for pick your own?
When should I go berry picking?
Where can I pick blueberries in CT?
Where can I pick strawberries in CT?
Here's a list of places where you can pick your own fruits and vegetables listed by county.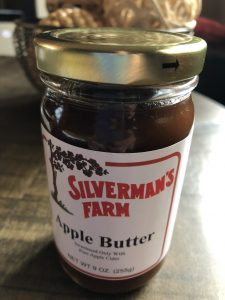 When is Silverman's Farm open?
Silverman's Farm is open every day from 9 AM to 5 PM from late spring to Jan 1. It closes on Thanksgiving day (partially) and Christmas.
The website also explains that they "may close during inclement weather." If the forecast looks sketchy, you may want to call or look at their Facebook page to check their hours of operation.
Get more information and directions on their site where they explain an alternative route to get there faster when it's busy.
What hotels are near Silverman's Farm?
There are many hotels near Silverman's Farm. Since I live in CT, I've never stayed at any of them. Use your discretion and read reviews to get a sense of where to stay. Trip Advisor lists the 10 closest hotels to Silverman's Farms here.
What restaurants are near Silverman's Farms?
There are a wide variety of restaurants near the farm.
Olde Town Restaurant

Paci Restaurant

Easton Village Store

Barcelona Wine Bar

Greasers Store and Deli

Osteria Romana

The Smithy

Merritt Canteen

Franco Gianni's Pizza

Chips Family Restaurant

Roberto's Restaurant

The Spinning Wheel

The Cheesecake Factory

Romanacci

Sitting Duck Tavern

Prime One Eleven

Take Indian Cuisine

Ten Asian Bistro

Parker Steak and Scotch
Rose Orchards
I recently visited Rose Orchards. It's a family-run farm that's been around since the 1600's.
It's open year round so you can pick strawberries in the summer, apples and pumpkins in the fall, stock up on pies and baked goods at other times of the year. Their very own maple syrup is available all year. My tip: Do a little research in advance to find out what each farm has to offer.
Though I enjoyed their old-fashioned frozen custard that their known for, I researched after I visited. I'm kicking myself because I would have loved to purchase local maple syrup. Luckily, I live here so I can go back, but that might be something you'd like to pick up the first time if you're a tourist or you live in another part of the state.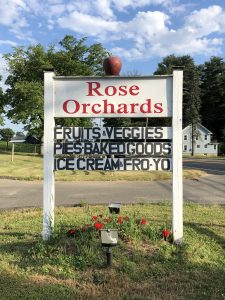 When is Rose Orchards open?
Though you should check their website for hours of operation, here are the summer hours.
Market 7am-6pm
Creamery 7am-9pm
Buck's Grill 7am-3pm
What restaurants are near Rose Orchards?
If you want to stay in one place and you're looking to eat breakfast or lunch, feast on all that Buck's Grill has to offer.  It's right on the property sandwiched between the creamery and market.
If you want to visit other nearby restaurants first before getting ice cream, looking at the animals or visiting the store, here's a list:
Chowder Pot
Nataz
Cafe Fiore
Parthenon Diner
La Cuisine Cafe Market Catering
56 Diner
Home
Marco's Pizzeria
Though there are restaurants in North Branford, Branford and Guilford, if you don't mind driving a little further and you want to grab great pizza, try John and Maria's in East Haven. My favorite is their arugula salad pizza. I like adding bacon to it.
They offer a small sized gluten-free pizza. As someone with a sensitivity to gluten, I've figured out that all gluten-free pizzas aren't created equal, but I'm a fan of theirs.
Bishop's Orchards
Bishop's Orchards is located in Guilford, CT and is one of my favorite orchards in CT. This family farm got their start in 1871 and has been going strong ever since.
Their farmer's market is open from Monday-Saturday from 8 A.M. to 7 P.M. and Sunday from 9 A.M. to 6 P.M. The Creamery is open Sunday through Thursday from 11 A.M. to 9 P.M and stays open an hour later on Friday and Saturday from 11 A.M. to 10 P.M.
One thing I've learned about farms is that things can change on a dime due to the weather especially if you're trying to pick your own fruit. Check their Pick Your Own page or call the pick line at 203-458-PICK for the most up-to-date information.
Bishop's Market
Located on 1355 Boston Post Rd in Guilford, CT, Bishop's Market is a popular spot to locals and tourists alike. Head inside to purchase produce, groceries, specialty items, baked goods, cheese and more.
What's better than a slice of tasty pie? Bishop's is well-known for their pies and the fruit comes straight from their orchards. They offer:
Apple
Apple Crumb
Blueberry
Blueberry Crumb
Cherry
Fruits of the Farm
Pecan
Peachberry
Pumpkin
They also offer a vast variety of cream pies. Check the website for a full listing. Their website also boasts about an extensive list of cheeses they offer with a "robust collection of over 150 cheese varieties of domestic and international origin including Spanish, Irish and Italian cheeses."
You can make a whole dream list of cheeses to try. If you're super short on time, they currently offer curbside pickup and online ordering.
Bishop's Orchards Creamery
On the right side of the market is their creamery. They offer ice cream cups and cones, sundaes, milkshakes, frozen yogurt and more.
There's over 20 different flavors available regularly. Whether you choose Unicorn Delight, Cake Batter, Flying Fish Fudge, Fradiani Frenzy (named after the American Idol winner from CT) or more classic flavors like Old Fashioned Vanilla, Chocolate and Strawberry, you won't be disappointed.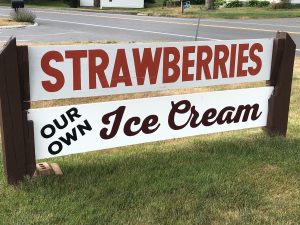 I thoroughly enjoyed a popular flavor called Sea Salt Caramel while sitting on their outdoor patio. They also have low-fat frozen yogurt options such as Black Raspberry Chocolate Chip and Chocolate Peanut Butter Cup.
Though the patio is only open seasonally, you can get ice cream inside year round. Once again, check their website and Facebook page for the most up-to-date information.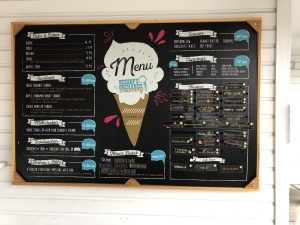 Summary
I love Connecticut farms and I want you to fall in love with them too. Explore everything these farms have to offer.
No matter if you're passing through, looking for something fun to do in CT this weekend or if you made a carefully crafted bucket list of everyday things to do and places to visit, use the suggestions mentioned as quick day trips in CT.
Even challenge yourself to visit one of these places this year, if not all of them. It can help you reconnect with nature and even boost your happiness levels.