Fun, Bucket List Things to Do in Rhode Island
Need fun things to do in Rhode Island? Look no further. Rhode Island is most famous for its delicious food. If you're a fan of lobster, calamari, and other types of seafood, then you need to try out some of the local restaurants in Rhode Island. Some other cool things about Rhode Island are its small size and easy access to beaches and nature reserves. You can also visit the mansions along Bellevue Avenue or taking a stroll down Newport's Cliff Walk, stroll around Providence or relax in Westerly, RI. So what's stopping you? Listen to the podcast today!
Prefer to listen elsewhere? Here's the exact episode on: Apple or Spotify!
It takes a great deal of time and energy to create episodes. In order for me to make great content for you, some of the resources below have affiliate links. If you purchase something through a link, I would make a small commission at no additional cost to you. Also, consider buying me a coffee.
Today's Everyday Bucket List Guest
I'm happy to welcome my husband back to the Everyday Bucket List Podcast!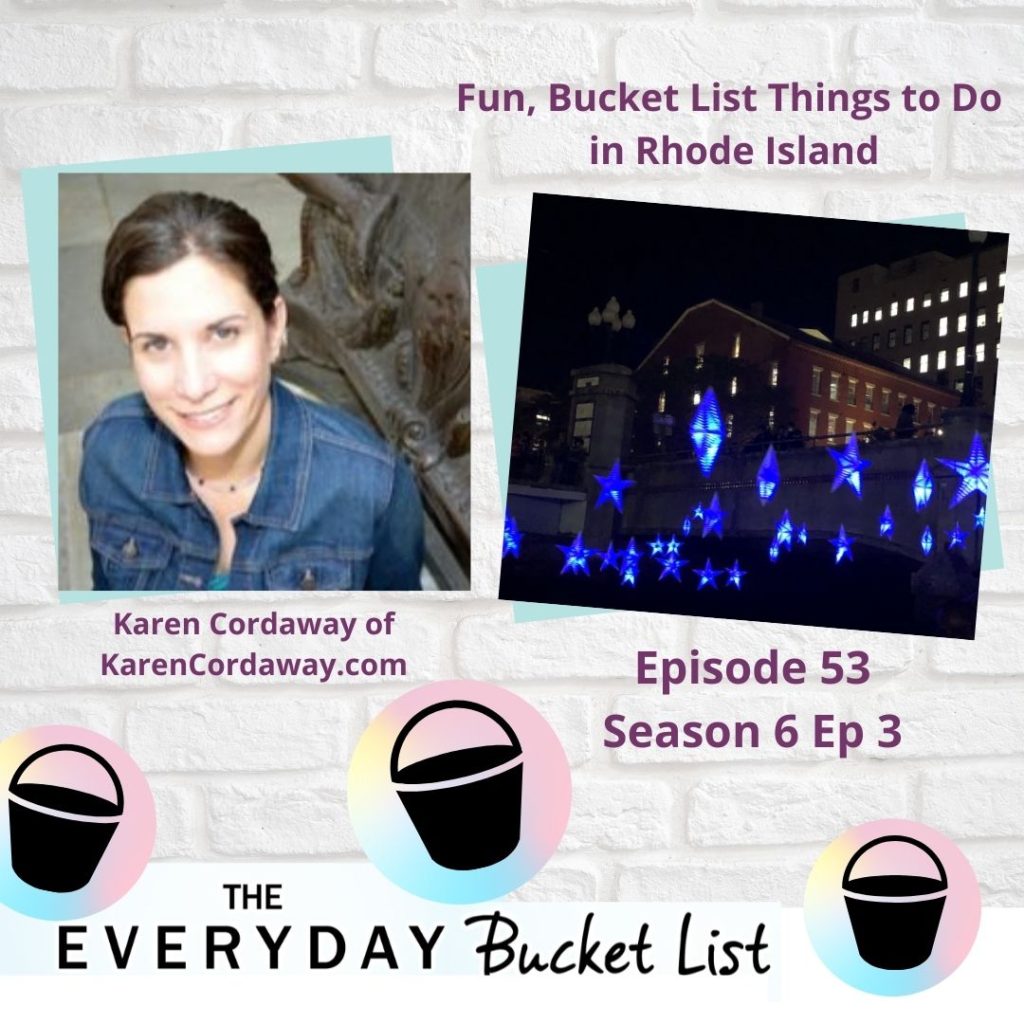 It's me, the host blabbing on my show. Karen Cordaway of KarenCordaway.com
As a busy working parent, Karen Cordaway spent years struggling to find free time for herself. That is until she figured out how to reclaim her schedule and infuse more exciting hobbies and bucket list experiences into everyday life.
With a little planning, a bit of strategy, and a dash of creativity, she turned her bucket list dreams into reality! The Everyday Bucket List Book: 10 Steps to Bringing More Exciting Experiences to Everyday Life is her signature, step-by-step process to help others, just like you, do the same.
Karen has written about shopping tips, cost-cutting, smart spending and other money-related topics for Clark Howard, Huffington Post and nationally syndicated articles for U.S. News. She now combines her money know-how with bucket list topics.
Her insights have been shared all over the internet in Money Magazine, Yahoo Finance, Market Watch, The Consumerist, Rockstar Finance, and even O Magazine. She now inspires everyday people to fulfill their bucket list dreams both big and small.
What You'll Learn About Fun Things to Do in Rhode Island
Is Rhode Island famous for anything?
What are cool things about Rhode Island?
Is there anything fun to do in RI?
Discover Rhode Island hotels for overnight stays
Is Rhode Island famous for anything?
Rhode Island is often called the "Land of Ocean Castle" because it has such beautiful beaches. It also houses many historical sites, including Fort Adams which was once used as an immigration station for people traveling from Europe before they could enter America!
Also, Roger Sherman is a well-known figure in Rhode Island history. He was one of the four men who signed The Mayflower Compact, which established Plymouth Colony and set out to build establishments for freedom including teaching Christians how they could worship without fear or loyalty toward any crown nation. He also fought in the Revolutionary War and founded Rhode Island.
What are cool things about Rhode Island?
Rhode Island is a land of opportunity. It's home to some really cool things, like the Blockbuster Festival and Newport Folk Festivals which brings together thousands every year in celebration!
Rhode Island is also a great place to spend some time, with plenty of things to do no matter what you're into. If you're looking for a little bit of everything, Providence is the place to be, while Newport offers stunning coastal views and Westerly is perfect if you want to get away from it all.
Psst! If you're big into lobster rolls, this person tries a variety throughout Rhode Island.
Is there anything fun to do in Rhode Island?
If the paragraph above doensn't have you convinced and you're still wondering, "Is there anything fun to do in Rhode Island?" You betcha–Rhode Island is an island of beauty, with its picturesque beaches and luxurious seafood dishes. A state known for being small but big on history – there's plenty to do if you're looking into the past or future!
I believe Rhode Island is a hidden gem. It has everything you could want in your vacation: great beaches, delicious seafood dishes and centuries-old architecture that's visible from anywhere around town!
Fun Things to Do in Rhode Island
If you're looking for a fun getaway, Rhode Island is the place to be. With plenty of activities to keep you busy, charming areas to explore, and delicious food to eat, you'll fall in love with this New England state. Get the details about Newport, Providence, Westerly and other spots.
Newport, Rhode Island
Newport Rhode Island is known for its pristine beaches, and classic mansions. The town has more than 70 miles of scenic coastline. The city also has a lot more to offer visitors. Some of the things that make Newport unique are its sailing culture and beautiful coastline. There are also plenty of restaurants and shops in the city center, as well as historic sites like Fort Adams State Park. Newport is a great place to visit year-round, and there's always something new to see or do.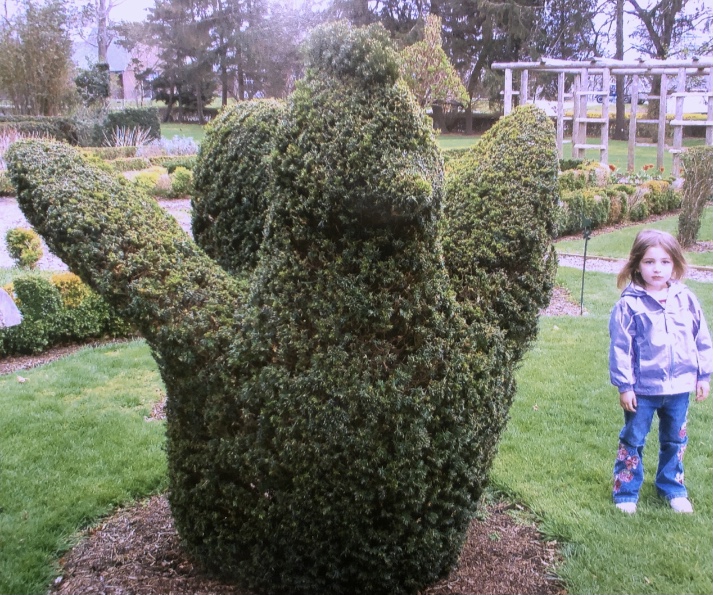 Providence, Rhode Island
Providence is a great city to explore with plenty of things to do. One place you should visit is Benefit Street, which was named one of the most beautiful streets in America. The street is full of historic homes and gardens that are definitely worth a stroll. I have a full episode if you're looking to visit Providence, Rhode Island.
If you're looking for something more lively, head over to Thayer Street. This area is home to many restaurants and bars, as well as some unique shops. You can also find some great street art here. And no trip to Providence would be complete without experiencing Waterfire. This popular event features bonfires on the river with music and performance art.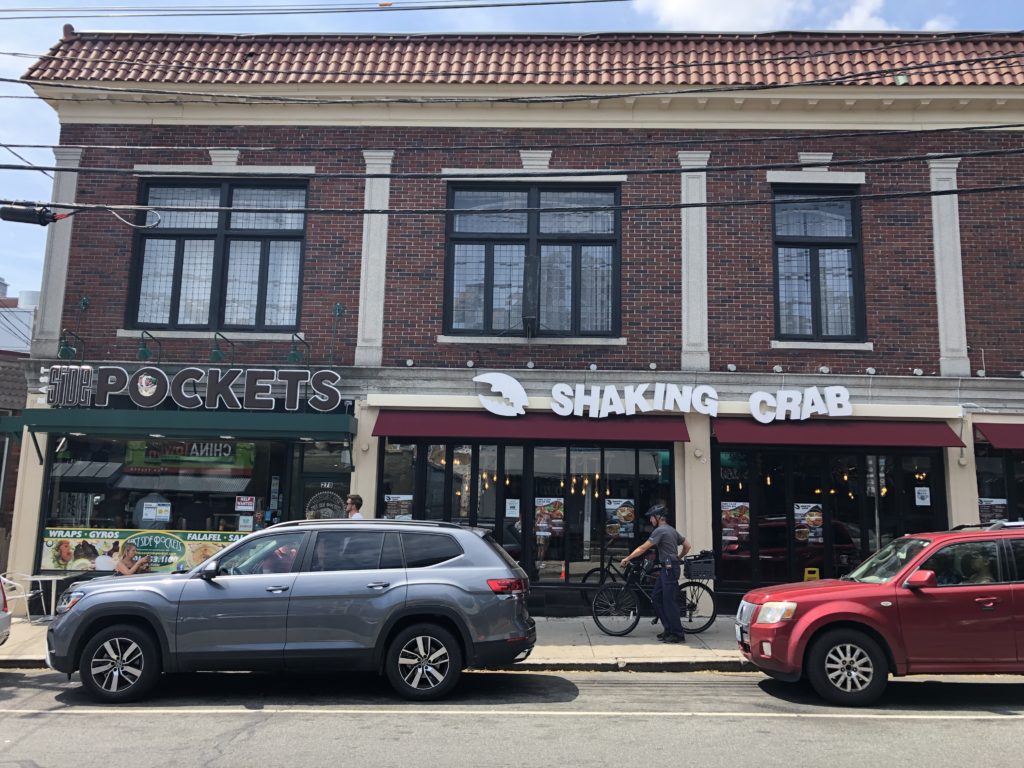 Fun Things to Do in Other Parts of Rhode Island
Westerly is a seaside village in Rhode Island. While it's not as popular or well-known as other nearby towns, there are still plenty of things to do when you visit!
There are dozens and dozens of beach side restaurants where visitors can enjoy great food with spectacular views; if you're looking for more excitement try out one on the harbor front (like The Fish House).
You'll find retail outlets like shops selling locally made jewelry that will make your heart smile ear-to north along Commercial Street.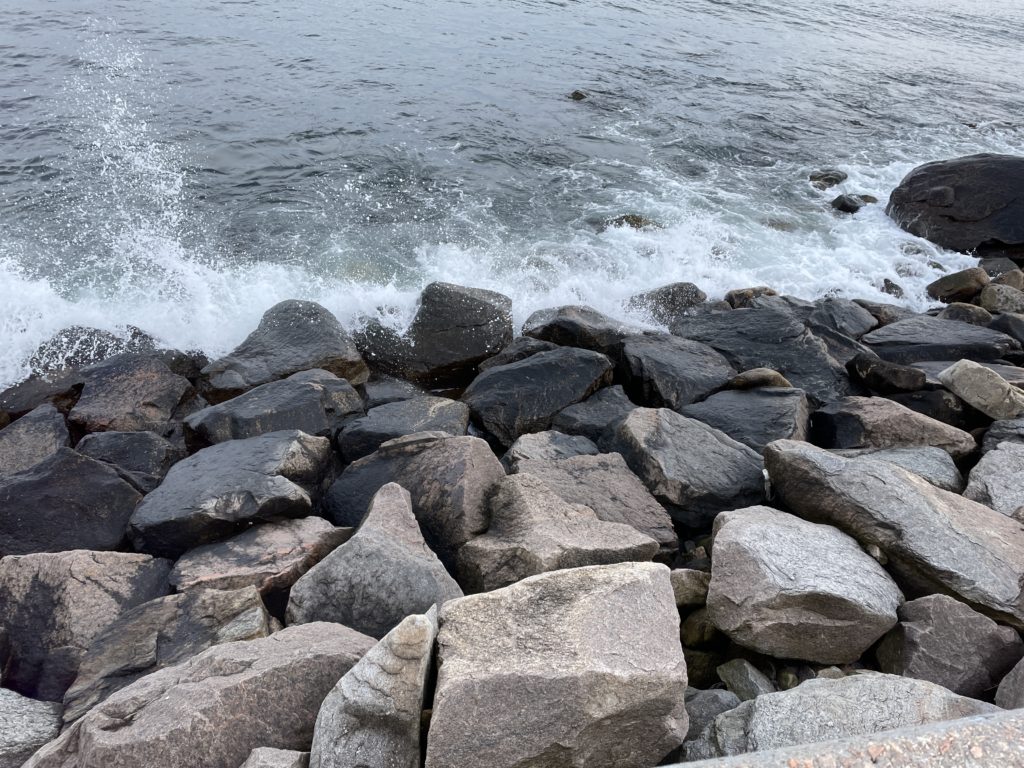 Westerly, RI: Fun Things to Do
If you're looking for a great town to spend some time in, Westerly, RI is definitely worth a visit. With its beautiful beaches, amazing seafood and charming downtown area, you'll be able to find plenty of things to do and places to eat. Make sure you try out the local gelato.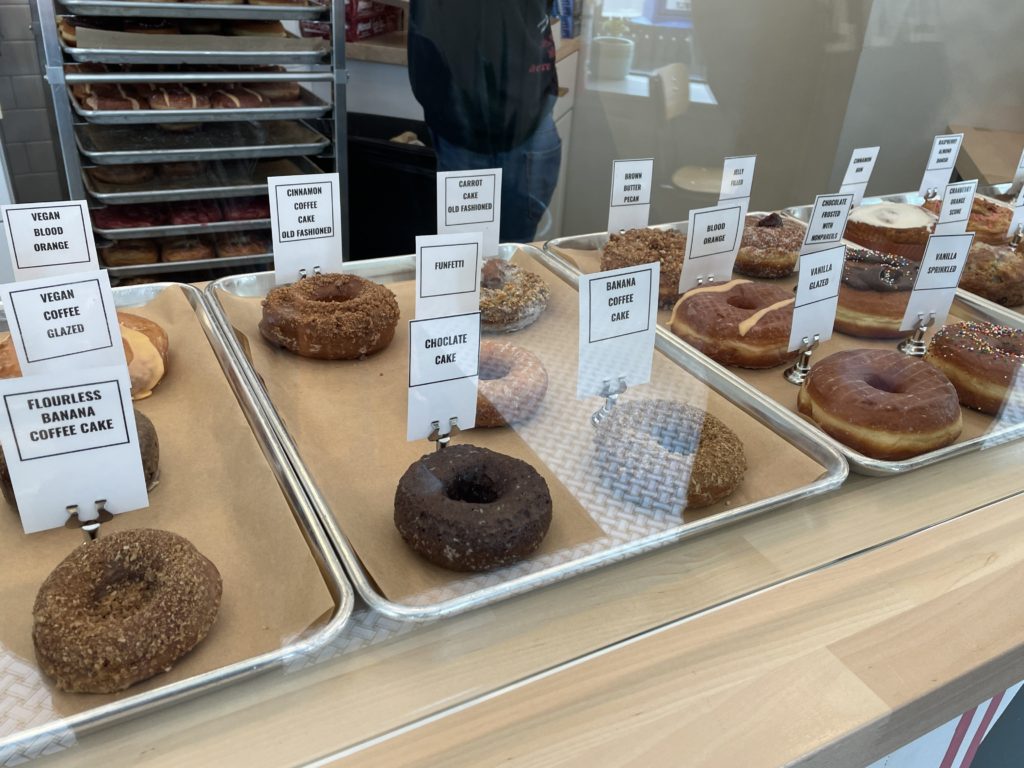 Watch Hill, RI
Watch Hill is a part of Westerly, RI.
Narragansett, Rhode Island
If you're looking for a great New England beach town to visit, Narragansett is definitely worth checking out. With its sandy beaches, delicious seafood, and charming small-town atmosphere, Narragansett has something for everyone. And don't forget to check out some of the local restaurants listed below.
Places to Stay in Rhode Island
Hotels in Rhode Island are a great place to stay if you're looking for a quiet and quaint New England getaway. Newport, RI is home to some of the most beautiful coastal scenery in the country, and Providence, RI has a lively downtown area with plenty of restaurants and nightlife options. If you're looking for something smaller and more intimate, Westerly, RI is a great option – it's one of the smallest towns in Rhode Island but still has plenty to offer visitors.
Newport Hotels
Two hotels I recommend are the Viking Hotel and the Newport Marriott. Come to the Viking Hotel for some of New England's best hospitality. The Spirit of Newport is a special place. The Viking Hotel, with its pretty floral displays and picturesque views from our sun deck was the perfect spot for us to enjoy some time off after Weekends at Sea!
Newport is a haven for those looking to experience the best of what life has offer. One such place, and an absolute must see on your list if you're ever in this neck-of -the woods is The Newport Marriot hotel which offers guests not just luxury, but also excellent service with every detail taken into consideration. I stayed there before and thought it was great. I've also heard good things about The Castle Hill Inn too. Take a peek at the hotels the area has to offer here.
Providence Hotels
The Hotel PROVidence has a reputation for being one of the best hotels in Providence, RI. The property offers guests excellent service and amenities with an inviting atmosphere that will make you feel at home from your first moment steps inside!
We all know how much of a family-friendly city Providence is. From the oceanfront to downtown, there are plenty great spots for families, couples and solo travelers. The following hotels on this video offer something special that will make your stay extra memorable:
Other Places to Stay in Rhode Island
The best way to experience the beauty of this state is by staying at one its many luxurious hotels. There are so many options for every type and budget, including family friendly chains or quaint B&Bs that offer more personalized service! Take a peek here.
Conclusion for Fun Things to Do in Rhode Island
Rhode Island may not be the most famous state in the US, but it has its share of interesting facts and cool things to check out. If you're looking for a fun weekend getaway or a longer stay, Rhode Island is definitely worth considering. With plenty of activities and attractions to enjoy, you'll be sure to have a good time!
Subscribe on Apple Podcasts , Spotify or Stitcher today!
Related Episodes