Offbeat & Fun Things to Do in Pennsylvania w/ Michele Paiva
In this session of The Everyday Bucket List Podcast, I speak with Michele Paiva. Find out if there's anything fun to do in Pennsylvania. Learn about some quirky & unique places to visit in PA this weekend or in the near future. Also, my guest gives her opinion about the best areas to stay while there. Get the scoop on restaurants, places to stay & more.
If you want to receive more Everyday Bucket List Podcast episodes, get access to them regularly through your device. They're sent your way as soon as they're published. Subscribe on Apple Podcasts , Spotify or Stitcher today!
It takes a great deal of time and energy to create episodes. In order for me to make great content for you, some of the resources below have affiliate links. If you purchase something through a link, I would make a small commission at no additional cost to you. Also, consider working with me.
Today's Everyday Bucket List Guest
I'm happy to welcome Michele Paiva to the Everyday Bucket List Podcast!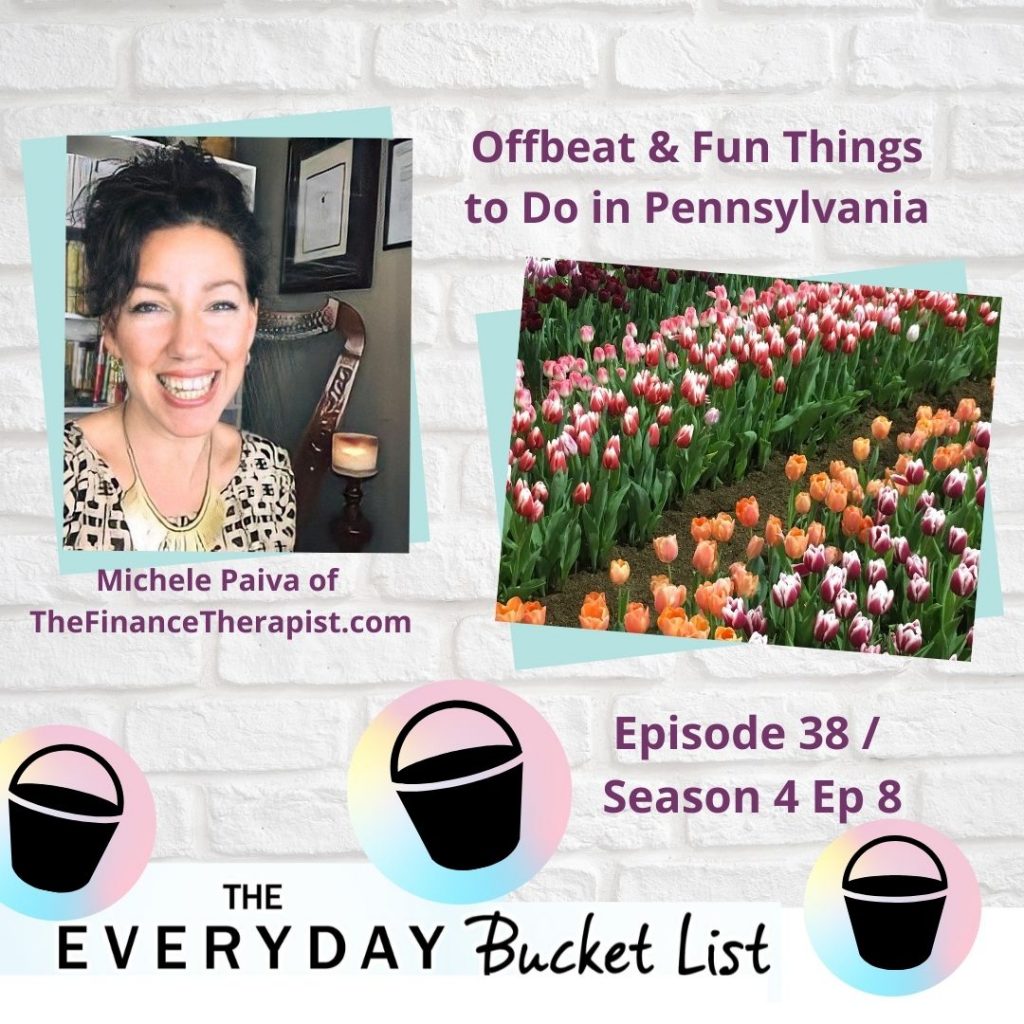 Michele Paiva of TheFinanceTherapist.com
Michele Paiva is a licensed psychotherapist, with a focus on finance therapy, specializing in helping people past emotional and financial trauma and helping them live the life that they desire.
What You'll Learn About Fun Things to Do in Pennsylvania
Find unique places to visit in PA near Philadelphia such as The Three Stooges Museum, Longwoods Gardens and The Graffiti Garden
Discover other things to do in Pennsylvania this weekend or other times of year
Get the scoop on restaurants, hotels and find out what a yurt is
RESOURCES FOR FUN THINGS TO DO IN PENNSYLVANIA
Pennsylvania is a state with so much to offer. From the rolling hills of Lancaster County to the history and culture of Philadelphia, Pennsylvania has everything you could ever want for an unforgettable weekend getaway! But if you're looking for unique, offbeat things to do in Pennsylvania, we've got you covered. You can see the original diner where the movie the Blob was filmed, visit The Three Stooges Museum. Longwoods Gardens and so much more. There's always something new to explore in Pennsylvania – so what are you waiting for? Start packing your bags!
The Blob Diner, Dowingtown, PA
The Blob Diner is a quaint little restaurant in the sleepy village of Dowtingtown now called Chef's Diner. It is a must-visit for any traveler especially movie buffs. It offers patrons' mouths watering as they eat their breakfast or lunch while overlooking wheat fields and beautiful waterways below them!
The Three Stooges Museum
The Three Stooges Museum is a must-see for anyone who has an appreciation of classic comedy or if you're looking to get a dose of their wit and wisdom. From the halls of Moe, Larry and Curly to their celebrity status as well known entertainers on TV screens across America, it's clear this museum will keep you entertained from start to finish!
A trip down memory lane with these famous funnymen isn't all they offer here either; there are other exhibits such as vintage film footage and entertainment throughout the museum.
The Graffiti Garden a.k.a The Magic Gardens
The graffiti garden in Pennsylvania is a beautiful and unique place that has been attracting visitors from all over for years. This is not your average garden. You'll find commissioned works of art from around the world in this unique spot, and when night falls you can enjoy a drink at one of many outdoor bars or watch as fireworks light up the sky while sipping on man-made margaritas made with actual fruit chopped fresh off an orange tree! The graffiti garden is beautiful and it's very economical too. Get ticket info. here.
Longwoods Gardens
What's not to love about Longwood Gardens? The Philadelphia Botanical Garden is home of the country's largest collection of greenhouses, with more than 38 climate zones. Spend an afternoon strolling through this beautiful garden and marveling at all it has in store for you!
Stay in a Yurt
A yurt is a type of home that's traditionally built in Northeastern Asia and Mongolia. It was first created as nomadic dwellings for herdsmen, but now there are many modern materials available so you can rent or buy one!
A yurt in the Keystone State is another addition to our growing list of fabulous camping destinations. The Pennsylvania Yurts are beautiful, cozy and perfect for unique getaways with your significant other, friends or family!
The Philadelphia Art Museum
The Philadelphia Museum of Art is a great place to visit for art enthusiasts. Located in the city's iconic Constitution Hall, it features over 2 million artifacts and hundreds of galleries that span five centuries from ancient Egyptian antiquities to modern day French impressionist paintings. The museum also houses one if America's premier collections on Italian Renaissance painting which includes works by Botticelli or Leonardo da Vinci among others!
Once a month, it has one day that is completely free. So if anyone is struggling, all of these different places, even local to you, if you are in hardship and technically if you were receiving any kind of money, you were probably technically in hardship.
Brandywine River Museum
This is the perfect spot for an ideal date. You can learn about local history and see some awesome wildlife while strolling through this museum!
The Brandywine River Museum is also the perfect place to take your children on an educational field trip. The interactive exhibits and friendly staff will make it a memorable experience for all involved!
Hotels in & Near Philadelphia, PA
Though you can stay in a yurt as mentioned above, Why not stay in a hotel near Philadelphia? There are plenty to choose from! Check out a list of in the Philadelphia area.

Conclusion for Offbeat & Fun Things to Do in Philadelphia
I hope you enjoyed this blog post of fun, unique places to visit in Pennsylvania. For more ideas on what to do while visiting the city, I'll be creating an upcoming podcast episode about our own Philadelphia adventures.
Subscribe on Apple Podcasts , Spotify or Stitcher today!
Related Episodes