Find Bucket List Adventures & Hotels in Fort Worth, Texas with Danielle Kunkle Roberts
Find fun attractions and hotels in Fort Worth, Texas. Whether you're looking to make plans this weekend or hoping to land tickets to the Texas Motor Speedway down the road or plan a vacation of any kind, listen to a wide variety of activities to check out such as seeing a rodeo, visiting the stockyards or going to the largest Honky-tonk named Billy Bob's. Also, learn about a few Fort Worth, Texas hotels recommendations.
Prefer to listen elsewhere? Here's the same episode on: Apple or Spotify!
Some of the resources below have affiliate links. If you purchase something through a link, I would make a small commission at no additional cost to you.
Today's Podcast Guest
I'm excited to welcome Danielle Kunkle Roberts to the Everyday Bucket List Podcast!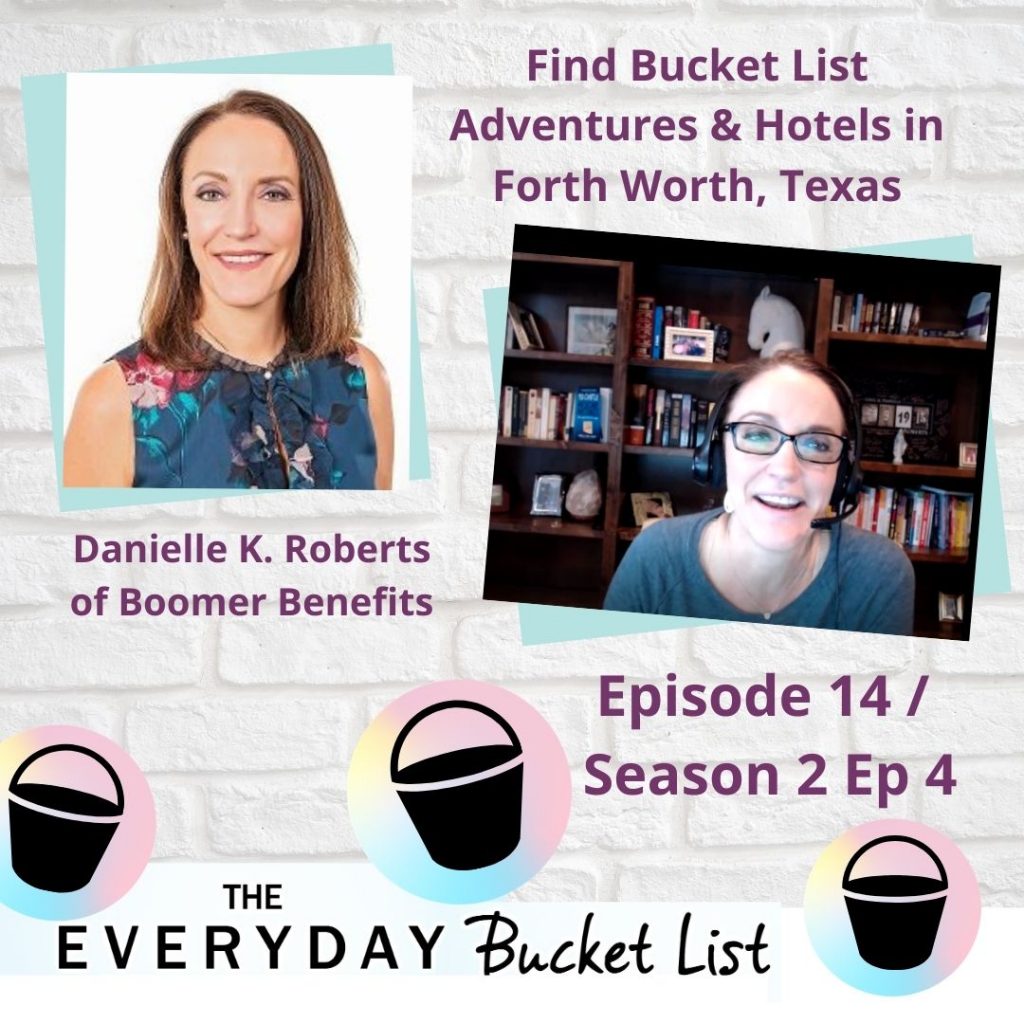 Danielle Kunkle Roberts of BoomerBenefits.com
Danielle Kunkle Roberts is a Medicare expert and co-founder of Boomer Benefits, an award-winning agency that helps baby boomers navigate Medicare and 48 states. Via webinars, video courses in contributed articles, she educates tens of thousands of new beneficiaries each year on what Medicare costs, what it covers and how it works.
Danielle released her first book this past September called 10 Costly Medicare Mistakes You Can't Afford to Make. It serves as a guide to both new and current Medicare beneficiaries on how to navigate the Medicare waters and save money while they do it.
She is a member of the Forbes Finance Council, where she regularly writes articles about Boomer finances. With a journalism degree in over 575,000 baby boomers following her on social media, Danielle is an excellent source of popular opinions among today's Medicare beneficiaries.
What You'll Learn
What Fort Worth, Texas is known for
How should I spend a day in Fort Worth, Texas? Or, many! Get a wide range of ideas for an itinerary based on your interests and budget.
Where should I stay in Fort Worth, Texas? Figure out which hotels are good for families, luxury experiences, etc.
Get the details about Fort Worth, Texas attractions such as rodeos, Honky-tonk and Texas Motor Speedway!
Resources for Bucket List Adventures & Hotels in Fort Worth, Texas
Whether you're looking for a specific hotel such as The Ashton or Worthington Renaissance Fort Worth Hotel , trying to find the best hotels near Sundance Square, a Courtyard Marriott near the zoo or old hotels from cattle drive days, take a look at hotels in and near Fort Worth, Texas here.
Some of Danielle's Everyday Favorites
Podcasts
The Stacking Benjamins Podcast
Better Than Happy by Jody Moore
Books
She also discusses her future bucket list adventures to Utah & Wyoming. No matter where you go, include a mix of easy bucket list ideas and ones you have to map out a bit.
Connect with Karen on Twitter
Related Episodes for Hotels in Fort Worth, Texas & Other States in The US