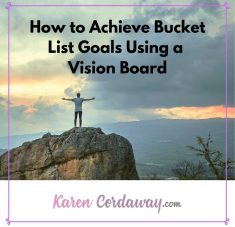 There might be affiliate links in this post. If you click on a link and make a purchase, I receive a small commission. Read my disclosure policy here.
Creating a vision board for your bucket list goals can be both exciting and daunting.
If you tend to avoid making one because you don't want to let yourself down by not accomplish the ideas, allow this post to give you another chance to focus on accomplishing realistic, tangible ideas both big and small.
What is a vision board?
Part dream ensemble, part purposeful planner.  A vision board looks like a collage made up of inspiring images, phrases, and words.
It takes the dream list of random thoughts that are floating around in your head and helps you clarify what they are and turn them into a visual representation.
It's tailored to your heart's desires. The purpose of making one is to identify your goals and see them daily to work toward them.
Vision Board Examples That Work for Me
I used this a few years back. I cut out some images and wording from magazines to come up with vision board ideas I wanted to do for the new year as well as other photos that inspired me in some way.
I used sticky notes to clarify what the images meant to me. I visited a car hop, my husband and I finally bought bikes for ourselves, I saw a live comedy show, I took my kids to a musical and a Food Network Star's restaurant. Yay!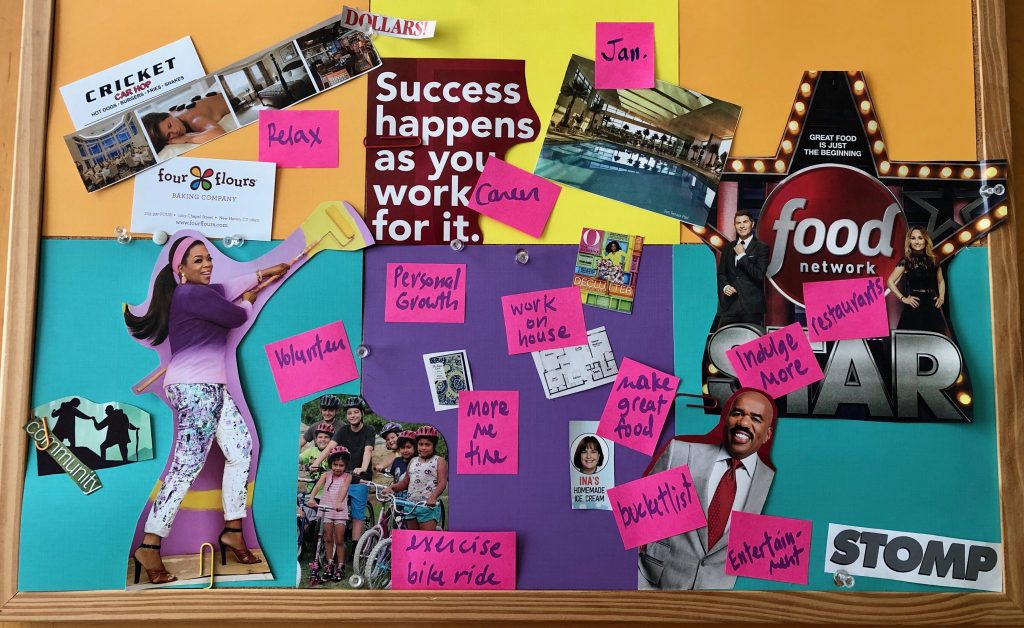 Here's another one of my vision board examples. It's my most recent one. I made this vision board online.
I have many concerts on my bucket list. It's my favorite thing to do and I want to see as many as I can this year. I haven't fully decided on who I want to see yet.
The tricky thing with concerts is you have to make sure the singers and bands you want to see are touring. I try to pick ones that I know will be available this year. I also leave wiggle room to find concerts I might found out about last minute.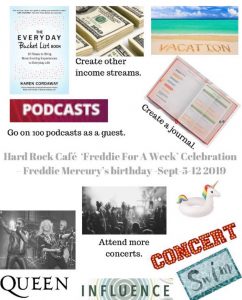 I left this category general so I can find people that fit the bill as I look. However, I do want to see the band Queen at some point. If it doesn't happen within the next twelve months, that's okay.
I'll continue to add them to any vision board I have whether or not I can see them any time soon because I find them very inspiring. I also like to participate in or watch anything related to the band so how their image translates into what I do this year remains to be seen.
How does a vision board work?
I would always make collages that served as mini dream boards as a kid, I didn't hear of the official term vision board until Joyce Schwarz wrote a book and went on the Oprah Winfrey show along time ago explaining how they work.
There are different approaches you can take as to how you use your vision board. One approach is to cut out different pictures, phrases and words that inspire you.
The images don't have to necessarily be connected to something specific. They are just there to symbolize the way you want to live your life. Maybe it's more of a mindset shift or a framework in which to base every decision.
Other people use them to accomplish specific goals that they may have already thought about in advance. The images match the ideas exactly or at least represent the idea in some way. You can find images on the internet and add those to the board or cut them out of magazines. 
Steve Jobs once said,
"People don't know what they want until you show it to them."
Sometimes we don't fully know all of our options in advance, so you can let a general idea marinate or hop on an opportunity that presents itself. Decide if it fits a general sense of what you had in mind even if you didn't know that this opportunity existed at the time.
In The Bucket List movie, Morgan Freeman's character wrote that he wanted to "witness something truly majestic." If you don't have an idea fully fleshed out or particular preference, you can think of it as an outline, placeholder or just food for thought. This is another way to look at it.
This approach works just as well and can leave the door open for novelty and new possibilities.
For example, I cut out a picture of Steve Harvey (see pic below). I like him. I think he's funny. I didn't have a specific reason or idea in mind at the time.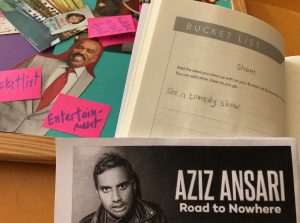 Later on it transformed into me wanting to see a live comedy show. I never did that before. I wrote that on the sheet in my book as one of my bucket list goals. It's one of the first steps to accomplish the bucket list goals.
I would try to see Steve if he was in town, but I knew seeing any comedian I liked would work for me and my idea of fun for the year. I saw Aziz Ansari. I didn't even know he was touring. He was awesome. I consider that a mission complete.
Here's a different example of a general vision board idea that's vacation-related. If you want to vacation somewhere tropical, you might cut out a picture of palm trees on a beach. You may not have an exact location in mind, but it represents the type of vacation you want to go on.
It's not to say that people can't be extremely specific and attach a photo of Bali or Bermuda to their board, you just might not know at the moment or maybe you're just happy to go anywhere tropical and you don't necessarily have your heart set on one spot.
You don't have to have every idea completely worked out from the beginning. You can leave a little room to decide as you go.
Also, the pictures don't have to perfectly match even if you have specific ideas in mind. It all depends on your style and how much time and effort you want to put into it. You can nail down the specifics when you start taking action.
Here's How a Vision Board Can Help You Achieve Bucket List Goals
Many people create their vision board, display it, but don't have an active plan in place to reach their goals. To avoid this, choose one to two goals you'd like to work on first. Write them down.  Be as specific as possible.
Take a look at your vision board daily and check in on your progress. Also, be sure to map out next steps so you know exactly what to do when you revisit your goals. If you need motivation, doing this in conjunction with a bucket list challenge can push you to take action quicker.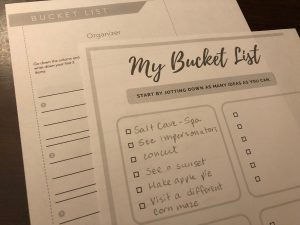 Here's How to Make a Vision Board
There are many ways to create a vision board, but before I explain, there are two things I think you should focus on before you start the project. As Steven Covey wrote in the book Seven Habits of Highly Effective People, "Begin with the end in mind." 
Figure out where you want to put the vision before you even create one before you sit down to make the vision board. There's no sense putting energy into something if you can't display it somewhere where you can see it every day. 

After you decide where you want to put it, then determine how big it should be. If you have a 

home office, maybe it can fit on a picture frame on your desk, wall or bulletin board. If it's poster size, perhaps it can go right in front of your desk or another area. Figure all of that out first. Ideally, you want to see it daily so it serves as a physical reminder of your goals.
Take some time to find and collect images that match the vision of your dream goals. Whether you scout out images online or start flipping through magazines, you might have laying around the house, look for pictures that are meaningful or resonate with you in some way.
If you can't find any images that you like, ask friends and family if they have magazines you can have or see if your local library gives away past issues for free. This way you won't have to purchase any.
Vision boards often include vacation photos, pictures of money, anything health-related like yoga poses, people running, but you can add whatever motivates you. You can also look for inspirational words, phrases, mantras, popular quotes, people you admire, etc. Here are 50 Inspirational Quotes.
If you're creating a physical board, gather these and maybe even have them pre-cut before you make the board. It all depends on how much time and energy you want to put into it. You could make it super simple with images and phrases only or add stickers and other embellishments. 
If cost is a concern, you can get stickers and other supplies inexpensively at the dollar store and all the magazines for free to keep the cost low. If you hit stores near back to school time, you can get great deals on markers, scissors, glue sticks, colored pencils, etc. Dollar tree often sells a five pack of small posters for a dollar. Check your local listings.
Once you have the images, phrases and anything else that you'd like to add to the board, start cutting and pasting them to the poster board. Though you want to fill the board up and make it look nice, I would just caution you to not try to do too many ideas. You don't want to over commit if you can't realistically accomplish all of them this year.
How to Make a Vision Board Online 
Though it's fun to make a physical vision board the way I mentioned above, creating one online can be a quicker, more efficient way to do it. You can use sites like Canva.com or PicMonkey.com. You are able to customize the dimensions to your liking. (See screenshot below of Canva.)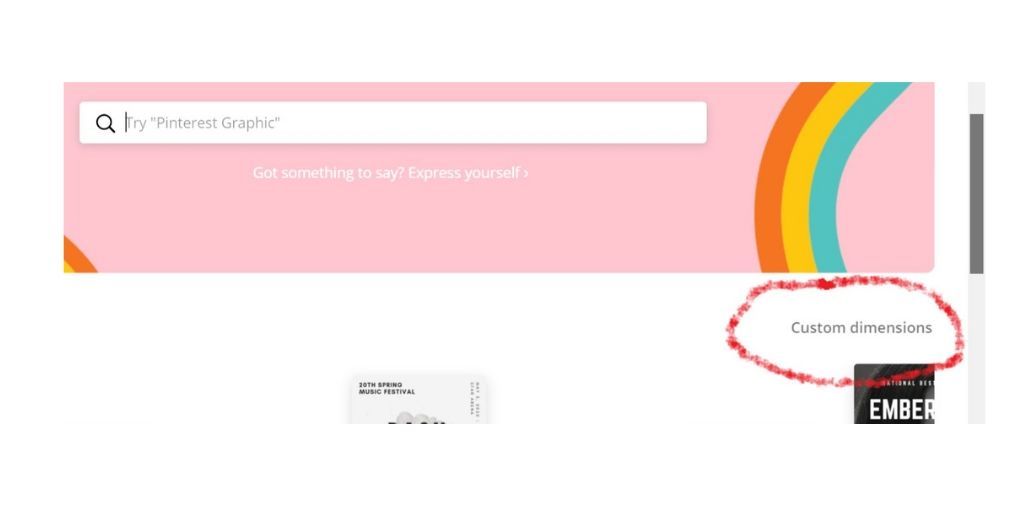 After clicking on "Custom dimensions", you'll be able to choose whatever size you like. Just be sure you choose the right unit. The default is pixels, but if you want inches or millimeters, etc, you" have to use select that. Then type in the width and height in the boxes to start designing.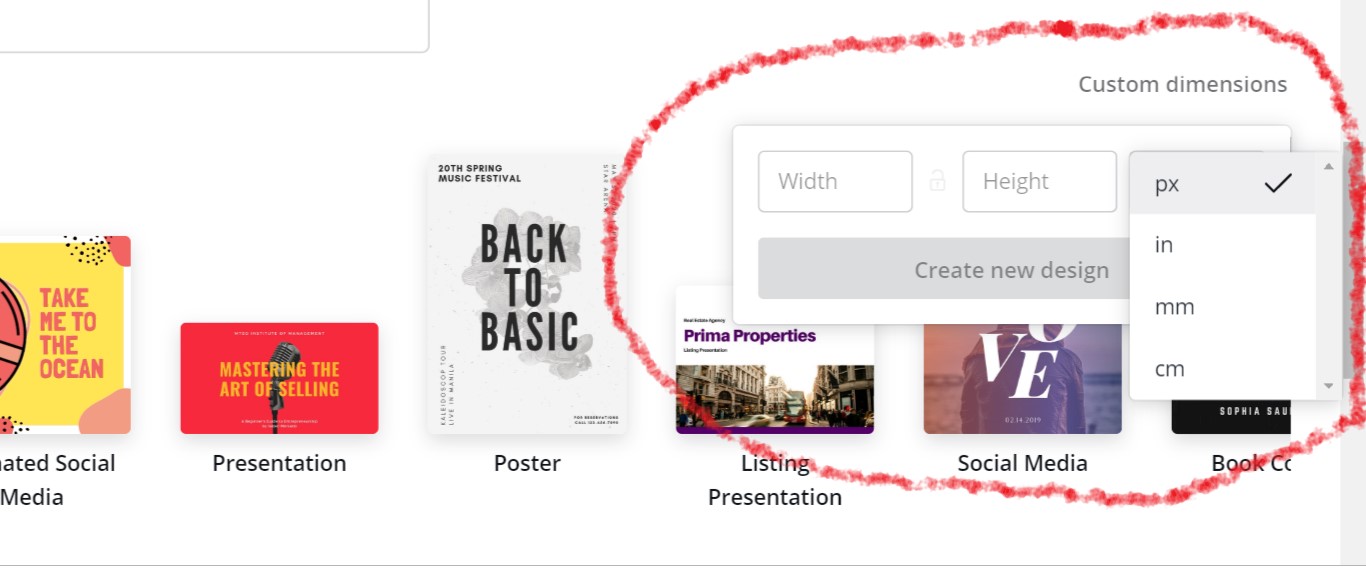 Once you choose the size, you get a "blank canvas" that you can design however you like. You are able to add a background or keep it plain. Then you can look for images you'd like to add to it. Search online or upload your own photos.
The advantage to using a digital tool like this is you can resize the photos. If you use clippings from a magazine, you're stuck with whatever size they are. Another advantage is you can type in words and phrases that motivate you in whatever font you like. You don't have to hope to find them in a magazine. You are also able to print multiple versions.
Final Thoughts about Vision Boards
A vision board is a dream list maker. It helps you capture your ideas and serves as a daily visual reminder to make them happen. To make the bucket list ideas happen, planning and effort have to take place. Think about setting some short term goals to make some bucket list items happen now.
Also, make a vision board that includes some realistic bucket list ideas from the beginning that you know you can easily do. If you often have trouble connecting the dots or figuring out where to get the money to carry out your list of goals, consider getting an accountability partner or getting a bucket list planner for more guidance.
Believe it or not, it took me hours to put this post together. Please consider sharing it in exchange for the free information.