Create a Bucket List of Places to Visit in Chicago
In this episode of the Everyday Bucket List Podcast, we discuss places to visit in Chicago, Illinois. Chicago is a world-renowned city that boasts a vibrant food scene and numerous iconic attractions.
Some of the must-visit places in Chicago include the Navy Pier, Millennium Park, the Art Institute of Chicago and the list goes on and on. With its rich history and famous figures, Chicago is a great place to explore, eat, and experience culture.
Prefer to listen elsewhere? Here's the same episode on: Apple or Spotify!
It takes a great deal of time and energy to create episodes. In order for me to make great content for you, some of the resources below have affiliate links. If you purchase something through a link, I would make a small commission at no additional cost to you.
Today's Everyday Bucket List Episode
I'm happy to share places to visit in Chicago on the Everyday Bucket List Podcast along with my husband and co-host!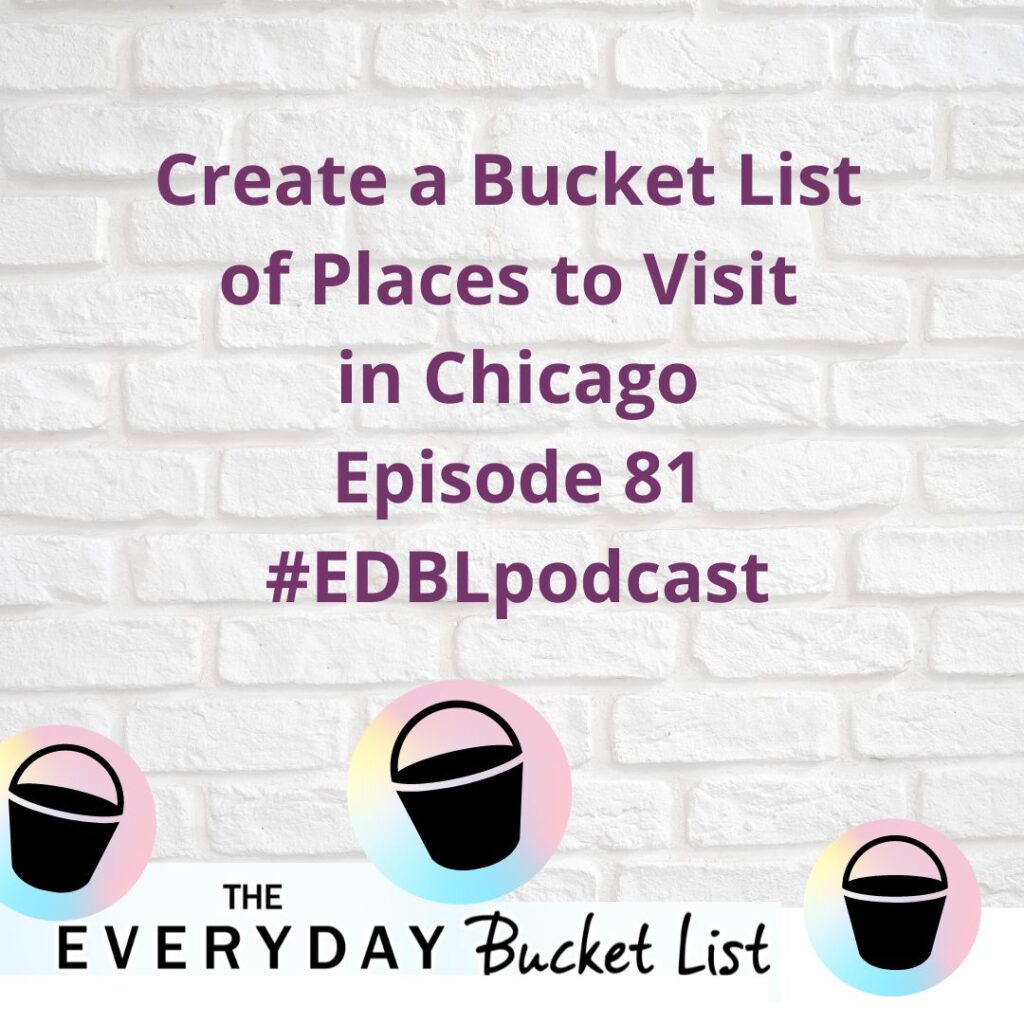 This episode is brought to you from great partners like Lou Malnati's, 360 Chicago, Color Factory, Garrett Popcorn and The Poetry Foundation.
Here's What You'll Learn About Places to Visit in Chicago, Il
If you're scratching your head wondering:
What is Chicago famous for?
Why is Chicago the best place to visit?
How to do Chicago in 1 day
Is 2 days enough for Chicago?
What is Chicago famous for?
Chicago is famous for several things, including its deep-dish pizza, hot dogs, jazz music, architecture, and sports teams. As mentioned above, the city is home to several iconic attractions like the Willis Tower (former Sears Tower), Navy Pier, the Art Institute of Chicago, and Millennium Park.
Chicago is also known for its beautiful Lake Michigan location and being a hub for transportation and industry. Additionally, the city has a rich history, including being the birthplace of the modern skyscraper and the home of famous figures such as Oprah Winfrey, Barack Obama, and Michael Jordan.
Why is Chicago the best place to visit?
Chicago is the best place to visit because it is a city that is full of life, culture, and history. It is one of the most popular tourist destinations in the United States, and for good reason.
There are many attractions in Chicago that make it a great place to visit, from the iconic architecture to the famous deep-dish pizza. The city is also famous for its hot dogs, jazz music, and sports teams.
Additionally, whether you are interested in history, art, sports, or food, Chicago has something for everyone.
Catch a Cubs Game
Visiting a Cubs game is a quintessential Chicago experience that every sports fan should have at least once. From the lively atmosphere to the historic stadium, there's something special about watching America's favorite pastime in the Windy City.
Whether you're a die-hard Cubs fan or just enjoy the thrill of live sports, a Cubs game is a must-see event. Don't forget to try the famous Chicago-style hot dog while you're there!
Check out The Color Factory
The Color Factory in Chicago is an immersive art experience that engages all of the 5 senses. This vibrant exhibit features interactive installations that explore the joy and wonder of color.
Visitors can walk through a wall of horns that sound when you walk by, snap photos in a room with giant flowers, dive into a ball pit ,and taste colorful treats. The Color Factory is a unique and playful destination that encourages creativity and self-expression.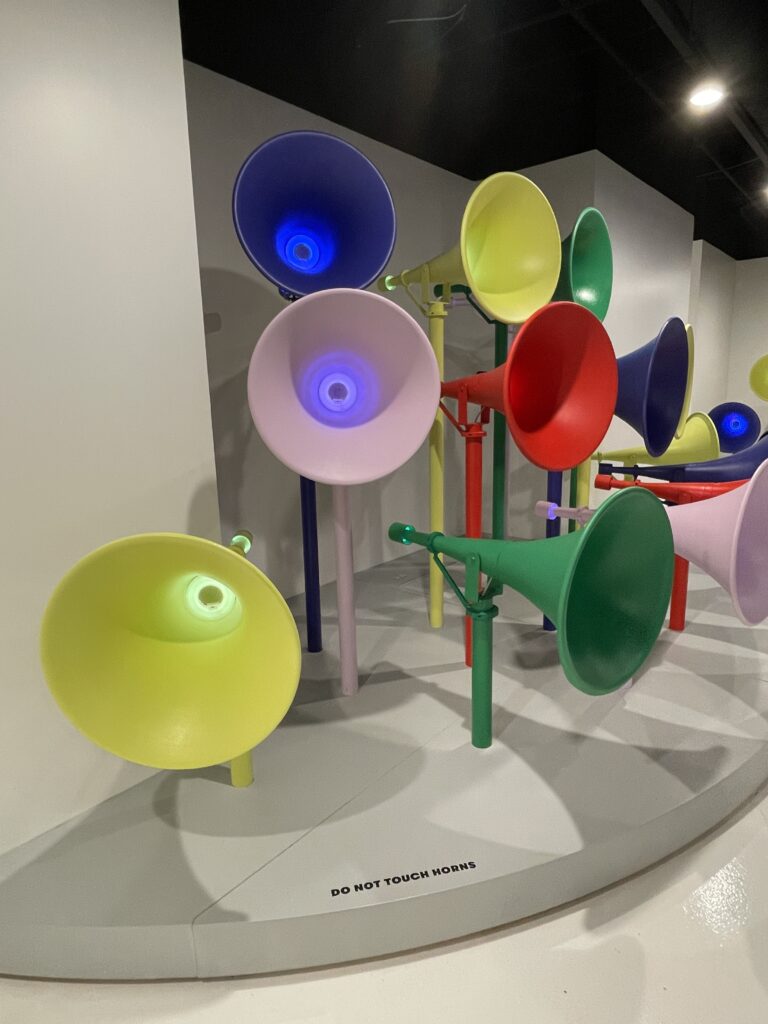 Visit 360 Chicago
360 Chicago is an observation deck located on the 94th floor of the John Hancock Center in downtown Chicago. The deck provides a 360-degree view of the city and Lake Michigan.
Visitors can experience Tilt, an exhilarating attraction that tilts visitors outward from the building at a 30-degree angle for a thrilling view of the city below.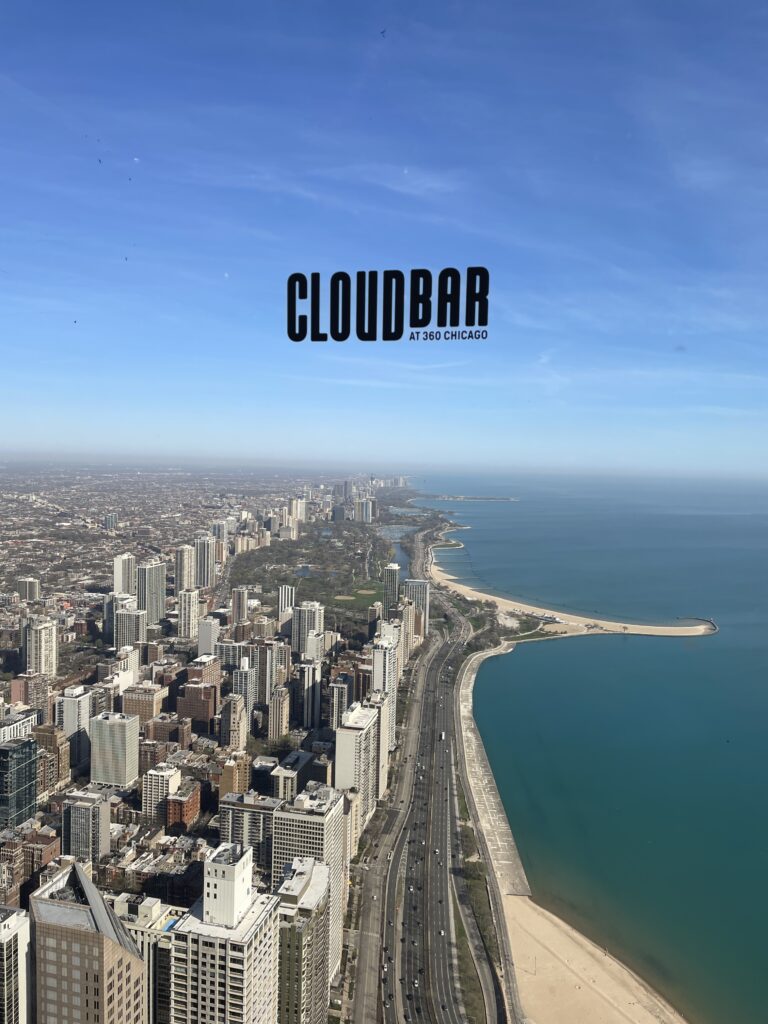 The observation deck also features interactive exhibits and multimedia displays that highlight Chicago's history and culture. It is a popular tourist destination and a must-visit for anyone looking to experience the beauty of Chicago from above.
Places to Visit in Chicago for Free
Chicago is a vibrant and bustling city with a plethora of free places to visit. Whether you're a budget-conscious traveler or a local looking for a cheap day out, there are plenty of options available.
Some of the top free attractions include the Lincoln Park Zoo, the Art Institute of Chicago on Thursday evenings, the Millennium Park, the Garfield Park Conservatory, and the Chicago Cultural Center, among others.
From world-class museums to beautiful parks and gardens, there's something for everyone in this city that won't break the bank. So, pack your bags and get ready to explore the Windy City without spending a dime.
Here are some places we visited:
Millennium Park
Millennium Park is one of the most iconic destinations in Chicago, and the Cloud Gate, more commonly known as "The Bean," is undoubtedly its centerpiece. This massive, mirrored sculpture stands 33 feet tall and 66 feet long, reflecting the city's skyline and the faces of those who stand before it.
It's a popular spot for photos and selfies, but it's also a work of art that invites visitors to engage with it in new ways. Whether you're admiring the architecture of the surrounding buildings or taking in the beauty of the park's gardens and fountains, the Cloud Gate is a must-see attraction for anyone visiting Chicago.
The Poetry Foundation
The Poetry Foundation is a must-visit attraction for poetry lovers visiting Chicago. Located in the River North neighborhood, the foundation's building is a stunning example of contemporary architecture.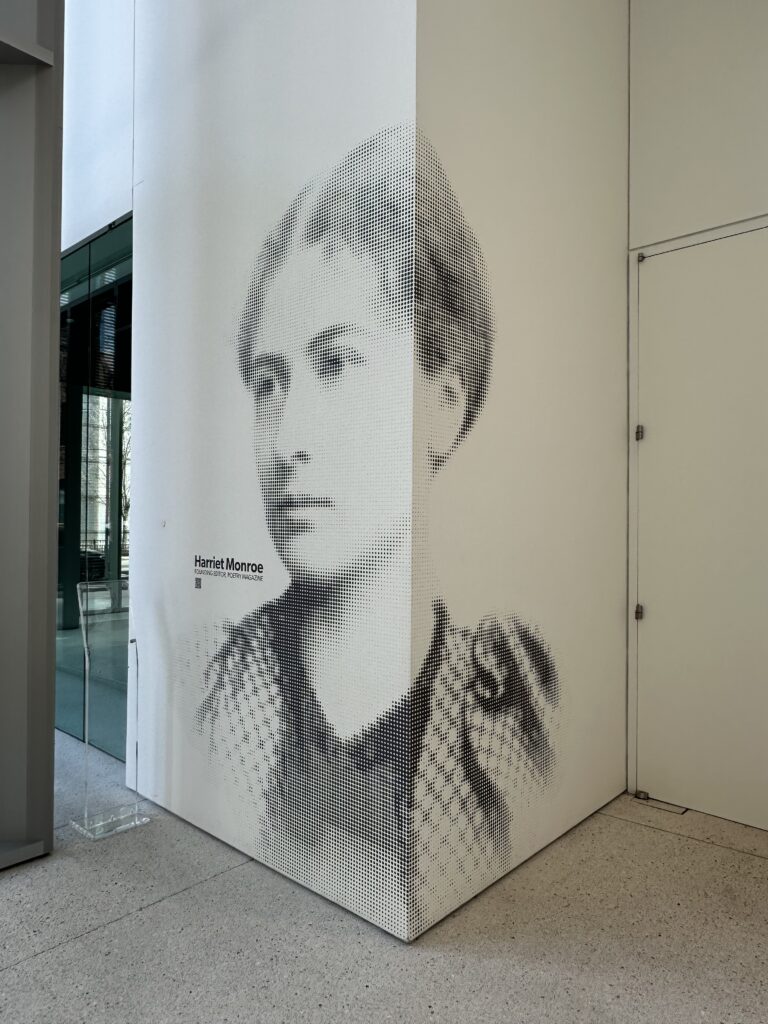 Inside, visitors can explore the Poetry Foundation's vast library of poetry, attend readings and events, and even take workshops to improve their own writing skills. The foundation also publishes Poetry magazine, which has been in print since 1912 and is considered one of the most prestigious literary publications in the world.
With its commitment to promoting and celebrating poetry, the Poetry Foundation is a true gem in Chicago's cultural landscape.
Places to Eat in Chicago
Chicago is known for its diverse food scene, and there are plenty of options for those looking to indulge in some delicious cuisine. From deep-dish pizza to hot dogs, Chicago-style popcorn to Italian beef sandwiches, the city has a variety of iconic dishes to try.
But it's not just about the classics – Chicago also has a thriving fine dining scene, with numerous Michelin-starred restaurants offering innovative and contemporary cuisine. Whether you're looking for a casual bite or a fancy dinner, Chicago has something for every foodie to enjoy.
We opted for more casual places. Here's where we went:
Portillo's
Portillo's is a famous Chicago-style fast-food chain that has been serving up hot dogs, Italian beef sandwiches, burgers, and more since 1963. With over 50 locations across the country, Portillo's has become a beloved institution in the Windy City.
The original location in Chicago's Near West Side is a must-visit for tourists and locals alike, with its retro decor and classic menu items. Whether you're in the mood for a Chicago-style hot dog or a juicy Italian beef sandwich, Portillo's has something for everyone.
Lou Malnati's
Lou Malnati's is a must-visit destination for anyone looking to experience Chicago-style deep-dish pizza. With multiple locations across the Chicagoland area, Lou Malnati's has been serving up their signature dish for over 50 years.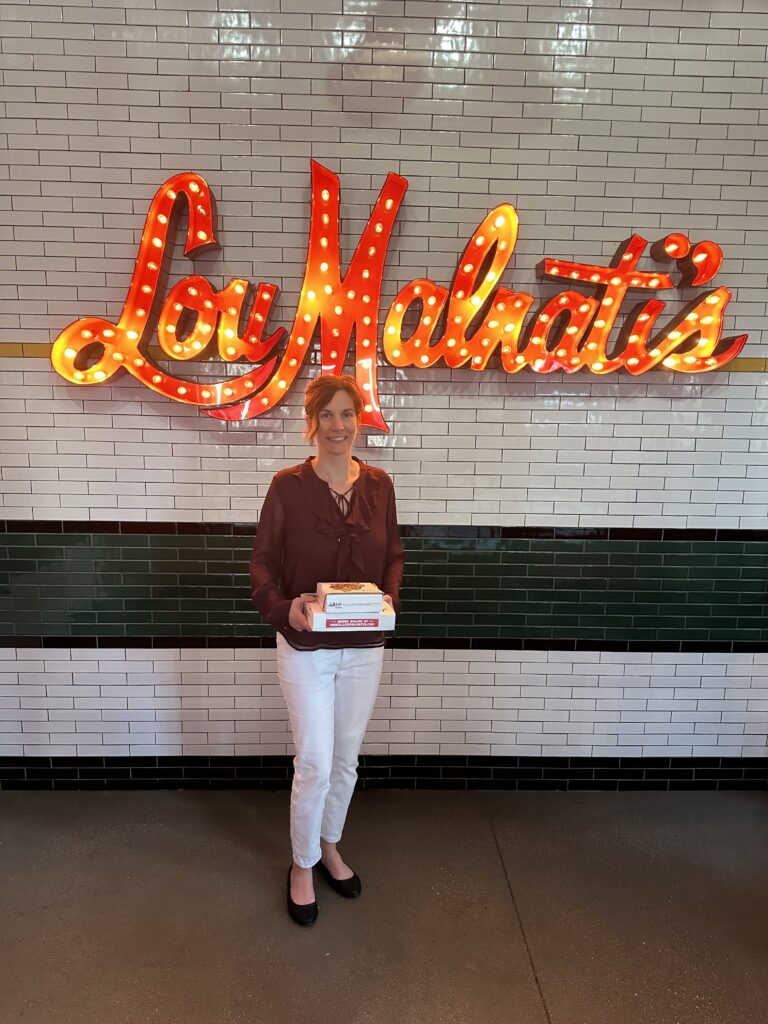 They use only the freshest ingredients, and their pizzas are made with a buttery, flaky crust, topped with a generous amount of gooey cheese and savory tomato sauce. In addition to their famous pizza, Lou Malnati's also offers a variety of other classic Italian dishes, including salads, pastas, and sandwiches. Whether you're a local or a tourist, Lou Malnati's is definitely worth a visit.
Gordon Ramsay Burger
Gordon Ramsay's burger restaurant has a variety of hamburgers and hot dogs to choose from. They also have hellfire chicken wings, beer battered onion rings, truffle fries, salads and more.
We've hit 2 Guy Fieri restaurants. One was located in CT and another one was in Boston, MA. Also, we've been to two Bobby Flay restaurants (2 in CT).
We feel like we're cheating a bit bc there in our state. So now we made it to Gordon Ramsay's. I still want to go to one of Giada's in Las Vegas and Marcus Samuelson's restaurant in Harlem, NY.
Café Crèmerie
Café Crèmerie is a charming European inspired cafe located on North State Street in Chicago. They are known for their delicious coffee, crepes and pastries.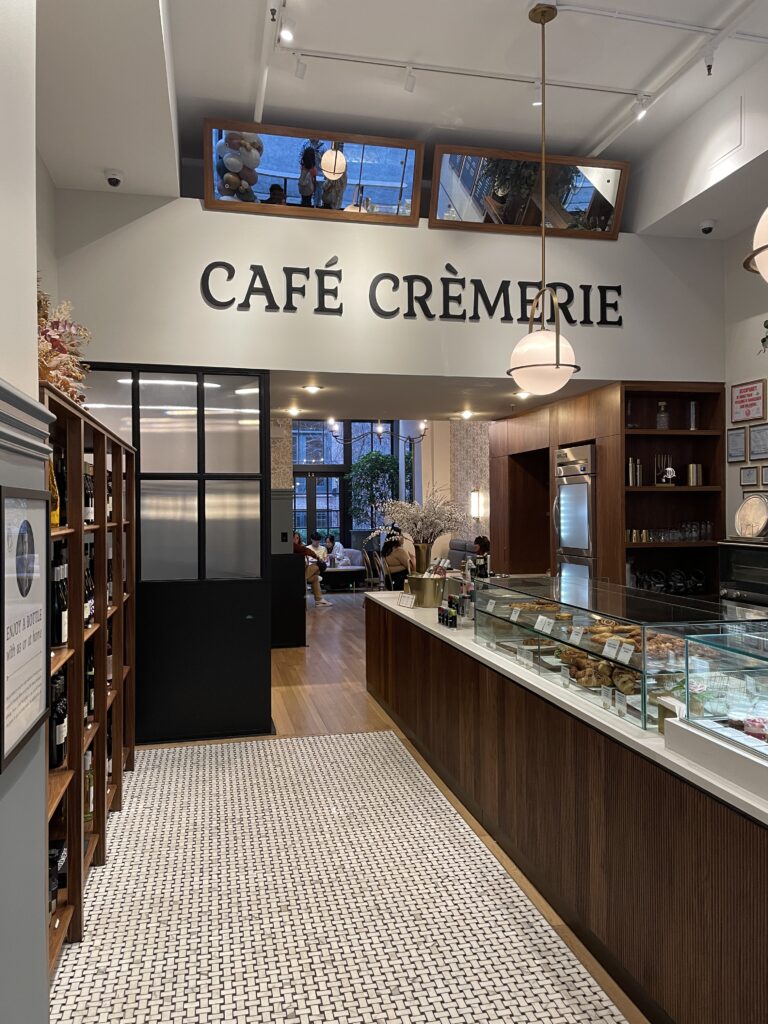 The cafe has a cozy and inviting atmosphere, with indoor and outdoor seating available. Whether you're looking for a sweet treat or a leisurely afternoon coffee, Cafe Cremerie is a great spot to check out in Chicago.
Garrett Popcorn
Garrett Popcorn is a Chicago-based popcorn company that has been serving delicious and high-quality popcorn since 1949. They use only the finest ingredients to make their popcorn, which is handcrafted in small batches to ensure freshness and flavor.
Their signature flavor is the "Chicago Mix," a blend of caramel and cheese popcorn that has become a must-try for anyone visiting the city. Garrett's has multiple locations throughout the city, including one on the iconic Magnificent Mile, making it a convenient stop for anyone looking to indulge in some delicious popcorn while exploring the city.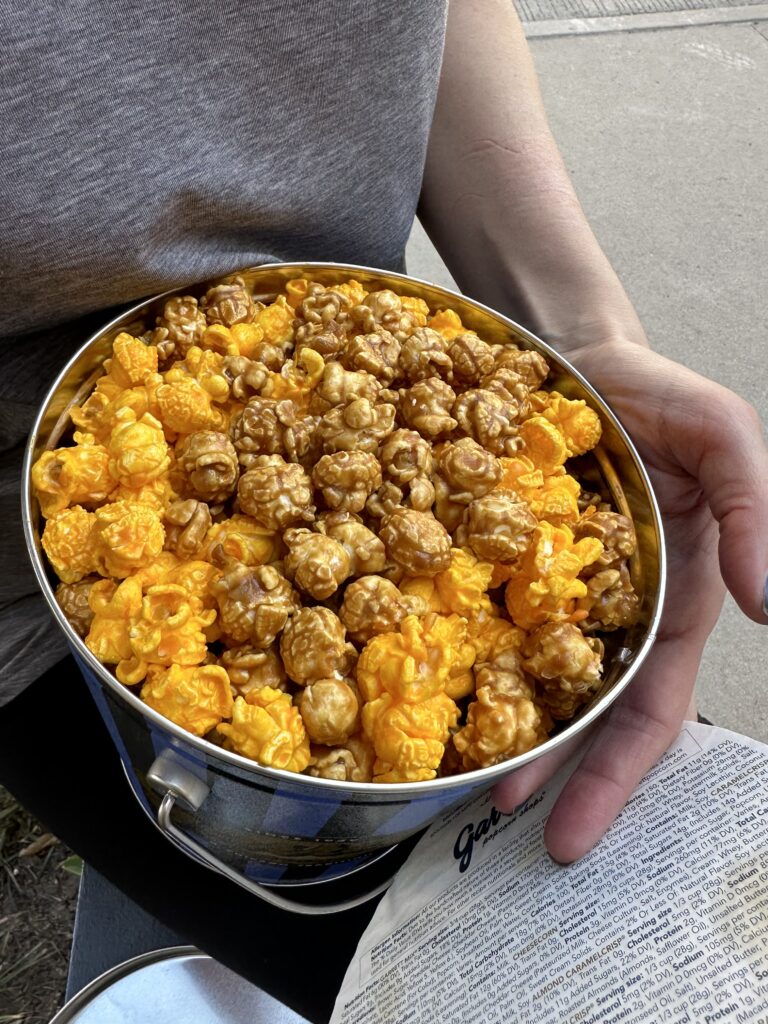 The Bakery Box ATM
The Bakery Box ATM in Chicago is a unique and innovative concept that has been gaining popularity in recent years. Located in the heart of the city, this ATM dispenses delicious treats instead of cash.
Customers can choose from a variety of baked goods, including cupcakes, cookies, and brownies, all of which are freshly made on-site. The Bakery Box ATM is the perfect spot for those looking for a quick and tasty snack while exploring the city.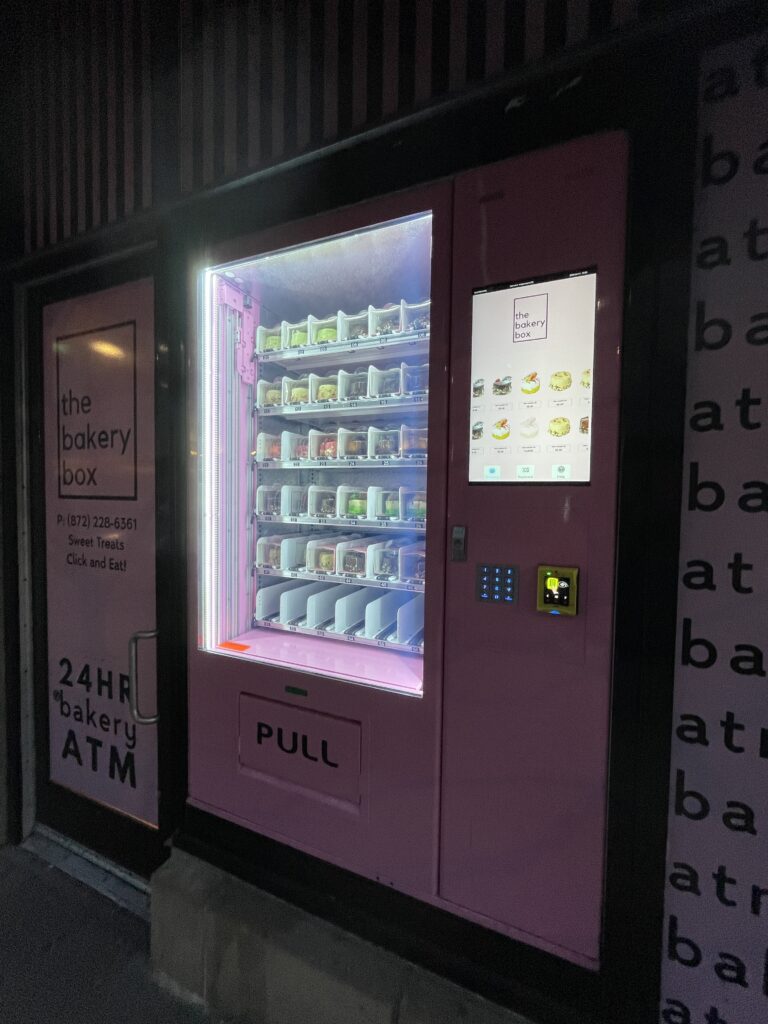 With its convenient location and mouth-watering treats, it's not hard to see why this ATM has become a must-visit destination for foodies and dessert lovers alike.
How to do Chicago in 1 day
If you're only around for a short time and you're wondering how to do Chicago in 1 day, I would pick what you want to see the most and focus on that.
You could visit the Magnificent Mile, visit the Loop area and knock a bunch of things off your bucket list at once. For example, you could see Millenium Park (where the bean is) and then head to a river cruise. Or, maybe you visit the Willis Tower or another place like Chicago 360.
Be sure to stop by restaurants with dished that Chicago is known for too.
Is 2 days enough for Chicago?
I don't think 2 days is enough for a Chicago visit. I'd say to stay 3-4 days so you won't have to rush around too much.
Two days in Chicago can give you a taste of the city, but you won't be able to see everything. However, it's still enough time to visit some of the city's top attractions, such as the Willis Tower, Navy Pier, and Millennium Park.
You can also explore some of the city's neighborhoods, such as Lincoln Park and Wicker Park, and try some of the famous Chicago-style pizza and hot dogs. If you have more time, you can also visit some of the museums and art galleries, take a boat tour on the river, or attend a sports game.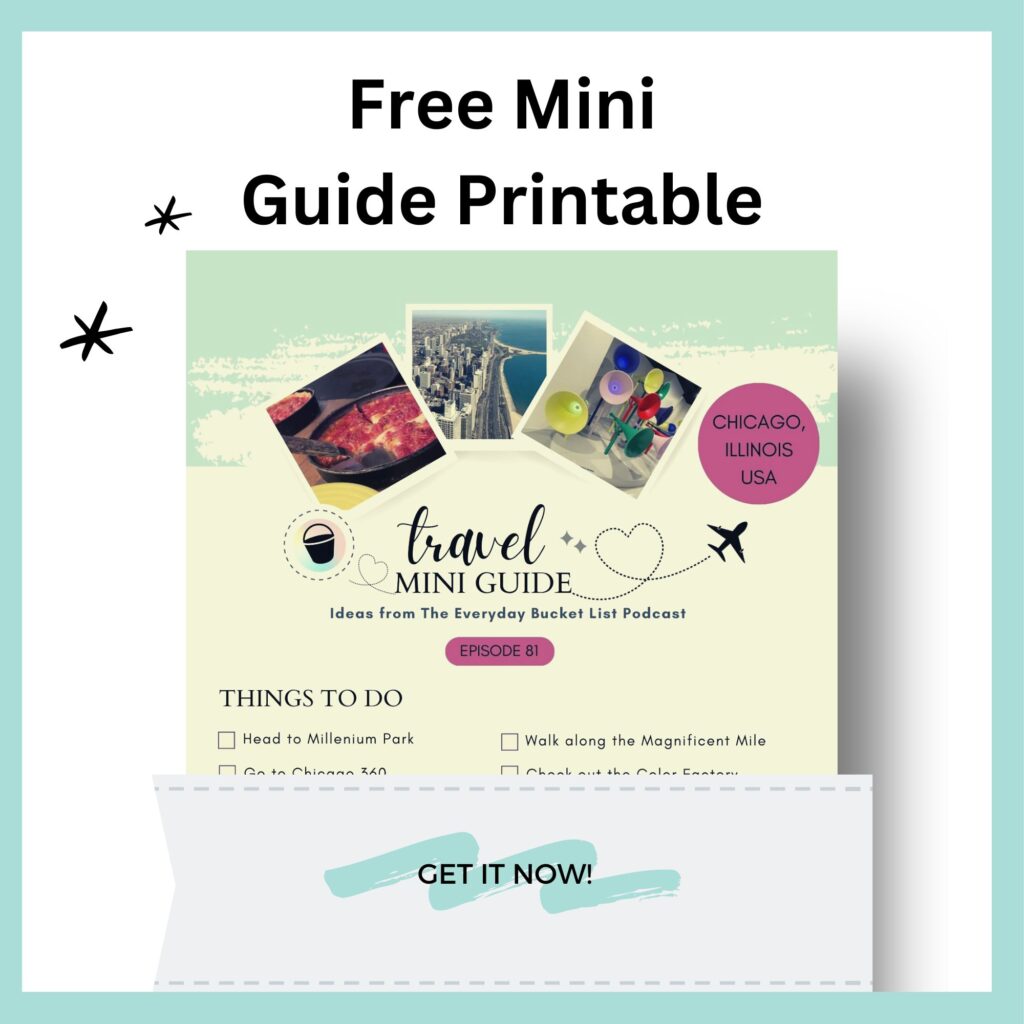 Get your Free Mini Guide Bucket List Printable for Chicago here!
Conclusion for Places to Visit in Chicago, Il
In conclusion, Chicago is a vibrant city that offers a wide range of activities and experiences for visitors. From exploring its iconic landmarks to savoring delicious meals at its renowned restaurants, Chicago has something for everyone.
By visiting the free places and trying some of the suggested spots, visitors can gain a deeper appreciation for the city and its culture. With so much to see and do, you'll surely make unforgettable memories no matter how long you stay.
Subscribe on Apple Podcasts , Spotify or Stitcher today!
Links mentioned in this episode:
Related Episodes
I received compensation in order to share this information with you, but it doesn't influence my opnions. Read my disclosure policy here.