More Simple Ideas for Everyday Bucket List Adventures
Looking for some simple bucket list ideas for adventures in everyday life? Don't we all! In this session of The Everyday Bucket List Podcast, my husband and I cover things you could do at home or close by. We also discuss indirect ways to free up time for more fun or just make packing a little easier so you don't spend so much time packing. Yay! We also discuss an idea we're FINALLY going to try.
Prefer to listen elsewhere? Here's the same episode on: Apple or Spotify!
It takes a great deal of time and energy to create episodes. In order for me to make great content for you, some of the resources below have affiliate links. If you purchase something through a link, I would make a small commission at no additional cost to you. Also, consider working with me.
Today's Everyday Bucket List Guest
I'm happy to welcome my husband back to the Everyday Bucket List Podcast!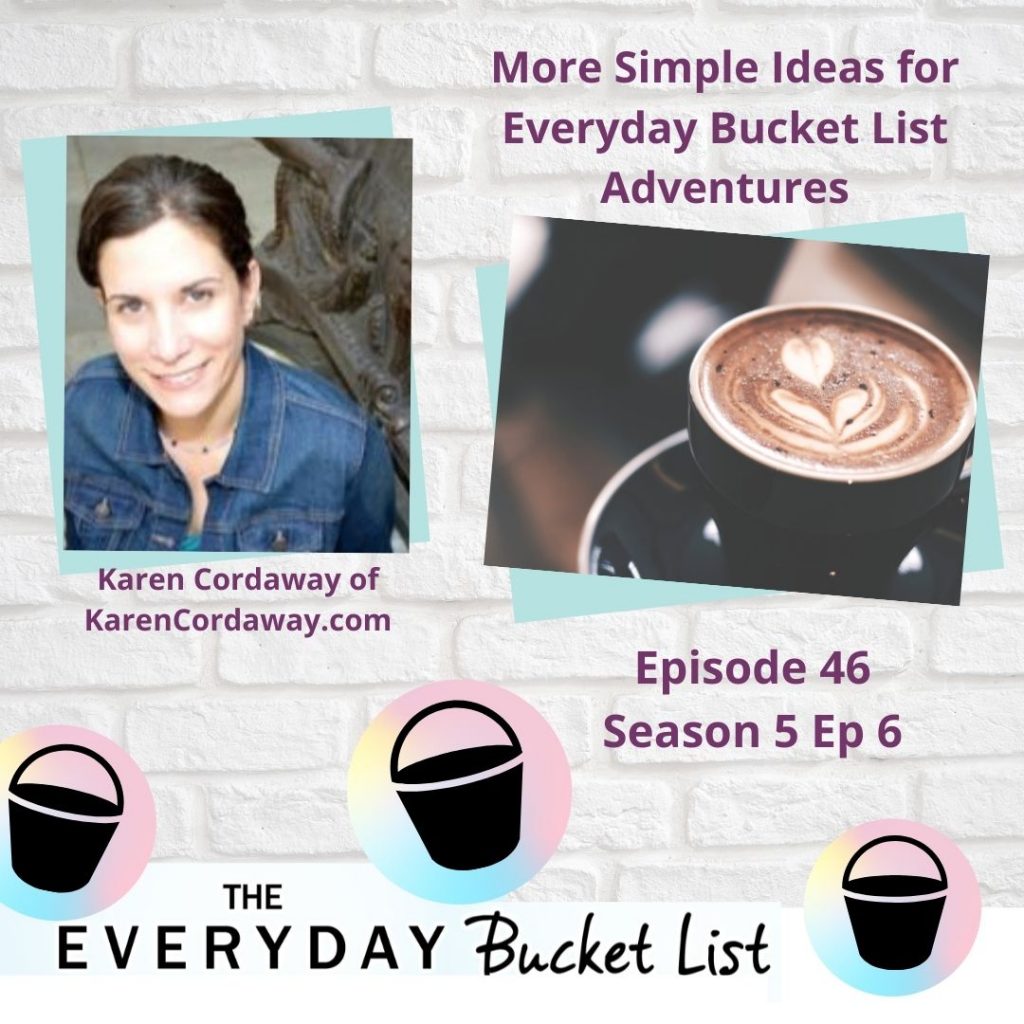 It's me, the host blabbing on my show. Karen Cordaway of KarenCordaway.com
As a busy working parent, Karen Cordaway spent years struggling to find free time for herself. That is until she figured out how to reclaim her schedule and infuse more exciting hobbies and bucket list experiences into everyday life.
With a little planning, a bit of strategy, and a dash of creativity, she turned her bucket list dreams into reality! The Everyday Bucket List Book: 10 Steps to Bringing More Exciting Experiences to Everyday Life is her signature, step-by-step process to help others, just like you, do the same.
Karen has written about shopping tips, cost-cutting, smart spending and other money-related topics for Clark Howard, Huffington Post and nationally syndicated articles for U.S. News. She now combines her money know-how with bucket list topics.
Her insights have been shared all over the internet in Money Magazine, Yahoo Finance, Market Watch, The Consumerist, Rockstar Finance, and even O Magazine. She now inspires everyday people to fulfill their bucket list dreams both big and small.
What You'll Learn About Simple Ideas for Everyday Bucket List Adventures
How to include simple bucket list ideas into everyday life
How to make giving a part of your everyday bucket list adventures
What we are actually attempting to do for our own bucket list
Tips for indirect ways to free up time to make your bucket list ideas happen
More Simple Ideas for Everyday Bucket List Adventures
Plus Travel Ideas for Simple Bucket List Adventures
Travel doesn't have to be costly and you don't have to go too far away to enjoy yourself. Think about taking some road trips to nearby places. Whether you get a way for a week or a weekend, here are some travel bucket list ideas.
Bucket List Trips for Couples
If you searched for "bucket list adventures USA" and you still haven't found what you're looking for, test drive some of these ideas below:
Two Bucket List Categories to Think About
Brainstorming bucket list categories can help simplify the process. Here are two category ideas that you might not think of at first, but they are worth exploring
Explore Ways to Give
The one thing everyone has is time. But some of the best things in life are also limited, like love and compassion for instance! So if you're looking to spread your wealth around this year or just need a little inspiration on what items would be most meaningful with their recipients then here it goes:
Do something selfless by paying for someone's coffee
Make care packages
Pick up trash
Donate to an animal rescue facility
See if your local senior center needs craft supplies
Try Fun Things to Do at Home
We all know the feeling of being at home, scrolling through social media and getting bored. The best way to avoid this problem is by making your own fun things to do! Here are 5 simple but effective ways you can spend time doing what makes YOU happy – even if it's just sitting on the couch with nothing else going on outside that house or apartment building walls!!
Firstly, try signing up to make a recipe with real chefs or have a friend or relative teach you in-person or virtually.
Secondly, take time to create your own list of easy bucket list ideas
Thirdly, plot out 3 you'd like to do month using a bucket list printable.
Lastly, but not least, try coloring, puzzles, making your own soda (or beer – 21 and over only) or roasting coffee at home or even at-home date ideas
The best way to have a good time at home is by getting together with friends. There are plenty of fun things you can do on your own, from playing music in the background while cooking or watching TV – it's all about creativity!
Even More Simple Bucket List Ideas
Create a bucket list to do before you die. You can put travel plans or big audacious goals on there, but be sure to add a mix of easy bucket list ideas too. They can be as simple as something you've never tried before like visiting an apple orchard or growing your own tomatoes. It's all up to you.
Whether you take The #BettyWhiteChallenge on Jan. 17th or not, think about donating to an animal rescue facility. Here's a video to see that great work people are doing out there.
Conclusion for Simple Ideas for Everyday Bucket List Adventures
You can create your own bucket list by deciding what you want to do more of in life. Is there a big trip on the horizon, or are you looking for some simple things to get started? Whether it's something as easy as finding fun things to do at home with your partner, or checking off charitable giving from your list, today is the day!
So go ahead and take that first step towards making this year count. Start planning now so all of these incredible goals don't just stay on paper. We hope our ideas have given you inspiration and we wish everyone luck in accomplishing their dreams this year! If you want help connecting the dots, learn how I help people plan their bucket list goals!
Subscribe on Apple Podcasts , Spotify or Stitcher today!
Related Episodes