Salem, Massachusetts Bucket List Ideas & More
If you're looking for something to check off of a Salem, Massachusetts bucket list today, we've got you covered. From restaurants and historical sites to tourist attractions and vacation rentals, we have everything you need right here. And if you're looking for something a little more off the beaten path, our list of unique things to do in Salem will give you some ideas. So what are you waiting for? Listen to the podcast today!
Prefer to listen elsewhere? Here's the exact episode on: Apple or Spotify!
It takes a great deal of time and energy to create episodes. In order for me to make great content for you, some of the resources below have affiliate links. If you purchase something through a link, I would make a small commission at no additional cost to you. Also, consider working with me.
Today's Everyday Bucket List Guest
I'm happy to welcome my husband back to the Everyday Bucket List Podcast!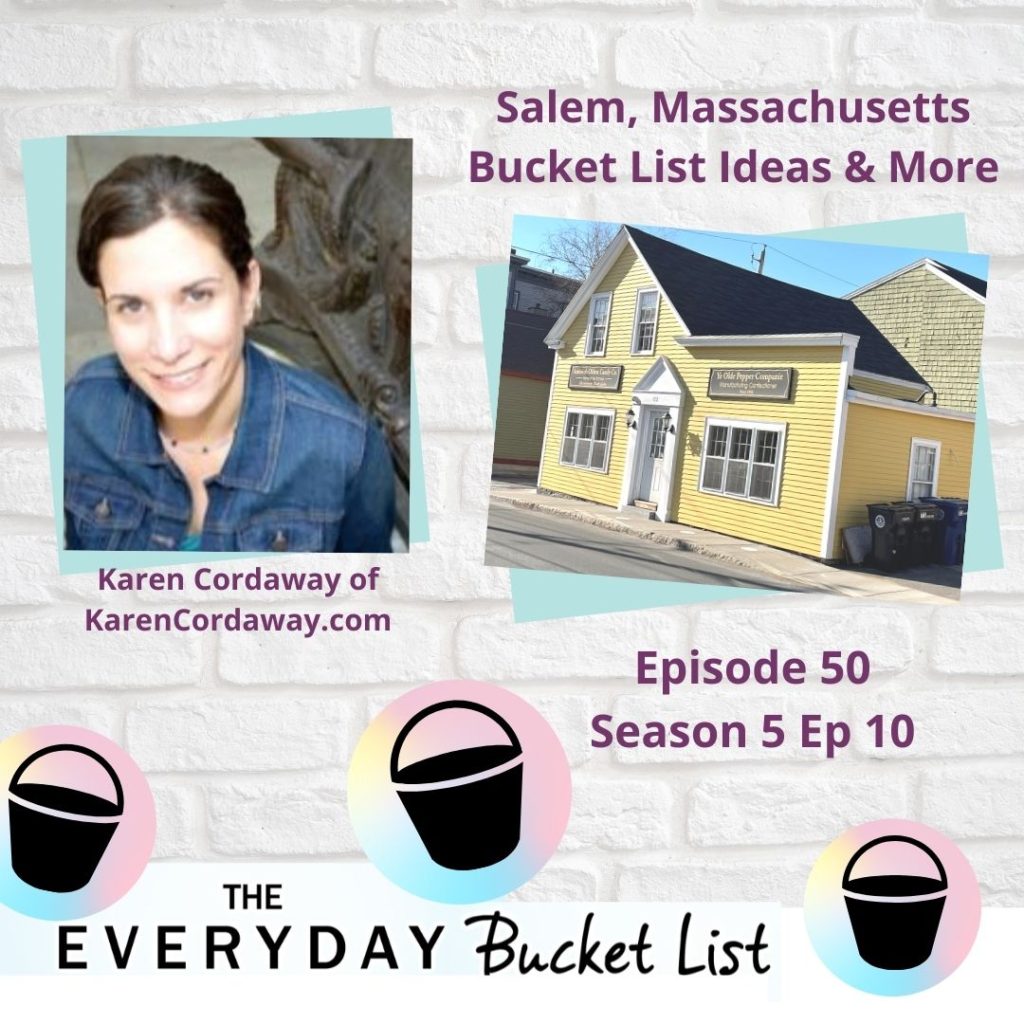 It's me, the host blabbing on my show. Karen Cordaway of KarenCordaway.com
As a busy working parent, Karen Cordaway spent years struggling to find free time for herself. That is until she figured out how to reclaim her schedule and infuse more exciting hobbies and bucket list experiences into everyday life.
With a little planning, a bit of strategy, and a dash of creativity, she turned her bucket list dreams into reality! The Everyday Bucket List Book: 10 Steps to Bringing More Exciting Experiences to Everyday Life is her signature, step-by-step process to help others, just like you, do the same.
Karen has written about shopping tips, cost-cutting, smart spending and other money-related topics for Clark Howard, Huffington Post and nationally syndicated articles for U.S. News. She now combines her money know-how with bucket list topics.
Her insights have been shared all over the internet in Money Magazine, Yahoo Finance, Market Watch, The Consumerist, Rockstar Finance, and even O Magazine. She now inspires everyday people to fulfill their bucket list dreams both big and small.
What You'll Learn About Salem, Massachusetts
Is there still a Salem, Massachusetts?
Why is Salem, Massachusetts famous?
Is Salem, Massachussetts worth visiting?
Discover things to do and places to stay in this walkable area of Salem, Massachusetts
Is there still a Salem, Massachusetts?
The historic city of Salem, Massachusetts is still standing after all these years! The buildings and streets seem to stretch on forever. The architecture from centuries ago can be seen everywhere you look in this picturesque town that has been preserved – so much history here to view.
Why is Salem, Massachusetts famous?
There are many reasons why people love to visit this picturesque town. From the beautiful architecture and history, there's no shortage of things for tourists who come here!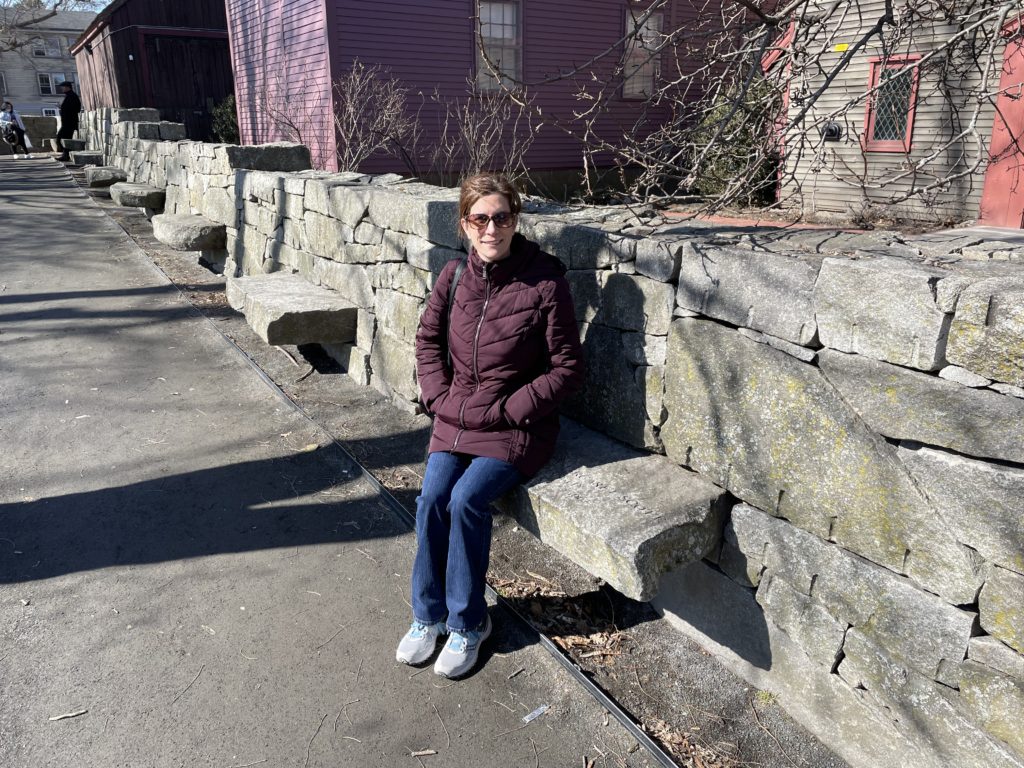 The city of Salem is known for two things: the independence it maintains even as a colony and its witch trials. The first Trial occurred in 1692, when Rebecca Nurse was accused by her neighbors of casting spells on them. According to Britannica.com, "the number of trials and executions varied according to time and place, but it is generally believed that some 110,000 persons in total were tried for witchcraft and between 40,000 to 60,000 were executed."
Is Salem, Massachussetts worth visiting?
The historic town of Salem, Massachusetts is a must-see for its charm and beauty. This quaint New England city has so much going on that it'll be hard to find an angle where you don't see something worth seeing!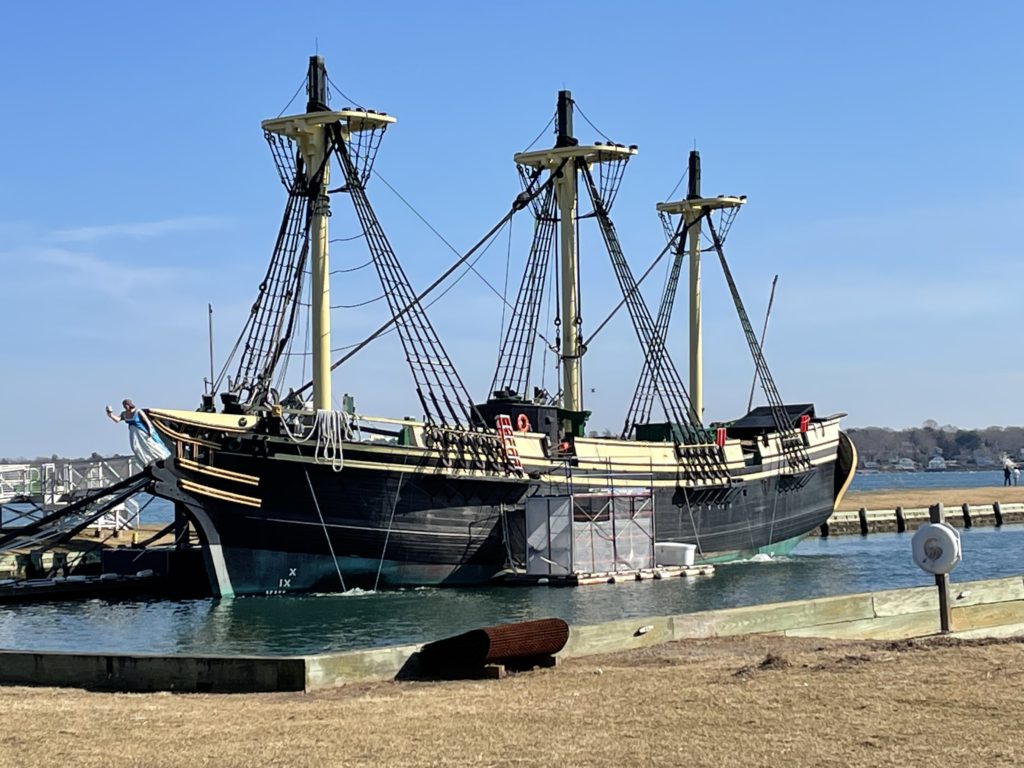 Things to Do in Salem, Massachusetts
For those looking for things to do in Salem, there are plenty of tourist attractions and historical landmarks. Some popular places include the Peabody Essex Museum, which houses exhibits on Salem's history. There's also The Witch House, The House of The Seven Gables, The Witch Trial Memorial and other spots to check out.
The Peabody Essex Museum
The Peabody Essex Museum in Salem, Massachusetts is a world-renowned historic site that has furnished many memorable moments for visitors. The museum's collection features art and artifacts from all around the globe, including items from the Qing Dynasty, Japanese prints dating back to Edo period (18th century) as well as Native American art work and items tied to the witch trials.
The House of The Seven Gables
The House of The Seven Gables is a great place to visit if you're in the area. Built around 1750, it was one of Salem's first ever buildings and still contains many original features today such as secret passageways that lead through walls!
The House of the Seven Gables is one that has been kept in good condition over time. This venue offers visitors a chance to explore history and learn more about how it was life back then for those who lived at this particular address during winter months two centuries ago when writer Hawthorne himself visits his own childhood home!
Ye Olde Pepper Company
In the city of Salem in Massachusetts, you can find a hidden gem. It's the Ye Olde Pepper Candy Companie and it has been around since 1695! Not only does this company make some delicious-looking pepper treats but they also offer free tours so visitors get an up close look at how these tasty sweets are made with real ingredients – no machines or automated machinery here just hard work by skilled hands who love their craft.
Learn about the Salem, Massachusetts Witch Trials
The Salem Massachusetts witch trials began with four women accused of using black magic to harm other people- eventually more than 100 were executed by hanging before colony council could put an end them forever. Although these events occurred less then two centuries ago they still resonate deeply within our society today due largely because it touches close at hand what can happen when belief systems meet reality.
This YouTuber mentions a site she saw that's one of the last structures that has ties to the Witch Trials. She also touches on the Ropes Mansion that was featured in the movie Hocus Pocus. Yes, Hocus Pocus was filmed in Salem, Massachusetts and so were several episodes of the TV series Betwitched. She'll also take you inside the shops and a restaurant she visited. I'm not the only one is enjoys free parking. Check out this video to hear about other interesting things to do.
Places to Stay including Salem Massachusetts Hotels & Airbnbs
Whether you're looking for a historic hotel or a cozy Airbnb, there are plenty of options in Salem Massachusetts. With so many unique accommodations to choose from, it's hard not finding what suits your needs best! Take a peek at the hotels the area has to offer here. Or, if you're looking for an Airbnb, check these out.
Conclusion for Things to Do in Salem, Massachusetts
The next time you're looking for a fun day trip or weekend getaway, consider Salem, Massachusetts. With its rich history and abundance of tourist attractions, restaurants, and hotels, there is something for everyone in this charming New England town. And if you can't get enough of the witchy vibes, be sure to check out some of the historical sites like the Witch House or Hawthorne Hotel! So what are you waiting for? Try something new today and head to Salem for an unforgettable experience.
Subscribe on Apple Podcasts , Spotify or Stitcher today!
Related Episodes