Cincinnati, Ohio Bucket List: Hotels, Airbnbs, Parks, Breweries & More
If you're looking for a great Midwest city to explore, Cincinnati should be at the top of your list! With plenty of parks, world-class hotels and Airbnbs, plus a thriving brewery scene, there's something for everyone in this Ohio gem. Here are some essentials to check out on your next visit.
If you're looking for things to do in Cincinnati, we've got you covered. Our list of parks, breweries, and places to stay, including some of the best Cincinnati, Ohio hotels (downtown and elsewhere) and Airbnb suggestions are a great place to start. We hope you have a great time listening to this podcast episode and potentially exploring everything Cincinnati has to offer!
Prefer to listen elsewhere? Here's the exact episode on: Apple or Spotify!
It takes a great deal of time and energy to create episodes. In order for me to make great content for you, some of the resources below have affiliate links. If you purchase something through a link, I would make a small commission at no additional cost to you. Also, consider hiring me.
Today's Everyday Bucket List Guest
I'm happy to welcome Tyler Weaver to the Everyday Bucket List Podcast!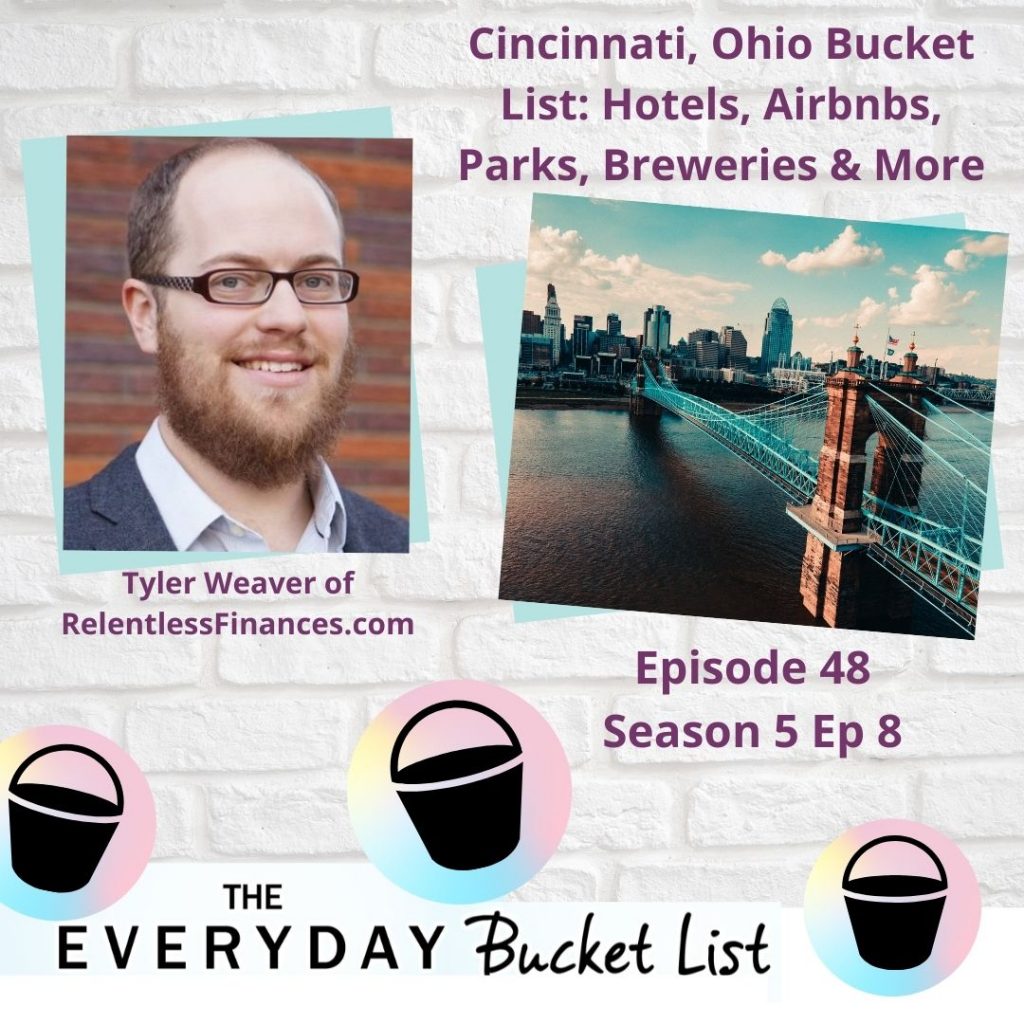 Today we have Tyler Weaver of RelentlessFinances.com
Tyler Weaver is a Home Builder, Real Estate Investor, and Short-Term Rental Operator looking to help real estate investors build their portfolios and make sense of their first deal. Tyler knows that teaching people how to build a framework for evaluating investments can help them meet their financial goals while providing a well-designed home that meets the buyer's needs. Unlike other types of real estate investments, he focuses on infill development and stays on trend with designs. Tyler has a degree in Real Estate and Finance from the University of Cincinnati. In his spare time, he enjoys boating with family and loves teaching water sports.
What You'll Learn About Cinncinnati, Ohio
What Cincinnati, Ohio is known for
Things to do in Cincinnati, Ohio
Discover parks, Cincinnati, Ohio hotels and Airbnbs
What Cincinnati, Ohio is Known For
What is the great city of Cincinnati known for? Cincinnati has been on every list you could imagine: rankings, best places to live etc., but there are so many more reasons why this place deserves its spot as one-of America's most livable cities. For starters, there are river boats, trails, museums, art, breweries, and . . . oh, their chili.
Cincy is also known for its iconic chili-cheese dog. And you can't have one without the other: a perfect combination of flavors that some say has been comparable to heaven on Earth for meat eaters!
Airbnbs and Hotels in Cinncinnati, Ohio
Where will you be staying? Cincinnati, Ohio and neighboring areas have a variety of Hotels (ans deals) to choose from. Whether you want to be right downtown or further out, there are a number of places to stay, find hotel deals.
Cincinnati is a great place to visit for both tourists and locals. The downtown hotels offer plenty of variety, with rates that vary depending on your location in the city center or outside it's central business district – but none will disappoint! For those looking towards traveling light during their trip though there are many Airbnb listings available from people who rent out rooms so you can stay at inexpensive prices.
Things to Do in Cinncinnati, Ohio
Try Skyline Chili
Unless you're a Cincinnati resident, chili might be less thought of dish. But when the sun sets and it starts getting chilly outside in Ohio's Midwest region–the perfect time for eating some a delicious hot bowl!–you'll be dreaming of Skyline chili! This local favorite has won over many tastes with its rich flavor that will keep your warm all through winter nights like nothing else can
Breweries in Cinncinnati, Ohio
The breweries in Cincinnati are a popular destination for those who enjoy craft beer. There is something different about each one, from the traditional 1880s-era brewpub to an artisanal goat farm with tasting room and picnic grounds outside it!
Blink Light Show in Cincinnati, Ohio
Who doesn't love a good light show? The blink of an eye, that is! Blink in Cincinnati Ohio has some amazing installations for all your needs.
Driving through town and I see giant pixelated numbers on top of buildings downtown. Watch them change colors with every little movement from cars passing by or people walking below–looking at those images and reset your imagination about what technology could be capable of right now.
Parks in Cinncinnati, Ohio
The great thing about this city is that it has plenty of parks for you to enjoy. Some popular ones include Smale Park, Friendship Park and Sawyer Point!
Smale Park
Smale Park in Cincinnati, Ohio is an up-and -coming destination for families to enjoy great together time. With loads of attractions including fountains, gardens, splash areas and soft play areas as well picnic shelters that can be reserved by groups of 20 or more! It overlooks Lactose Valley which was recently ranked one of The Top 10 places To Live In America.
Friendship Park
The scenic beauty of Friendship Park in Cincinnati, Ohio is a favorite destination for visitors from all over the world. The park was originally dedicated to honor America's international friendship through its large collection and display examples representing more than 100 countries around the globe with their unique cultures displayed on site as well!
Sawyer Point
This picturesque community of Cincinnati is home to one its most popular landmarks – Sawyer Point. Home for military members and their families, this location offers access not only into the city but also Lake Boone. Choose from among several nearby activities like hiking or fishing on trails nearby in addition enjoy views at various scenic spots around town while you're here!
King's Island
Kings Island is an Ohio attraction that will not disappoint any kid (or adult) who loves rides and fun. As one of the most popular theme parks in America, it's no wonder why this wonderful spot has received such high ratings from visitors!
Conclusion for Things to Do in Cincinnati, Ohio
Cincinnati is a great city for people of all ages. Whether you're looking to have some fun with your kids, get out and explore the beautiful parks in our area, or just want to relax at one of our many Cincinnati, Ohio hotels, Airbnbs, breweries or other attractions that they have in town. You could even take a stroll and visit one of the many museums around town! Cincinnati has something for everyone so try something new today!
Subscribe on Apple Podcasts , Spotify or Stitcher today!
Related Episodes