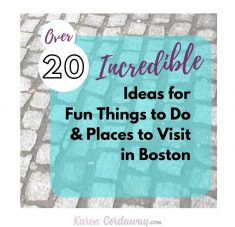 There might be affiliate links in this post. If you click on a link and make a purchase, I receive a small commission. Read my disclosure policy here.
If you're in Boston for a few days, have lived there for a while, but haven't gotten around to exploring much or you've lived there for years and are getting ready to say goodbye, here's a serious bucket list of fun things to do and places to visit in Boston.
The Best Things to Do in Boston
So what do people do for fun in Boston? There's so much to do in Beantown, it can seem overwhelming to attempt all the things. If you're wondering "What should my bucket list be?", plan a bit and squeeze in as many fun things to do in Boston to maximize your time by following these ideas.
The Duck Tour
Though I went on The Duck Tour a few years back, I wanted to see if it was still open before I wrote this blog post.
After researching, I see that they are currently open. Luckily, there are advanced safety measures in place for those who want to take the tour today. Read the information in the link and use your discretion.
If you're trying to figure out how long The Duck Tour lasts, it's just over an hour. The bulk of the tour is on land.
You will drive around Boston and the tour guide will discuss the historical significance of different landmarks and neighborhoods. I don't know if this was just my guide, but this was a very interesting tour.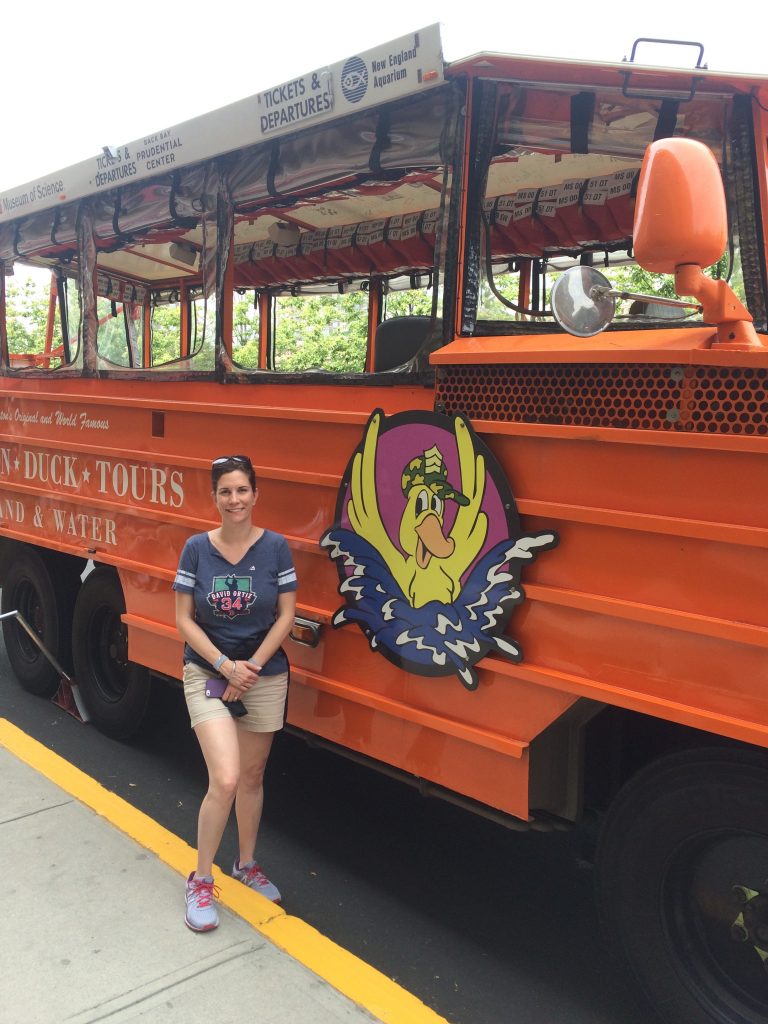 Once you complete the land portion of the tour, you will enter the water. It's one of the highlights of the whole adventure.
You could potentially get splashed a little, maybe a droplet or two, but that didn't happen to us. It's not like an amusement park water flume ride that rapidly enters the water on a sharp incline. It's a gradual transition.
You will cruise along the Charles River and continue to hear interesting facts and see pretty views. I was fortunate enough to go on The Duck Tour prior to Covid-19. When they asked if anyone wanted to steer the boat toward the end of the tour, I jumped at the chance.
I don't know if anything like that will happen any time soon, but you never know. If you potentially want to save money, do the Duck Tour first to get discounts throughout the day on other Boston attractions.
Rumor has it that you can score a discount if you make an early reservation online. Get more details and travel tips for Boston Duck Tours by Trip Savvy.
The article highlights how the savings doesn't have to stop there. If you plan to make it to the Museum of Science and New England Aquarium, you can receive a discount off of the museums' admission along with the café, gift shop, and other attractions too.
The article also explains that "you can also get a free tour of Harvard Square with your Duck Boats ticket, plus numerous discounts at the Prudential Center and other Boston restaurants and gift shops. So save that ticket stub and put it to work – you can save quite a lot!"
Just stay up to date on what is currently open and what their hours of operation are prior to going.
Site of The Boston Massacre
A circle of cobblestone marks the spot where the Boston Massacre occurred back in March 5, 1770. I vowed to look up information about this famous location after visiting to refresh my memory.
What started out as a street fight between an angry mob bothering British soldiers, the tension between the two groups later turned into the American Revolution.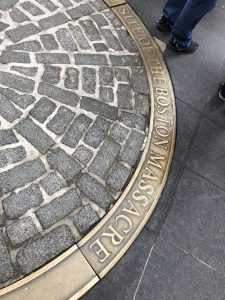 USHistory.org explains that "The presence of British troops in the city of Boston was increasingly unwelcome. The riot began when about 50 citizens attacked a British sentinel. A British officer, Captain Thomas Preston, called in additional soldiers, and these too were attacked, so the soldiers fired into the mob, killing 3 on the spot (a black sailor named Crispus Attucks, ropemaker Samuel Gray, and a mariner named James Caldwell), and wounding 8 others, two of whom died later (Samuel Maverick and Patrick Carr). The Boston Massacre was a signal event leading to the Revolutionary War."
The Freedom Trail
We picked up The Freedom Trail at The Boston Massacre spot and poked around some of the sites on as we informally walked around Boston.
Can you walk The Freedom Trail for free?
You most certainly can walk The Freedom Trail for free. That's what we did. It's a cobblestone trail that leads you around all of the 16 historical sites.
If you were hoping for a formal paid tour, they are currently suspended until further notice.
Why is The Freedom Trail important?
TheFreedomTrail.org shows pictures of all 16 sites along with why the Freedom Trail is important.
What are the 16 sites on The Freedom Trail?
These 16 historical sites are what make up The Freedom Trail:
Boston Commons

Massachusetts State House

Park Street Church

Granary Burying Ground

King's Chapel & King's Chapel Burying Ground

Boston Latin School Site/Benjamin Franklin Statue

Old Corner Book Store

Old South Meeting House

Old State House

Boston Massacre Site

Faneuil Hall

Paul Revere House

Old North Church

Copp's Hill Burying Ground

USS Constitution

Bunker Hill Monument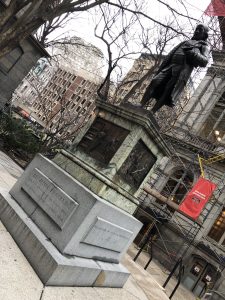 Explore North End Boston
Boston North End Guide explains how The Freedom Trail also "runs smack dab through the North End, and includes stops for The Old North Church (made famous by the midnight ride of Paul Revere), The Paul Revere House and the Copp's Hill Burying Ground, the second-oldest burying ground in Boston."
Visiting The North End was a long-time bucket list item that finally got ticked off the list on this trip to Boston. It just worked out that the Freedom Trail went through it. We didn't plan that. It was just a happy coincidence.
If you're a little bit of a nerd like me, you'll appreciate how the 18th century history is interspersed with the 20th century history of the North End and the Italian influence.
Where is Boston's Little Italy?
The North End is where the Italian area of Boston is located.
To be exact, North End Boston,"Little Italy," is a one-square-mile waterfront community, bordered by Commercial and Causeway Streets and Atlantic Avenue, located within walking distance of Boston's financial district and Government Center."
Lined with restaurants serving Italian cuisine as well as bakeries and gelatorias, the North End is one of the best places to eat in Boston.
North End Boston Restaurants
We got a recommendation from a random 20 something that lived there. We wanted to stop for a quick lunch and opted for a more casual dining experience.
We noticed that many of the restaurants looked fancy so we thought it'd be easier to ask someone. It worked out well.
La Famiglia Giorgios has a very pretty ambiance and nice staff. The wooden waffle-like ceiling adds a unique architectural element that gives it a cool, modern vibe.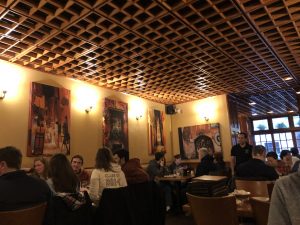 They serve large family-style portions. If you order in a group, the idea is to split a few dishes as if you're eating at home.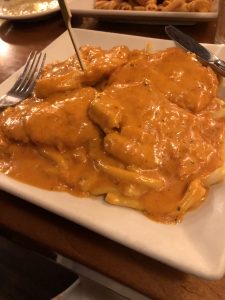 What worked out nicely is they had the best gluten-free pasta I've ever tasted! It had a nice dense consistency that paired well with the chicken and vodka sauce I ordered.
I almost always ask for recommendations and I got a waitress that gave me the best suggestions based on my preferences and dietary needs.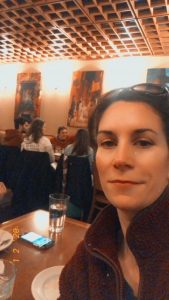 If you have more time than we did to plan, check out this list of North End Boston Restaurants from Boston Magazine. The article includes a list of restaurants with a brief description of each place along with the address and phone number.
Prior to writing this blog post, I completely forgot the name of the restaurant I visited. Luckily, I wrote about the memories I made with my family and saved the business card to the restaurant.
I now make sure to journal about my dream list experiences regularly using my bucket list journal sheet. I use it along with my simple bucket list planner for those who like to plan as you go.
It's easy to complete forget where you went and what you did. I'm kicking myself for not coming up with these bucket list printables sooner.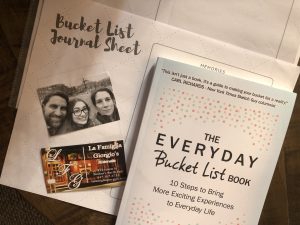 Quincy Market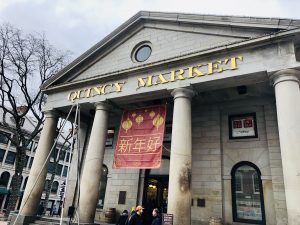 If you leave Boston without seeing Quincy Market, people might think you're crazy. It's a lively area right next to Fanueuil Hall that houses a variety of shops, restaurants, food courts and more. It's a great place to people watch, see live street performances and shop.
Fenway Park
A day in Boston wouldn't be complete without visiting Fenway Park. An article by BostonParkPlaza.com gives some background about this historic ballpark. It's over 100 yrs old and was built by John Taylor, the Red Sox owner at the time.
He claimed to name the oldest ballpark after its location in the Fenway neighborhood. An area established "decades earlier by filling in marshland or 'fens'. Although it was suggested that the fact that his family's company was named Fenway Realty didn't hurt."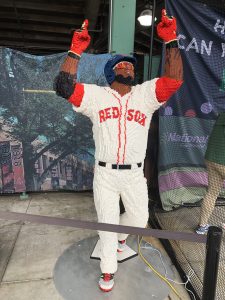 No matter what team you root for, everyone leaves a fan of Fenway's old school stadium atmosphere, charm and character. Situated in the Fenway area, it's a focal point of the community.
The peanuts, popcorn and cracker jack vibe is in the air blocks away and it continues as soon as you enter the gates at Fenway. 
You feel like you're transported back in time to a simpler baseball park experience. It can quickly become your favorite place in Boston. 
Take a tour, walk by or see a game once it's open to the public again and be a part of living history. No matter who wins, being at a game in this stadium is an experience all its own. It's an iconic Boston landmark that has a soul.
I like to buy something to keep the memories of my bucket list adventures alive especially after a visit to Boston. I usually get a practical item such as shirts, hat or things I can display in my house.
You can pay top dollar at the park. The shirts on the 757 Sports Collectibles website are more economical. You can still be a true fan without paying a hefty price tag.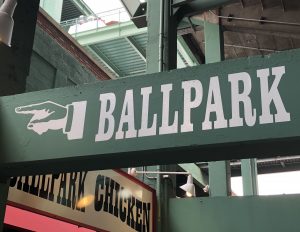 Conclusion
No matter if Boston is the main focus of your adventures or a part of a New England or Massachusetts summer bucket list (or any time of year), make these good bucket list ideas a reality. Find fun things to do and places to visit in Boston.
Use these ideas as a starting point for the ultimate Boston bucket list. It's one of the best places to visit in Massachusetts!
 If you've been to Boston, I'll ask you, what are the top ten bucket list items? Answer below.
Also, be sure to share this post. It could save Boston bucket list makers some planning time. 😉