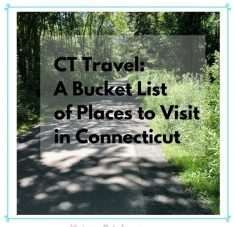 There might be affiliate links in this post. If you click on a link and make a purchase, I receive a small commission. Read my disclosure policy here.
CT Travel: A Bucket List of Places to Visit in Connecticut is meant to give you a sampler of some of the great places to see in the Nutmeg State during warm weather months. Couples, families and everyone in between can enjoy these special spots and must-see locations.
Unique Things to Do in Connecticut: A Bucket List of Places to Visit in CT
If you're in this state and you're trying to come up with some unique things to do in CT, I have suggestions from across the Nutmeg State.
Whether you're a nature enthusiast, history lover, day trip seeker, a couple looking for something to do or a family hoping for a fun-filled day of travel in CT with kids, this post has you covered.
Check out these things to do in CT.
One of the Best Connecticut Attractions for Couples, Families and Outdoor Lovers
I recently visited a sunflower field at Lyman Orchards. Though many families come here with kids, it's a fun place for couples or nature lovers too. If you want to catch the sunflowers, it opens in August.
Stroll around the sunflower maze and snap some photos. Then fill your frame with a sea of sunflowers as the background or make it the main subject of the photo.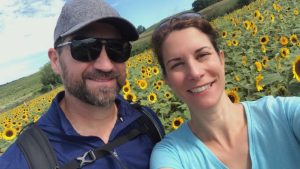 When you enter the maze, the orchard provides trivia questions tailored to different interests and age groups to help you find your way through. You can stop at each post and test your trivia skills along the way.
How you answer determines which way you go. The right answer will get you out of the maze quicker. The wrong answer could lead to a dead end. I won't tell if you Google the answers.
The maze has a different theme every year. This year's is a "Back in Space" theme with the sunflowers rendering an astronaut in space.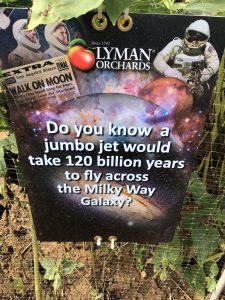 There are facts and photos throughout the maze about astronauts, space voyages and more.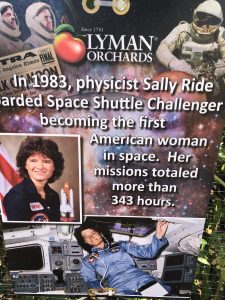 Once you make your way through, there's a truck from Perk on Wheels (Perk on Main out of Durham) this year offering refreshing drinks such as smoothies, iced coffee, lemonade and more.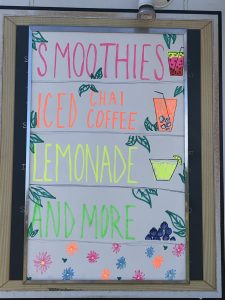 You can also drive a little ways to grab a bite to eat or get ice cream at the Apple Barrel Store. There's ample outdoor seating and a pretty view of a pond.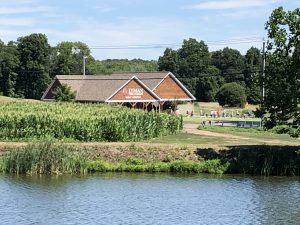 Lyman Orchards is one of the places to visit in CT this weekend for couples, families and anyone really. Also, consider going back during autumn too. They have some of the best fall activities in CT.
It has some of the best things to do in Connecticut in the fall such as finding your way through the corn maze along with picking apples and pumpkins. Be sure to bookmark this post or pin it to a Pinterest board so you remember to come back.
There are other sunflower fields and farms throughout the state that are perfect attractions for couples, families and anyone looking for unique things to do in Connecticut. Call ahead to see what the fields are like.
Another Spot for Adult Play Dates, Date Ideas for Couples and Those Looking for Things to Do in Connecticut with Kids
Lavender Pond Farm
I'm embarrassed to say that I've lived in Connecticut for most of my life and didn't even know this place existed. If you're near Killingworth, CT for any reason, think about making a stop at Lavender Pond Farm.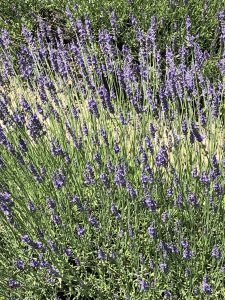 This farm is another fun place to explore nature. It's also a great place to informally take photos. If you're on Facebook or Instagram, there website invites you to show off your pics from the farm at #lavenderpondfarm.
If you're hoping to take professional shots with a photographer, like many farms, you'll have to pay a site fee.
Before you go, get on board their train for a fact-filled ride around the farm. Also, be sure to pick up some lavender sachets, lavender soy candles, lotions, soaps and more.
They even have gourmet lavender lemonade. This could easily become your go-to summer drink that ruins it for all other lemonades.
It also makes for one of the best day trips in Connecticut for couples too.
Things to Do in CT with Kids and People of All Ages
The Farmington Canal Trail
You'll find walkers, runners, skaters and bikers of all of different experience levels and ages. Be aware that some people understand trail etiquette while others may not.
Depending on where you are on the trail, some areas are completely in the sun, while others parts are in partial or complete shade.
There are benches and different places to take a break. Some of these stopping points have information about the canal and its historical significance. It was originally constructed back in the early 1800's to facilitate trade.
Once railroads were constructed, they took over as means for transportation. There was no longer a need for the canal. The trains were in use up until the 1980's until flooding ruined them.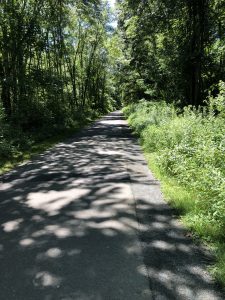 According to FarmingtonCanal.org," Today, the Farmington Canal Heritage Greenway covers a route of approximately 84 miles from New Haven, CT to Northampton, MA making it convenient for state to state moving of travelers. Over half has been developed as a paved trail for non-motorized recreation and commuting."
In Connecticut, you can find Northern locations covering Granby, East Granby, Farmington, Avon, Simsbury, Unionville, Collinsville, Burlington and Canton as well as Southern ones covering New Haven,  Hamden & Cheshire.
Here's some about maps to determine where to go and decide what part of the trail you'd like to visit.
Other Things to Do in CT with Kids, Friends and Family That Also Make for Perfect Connecticut Date Ideas
Shoot apples cannons at Lyman Orchards in Middlefield, CT
Explore historical cities and towns
Visit each of the 8 counties
Conclusion for CT Travel: A Bucket List of Places to Visit in CT
There are many CT Adventures waiting to be had. Use these suggestions to find unique things to do in CT.
Whether you need a few day trip ideas or multiple ones for a full blown bucket list vacation for couples, families, etc., keep this bucket list of places to visit in Connecticut on hand so you'll be ready to explore when the time comes.
Hopefully, there are enough ideas, real bucket list examples and fun things to do in Connecticut today, this weekend or the near future.
Let me know about other things to do in CT in the comments. Post Covid, what is there to do outside of Connecticut?